Searching for the best things to do in Bukittinggi in Sumatra? As one of the largest cities in west Sumatra, Bukittinggi is packed with historic sites and traditional Minangkabau food and architecture. Without a doubt, it is one of the greatest places in Indonesia to experience the ebb and flow of everyday life in an Indonesian city.
Bukittinggi is not a big city in the traditional sense, with skyscrapers and motorways. It is surrounded by paddy fields and bordered on the western side by the 15-kilometre-long Sianok Canyon. There are distant views of two volcanoes, Mount Merapi and Mount Singgalang.
Bukittinggi is off the typical tourist track in Indonesia but as destinations in western Sumatra go, it is still considered to be one of the best-known tourist places. This is mainly due to the impressive greenery of the Sianok Canyon and an underground cave network built by the Japanese in Bukittinggi during World War II.
If you're keen to find essential and unusual things to do in Bukittinggi, I've got you covered. With the help of some locals, I tracked down some of the city's best street food markets and underrated viewpoints, as well as where to find ethical luwak coffee and the world's largest flower.
I've also written about the best day trips from Bukittinggi.
Preparing to visit Sumatra soon? For detailed tips and full itineraries for north and west Sumatra, visit my backpacking Sumatra itinerary. I've also created a full packing list for Sumatra in my post on what to wear in Sumatra.
Where is Bukittinggi?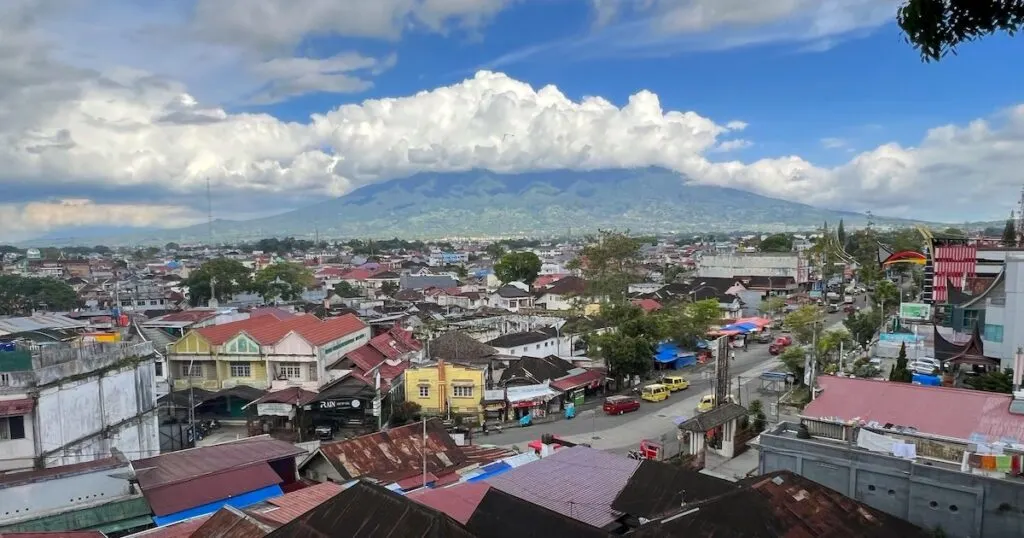 Bukittinggi is a city in west Sumatra, located in the Minangkabau Highlands between Mount Merapi and Mount Singgalang. The capital city of west Sumatra, Padang, is just over 90 kilometres south of Bukittinggi.
Bukittinggi is also located between the Harau Valley and Maninjau Lake, two other incredible destinations in west Sumatra.
Out of the two nearby volcanoes, Mount Merapi is active and Mount Singgalang is inactive.
Is Bukittinggi worth visiting?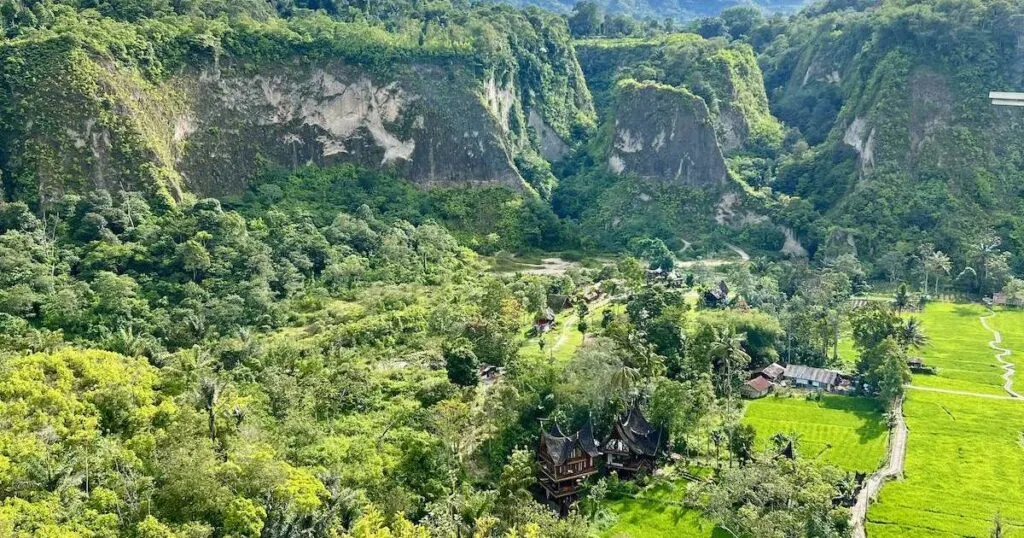 Any west Sumatra itinerary would be incomplete without visiting Bukittinggi.
Not only does Bukittinggi offer a window into the culture of life in a busy west Sumatra city, but it also has an extensive network of World War II caves, colonial ruins, and a huge, green canyon suitable for hiking.
Bukittinggi is also a great base for day trips to Maninjau Lake, Harau Valley, volcanoes, Minangkabau museums, rice terraces, and a silversmith village.
Bukittinggi is worth visiting for:
Traditional food markets, textile and fashion shops, and everyday west Sumatran culture.
Historic sites, including underground World War II tunnels and a clock tower built by Dutch colonisers.
Hiking the Sianok Valley and the Great Wall of Koto Gadang.
Seeing the world's largest flower and trying luwak coffee.
Day trips to volcanoes, valleys, crater lakes, and museums.
A Short History of Bukittinggi
Before arriving anywhere, I always like to have at least a basic idea of the history of the destination. Bukittinggi's history is particularly interesting.
Bukittinggi started out as five villages sharing one marketplace. During the Dutch colonisation of Sumatra in 1825, it was named 'Fort de Kock'. A fort with the same name was built at the top of a hill in the city.
During World War II, the Japanese invaded Sumatra and captured the city. They made it their headquarters between 1943 and 1945, until they surrendered.
During this time, they ordered the indigenous population in Bukittinggi to dig underground bunkers and tunnels to store Japanese military equipment. Thousands of enslaved Indonesian people died during the operation.
The city was re-captured by the Dutch again in 1948, and in 1949, the Dutch handed the control of the city back to Indonesia. The city was renamed Bukittinggi in 1949 after its release from the rule of colonial forces.
Some remnants of Bukittinggi's history remain. You can visit the Dutch's Fort de Kock tower and enter the Japanese cave network. It's also possible to learn about the traditional Indonesian Minangkabau culture by visiting various museums within driving distance of the city.
How to get to Bukittinggi
Bukittinggi has good bus connections to the rest of Sumatra.
There are overnight buses between Bukittinggi and destinations such as Lake Toba and Medan in north Sumatra or Dumai in east Sumatra (for the ferry to Malaysia).
The company which runs the overnight buses between Bukittinggi and north Sumatra is called ALS.
Most of the time, you need to visit the ALS bus station twice: once to buy your ticket (at least one or two days in advance) and a second time to board the bus.
The ALS bus company has three bus grades:
Economy (air-conditioned)
Patas (air-conditioned and with a toilet)
Super executive (air conditioned, with a toilet and extra space, plus comfortable seats).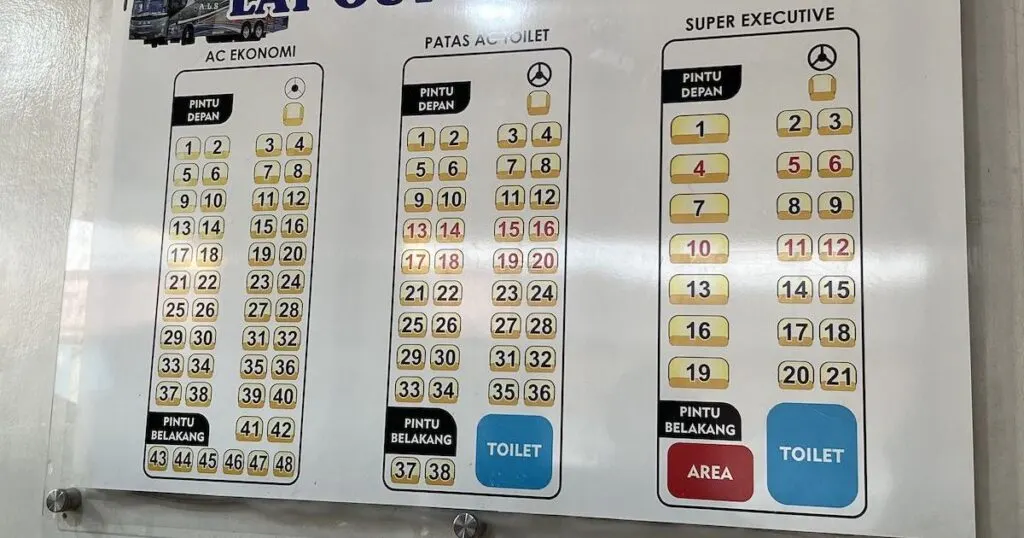 The ALS buses are renowned for being freezing cold due to excessive air conditioning, so wear layers.
Below is the cost of some of the ALS overnight buses between Bukittinggi and popular destinations in Sumatra and Indonesia: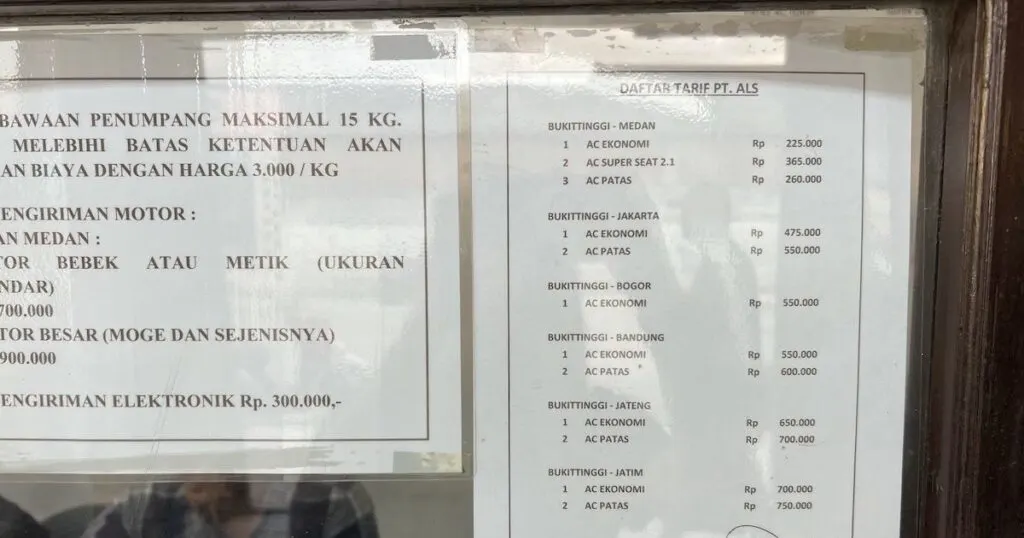 If you're starting your itinerary in Bukittinggi and you don't want to take an overnight bus, you can also fly out of Padang Airport. To do this, you can book a private transfer from Bukittinggi to Padang airport or find a taxi locally.
If you arrive at Padang Airport, you can take the shared minivans waiting outside of the airport to Bukittinggi for approximately 30 – 40k. However, it's not always guaranteed they'll be waiting outside, so you may need to take a private taxi instead.
Where to Stay in Bukittinggi
---
Best Place to Stay in Bukittinggi: Padi Ecolodge
The best place to stay in Bukittinggi is Padi Ecolodge.
The collection of wooden cabins are styled like the city's traditional Minangkabau architecture. They stand among the lush, green paddy fields directly next to the Sianok Canyon.
Free breakfast is included in every stay, and the friendly owner divides his time between Bukittinggi and Holland.
You can go hiking directly from the ecolodge in the canyon or on the Great Wall of Koto Gadang.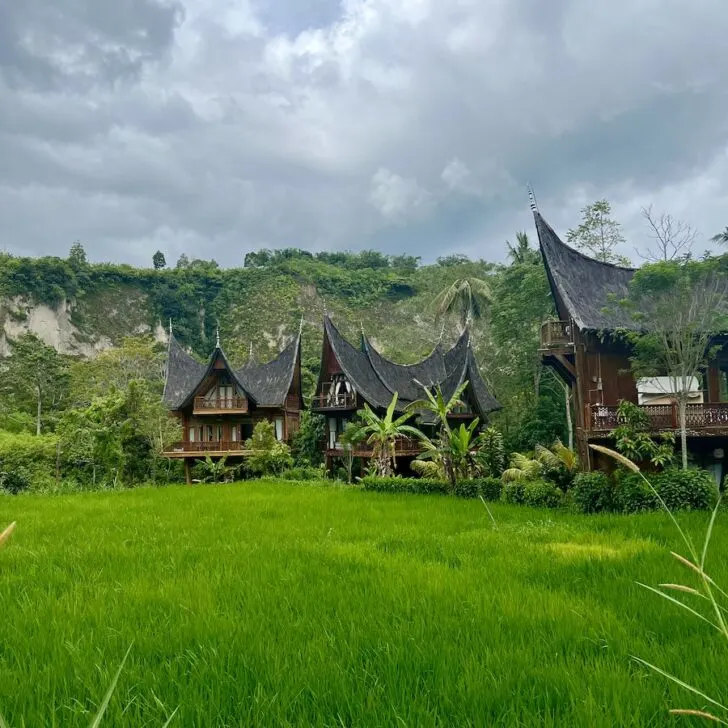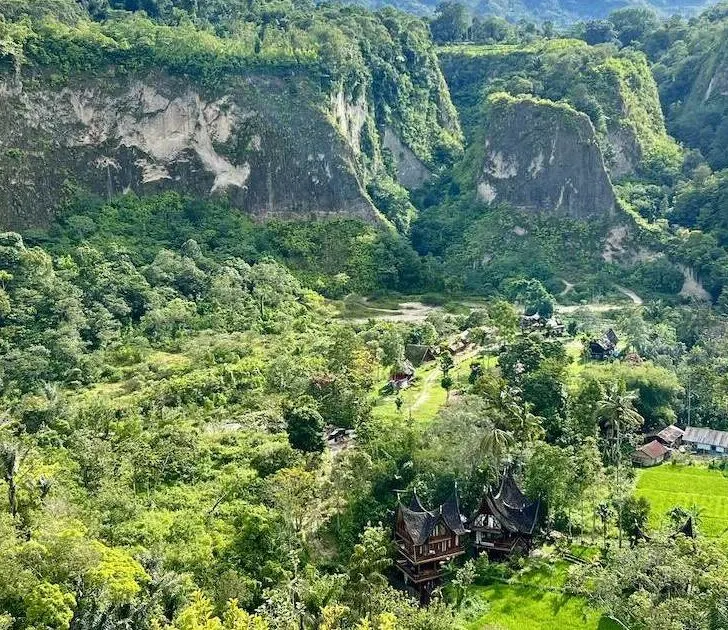 ---
if Padi Ecolodge is fully booked on your dates, Canyon Jungle Stay is located nearby and a similar option.
Luxury Hotels and Resorts in Bukittinggi
Novotel Bukittinggi: The Novotel is the height of luxury in Bukittinggi. It is just five minutes' walk from the centre of Bukittinggi and has a swimming pool, spa, Minangkabau architecture, and a huge, palatial restaurant.
Grand Rocky Hotel: The Grand Rocky has luxurious rooms with views over the jungle and a stylish bar and restaurant.
The Balcone Hotel & Resort: The Balcone has the best views in Bukittinggi and a very healthy dose of luxury (including a Japanese and Korean restaurant).
Budget Accommodation in Bukittinggi
There are no hostels in Bukittinggi with dorm-style accommodation.
If you're looking for budget accommodation, your best option right now is Aur Kuning Hostel.
This is where I stayed during my time in Bukittinggi. It is cheap and located a short Grab scooter ride or walk away from most of Bukittinggi's attractions. It's also 10 minutes' walk away from the bus station.
While Aur Kuning Hostel is more of a guesthouse than a hostel in the Western sense, it has a beautiful rooftop terrace with free coffee and tea and volcano views.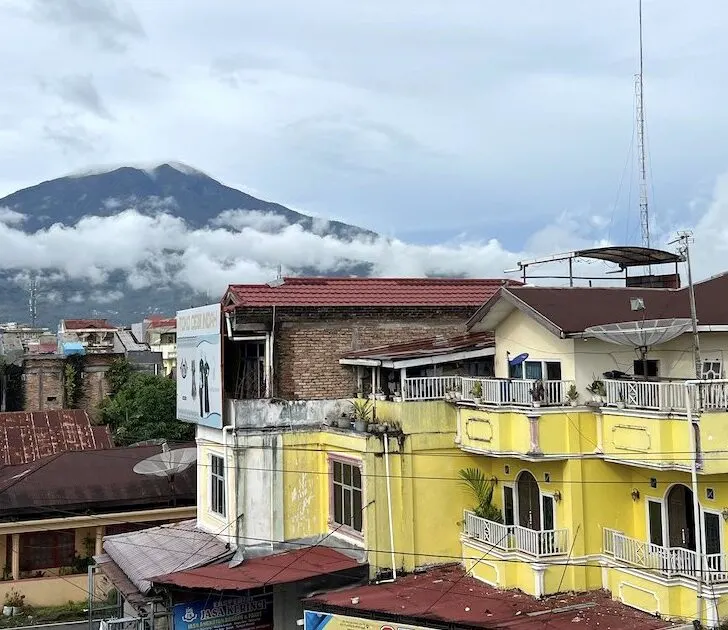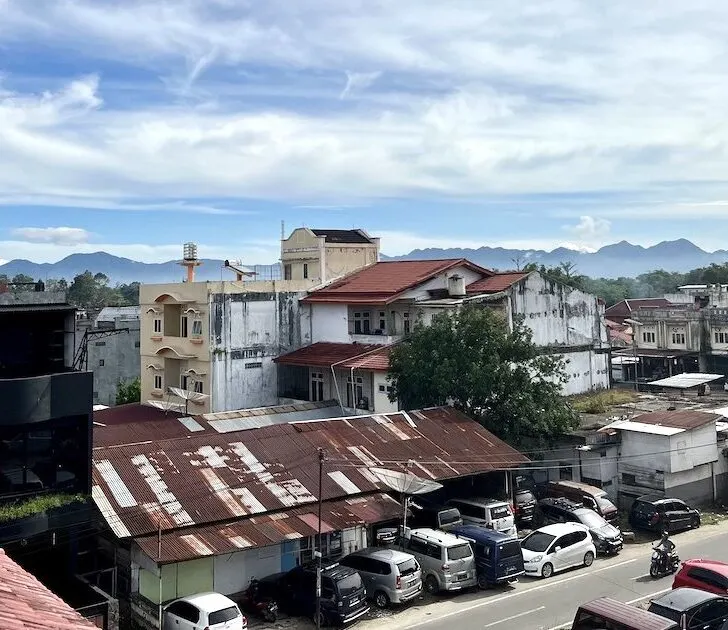 Views from the Hostel Aur Kuning rooftop
The rooms are simple but comfortable with access to clean toilets and hot showers. Note that unmarried couples cannot stay in the same room.
Things to Do in Bukittinggi
1. Visit Jam Gadang ('Big Clock')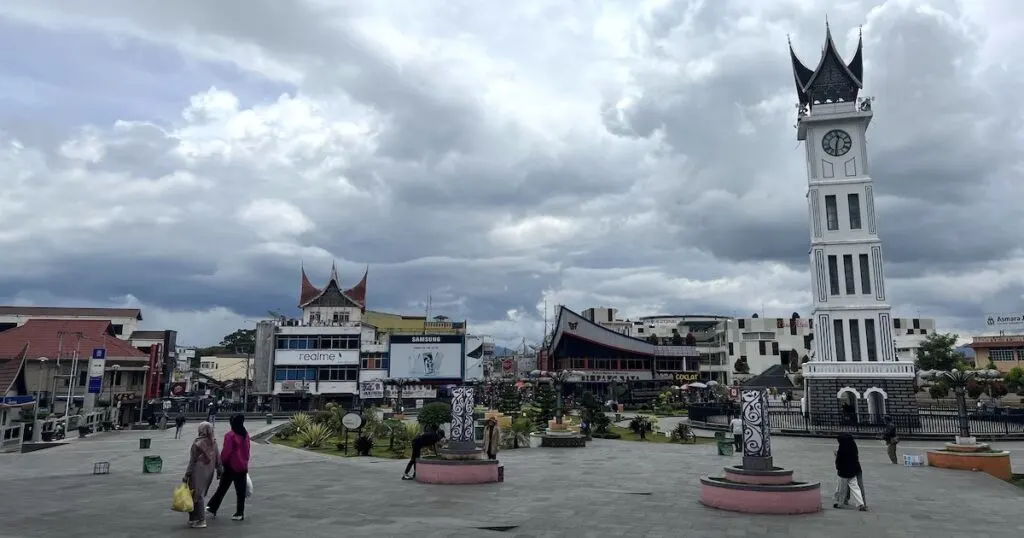 Visiting Jam Gadang first makes sense. It is located smack-bang in the centre of Bukittinggi, so it's an easy meeting place for tourists and locals alike
Jam Gadang is symbolic of the city. Everyone knows 'Big Clock'. It was built by the Dutch in 1926 but designed by local architects, so the top of the clock tower has curved roofs just like the traditional Minangkabau houses in west Sumatra.
Most of the colonial buildings in Bukittinggi no longer exist but this clock tower is almost a century old.
When you're visiting Jam Gadang, don't forget to wander around the square and check out the view over Bukittinggi and Mount Merapi.
2. Track down the best street food in Bukittinggi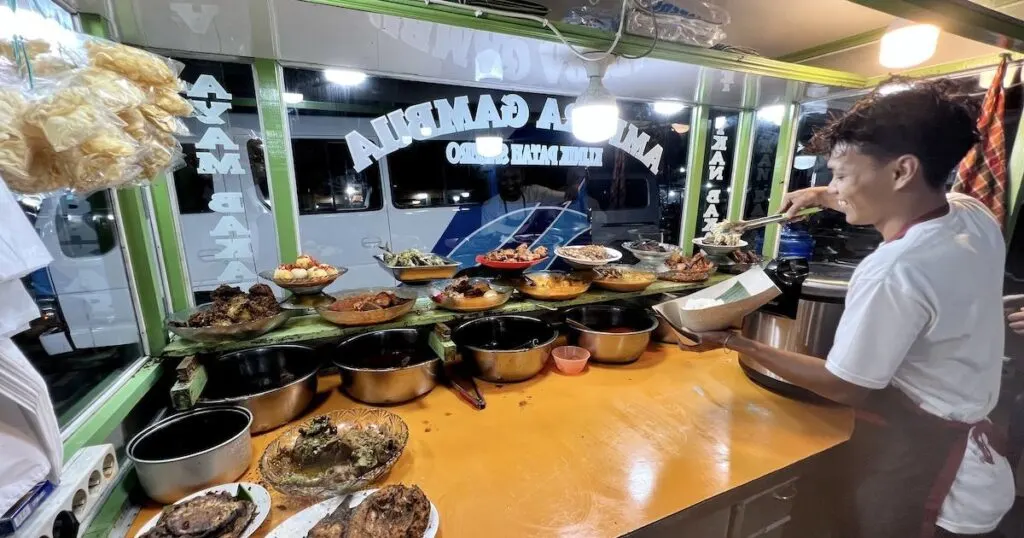 For dinner, my favourite spot in Bukittinggi is the market on Jl. Moh. Syaefi. I discovered this spot after meeting a local Bukittinggi resident who wanted to practice his English over dinner.
All it took was one dinner (and some great Indonesian desserts) to get me to return every night thereafter. The food is cheap and delicious.
If you're adventurous, you can try foods like eel or intestines. If not, just try some of the classic dishes such as pisang goreng (fried banana) or nasi goreng (fried rice).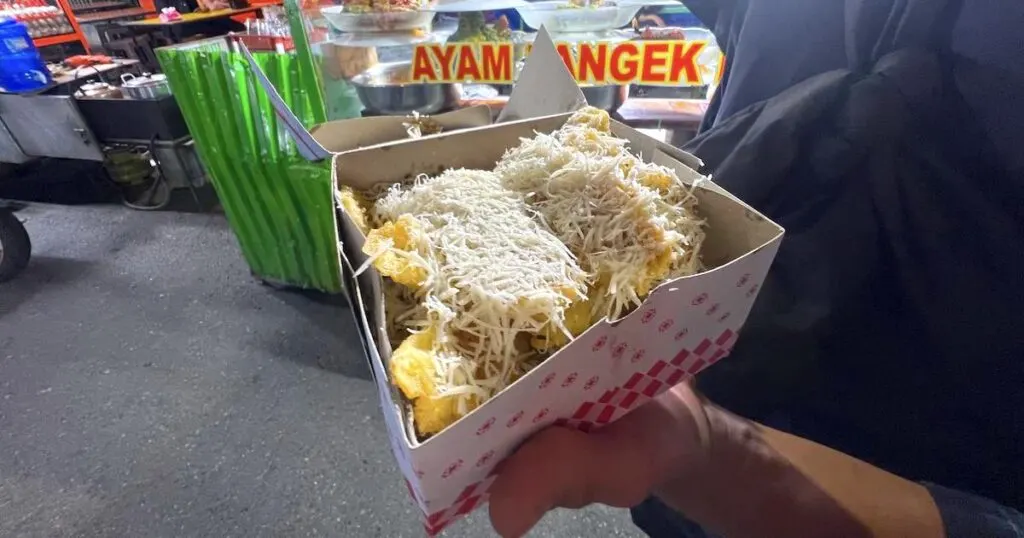 Pisang goreng (fried banana) with cheese
As this is a local market, it isn't marked on Google Maps yet. To find it, make your way to the street Jl. Moh. Syaefi. There is a 'Policewoman Monument' on Google Maps at the beginning of the street.
It's easy to find by walking 5-10 minutes from Jam Gadang. From the viewpoint facing Mount Merapi, turn right and follow the path down to the main road.
Follow the main road past the banks and ATMs. Opposite the Kantor POS building, take the road to the left, where you'll immediately see rows of tents and street food stalls.
3. Explore the Japanese Caves from the Panorama Park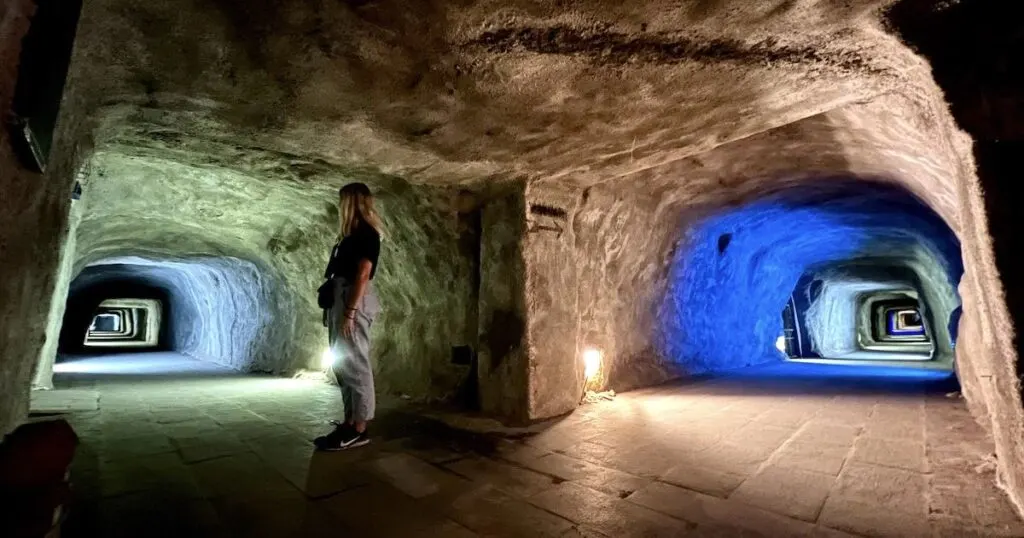 The Lobang Jepang ('Japanese Caves') are one of the eeriest but most significant historical attractions in Bukittinggi.
Positioned almost 50 metres underground, they are located in the Panorama Park in Bukittinggi, which has an entry fee of 5,000 IDR.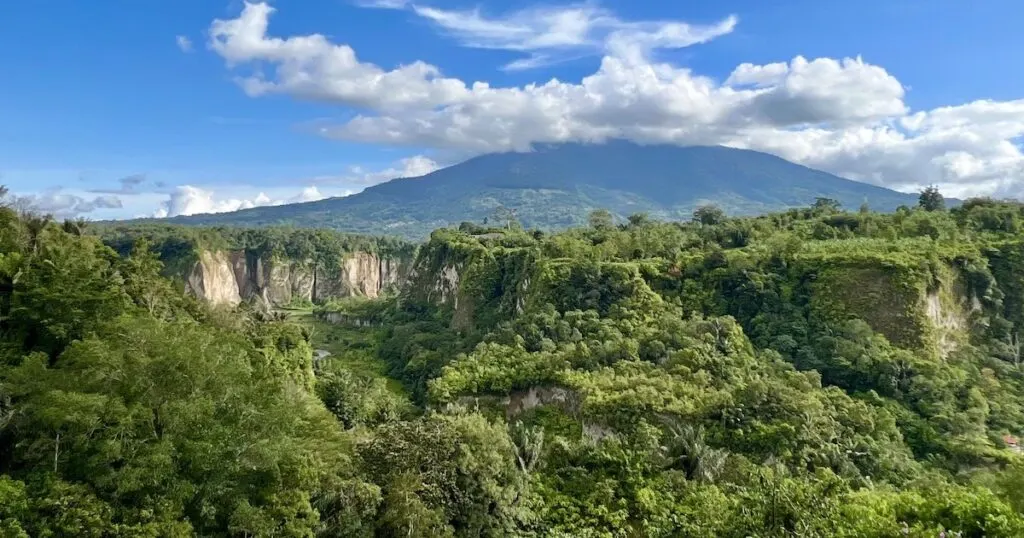 The park also has viewing platforms over Sianok Canyon. Walk around to the right to find the best viewpoint at the top of a pagoda with a spiral staircase, which overlooks rice terraces and the canyon.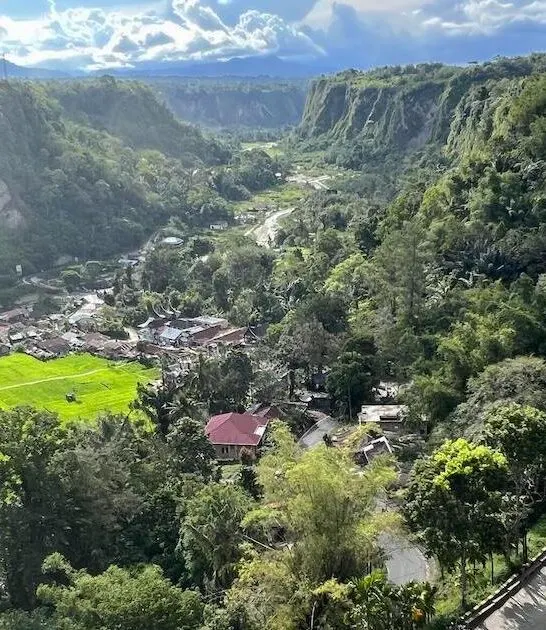 White-tailed macaques have taken a liking to the park and teeter around the edges of the trails. They are either playing with each other or eyeing up potential food to steal, so take care when you're walking around.
The Japanese Caves are quite a contrast to the beauty of the park. Lit by dim but fluorescent lighting, they are a maze of tunnels and bunkers dug out by Indonesian people under the orders of the Japanese during their invasion in 1942.
Thousands of forced labourers died during the process of building the tunnels.
The Japanese used the tunnels as a place to hide from the Allied forces during World War II. They stored war supplies and equipment in the bunkers and built a prison, ambush room, and a kitchen (not any old normal kitchen, but one used to execute and chop the bodies of prisoners).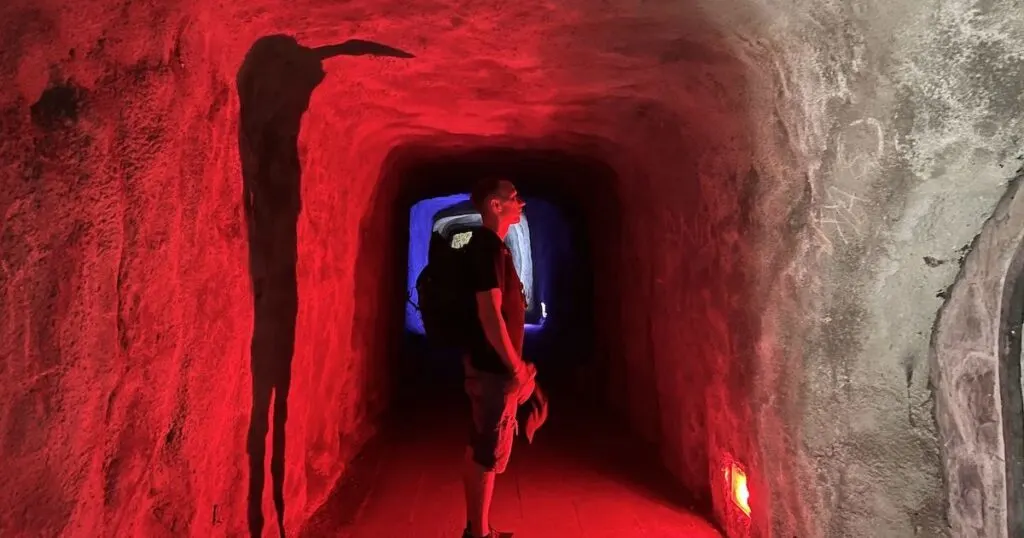 When you start to wander around the tunnels, you wouldn't believe that only one and half kilometres of the tunnel are open to tourists. The total length is believed to be eight kilometres.
4. Visit or hike the Sianok Canyon
It's not enough to simply view Sianok Canyon from the Panoramic Park.
To explore the ravine and its 120-metre-high walls properly , you should drive or take a Grab to Padi Ecolodge, the guesthouse situated in the base of the valley surrounded by paddy fields and countryside.
The canyon is around 15 kilometres in length. The best way to find the base is to follow the path into the valley from Padi Ecolodge. You're on the right track if you pass by a run-down, spider-ridden toilet shack.
After five minutes or so, you will reach a suspension bridge hanging over the base of the canyon. While the bridge has a great view into the canyon, you can also hike along the river.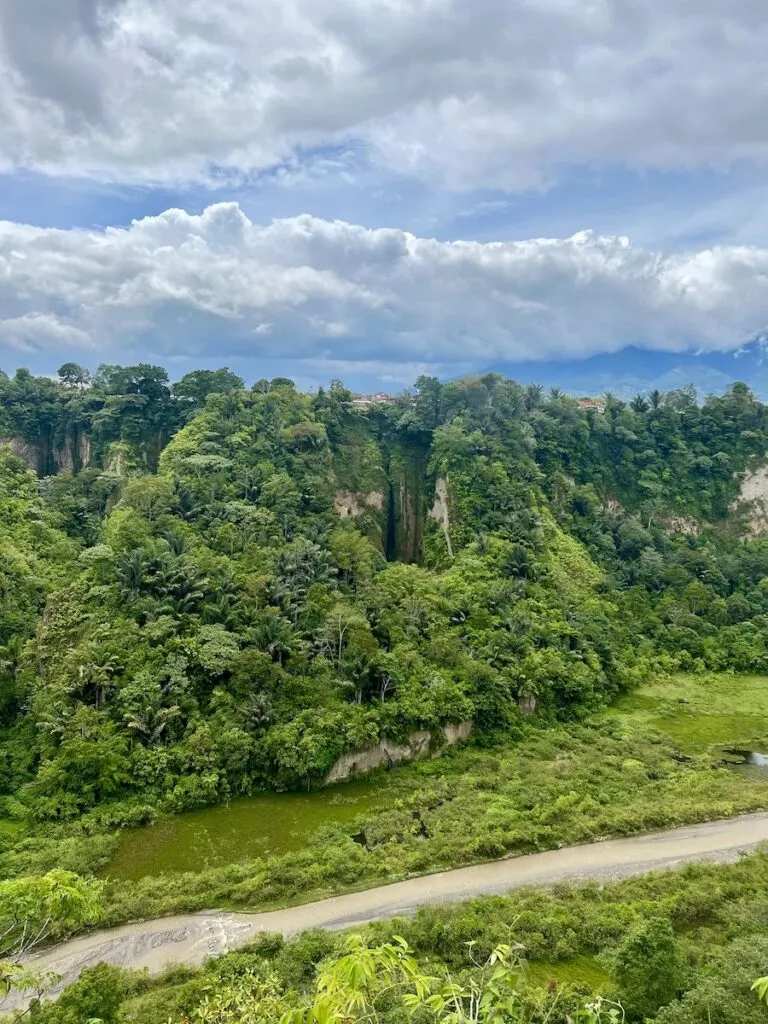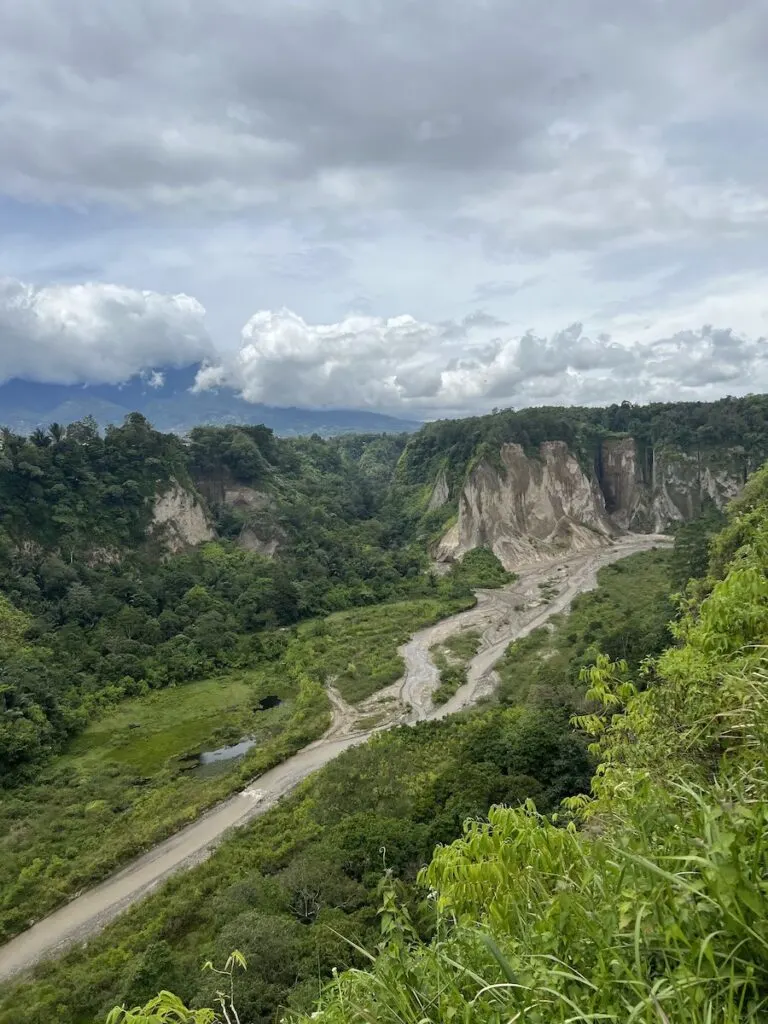 You'll need a guide for this. A local living in one of the houses next to the bridge offered to guide us for a small price, but it's also possible to bring your own guide in case they're not around or you don't fancy haggling at the last minute.
I've heard mixed reviews of the hike. Some say that the views are better from the top of the canyon and disappointing from within the canyon.
Others say they loved the trek, which goes through a small section of jungle, up and down the canyon's sides, and alongside the river, before passing through a small village.
The route will vary depending upon your guide, so maybe that's why there are so many mixed reviews.
5. Hike the Great Wall of Koto Gadang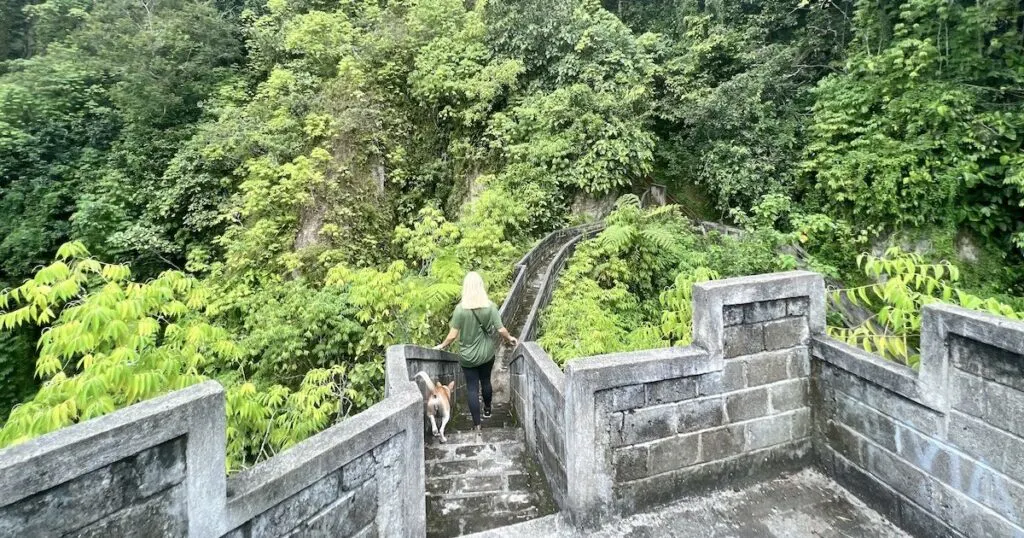 Forget about the Great Wall of China. The Great Wall of Koto Gadang is Bukittinggi's very own miniature version.
Built along one side of the canyon, the Great Wall of Koto Gadang is accessible from the suspension bridge at the base of the Sianok Canyon near Padi Ecolodge.
According to locals, the bridge was built to enable villagers to travel between Bukittinggi and the village of Koto Gadang, which is separated from Bukittinggi by the large ravine.
The Great Wall of Koto Gadang overlooks Sianok Canyon, so while you make the short half-an-hour ascent, stop to take in the views.
Sections of the wall veer off onto a ledge over the canyon, providing even better vantage points.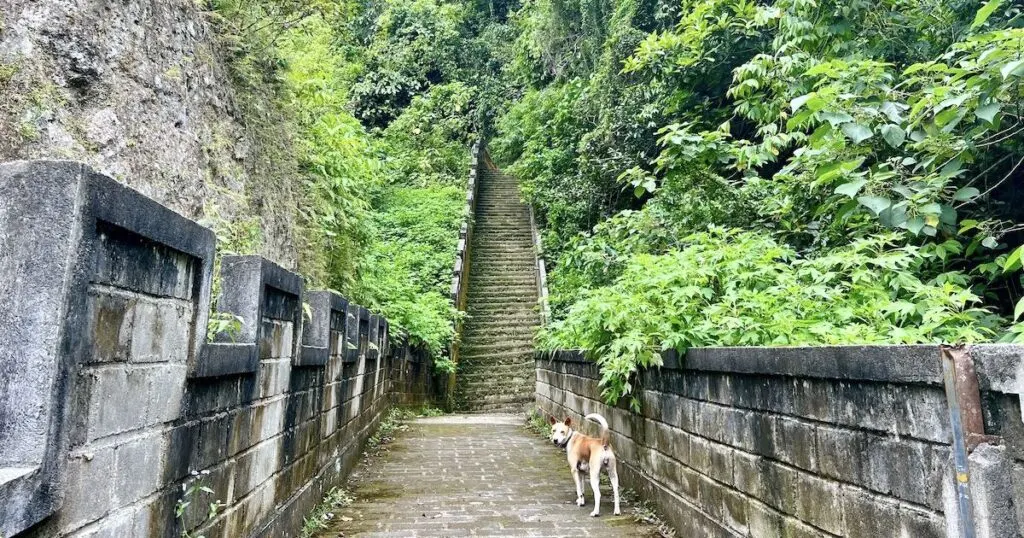 Note, the path can get slippery after rain, so climb up and down carefully.
If you're lucky, you might get to meet the wonderful dog pictured in my photographs, who lives at one of the guesthouses by the suspension bridge. She likes to accompany tourists on their treks, and she faithfully came all the way up and down the wall with us.
6. Visit a silversmiths in Koto Gadang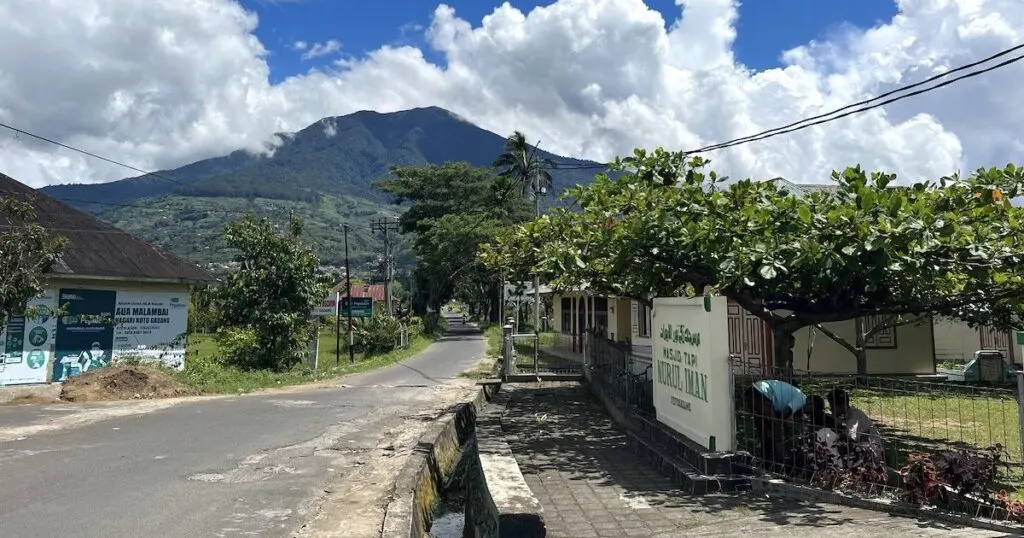 Koto Gadang is famous in Sumatra as a village of silversmiths. The silversmiths are based in a handful of old Dutch houses and produce wonderful miniature silver works of Minangkabau houses, jewellery, and other knick-knacks.
There are two ways to visit Koto Gadang. The first way is to climb to the top of the Great Wall of Koto Gadang and continue walking up the lane until you reach the centre of the village.
The second way is to take a Grab or taxi from Bukittinggi to the village. This will be costly, as it's a long route around the canyon.
Once you arrive in Koto Gadang, take some time to wander around and admire the mosque or the scenery of the surrounding paddy fields.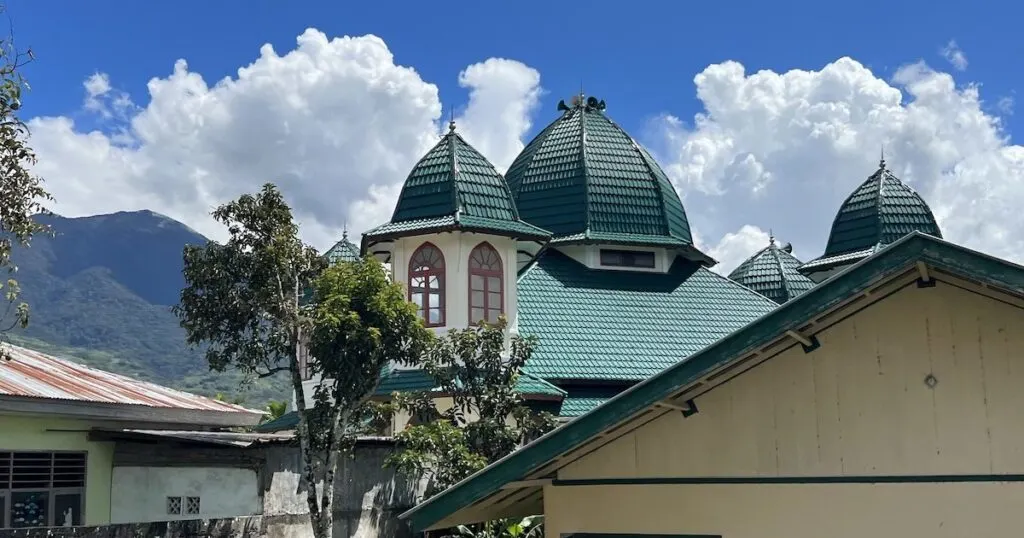 At the very end of the street Jl Sawahan, just past the mosque, you can visit the most famous silversmith in the village: Silver Work Welisyar.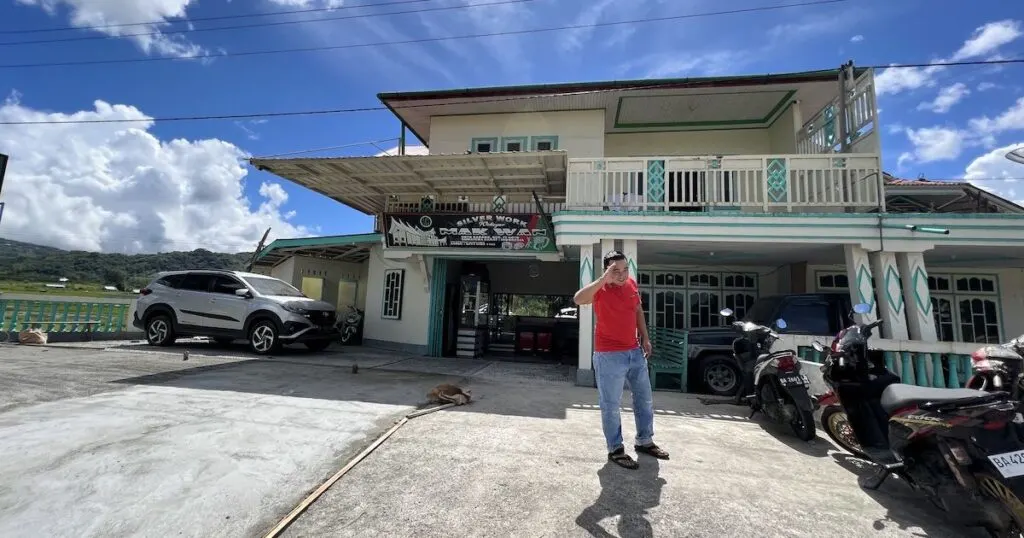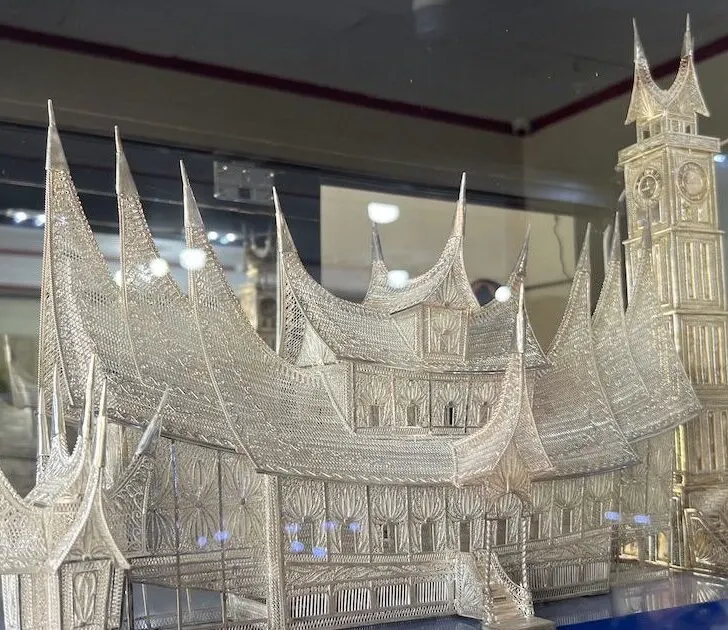 If you're lucky enough, you might get to meet the silversmith at work. Weli Syar Mak Wan is famous for producing intricate, silver Minangkabau palace models and rings.
7. Have lunch with a volcano view at Ampera Padang Hijau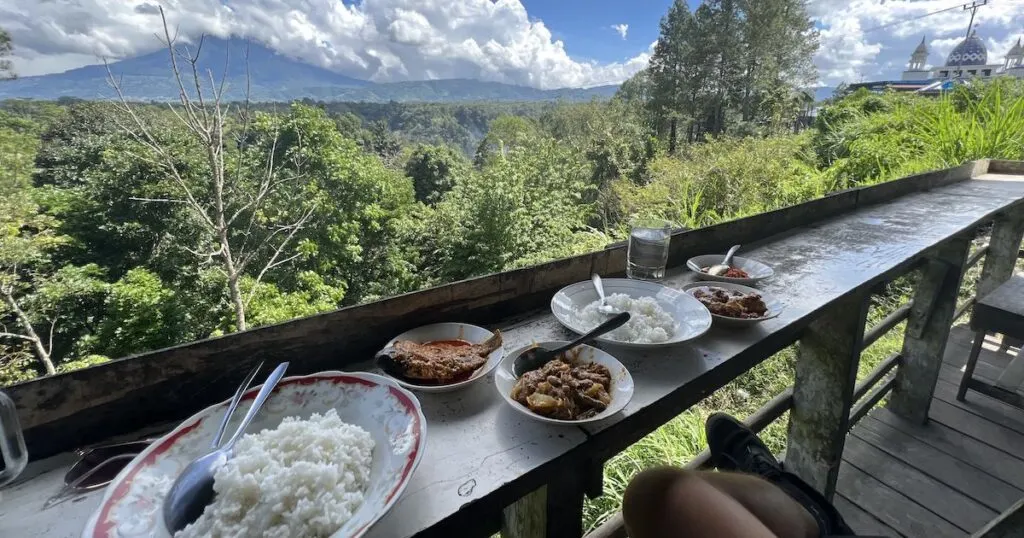 The Balcone Hotel & Resort has one of the best views in Bukittinggi but if you can't afford to stay there, your second-best option is to go for lunch at Ampera Padang Hijau, a local restaurant just down the road with a magnificent view of Mount Singgalang.
This restaurant was shown to me by a local guide in Bukittinggi because it was one of the only places open during Ramadan for lunch. However, I was not prepared for the incredible views: monkeys swinging through the jungle, Singgalang volcano in the distance, and a mosque peaking through the trees in my peripheral.
The food is cheap and cheerful, consisting of a typical Indonesian spread with spicy chicken and fish dishes, rice, vegetables, and coffee or tea. The staff and customers were very friendly and seemed pleased to see some new faces.
8. Visit Fort de Kock
Fort de Kock isn't Bukittinggi's most impressive site visually, but it's certainly a key piece of the city's history.
The 19th-century Dutch fort sits on a hill above the city. It was once used as a vantage point to defend the five surrounding adat villages during the Padri War, a conflict between the adats (indigenous, pre-Islamic people) and padris (Islamic up-risers).
The fort was also used to keep watch over potential attacks against the Dutch colonial government.
Most of the buildings around the fort have been demolished, but there are some remains of cannons and the main mound is still visible.
9. Hike to find the world's largest flower in the Batang Palupuh Nature Reserve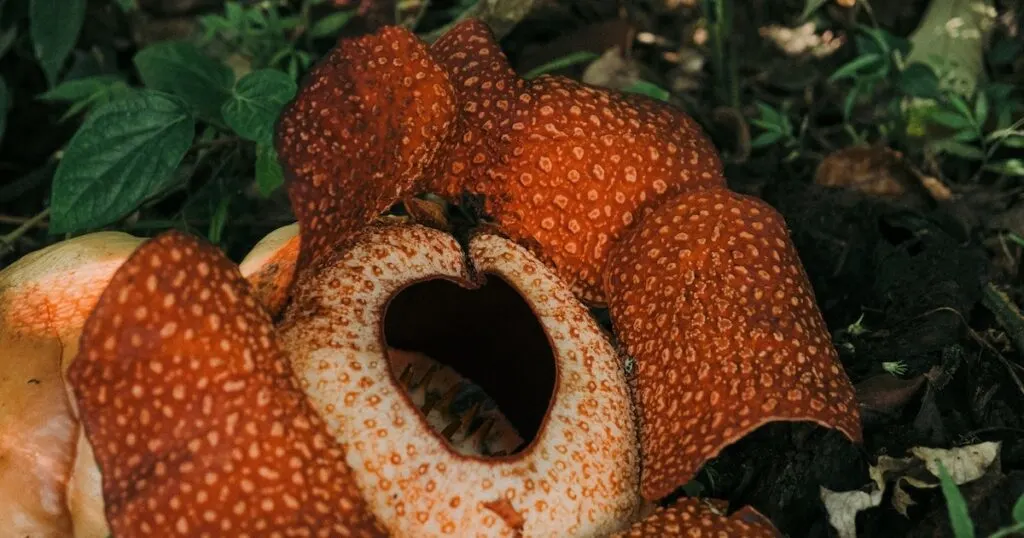 The Rafflesia flower, only found in Indonesia's rainforests, is thought to be the largest flower in the world.
Some of these parasites grow as large as three feet weigh as much as a small cat. They're also famous for their strong stench when in bloom, which has been likened to rotting carcasses.
Bukittinggi is a great base from which to track down the Rafflesia flower, as there is a forest named the Batang Palupuh Nature Reserve on the same road as the Balcone Hotel & Resort and the Ampera Padang Hijau restaurant.
The Rafflesia flower only blooms for one week, usually between the months of December and March, so you're not guaranteed a sighting of the flower in bloom (when it is at its stinkiest).
The forest is free to enter yourselves, but to find the flower, your best bet is to take a local guide or take advantage of the farmer who can provide a guide for 50,000 IDR for one group.
To find the nature reserve, turn off the main road just past the Balcone Hotel & Resort, where there is a signpost for Obyek Wisata Bunga Rafflesia. The forest is next to the village.
10. Try ethical luwak coffee and take a Minangkabau cooking class at Rafflesia Luwak Coffee
In the same village as the Batang Palupuh Nature Reserve, there is a coffee shop which serves luwak coffee harvested from the droppings of the wild civet cat.
If you're not familiar with kopi luwak (luwak coffee), it is a form of coffee brewed from the droppings of a wild animal called the civet cat, whose diet consists almost entirely of coffee beans. When the animal digests the coffee beans, they come out partially fermented, giving the coffee a unique taste.
Rafflesia Luwak Coffee is one of very few places in Indonesia where the coffee beans are harvested ethically.
In Bali, for example, the shops keep the wild animals captive to harvest the coffee beans, which is a very lucrative tourist business.
The owner of the coffee shop, Umul Khairi, harvests the beans from droppings left in the jungle around the village. Afterwards, he dries and roasts the beans. A cup of luwak coffee from his shop costs 20,000 IDR.
You'll need to contact Rafflesia Luwak Coffee to book a tasting. They also run Minangkabau cooking classes for dishes like beef rendang and chicken curry.
11. Visit Market Aur Kuning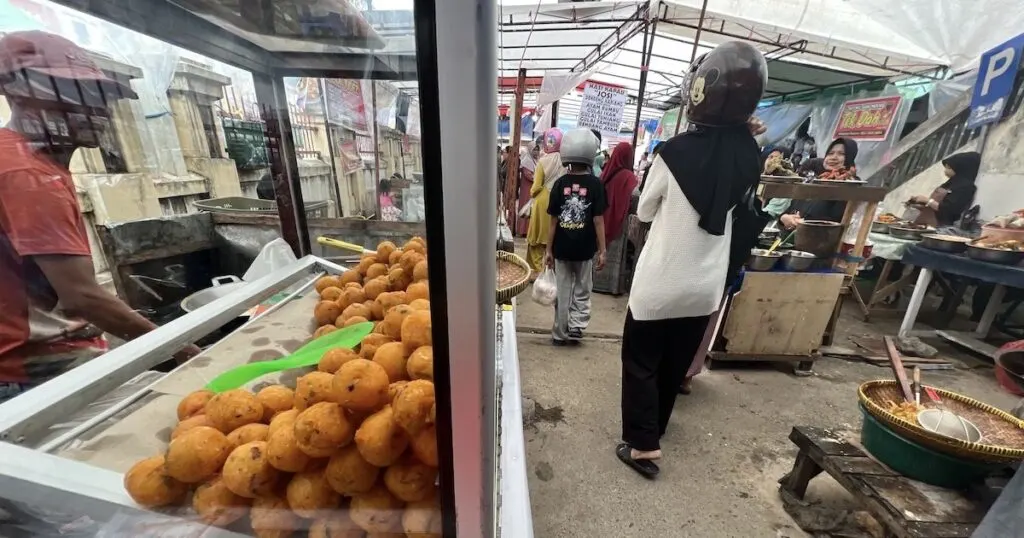 If you want to experience a traditional Indonesian market, Market Aur Kuning is the best place in Bukittinggi.
The market runs during the morning and into the early afternoon, and it is teeming with Sumatran and Minangkabau street food, snacks, nuts, seeds, fruits, vegetables, meat… almost everything you could imagine.
I came across the market by chance because it was part of my route between my hostel and the bus station. As my friend and I were visiting Sumatra during Ramadan, we were absolutely thrilled to come across so much food during the daytime and immediately began to browse the stalls and purchase our snacks for the upcoming day.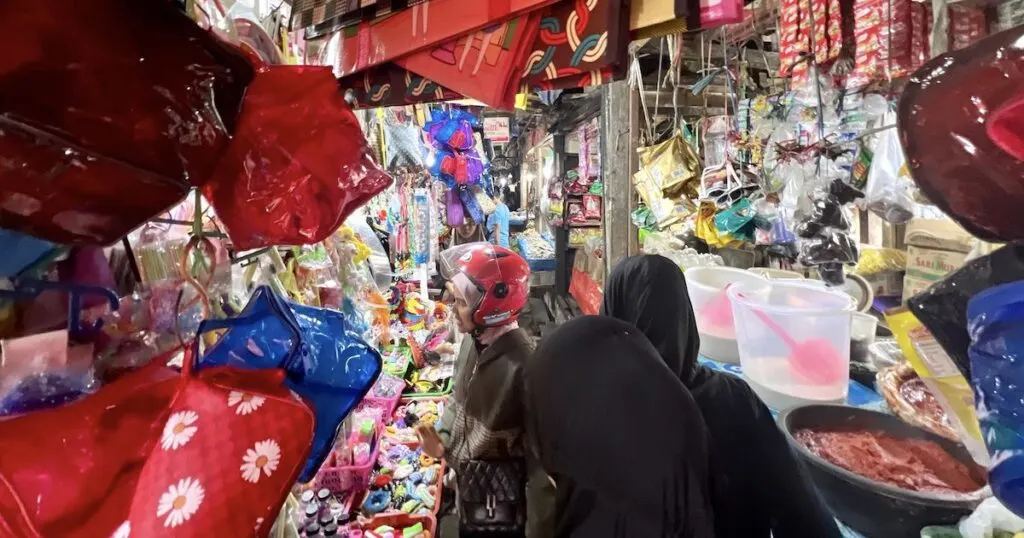 Later, I discovered that Market Aur Kuning considered to be one of the best traditional markets in west Sumatra.
It's incredibly popular with locals, many of whom are interested to see foreigners and to introduce them to their traditional snacks and street food. So, make sure you have an empty stomach when you arrive.
12. Go for coffee in the Tabiang Takuruang ('Cooped Cliff')
Tabiang Takuruang is another underrated spot – Bukittinggi is full of them.
Located past rice paddies, the area of Tabiang Takuruang ('Cooped Cliff') consists of a handful of small coffee shops and restaurants set in a river valley with towering rock cliff and incredile views of Mount Singgalang.
There are a few small trails around the valley but the main attractions are the peaceful coffee shops, photo opportunities, and the views.
---
Travel insurance is essential for any trip abroad. If you're in an accident or experience an emergency, you need adequate cover.
I recommend Staysure for single or multiple trips per year and SafetyWing for digital nomads.
---
Things to Do in Bukittinggi: The Best Tours in Bukittinggi
Tours from Bukittinggi can be arranged through a local guide or by booking a tour online.
There are plenty of enterprising, independent guides in Bukittinggi, who will approach you in the street or around tourist destinations to ask if you need a guide.
I was approached by a man on a scooter near Sianok Canyon, who produced a book full of handwritten reviews in English, German, Dutch and other languages. It was by far the best marketing tactic I saw in Sumatra, and if I hadn't been leaving the next day, I would have taken him up on his offer.
You can find local tour guides by asking at your accommodation or even by looking on Instagram.
I've listed some of the best online tours for Bukittinggi and west Sumatra below:
Things to Do in Bukittinggi: The Best Day Trips from Bukittinggi
1. Maninjau Lake and Puncak Lawang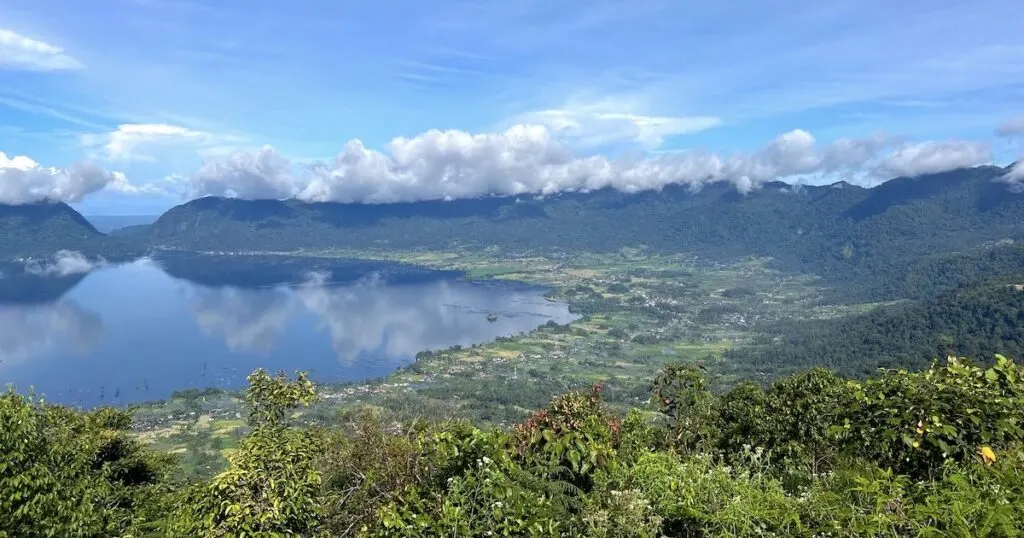 Maninjau Lake is a crater lake approximately two hours from Bukittinggi by bus, scooter, or car and accessible by 44 hairpin bend turns.
The lake is surrounded by peaceful fishing villages and paddy fields. It is a beautiful place to witness the slow, simple, rural life in west Sumatra. The lake is also small enough that you can cycle around it in one day; the route is around 50 kilometres long.
There is also a viewpoint over Lake Maninjau called Puncak Lawang.
2. Harau Valley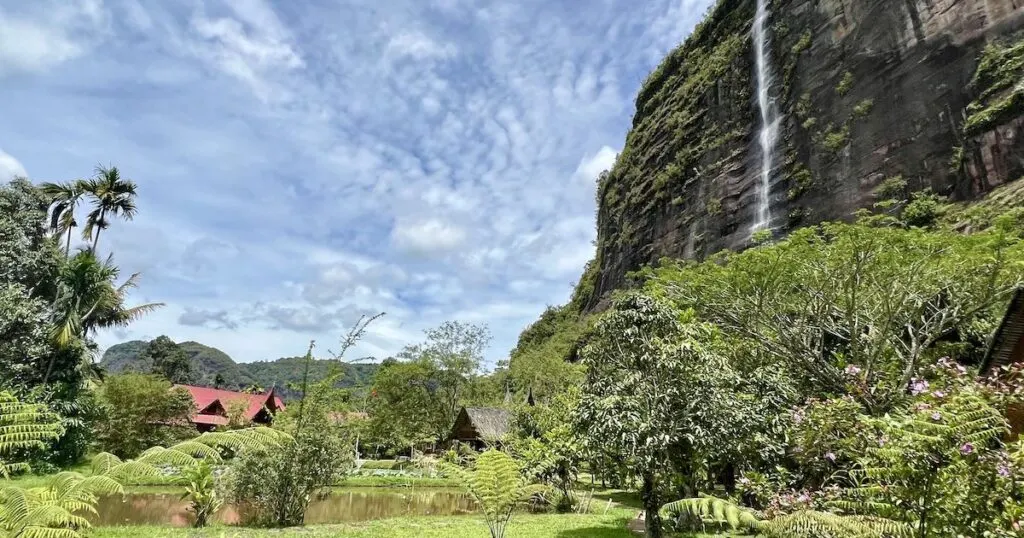 Harau Valley is only an hour or two from Bukittinggi by bus or car. Often likened to Yosemite and Switzerland, the valley has some incredible hikes, but only if you know how to find them. There are also countless waterfalls and rock climbing destinations.
3. Visit Pagaruyung Palace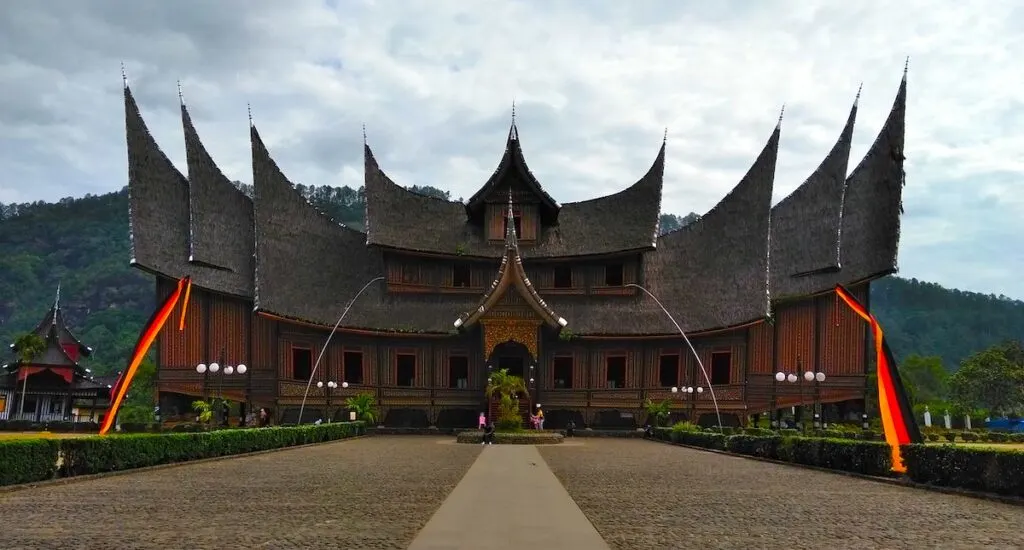 Pagaruyung Palace is under two hours' drive from Bukittinggi. It is one of the pricier day trips from Bukittinggi because the palace is far by road. However, it will be worth it if you want to see one of the largest and most impressive examples of the Minangkabau Rumah Gadang architectural style in west Sumatra.
The palace was once the seat of the Pagaruyung Kingdom, and was most likely a combination of a home and a ceremonial palace.
At three stories high, it is one of the most dramatic pieces of architecture in the area, with huge, multi-layered gables and dramatically-curving roofs.
4. Sikabu Rice Terraces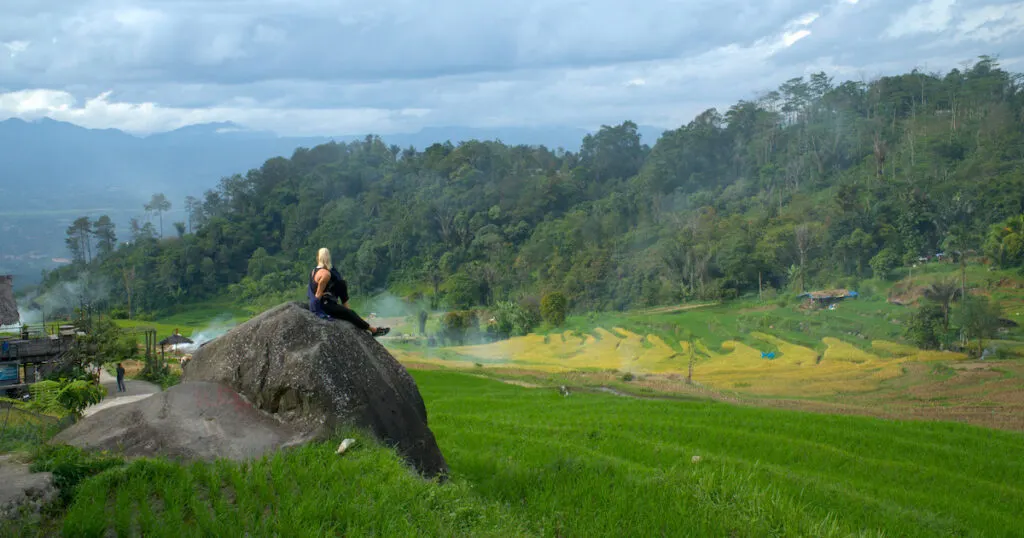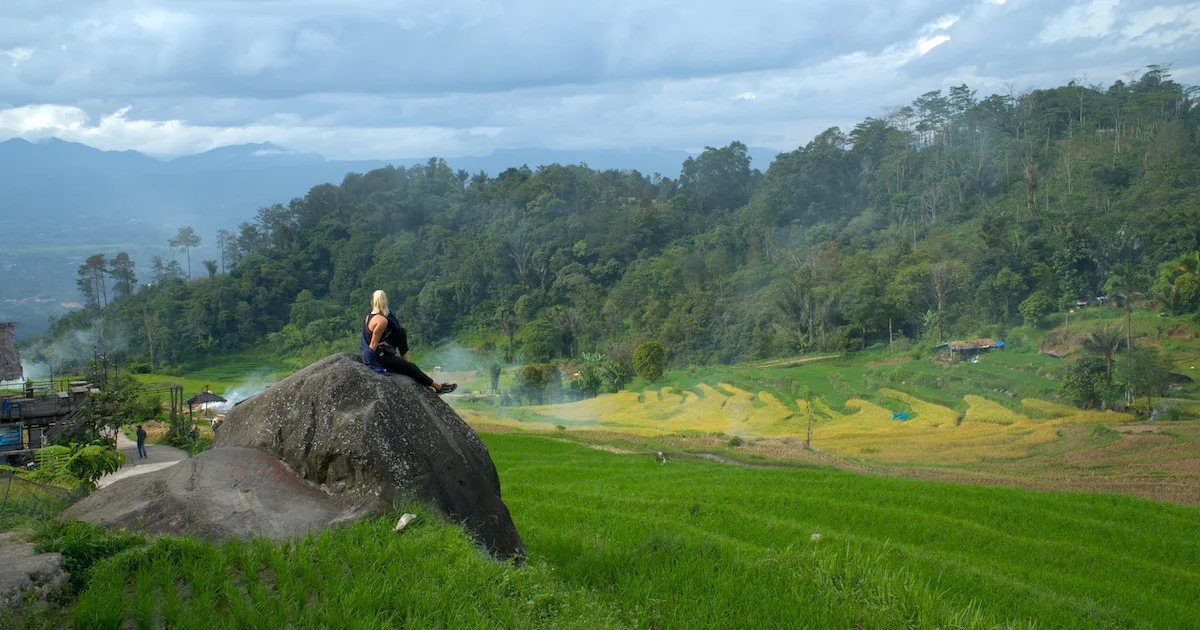 Framed by Mount Sago, the Sikabu rice terraces are one of my personal favourite places in Sumatra. At the moment, they're only well-known among regional tourists from Indonesia, so there's only one glamping site and a couple of coffee shops.
I expect the area to grow rapidly over the next few years as an internatinoal tourist destination.
The tiers of rice terraces are occupied by water buffalos and a few farmers using old-fashioned equipment to harvest the crops.
5. Padang Panjang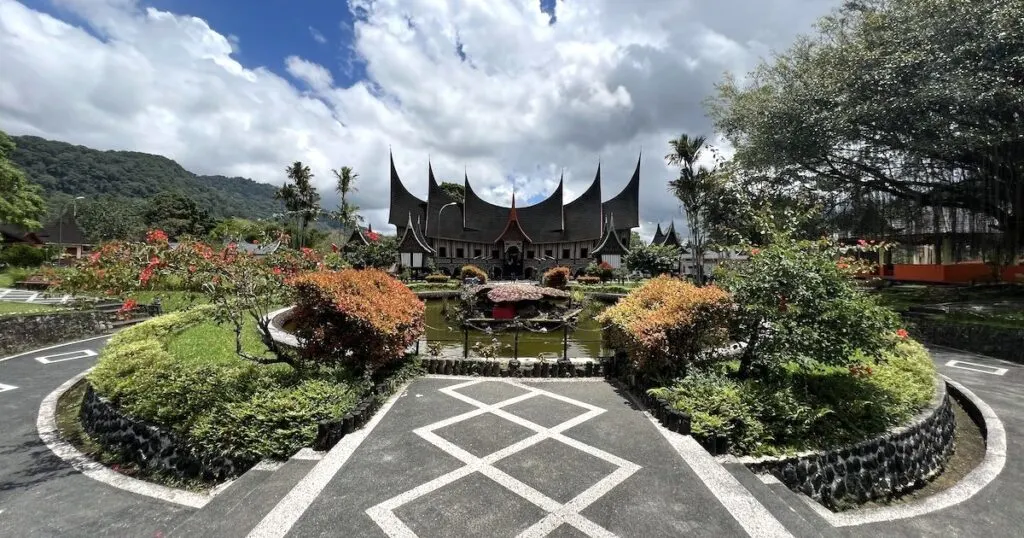 If you don't have the time to visit Pagaruyung Palace, Padang Panjang is home to the Minangkabau Culture Documentation and Information Centre, a slightly smaller but just as pristine example of traditional Minangkabau architecture.
The museum has a number of exhibits on west Sumatran history, including the history of the railway, traditional music, and many old newspaper clippings from the area. Since all of the information displayed is in Indonesian, you'll need to make use of the photo feature on Google Translate app to translate what you can see.
Tips for visiting Bukittinggi
1. Be respectful of the Muslim and Minangkabau traditions
Bukittinggi is a strict Muslim city. The wide majority of women in Bukittinggi wear a hijab and cover themselves from ankle to neck.
According to the Minangkabau tradition and Islam, the city also banned Valentine's Day and New Year because they believe that the celebrations encourage young and in-love couples to hug or kiss.
Therefore, when visiting, you should:
Dress modestly. Women should cover their knees, shoulders, and chest and men should wear long shorts or trousers and dress modestly.
Avoid public displays of affection.
Before you stay in a local hostel or hotel, read the terms and conditions carefully. Unmarried couples of the same gender are not permitted to stay in the same room.
You can visit my guide to what to wear in Sumatra for more information on how to dress respectfully in Sumatra.
2. Use Grab and other e-hailing apps to get around
Bukittinggi is a large city and the tourist sites are distant from each other.
Instead of relying upon taxis, make use of Grab and other e-hailing apps to call a car or scooter taxi using WiFi or 4G. They are typically far cheaper than using a street taxi.
3. Use local guides
Bukittinggi is truly one of those places which keeps on giving. Tourism has barely touched the city, so locals will be able to show you the best spots.
The best way to find a guide you trust is through your accommodation, but if you go through someone you meet in Bukittinggi, ask for their previous reviews (handwritten is fine) and be sure you trust them. I met many wonderful local people in Bukittinggi.
FAQ
What is the religion of Bukittinggi
The predominant religion in Bukittinggi in Islam.
What country is Bukittinggi?
Bukittinggi is in Indonesia.
---
Katie Treharne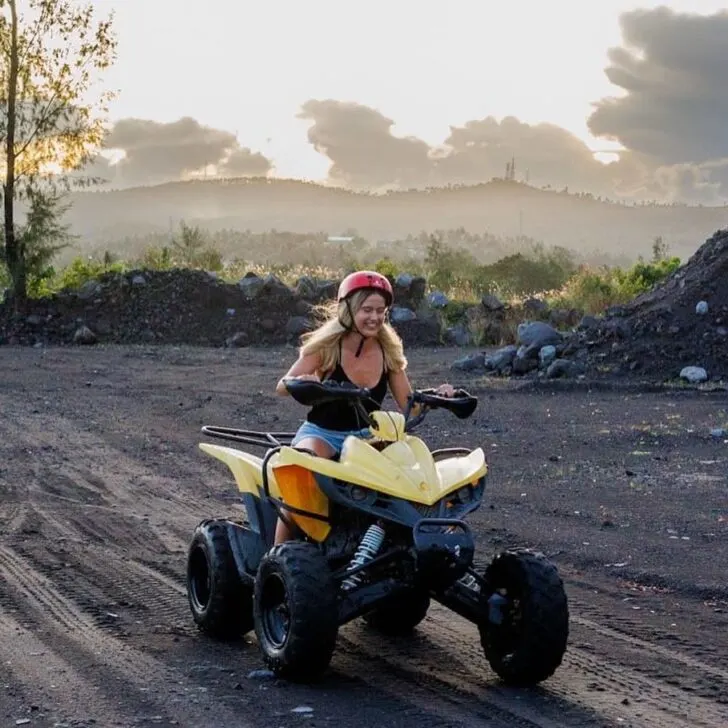 I'm Katie, the owner of Escape Artist Katie. I have been travel writing since 2018, including writing for luxury travel magazines and publications such as Wanderlust.
As well as being a digital nomad who works and lives abroad permanently, I'm a big advocate for offbeat travel and pushing yourself out of your comfort zone.
I hope you found my article useful – find out more about me here or keep up with my travels on Instagram.
---