By no means does eating gluten free food in Vietnam mean that you must miss out on the different textures and flavours of the Vietnamese cuisine.
For many, the best part of travel is having the opportunity to sample a country's traditional cuisine. Vietnamese food is talked about all around the world, so the idea of missing out on the flavours and local recipes just because you're gluten free is disappointing to say the least.
However, eating gluten free in Vietnam and getting to sample the local cuisine is doable. As long as you're informed about the content of your food and feel confident in your knowledge, you can eat local too.
Gluten-free diets exclude any foods containing gluten, which is the name for which is the name for a structural protein found in wheat and other grains. Therefore, anyone who has celiac disease or a gluten intolerance must not consume any products that contain wheat, barley, rye, or triticale (a combination of wheat and rye).
Conveniently, many traditional Vietnamese dishes are based around rice or rice flour, which are safe ingredients for gluten-free travellers. This includes Vietnam's national dish, pho (a broth containing rice noodles), and dishes such as banh xeo (rice pancakes) and nem (rice paper spring rolls).
With this guide to gluten free food in Vietnam, you'll be able to confidently and safely try the Vietnamese cuisine. While the guide specifically focuses on delicious gluten-free Vietnamese dishes, I've also covered how to clearly communicate your needs, gluten-free cards for Vietnam, foods to avoid, and different gluten-free drinks and snacks.
Get ready to feel confident, informed and ready to navigate the Vietnamese food scene while clearly communicating your needs.
Having experienced the highs and lows of travelling with food intolerances, I'm on a mission to create gluten-free travel guides for every destination I visit, and I've already covered gluten free food Philippines and how to be gluten free in Bali.
Gluten Free Food in Vietnam: What is gluten free in Vietnamese?
Gluten free in Vietnamese is 'không chứa gluten'.
If you'd like to say 'no gluten', use the phrase 'không chứa gluten'. If the server still doesn't understand what you're saying, other words for gluten may include 'hồ nấu' or 'nhựa bột'.
You might also want to communicate exactly what you can't eat. In that case, to say 'no wheat, barley, rye, or triticale', use the phrase 'không có lúa mì, lúa mạch, lúa mạch đen hoặc lúa mạch ba'.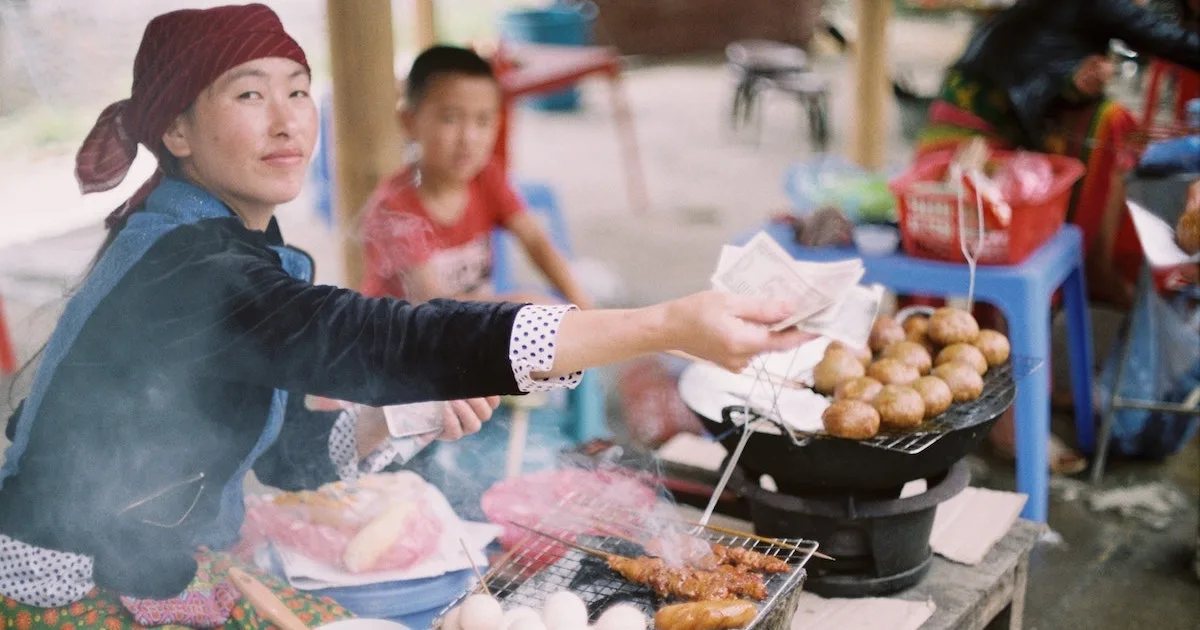 Being able to clearly communicate your needs is the key to feeling confident that your Vietnamese meal is completely gluten-free.
The best way to tackle any language barriers is by downloading the Google Translate app (available on iOS or Android).
The app works offline, so it is an excellent way of keeping the lines of communication open while you're ordering your food, even when you don't have internet access.
Using the app, you can mention specific food types, ask questions, and confirm that the server or chef has fully understood your dietary needs.
Gluten free cards for Vietnam
Another useful way to communicate your dietary requirements is by carrying a gluten-free card, which clearly explains your dietary needs in Vietnamese.
Celiac Travel provides a basic, cost-free gluten-free card for Vietnam.
Gluten Free Food in Vietnam: Vietnamese food to avoid if you're gluten free
Before I get into what your tastebuds can encounter, I'm going to cover what you should avoid. This is half of the hurdle when it comes to eating gluten free in Vietnam.
Soy sauce: Soy sauce is a staple in Vietnam. When it's not used as part of the dish's flavouring, you're likely to have a dish or a bottle of soy sauce provided on your table.
On the surface, soy sauce sounds safe for gluten-free travellers. However, soy sauce commonly uses a mixture of soybeans, water, salt, and wheat.
Some companies claim that their fermented soy sauce is gluten-free. However, fermentation hasn't been proved as an effective method of eradicating gluten, and many believe that the peptide chain stays in the soy sauce.
To stay on the safe side, avoid dishes that contain soy sauce and check the label on any soy sauce bottles provided on your table.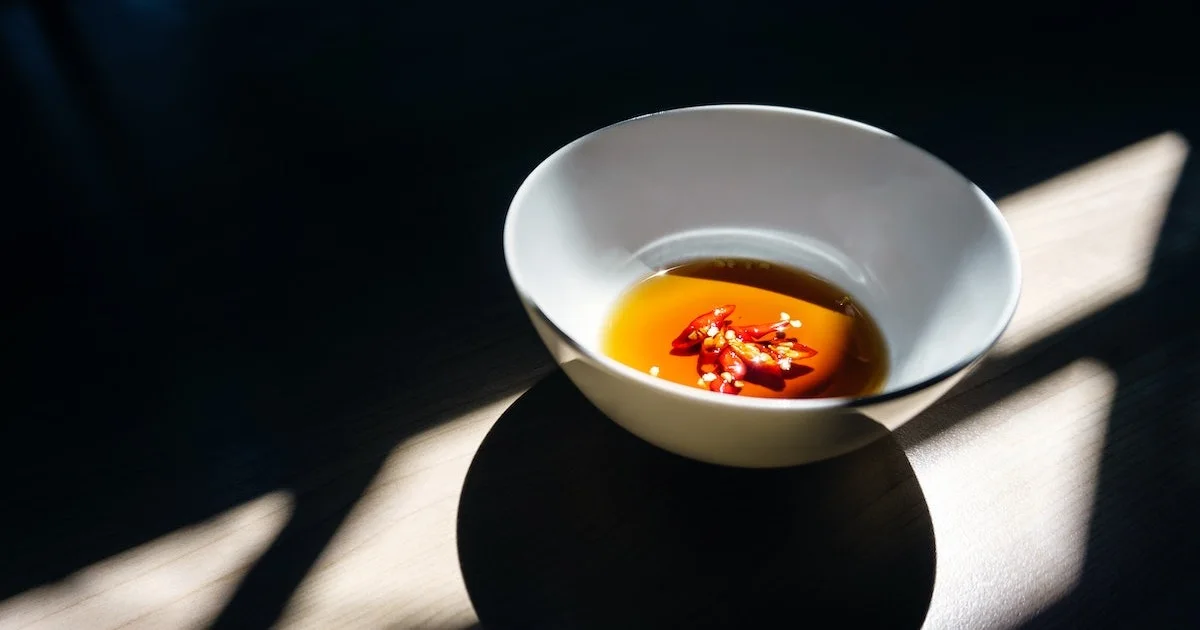 Deep-fried foods: Deep-fried foods are generally a no-go for gluten-free travel in Vietnam.
This is because they are often lathered in wheat flour before they're dipped into the fryer.
Even if the staff suggests a flour-free fried dish, the deep fryer's oil may already have been contaminated by previous food products, which creates a risk of cross-contamination.
Marinated meat or fish: Many marinades in Vietnam contain soy sauce, which, as I've already covered, may or may not contain gluten.
You should confirm the contents of any marinades with the chef directly and enquire especially about whether the marinade contains soy sauce. If it contains soy sauce, it's probably best to steer clear of the dish.
Beer or cider: Beer, lagers, stouts and ales are off limits for those travelling to Vietnam on a gluten free diet. They are brewed from malt, which contains gluten.
Red flags
I'd suggest familiarising yourself with Vietnamese words that are big red flags for gluten-free travel in Vietnam.
Watch out for:
Bánh mì: Bread
Bánh: Cake
Mì, my or nui: Noodle styles that commonly contain wheat.
Hủ tiếu or Hủ tíu: A breakfast broth that should contain tapioca noddles, but usually contains egg noodles.
Won ton: Wheat-containing dumplings.
---
Travel insurance is essential for any trip abroad. If you're in an accident or experience an emergency, you need adequate cover. I recommend Staysure for single or multiple trips per year and SafetyWing for digital nomads.
---
Gluten Free Food in Vietnam: What Vietnamese dishes are gluten free?
Now that you're aware of the foods you should avoid if you're visiting Vietnam on a gluten free diet, you can begin to confidently explore the Vietnamese cuisine.
Aside from being incredibly tasty, the following Vietnamese dishes are all gluten-free.
That being said, always stay on the side of caution, and double, triple and quadruple check with your server and chef with the help of Google Translate or a gluten-free travel card.
You'll notice that none of the following dishes contain free-from products, which are common in Western countries.
At the moment, these products don't really exist in Vietnam, so most of the food you'll consume will be naturally gluten-free.
With all of the following dishes, always confirm that broths or marinades do not contain soy sauce or wheat flour.
Gluten-free main meals in Vietnam
Pho: Vietnam's national dish is a soup that consists of a broth, rice noodles, fresh herbs, and meat or vegetables. In the west, the broth often has wheat added as a thickening agent. This is unusual in Vietnam, but you should confirm that there is no wheat flour (or soy sauce as an additive) in the broth before you tuck in.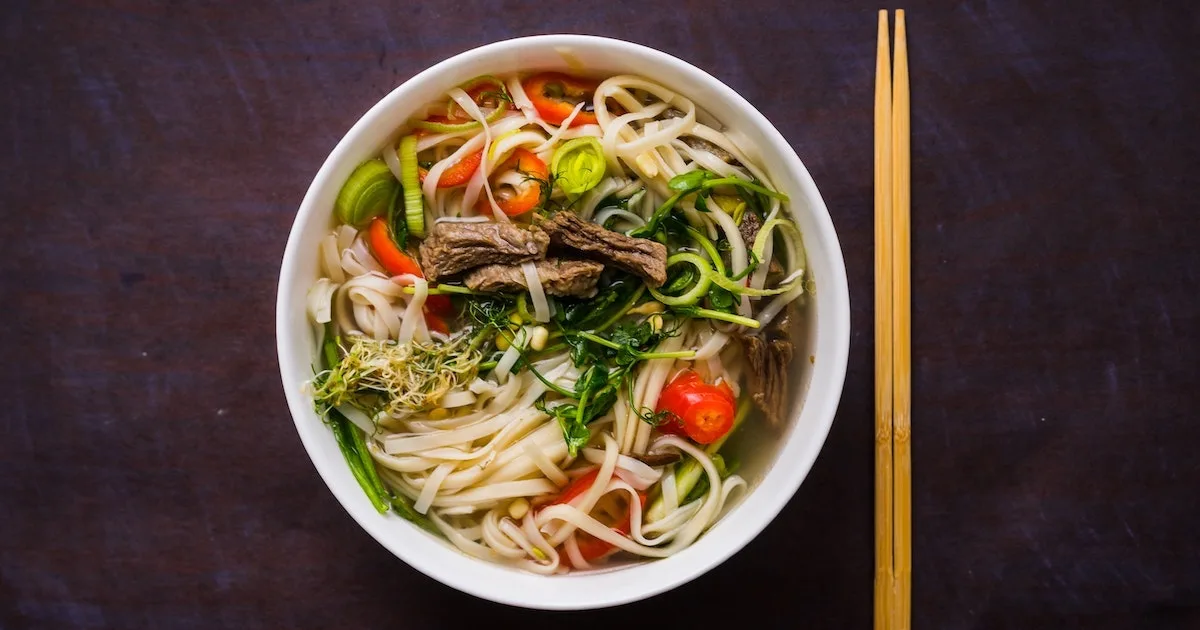 Mì quảng: This rice noodle dish originates from central Vietnam and includes rice noodles and meat in a turmeric-infused broth with fresh herbs, crushed peanuts, rice crackers, lime, and chilli. Tasting this dish is one of the best things to do in Da Nang Vietnam.
Bánh xèo: This dish is a thin rice pancake similar to a crêpe. It's made by blending rice flour, turmeric, and coconut milk. It is traditionally stuffed with savoury fillings such as onion, shrimp, vegetables, pork, steak, and/or mung bean sprouts. While most recipes in Vietnam use 100% rice flour, you should confirm that the recipe does not contain wheat. Pre-prepared mixes might contain a combination of wheat flour and rice flour.
Hu tieu nam vang: Common in Saigon, this pork broth traditionally contains 'hu tieu' noodles, which are wheat-free tapioca noodles made from cassava starch. Double check that the hu tieu broth definitely contains tapioca noodles (or rice noodles), because some hu tieu soups may substitute tapioca noddles with 'mi' egg noodles. The dish may include quail eggs, which are gluten free.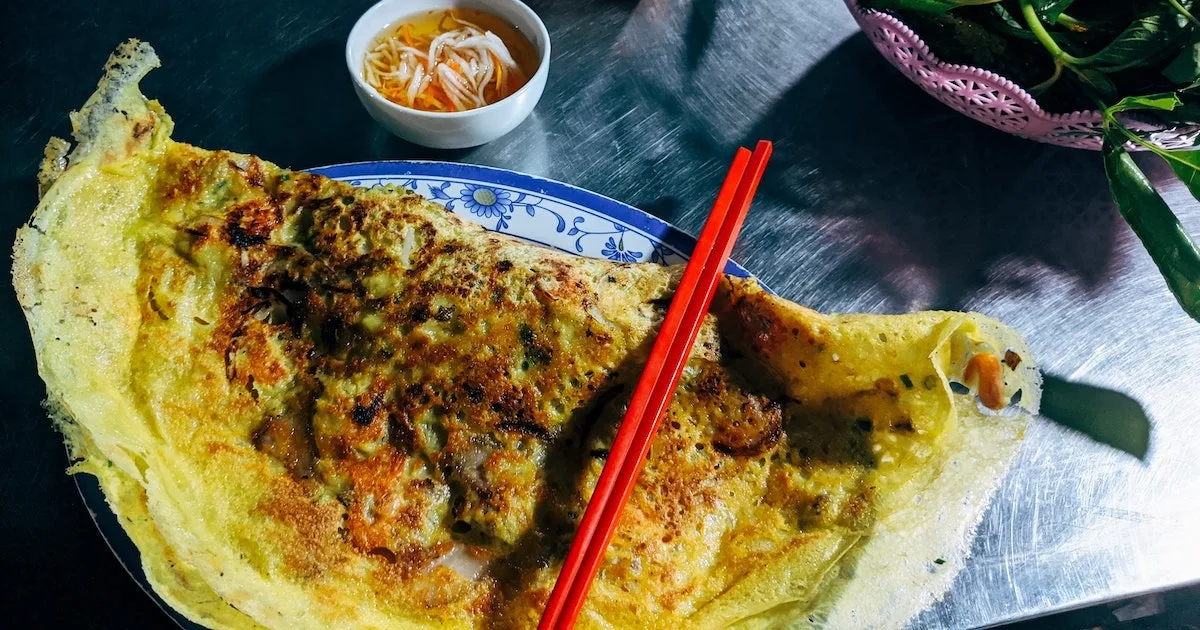 Bún (including variations such as bún bò and bún chả): Bún is a highly customisable dish, so exercise some caution. However, usually, bún refers to a broth that contains rice noodles, grilled meat or seafood, crushed peanuts, fresh herbs, and fried shallots. It is typically gluten free.
Bánh tráng: These are crispy, grilled rice paper wraps or crepes filled with vegetables and/or meat. They're deliciously gluten-free.
Bánh Cuốn: Another rice-based meal, this dish is a rice roll that has been filled and grilled with pork mince, mushrooms, fish sauce, and bean sprouts. It is gluten free.
Cơm Hến: Originating from the fishing villages in central Vietnam and particularly popular in Hue, this dish contains rice, sautéed baby clams, and an assortment of fruit and vegetables such as banana blossoms, mint, lettuce and Vietnamese coriander.
Miến ga: This dish is a Vietnamese chicken soup that contains chicken, mung bean noodles (they look smooth and slippery), ginger, garlic, lime and cilantro. Mung bean noodles are gluten free.
Bun moc: This dish is a rice noodle soup made from pork and a broth based on shiitake mushrooms. It originates from northern Vietnam and more specifically, Moc village.
Gỏi cuốn (also called nem cuố): This dish refers to traditional spring rolls, rolled out of rice paper, fresh vegetables, herbs, pork, and shrimp. They are traditionally served fresh and not fried or grilled, so they're popular as a light summer meal in Vietnam. Confirm that the wrap is made from 100% rice flour. Especially in northern Vietnam, some pre-made mixes may contain wheat. Rice paper is called 'banh trang'.
Cha gio (also called nem): This is the fried version of rice paper spring rolls in Vietnam. As with gỏi cuốn, confirm that the roll is made entirely from rice flour. Some restaurants may dip these rolls in breadcrumbs before they fry the rolls, so you should confirm that this is not the case before you order nem. Use Google Translate or a gluten-free card to explain the danger of cross-contamination in the fryer.
Com dishes: Simple com dishes should be gluten-free because they contain white rice and a choice of meats such as pork or chicken. Just double check that the meats are not marinated with soy sauce.
Chao long: A mix between a porridge and congee, this sweet dish contains rice noodles and a sweet pork broth. It's popular as a breakfast dish in Vietnam.
Bún ốc: This boiled snails and shellfish dish is from Hanoi. It uses Babylonia snails, which have white-brown shells, and they taste particularly sweet. They are often consumed as an appetiser or a shared platter.
Gluten-free snacks in Vietnam
Bánh khọt: The miniature version of bánh xèo and a specialty found in Vũng Tàu, bánh khọt are small, round, and snack-able rice pancakes made from rice flour, corn starch, turmeric, and coconut milk. They are stuffed with savoury fillings such as meat or vegetables. As with all rice pancake variations, you should confirm that the restaurant does not use a pre-prepared mixture that contains wheat.
Bánh tráng: While these two words are used in front of most variations of rice paper wraps, rice pancakes, or rice wafers, bánh tráng in its simplest form is a large rice cracker. The rice cracker can be consumed plain or stuffed with savoury fillings and brought from grocery stores.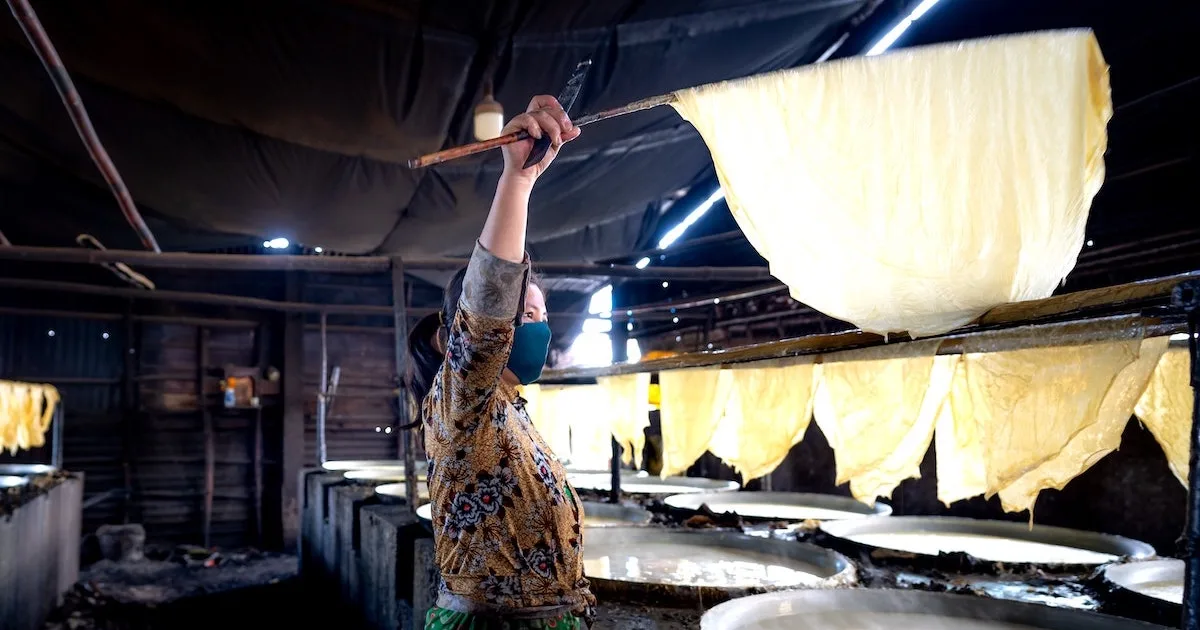 Bánh tráng nướng: Especially popular with school kids and street food enthusiasts, this light dish is Vietnam's version of a pizza. Instead of a wheat base, it uses rice paper crackers. The rice base is layered with pizza toppings that have a Vietnamese twist, such as tuna, spring onion, egg, and/or pork.
Bánh tráng trộn: If you're looking for a light salad, bánh tráng trộnice is a rice paper salad. It contains shredded rice paper and a combination of savoury foods such as beef, quail eggs, peanuts, chilli oil, shrimp or mint.
Gỏi cuốn (or nem cuố): While fresh rice-paper spring rolls can be consumed as a meal, they also make a great snack. The fresh version usually contains rice paper, fresh vegetables, herbs, pork, and shrimp. Just confirm that the snack definitely uses rice paper and not a pre-prepared mix that contains wheat.
Gluten Free Food in Vietnam: Tips for gluten-free travel in Vietnam
1. Seek out street food
Street food has a bad rep in the travel industry as being an unsafe way to eat out abroad. That's rarely the case if you exercise some caution.
As long as the stall has good hygiene standards (this is usually easy tell by a quick glance over the cooking and preparation areas), eating street food is one of the safest ways to eat your way around Vietnam as a gluten-free visitor.
First and foremost, street food is delicious and creative. However, the main reason that you should seek out street food as a gluten-free traveller is because it lets you monitor your food as it's prepared.
This will stop your imagination running wild, as you can personally follow the cooking process and identify any potential contaminants (and ask questions if you need to).
Fried street food is also the best option if you're really craving a fried snack. Street food stalls typically deal with one dish at a time, so cross contamination through the oil is unlikely, and you can see exactly what is going on.
2. Use Google Translate liberally.
Google Translate helps to cross language barriers. It's also a good way to decipher the meaning of menu items before you duck inside a restaurant.
Handily, many Vietnamese dishes' names are very descriptive and often list the main key ingredients.
3. Always confirm that dishes are gluten-free.
The motto of gluten-free travel is: always confirm, and then confirm again. With the help of Google Translate, ask as many questions as you need and consider carrying a gluten-free card.
4. Ask for the chef.
Don't be shy; ask to speak to the chef directly. Speaking to the chef is the best way to make sure that things aren't lost in translation between the server and the kitchen staff. Most restaurants or stalls will be happy enough to let you exchange a few words with the person who will actually be preparing your food.
5. Consider staying at a homestay or buddy up with a local.
Travelling and eating with someone who speaks the language is perhaps the most effective way to eradicate any worry around explaining your gluten-free requirements in Vietnam.
When you book to stay in a local's home through Homestay, it's common for hosts to prepare you traditional, homecooked Vietnamese meals.
This is a very easy way to try out authentic Vietnamese cuisine, all while being able to communicate your dietary requirements before or during your stay and closely watch over the preparation process.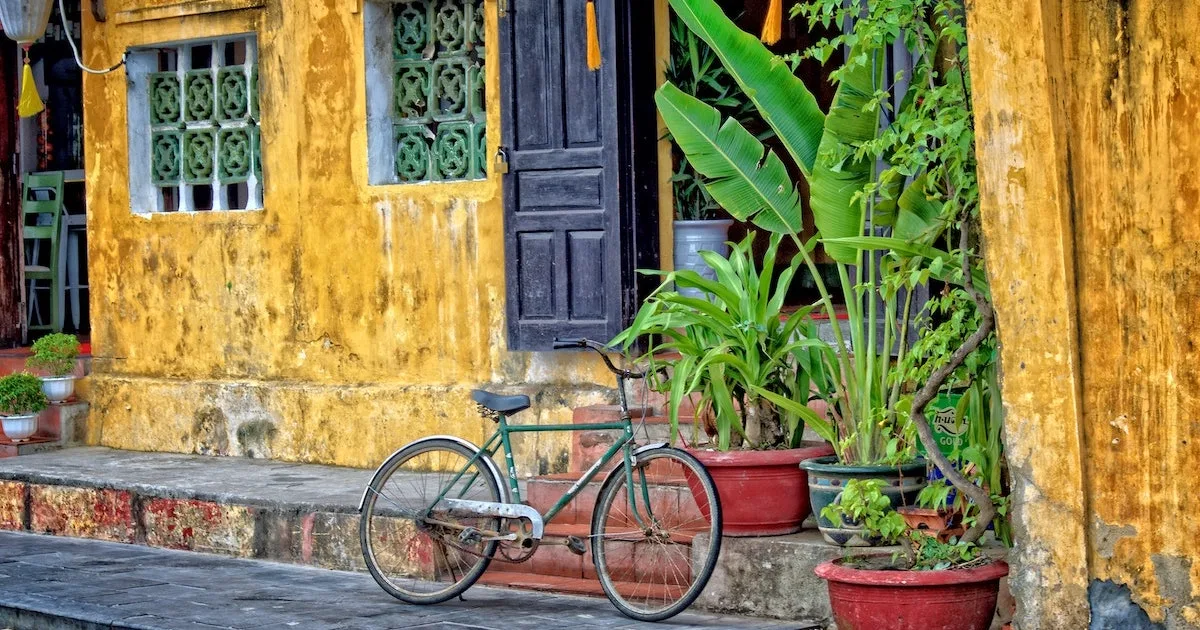 If you're staying at a Homestay or a hostel (there are many on Hostelworld or Booking.com), it's also easier to meet locals. There's no harm in asking them to dinner, and if they agree, you'll not only have someone local to chat to, but someone who can communicate in Vietnamese.
Gluten Free Food in Vietnam: Gluten free drinks in Vietnam
If you're looking for a tasty beverage to go with your meal, there are plenty of Vietnamese drinks that are gluten-free:
Nuoc mia: Sugar cane juice, squeezed from fresh sugar canes. Some drinks may also have calamansi juice added, which is a fruit similar to a mandarin.
Sinh to: 'Sinh to' simply refers to a fruit smoothie. If you want a fruit smoothie that contains fruits grown in Vietnam, look for a smoothie that contains fruits such as banana, custard apple, dragonfruit, and jackfruit. If you're travelling in mountainous parts of Vietnam, strawberries may also be used in the smoothies.
Vietnamese coffee: Coffee is big in Vietnam, except their coffee uses ground and roasted Robusta beans from plantations in the Highlands in central Vietnam and it is traditionally served with condensed milk. The most popular coffee drinks are iced black coffee or normal iced coffee, which makes sense, given the high temperatures year-round.
Egg coffee: Egg coffee has been a staple in Hanoi since the 1940s, but what on earth is it? It's not as complicated as it sounds. Coffee is combined with egg yolk and condensed milk, which results in a thicker and fluffier mixture.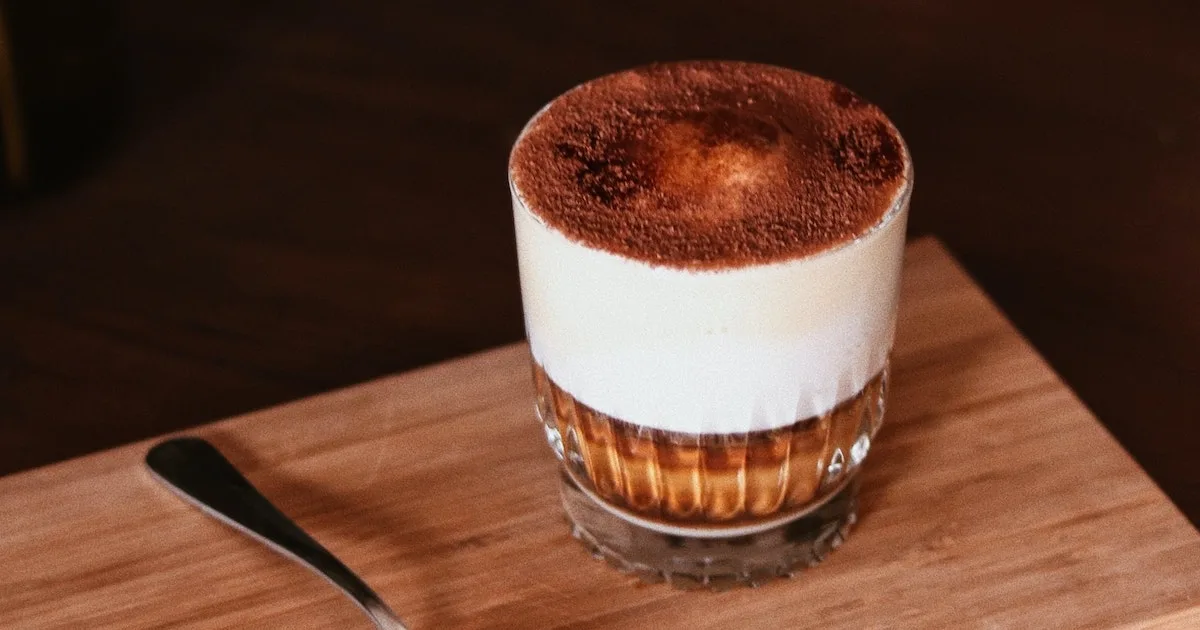 Coconut water: Picking up a fresh coconut from a stall is a great way for gluten-free travellers in Vietnam to rehydrate. Coconuts are, of course, naturally gluten-free. Plus, what's more authentic than sipping from a coconut sliced open at a roadside stall?
Soda chanh: Soda chanh is a lime soda made from soda water, lime, and sugar syrup. It's not unusual for the sugar syrup to be served separately so that you can control the balance between sweet and sour.
Kumquat tea: This iced tea drink is made from tea, kumquat (an olive-sized citrus fruit, which looks like a miniature orange) and honey or sugar. It's an inexpensive drink often sold from roadside stalls.
Rượu cần (also called rượu nep): Vietnam's fermented rice wine, most common in Tây Nguyên, Da Lat, or mountainous areas, is brewed from either glutinous sticky rice or cassava before it is mixed with herbs. It's a sweet drink, often served at Vietnamese parties or events. Fair warning: the rice wine packs a punch.
Other alcoholic beverages: You won't need to miss out on happy hour on a roof in Saigon or another Vietnamese city because any alcoholic cocktail made from spirits or fruit syrups are naturally gluten-free. Steer clear of any Vietnamese beer (bia) or ale, because Vietnam uses the European method of brewing beer from malt, which is wheat-based.
Or, browse some of the best tours in Vietnam on GetYourGuide…
Recommended tours:
North Vietnam:
Central Vietnam:
South Vietnam:
Are Vietnamese rolls gluten free?
Vietnamese rolls are gluten free. They are made from rice flour. Confirm that the restaurant or stall does not use a pre-made mix containing wheat flour; this is more common in the north of Vietnam, such as Hanoi.
Is there gluten-free beer in Vietnam?
There may be imported brands of gluten-free beer in Vietnam. However, most beer in Vietnam is made using the European method of brewing beer from malt, so they usually contain malt.
Are Vietnamese egg noodles gluten free?
Vietnamese egg noodles are not gluten free. They contain wheat flour.
What Vietnamese dishes are gluten free?
Gluten-free and traditional Vietnamese dishes include pho (rice noodle broth), mi quang (turmeric-infused rice noodle broth), banh xeo (rice pancakes), and nem cuố (spring rolls made with rice paper).
Is Pho gluten free?

Pho, Vietnam's national dish, is gluten-free. The broth contains rice noodles, fresh herbs, and meat or vegetables. In Vietnam, the broth usually isn't thickened using wheat flour. However, you should confirm this with the chef.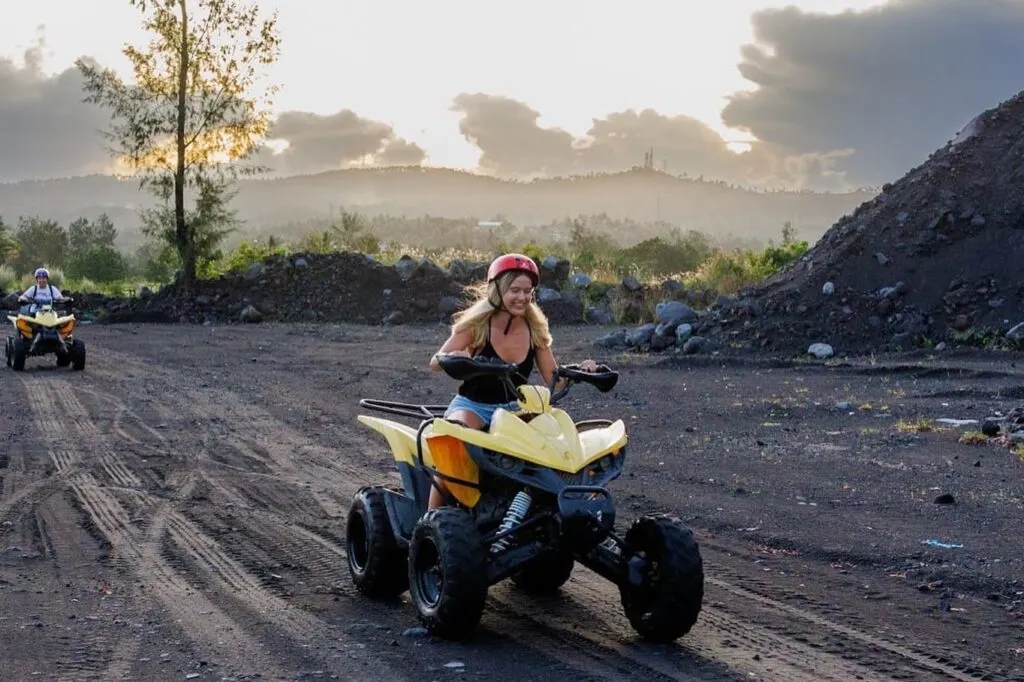 AUTHOR: KATIE TREHARNE
I'm Katie, the owner of Escape Artist Katie and a full-time digital nomad. I have been travel writing in some shape or form since 2018, including writing for luxury travel magazines. I hope you found my article useful – find out more about me here or keep up with my travels on Instagram. I'm a big advocate for offbeat travel and pushing yourself out of your comfort zone.