Being gluten free in Bali is easy, until it's not. With scores of Western restaurants, a large expat community, and a large number of traditional Indonesian dishes based around rice, you'd think that being gluten intolerant in Bali would be easy.
That's not exactly the case. Gluten-containing Indonesian sweet soy sauce is used across a huge number of traditional dishes. Restaurants aimed at Westerners often advertise a number of gluten-free menu items, but how many meals are truly gluten-free?
Then, there's the matter of cross contamination to think about for visitors who are diagnosed with coeliac disease or who have a wheat allergy.
If you need to be gluten free in Bali, don't worry. You're not the first gluten-free person to visit Bali, and you won't be the last. Whether you are coeliac, gluten sensitive, have a wheat allergy, or prefer to avoid gluten for other personal reasons, my guide has you covered.
I've visited Bali twice, once in 2019 and once in late 2022 for two months, so I'm confident that my guide to gluten free Bali is up to date. It's also thorough, just as any good gluten-free travel guide for Bali should be. I've covered how to say gluten free in Bali, gluten free cards, foods to avoid, safe gluten free food and snacks, and a series of important tips and warnings for gluten free Bali.
As a gluten-intolerant digital nomad, I have created gluten-free travel guides for every destination I visit. I personally know what a huge source of anxiety the unknown can be when it comes to wondering what gluten-free food is available in your destination. I want to help more gluten-free people to travel confidently and safely.
How to say gluten free in Bali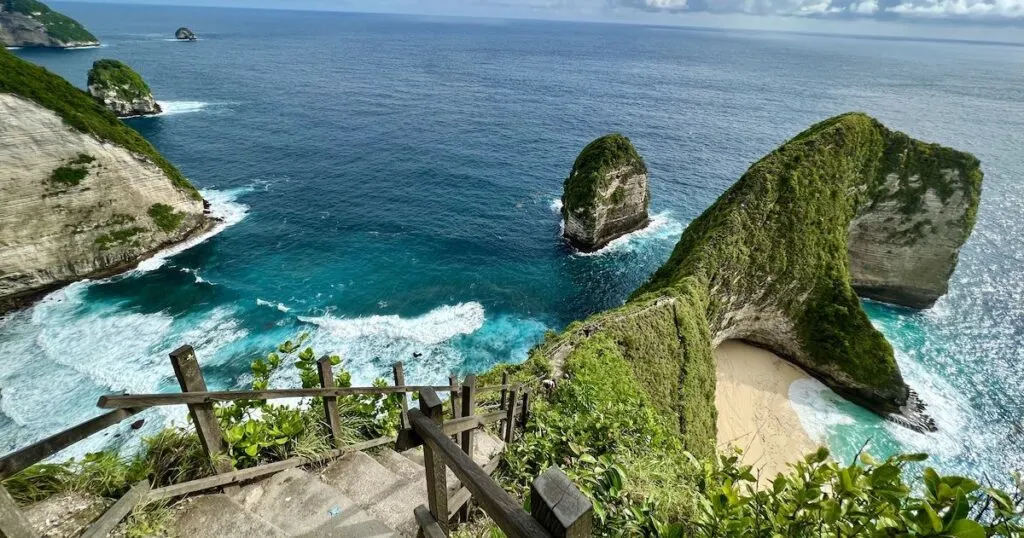 Kelingking Beach on Nusa Penida island
In Bali, Indonesian is the widely-spoken language.
Gluten free in Indonesian is 'bebas gula'. If you'd like to say 'no gluten', use the phrase 'tidak ada gluten'.
If the server is still having trouble understanding what you're saying, you can try a more precise approach by listing exactly what you can't eat. To say 'no wheat, barley, or rye', use the phrase 'tidak ada gandum, jelai, atau gandum hitam'.
Sometimes, I find it helpful to say, 'aku alergi'. This means, 'I'm allergic'. I find that I'm immediately taken more seriously. Often, servers call in their superior or the chef to ensure that my needs are being met.
Feeling confident that you can communicate with your server is the most important part of ordering gluten free food in Bali.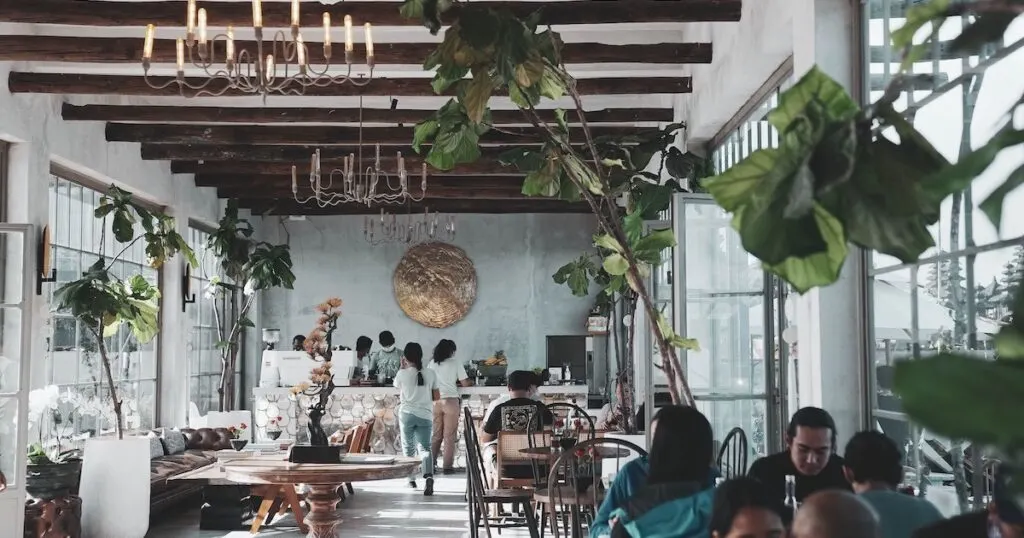 The Google Translate app (available on iOS or on Android) is incredibly helpful for crossing any language barriers. Using the app, you can mention specific foods, answer any of the servers' questions, and fully confirm that your requirements have been understood.
Offline translation is available but Google Translate is more accurate when you have an internet connection. To access the internet, consider purchasing a local SIM card or asking to use the restaurant's Wi-Fi.
Gluten free cards for Bali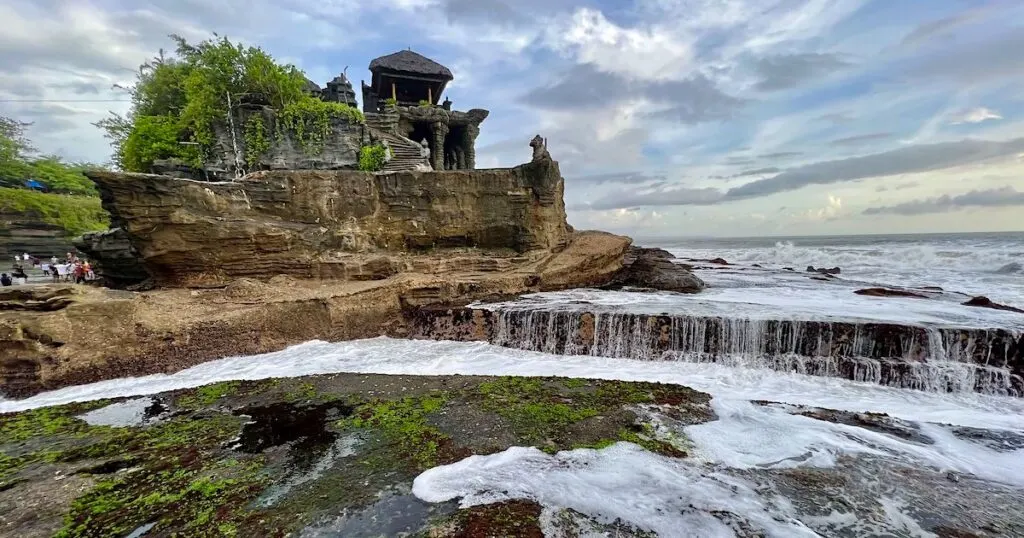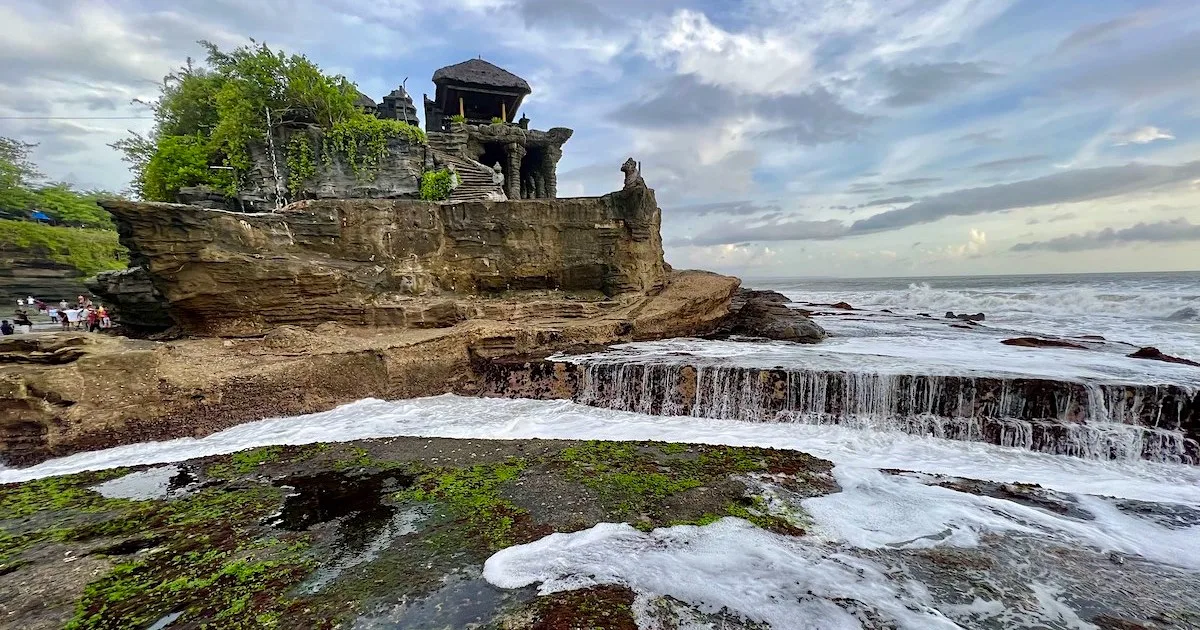 Tanah Lot at sunset, near Canggu
A gluten free card explains your intolerance or allergy in the local language. A gluten free card for Bali is written in Indonesian, the primary language spoken in Bali.
They are useful in removing some of the initial confusion when you're trying to communicate with someone who has a different primary language.
While it will explain exactly what you can and cannot eat and most importantly, why, you should still make efforts to confirm this with the server directly.
The following free gluten free card provided by Celiac Travel is written in Indonesian. You can download the card to print it out before you travel or save it on your phone (or both).
It roughly translates to:
'I have an illness called Celiac Disease and have to follow a strict gluten free diet.
I may therefore become very ill if I eat food containing flours or grains of wheat, rye, barley or oats.
Does this food contain flour or grains of wheat, rye, barley or oats? If you are unsure what the food contains, please tell me.
I can eat food containing rice, maize, potatoes, all kinds of vegetables and fruit, eggs, cheese, milk, meat & fish–as long as they are not cooked with wheat flour, batter, breadcrumbs or sauce.
Thank you for your help.'
Food to avoid when you're gluten free in Bali
Before I set you free to explore what you can eat in Bali, I'm going to cover the food that you should avoid in Bali if you're gluten intolerant.
1. Soy sauce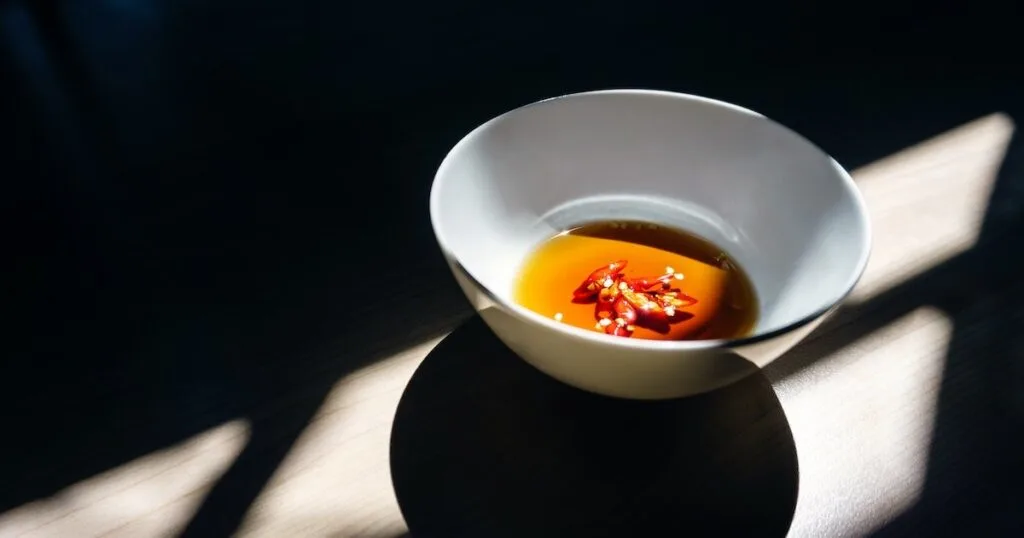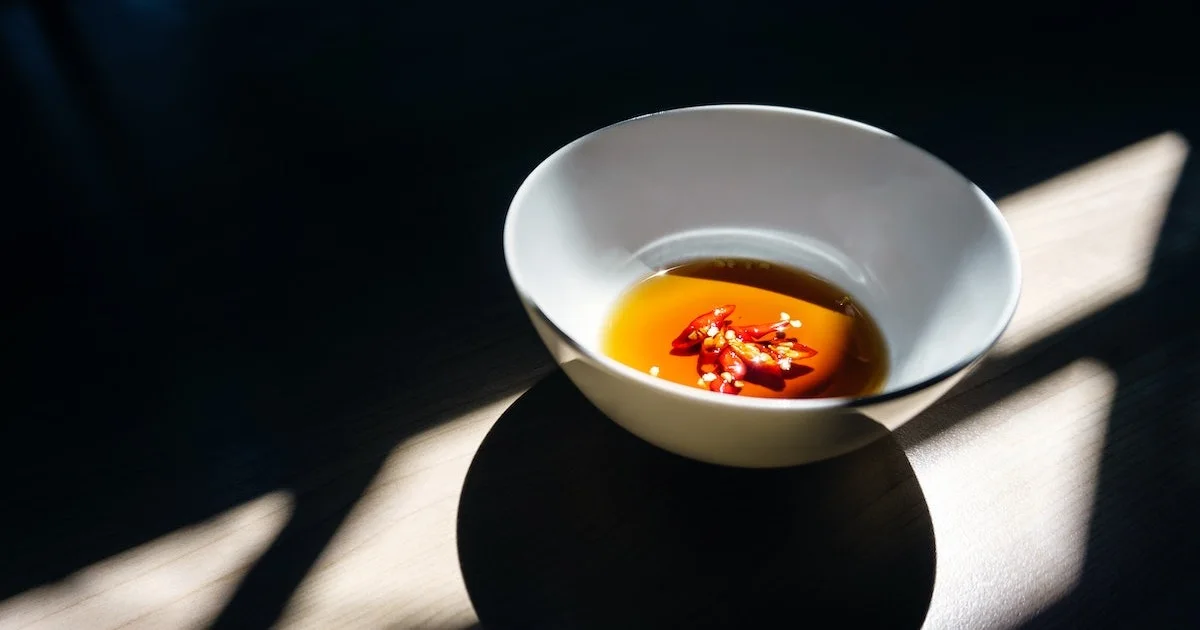 Soy sauce is by the far the sneakiest gluten-containing contaminant in Bali. Many people mistakenly think that soy sauce is gluten-free. However, it actually contains a combination of soybeans, water, salt and wheat.
Unfortunately, in Bali, Indonesian sweet soy sauce (which has additional palm sugar or jaggery in the recipe) is a common ingredient in many Indonesian dishes.
Nasi goreng (Indonesian fried rice) would be a safe gluten-free meal if it wasn't for the addition of sweet soy sauce.
Soy sauce is also present in dishes like fried noodle dishes, satay, and marinades for fish, chicken and other meats.
To confirm if a dish contains soy sauce, you can say, 'apakah ini mengandung kecap?'
2. Deep-fried foods
It's safe to assume that if the food you ordered in Bali is deep-fried, it's also coated or contaminated with wheat flour.
When servers don't coat the food in flour themselves, the deep fryers are also likely to be contaminated with gluten from previous dishes. A wok or a saucepan, on the other hand, can be effectively cleaned between uses.
3. Beer (including Bintang)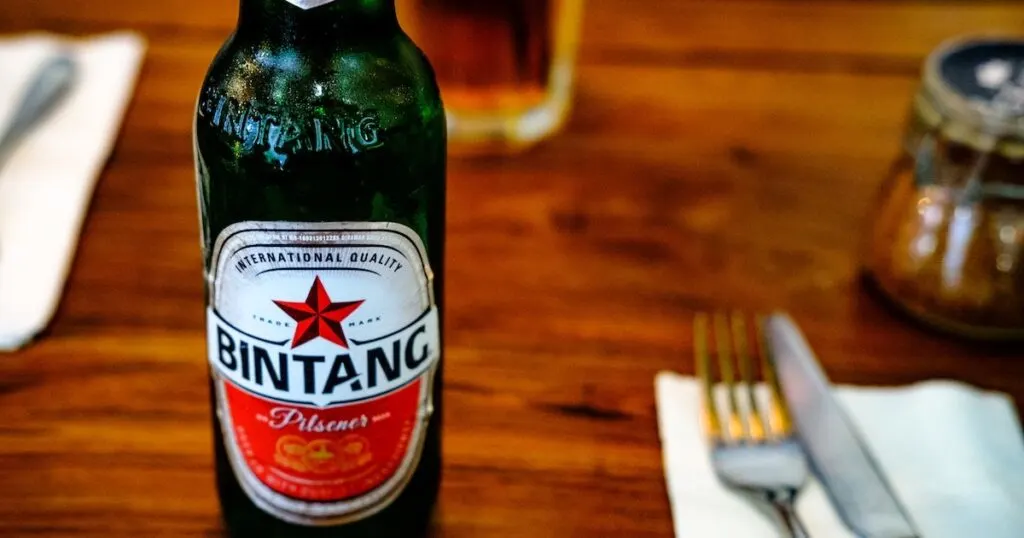 Beer, including the popular Bintang brand, is off limits for gluten-free people in Bali. Beer is brewed from malt.
4. Noodles ('mie')
Noodle dishes aren't always unsafe. 'Bihun' and 'kwetiau' are the Indonesian names for two types of rice noodles, which are made from rice flour and are wonderfully gluten-free.
However, the most common noodles used in Bali are 'mie' noodles, which are usually wheat-containing egg noodles or instant noodles ('indomie').
Sometimes rice noodles are incorrectly labeled as 'mie', so you can double check by asking the server if the noodles are 'bihun', 'kwetiau', or 'mie'. They should know the difference when you use the Indonesian names.
---
Travel insurance is essential for any trip abroad. If you're in an accident or experience an emergency, you need adequate cover. I recommend Staysure for single or multiple trips per year and SafetyWing for digital nomads.
---
Menu red flags
Now that you're aware of some common unsuspecting gluten-containing ingredients in Bali, I'm going to mention some other big red flags and their Indonesian names.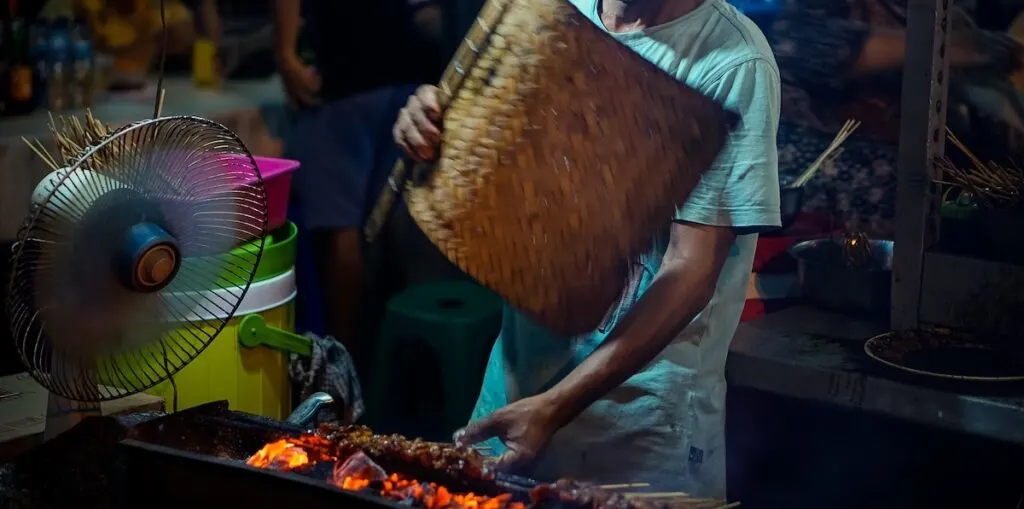 If you see these on a menu, you should stay away.
Roti: Bread
Mie: Noodles, usually containing wheat.
Indomie: Instant noodles.
Bakso: A broth which usually contains egg noodles.
Ayam goreng: Goreng means 'fried', which is okay if the food is fried in oil only. Fried chicken is 'ayam goreng', and it is usually fried in flour. Check with the server/chef.
Biskuit: Biscuit
Kue: Cake
Safe gluten free food in Bali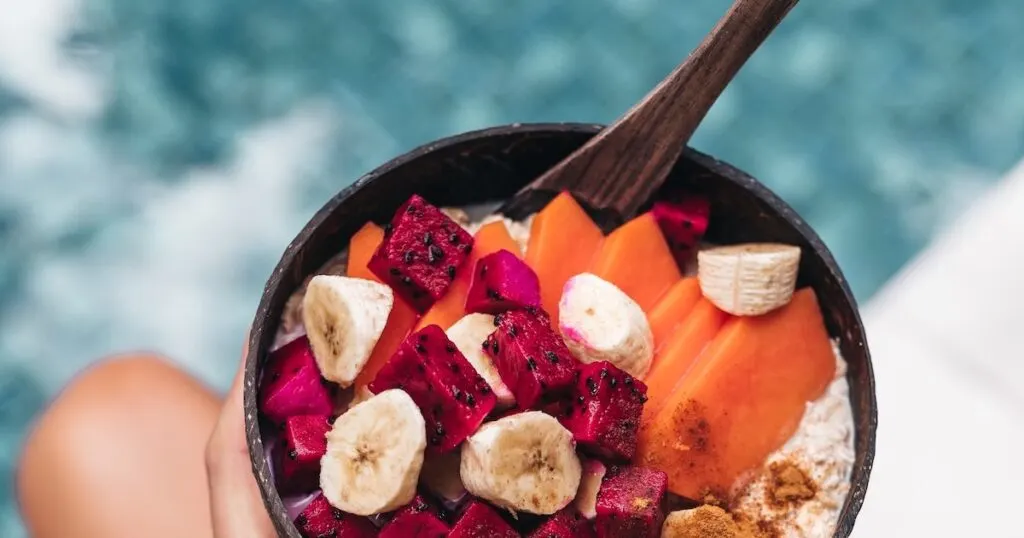 There are two main types of restaurants in Bali:
1. Warungs: Local Indonesian restaurants where locals serve up traditional dishes made from food brought at the markets. These can be street-food stalls or big or small restaurants with seating.
2. Western restaurants: Restaurants (run by locals or foreigners) which are aimed at tourists and usually serve a mixture of Indonesian and Western cuisine, or which may have a specific theme (e.g. burgers, pizza, health foods, salad bars, or coffee shops).
Eating gluten free in Bali at Western restaurants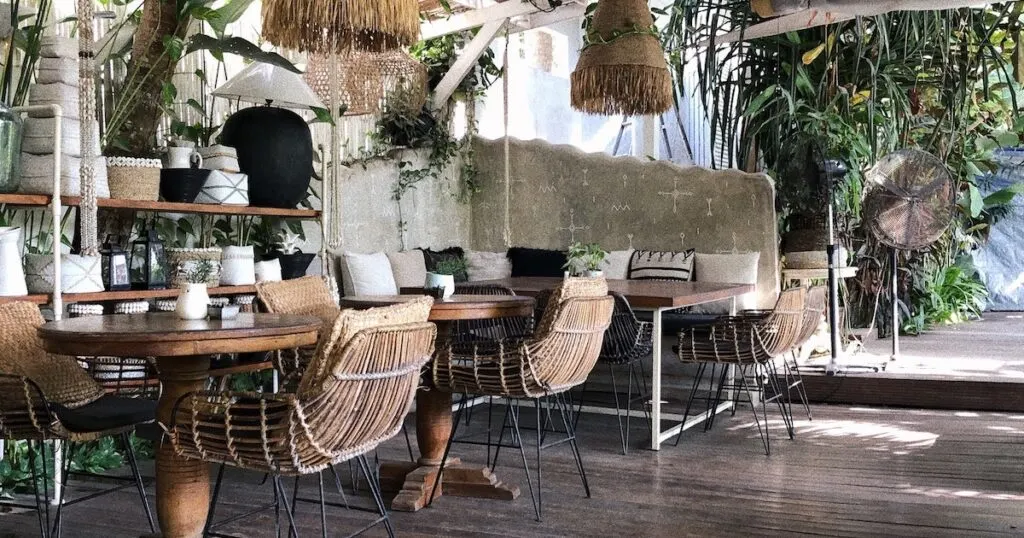 Firstly, I should make it clear that there is an abundance of Western food in Bali, especially in popular tourist and expat areas such as Ubud, Canggu, Uluwatu, Amed, Sidemen, and the Nusa or Gilli islands.
As time goes on, more and more Western restaurants are popping up in less-touristy offbeat travel locations in Bali too.
These menus will be easier to navigate, as you should be familiar with the concept that burgers, hot dogs, and pizzas are off limits, while grilled chicken or fish, rice, and boiled potatoes are most likely safe to eat.
The bigger and/or 'bougie-er' the cafe, the more likely it is that you'll find appropriate gluten free food. Smaller restaurants usually serve mainly pasta, pizza, burgers, and sandwiches, which is a nightmare for gluten-free diners. However, bigger restaurants are more likely to have more gluten-free options such as curries, salads, and grilled dishes.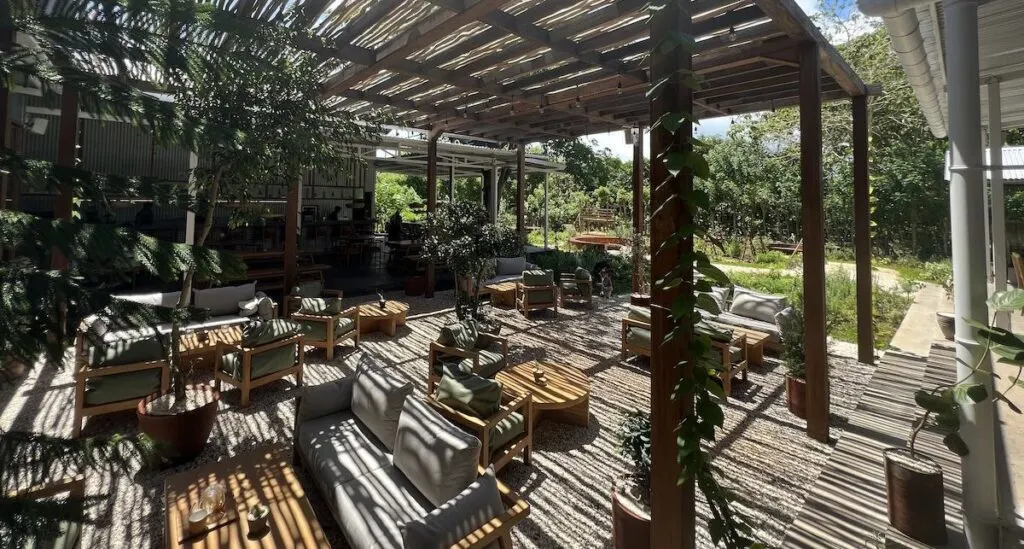 Alchemy Bali, a vegan-vegetarian restaurant in Uluwatu with a large selection of gluten-free options.
In Uluwatu, Ubud and Canggu, many Western restaurants label their dishes as gluten free. This is helpful. However, I'd recommend being cautious with the labeling. Despite labeling dishes as gluten-free, I still found that many restaurants still lack an understanding of the full definition of gluten-free food.
I was told on several occasions that oat-containing gluten free dishes used gluten free oats from Australia. However, when I asked them to produce the packaging, they were normal oats.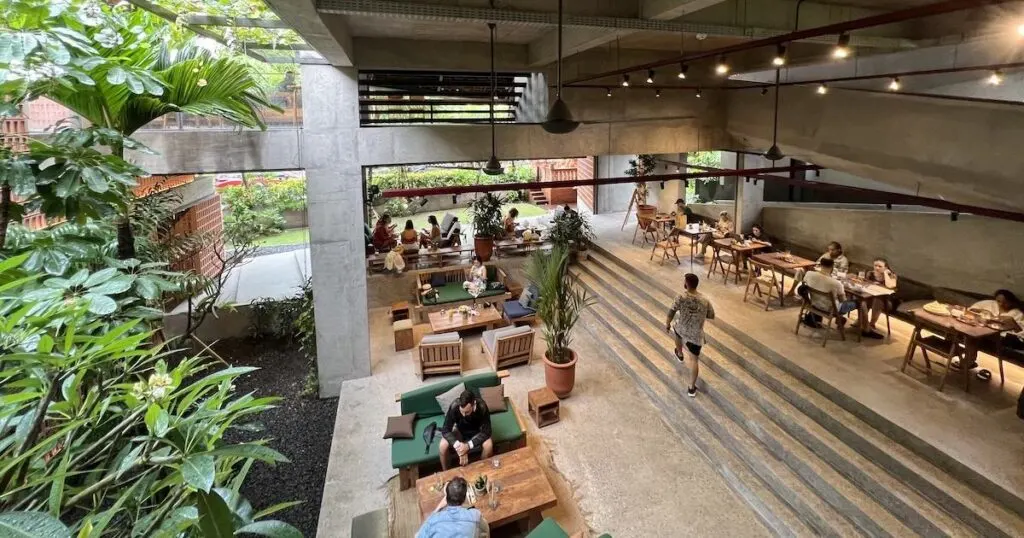 One of many Western co-working coffee shops and restaurants in Canggu
Some Western restaurants (especially in Ubud, Canggu, and Uluwatu areas) also offer gluten-free bread and pizza. This was a dream for me, having missed dedicated gluten free products when I was searching for gluten free food in Vietnam. These products are usually safe, as they are imported from abroad, but you can ask them to produce the packaging if you're concerned.
Common items on Western menus in Bali, which you can assume are safely gluten-free include:
Smoothies, juices and milkshakes (minus biscuit-flavoured milkshakes or similar, which will sometimes contain biscuit pieces).
Salads with grilled meat or fish. You should confirm that the dressing and any toppings are gluten free.
Grilled meat with potatoes. You should confirm that the potatoes are fried in oil and not coated with wheat flour, and that there is no danger of cross contamination in a fryer.
Curries. While curry isn't exactly a Western dish, it's not unusual to see Thai curry on a menu for a Western restaurant in Bali. Served with rice and cooked on a coconut base, this should be a naturally gluten free option.
Omelettes, scrambled eggs, and fried eggs. Egg dishes are naturally gluten free. However, they are often served with toast in Bali. I usually ask for rice (nasi) instead of bread (roti), which is an easy replacement for the restaurant and more filling for me.
Seafood grill: Seafood grill is usually a safe gluten free meal as it consists of oil, light spices, and seafood. You should confirm that no soy sauce is used in the seasoning.
Eating gluten free in Bali at local restaurants (warungs)
Things might initially seem less clear when it comes to eating Indonesian food at local restaurants, which are named warungs.
However, I believe that not being able to tolerate gluten shouldn't mean that you have to miss out on one of the most fun parts of travelling: tasting the local cuisine.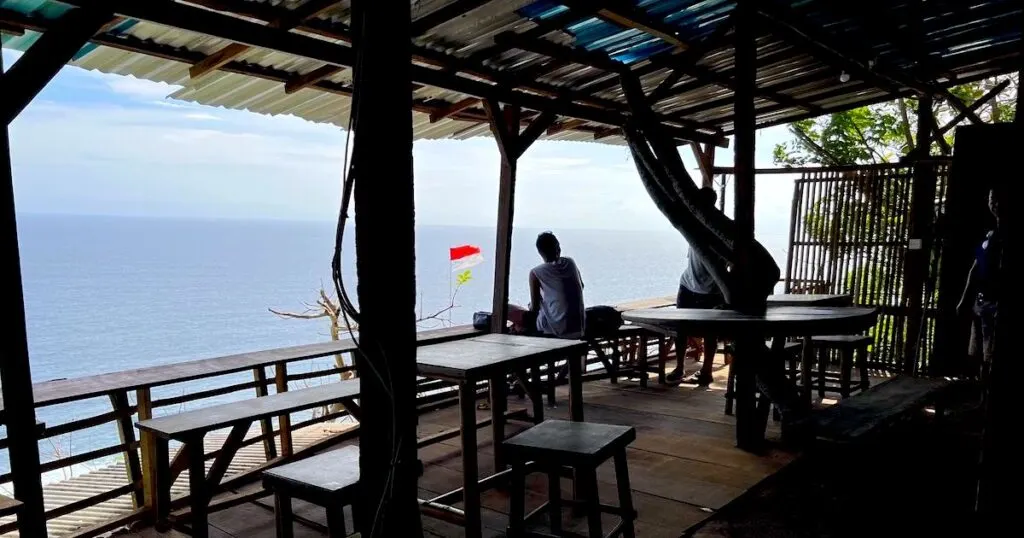 A warung overlooking Nunggalan Beach, a non-touristy beach with a shipwreck, in Uluwatu.
Since many Indonesian dishes are based around rice, I found it fairly easy to find gluten free food in Bali just as long as I confirmed that the chef will not add soy sauce or crackers to the dish.
Noodles are more difficult because the majority of the noodles in Bali are egg noodles (wheat-containing noodles) rather than rice noodles. I'd steer clear of noodle dishes unless you're absolutely certain they contain rice noodles.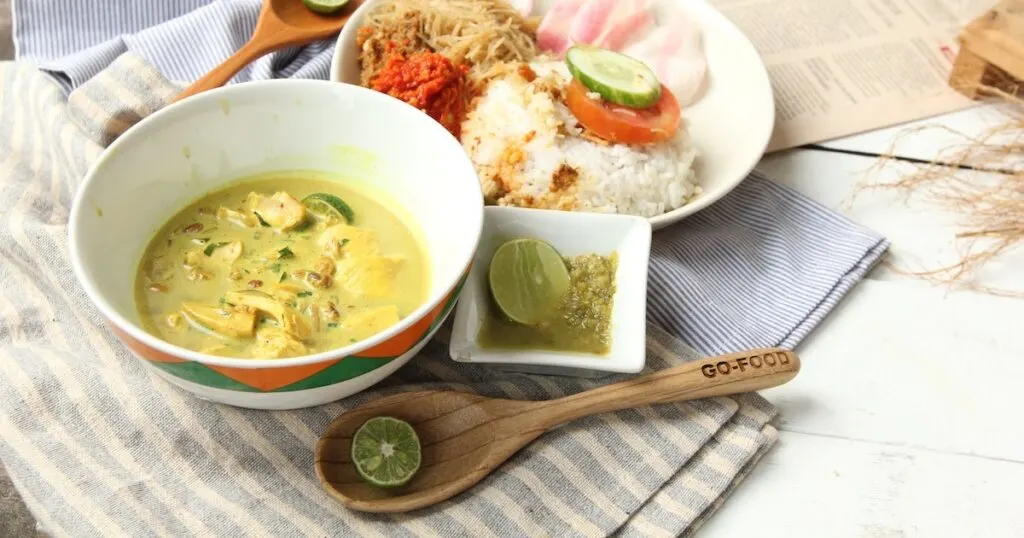 Soto, an Indonesian dish, which is naturally gluten-free (minus the crackers).
However, the rice-based dishes are usually quite easy to navigate with a little investigation.
The main things you need to confirm are:
A) The dish, including its sauces, marinades, and seasonings do not contain soy sauce.
B) The dish is not topped with crackers or breadcrumbs.
C) Any fried meat, fish, tofu or tempeh is not coated in flour and is fried in a pan, not in a deep-fryer.
D) Broths do not contain wheat flour as a thickening agent.
E) The cooking equipment and utensils are cleaned thoroughly to avoid cross contamination.
Safe Indonesian dishes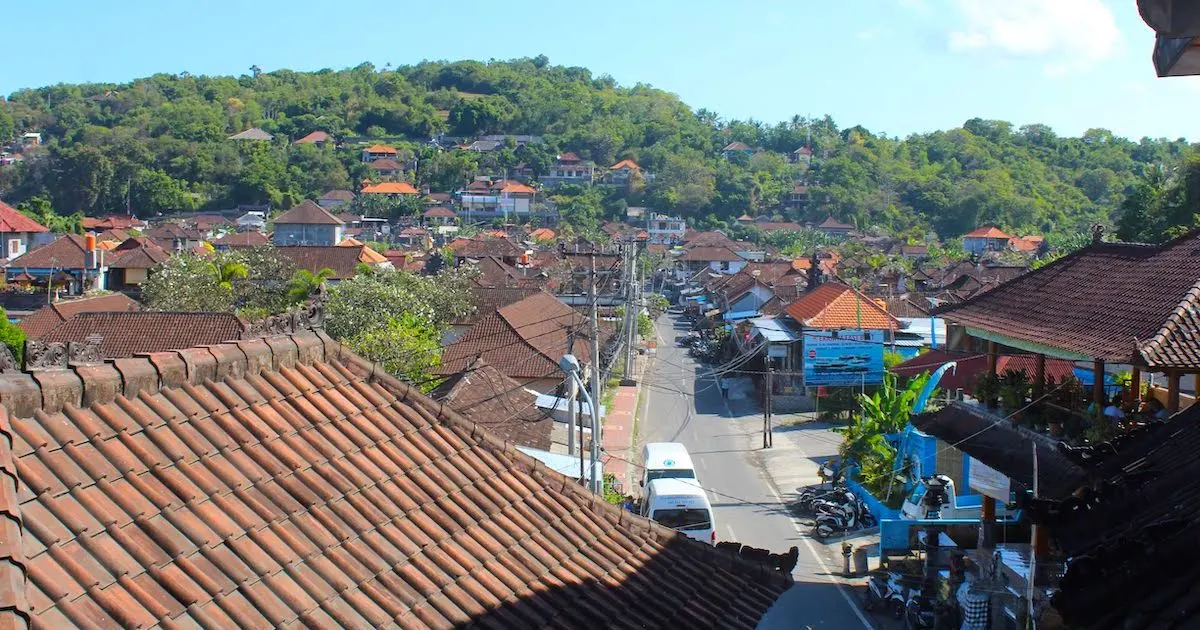 Once you've confirmed the above, the following Indonesian dishes are either naturally gluten-free or can easily be prepared gluten-free:
Nasi goreng: Nasi goreng is a fried rice dish containing rice, vegetables, oil, and egg. As long as the nasi goreng does not contain soy sauce or crackers, it should be safe to eat. You need to confirm that the chef does not use soy sauce in your meal. There are many variations of nasi goreng. For instance, if you order 'nasi goreng ayam' (fried rice with chicken), you need to confirm that the chicken is not fried in flour.
Chicken satay: Chicken satay consists of barbecued chicken skewers and peanut sauce. The chicken is typically not coated in flour, making it safe. The peanut sauce usually consists of cooking oil, garlic, onion, chili, peanuts, coconut milk, salt, and lime juice. However, a small amount of soy sauce is often added to the sauce, so you should ask the restaurant to exclude this from the recipe.
Gado gado: Gado gado is a mixed salad, which usually contains vegetables, eggs, tempeh and tofu, topped with a peanut sauce. The peanut sauce (in its traditional recipe) is gluten free. It consists of peanuts, red curry paste, sambal, salt, garlic, lime, and coconut milk. However, just like with the satay, sometimes it contains soy sauce, so you should ask the restaurant to exclude this from the recipe.
Kwetiau goreng: Kwetiau goreng is fried flat rice noodles with egg, chicken, garlic, cabbage, and onion. Soy sauce is a common addition, so you should ask for the dish to be prepared without soy sauce.
Soto: When made from coconut milk rather than chicken broth (which might use wheat as a thickening agent), soto is a delicious gluten-free soup seasoned with turmeric, lemongrass and curry leaves. It contains rice vermicelli noodles, which are gluten free.
Nasi campur: Nasi campur is a white rice dish served with a variation of stir-fried vegetables, chicken, boiled egg, salad, satay, crackers, and fried potato patties. Because it's different almost every time, you need to ask about the specific ingredients in your dish. Usually, it is naturally gluten free as long as the server doesn't add sweet Indonesian soy sauce.
Babi guling: Babi guling is one of Bali's most famous dishes. Unlike the rest of Indonesia, which is majority Muslim, Balinese people typically eat pork. Babi guling consists of roasted pork stuffed with base genep, a spice combination which usually includes Indonesian bay leaves, lemongrass, galangal, ginger, red chilies, shallots, garlic, candlenuts, kaffir lime, turmeric, pepper, sand ginger, cumin, coriander, cloves, and nutmeg. The dish is therefore gluten-free.
Bihun goreng: Bihun is the word for rice vermicelli, a thin type of rice noodles widely sold in supermarkets in the West. Bihun goreng is simply fried rice vermicelli noodles. They can be fried with vegetables, egg, or meat, depending upon the variation you've chosen. Again, the main issue is that soy sauce is usually added to the dish, and it needs to be prepared without soy sauce.
Soup bihun: Soup bihun is a soup containing rice vermicelli noodles and chicken or fish balls. Bean sprouts, mushrooms, carrot, spring onion, garlic, coriander, and chili are other common ingredients. The broth typically consists of water, corn oil, sambal, and a small amount of soy sauce. While this may change the taste slightly, you can request soup bihun without soy sauce.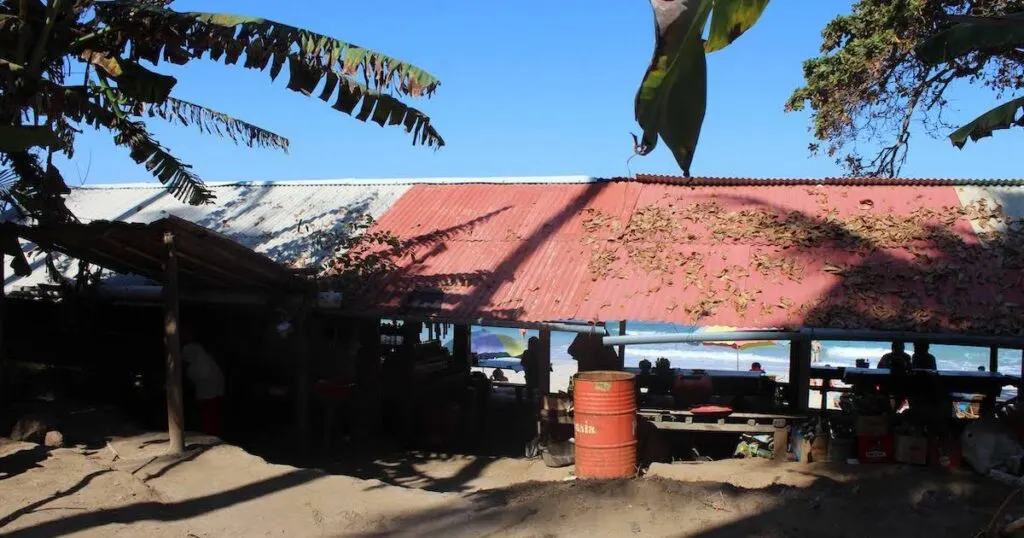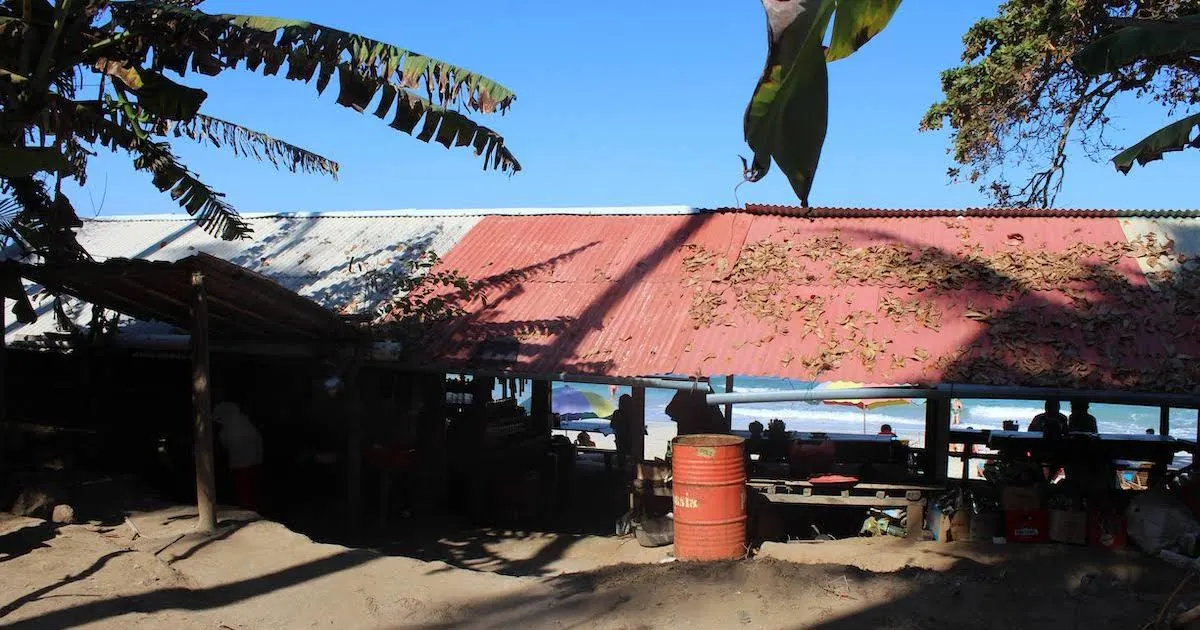 Local warungs on Bias Tugel Beach, a secret beach in the small town of Padangbai.
Lawar: Lawar originates from Bali, so it is mostly found in warungs. The dish is typically made from a combination of vegetables, coconut, minced meat, and spices. The most common ingredients are green beans, egg, kaffir lime leaves, coconut milk, grated coconut, shallots, and chicken, pork or jackfruit. Sometimes pork or chicken blood is added. Since it doesn't use soy sauce and it is fried with coconut oil, lawar is a gluten-free friendly dish.
Pepes ikang: The word 'pepes' refers to a cooking style in Indonesia where food is wrapped and then steamed or grilled in a banana leaf. Pepes ikang specifically refers to fish ('ikang') cooked in this style, although tofu, tempeh, meat and chicken might also be cooked this way. As long as soy sauce is omitted from the recipe, this is a fantastically gluten-free dish in Bali, usually served with rice. Most commonly, the fish is seasoned with a combination or variation of salt, chilli, shallots, garlic, turmeric, finger, lemongrass, curry leaf, tamarind, and tomato.
Laklak: Laklak is a traditional Balinese dessert and wonderfully gluten free. It is a small pancake, made from rice flour, water, coconut milk, suji leaf extract or masak leaf extract, salt, brown sugar, and baking powder. It's topped with grated coconut. They're tiny, so keep your eyes peeled – they are round, flat, and usually just three to five centimetres in length.
Es campur: If you have a sweet tooth, es campur will be your friend. Es campur literally translates to 'mixed ice', which is a pretty accurate description of the Indonesian dessert. Street food stalls sell es campur, which consists of shaved ice, syrup, condensed milk, and toppings such as fruit cubes, jelly, and basil.
Bubur sumsum: Bubur sumsum (or bubur som som) is another sweet dessert dish in Bali. The porridge is made from rice flour, coconut milk, and palm sugar syrup. The rice flour is cooked until the mixture thickens, and then it is chilled.
Arak: Okay, arak technically isn't a food, but it's worth mentioning anyway. Arak is a traditional alcohol-containing drink in Bali. The distilled liquor is made from fermented coconut sap, and it can have as high an alcohol percentage as 50%. It's wonderfully cheap, and wonderfully gluten free.
Gluten free snacks in Bali
When you've been busy swimming at offbeat beaches such as Nunggalan Beach, Bias Tugel Beach and Suwehan Beach, or snorkelling with manta rays at Manta Bay Nusa Penida, you're going to get hungry.
When it comes to finding gluten-free snacks in Bali, you have several options:
Shop for fresh fruit and vegetables at a local market.
Shop for snacks at mini market shops such as Indomaret.
Get a sit-down snack at a restaurant.
The benefit of shopping at a mini market is that the snacks are pre-packaged. The packaging has an ingredient list, which is usually written in both Indonesian and English. This removes any doubt around the exact ingredients in the product.
Indomaret is the most common mini market in Bali. It sells a wide variety of gluten-free snacks, including fruit, yoghurt, nuts, seeds, dried beans, potato crisps, corn crisps, flavoured milk, and chocolate.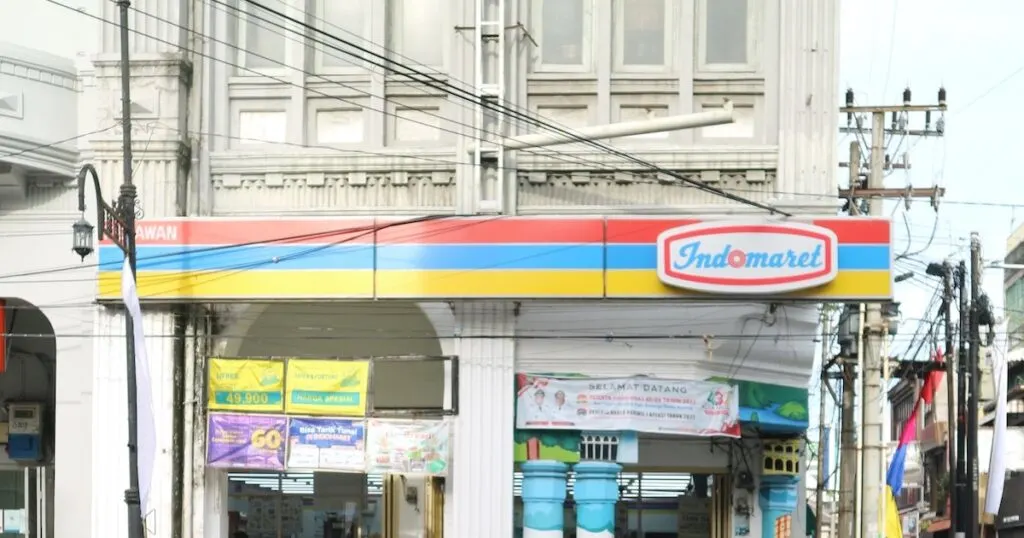 Indomaret shops in Indonesia.
Local markets in Bali are also useful if you're gluten intolerant. They sell fresh fruit and vegetables, which are naturally gluten free and delicious. You may also find local snacks, such as rice cakes, nuts, and seeds, which are also gluten free.
They also sell seafood, so if you have booked accommodation with kitchen facilities, you can cook the fish yourself.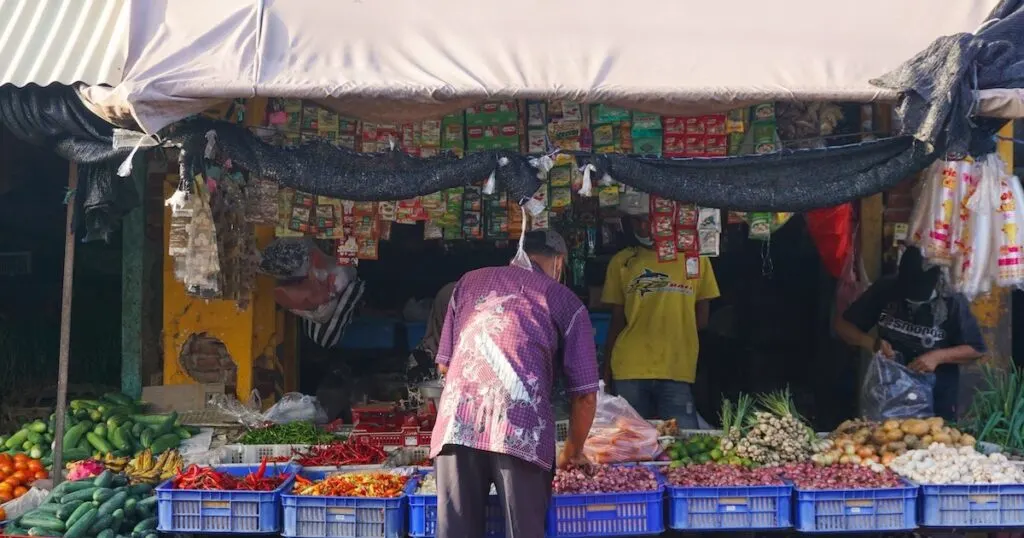 Local market in Bali
Warungs usually serve main meal dishes and drinks, but Western restaurants usually serve a selection of snacks and desserts. While this is the more expensive and time-consuming option, common gluten-free friendly snacks in restaurants include yoghurt (without granola), smoothies, milkshakes, and desserts like laklak.
Cross contamination issues in Bali
Eating gluten free in Bali might sound simple on the tin but cross contamination is rife.
If you're celiac or you have a wheat allergy, this will be the most difficult part of being gluten free in Bali.
Many restaurants have gluten-free options on the menus. The food is gluten-free. However, it may be contaminated with gluten due to the preparation of other non gluten free food in the kitchen and a general lack of awareness of the danger of cross contamination.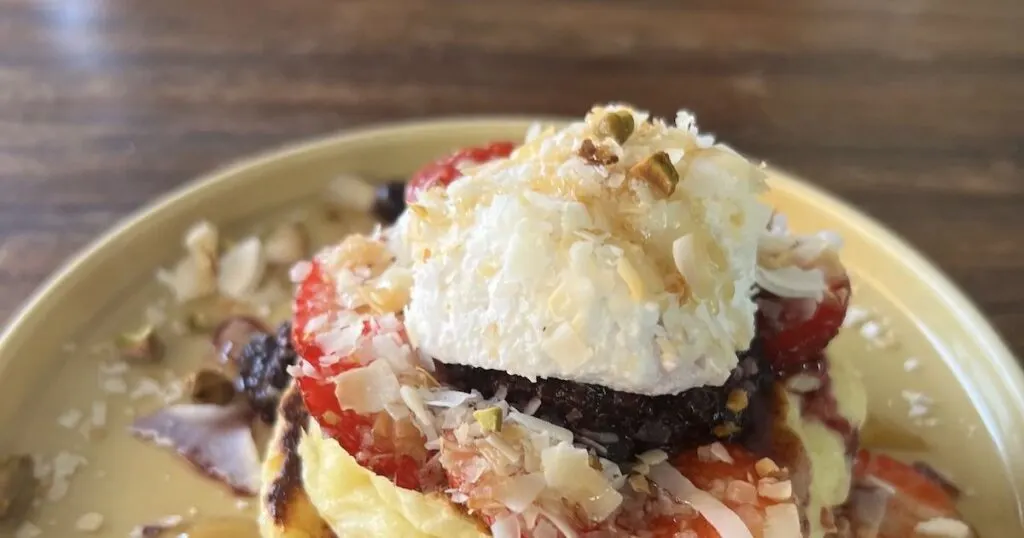 Great gluten-free cassava pancakes at The Loft Bali in Uluwatu.
For example, eggs and gluten free pancakes are often fried in the same pan as bread and gluten-containing pancakes. Deep fryers are used for gluten-containing fries and 'gluten-free fries'.
So, how can you prevent cross contamination? Unless you're cooking for yourself in a kitchen or you're eating in a gluten-free-only establishment (of which there are very few in Bali), it all comes down to communication.
You can ask to see the kitchen yourself, or to speak directly to the chef. You should always use Google Translate very liberally to ask questions and encourage back-and-forth.
The best accommodation if you're gluten free in Bali
Accommodation might not be the first thing that you think of when you're preparing to be gluten free in Bali. However, it's one of the easiest tools that you can manipulate to make your travels easier.
The way I see it, you have four main options: staying in a villa, staying in a hotel, staying in a hostel, or opting for a homestay.
I've outlined their main advantages and disadvantages for gluten-free travellers in Bali. The best option will depend on your budget, your sensitivity to cross-contamination, and other personal requirements.
1. Stay in a villa
Why?…. A villa with private kitchen facilities gives you space to prepare your own food without worrying about cross contamination, but it's likely to be expensive.
Staying at a villa in Bali is the easiest way to cook gluten-free food without worrying about cross contamination. However, villas are usually more expensive than budget hotels, hostels, and homestays.
If you're happy to make friends outside of your accommodation and you have the budget, a villa is a good option. I mean, they can also be incredibly beautiful too.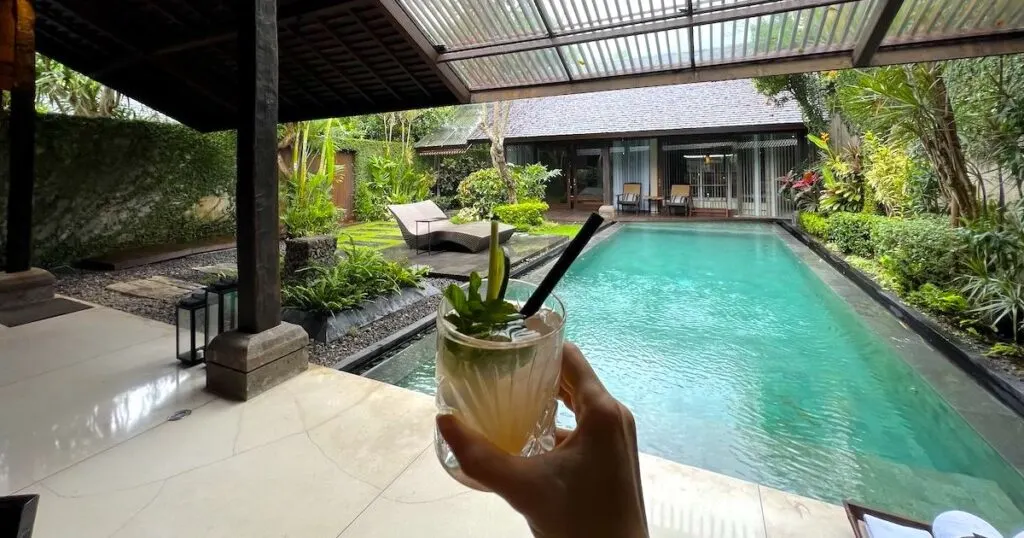 Ametis Villa is a luxury villa compound with private kitchen facilities in Canggu, one of the liveliest areas in Bali for surfing, partying, and cultural experiences. I stayed there in October 2022.
Advantages:
✓ Villas usually have private kitchen facilities where you can prepare familiar gluten-free meals.
✓ There's a very low risk of cross contamination in a private kitchen.
✓ Preparing your own food reduces anxiety levels.
✓ Cooking your own food can save you time visiting multiple restaurants to find a suitable meal.
Disadvantages:
✖ Surfaces and equipment could be contaminated with gluten from past guests if they're not cleaned thoroughly.
✖ Finding gluten-free ingredients at markets and minimarkets can take up a lot of time and add up cost-wise.
✖ Villas are typically the most expensive accommodation type in Bali.
✖ If you're looking to meet people through your accommodation, staying in a villa is not always be the best option.
2. Stay at a hotel
Why?…. Hotel staff have a good level of English and may have a prior understanding of gluten-free requirements, but the food options may be limited.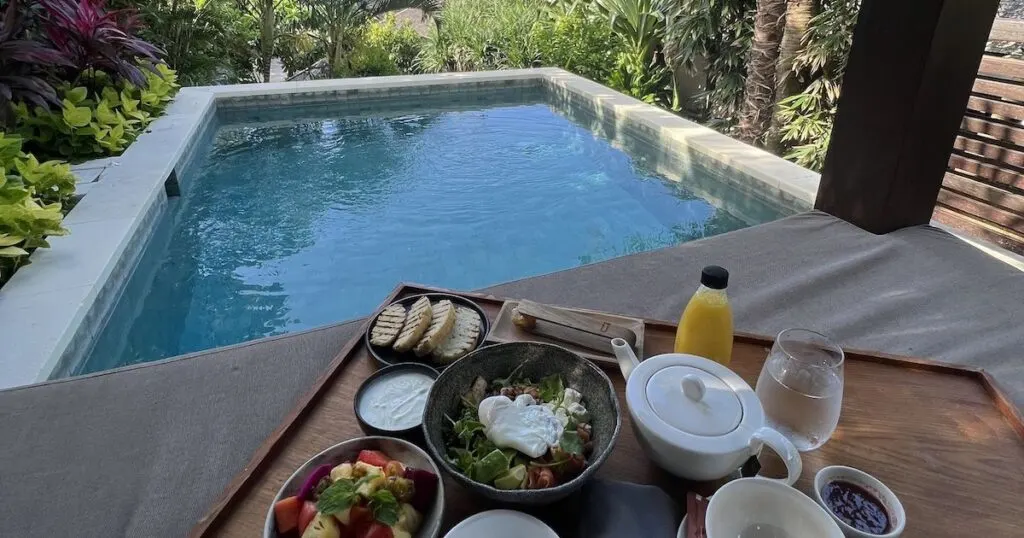 The Ungasan Clifftop Resort in Uluwatu has a spa and VIP access to Sundays Beach Club on Melasti Beach, one of my favourite beaches on the island. I stayed there in October 2022, and the chef prepared me the most delicious gluten-free bread and meals I had on the island.
Advantages:
✓ The bigger and more established the hotel, the greater the level of English the staff is likely to know. This makes it easier to communicate your dietary requirements and ask questions.
✓ You can reach out to hotels in advance to ask if their restaurants can provide gluten-free meals and snacks.
✓ Large hotels are more likely to have catered for gluten-free travellers in the past and understand your needs.
Disadvantages:
✖ Gluten-free food options may be limited, depending on the number of restaurants and the type of cuisine served. Many hotel restaurants specialise in one type of cuisine e.g. local, Western, or Japanese.
✖ There's always the chance that the staff won't understand your requirements, and then you'll have to look outside of the hotel.
The W Bali hotel's restaurants also have an extensive selection of gluten free meals, snacks and cocktails.
3. Stay at a hostel with kitchen facilities
Why?…. Having access to kitchen facilities means you can prepare your own gluten-free food, but hostels may have a greater risk of cross contamination.
I stayed in a dorm room at One Degree Sunset Hill Leisure, a pretty luxury hostel (and hotel) in Uluwatu with private or dorm rooms, a shared kitchen, and this exceptional infinity pool.
When I'm travelling on a budget, I regularly use Booking.com or Hostelworld to filter my search for hostels with kitchen facilities. This draws up hostels with private or shared kitchen facilities (usually the latter).
In general, I've found that hostels are more likely than hotels to provide shared kitchen facilities in Bali. You don't necessarily need to stay in a dormitory room either, as many hostels in Bali offer a selection of private rooms.
Advantages:
✓ You can prepare your own meals and snacks, giving you full control over the ingredients and prevention of cross contamination.
✓ Preparing your own meals can reduce anxiety around finding gluten-free food in restaurants.
✓ This method can save you time hopping between restaurants and warungs to find a suitable gluten-free option that you're comfortable with.
Disadvantages:
✖ In a shared kitchen, there may be limited space to store your meals and snacks.
✖ In a shared kitchen, there may be a risk of cross contamination by other guests. Some hostel kitchens can be unclean. The best way to find out is to look at guest reviews and the cleanliness score on the booking site
✖ If the kitchen is a shared space, there's also the risk that someone may take and consume your food. While it's unlikely, there are unfortunately some bad eggs out there, even in the travel community.
✖ In Bali, you may find it difficult to find the exact ingredients you want. You may need to visit the local market and minimarkets. If you want the food to taste good, you'll need to find spices and seasoning too. You can try using the Grab app to order groceries, but they may still be hard to find.
4. Stay at a homestay in Bali.
Why?…. As well as having a good level of English and local knowledge, a homestay can often provide tailored meals for you or access to their kitchen.
You can find homestays in Bali on Booking.com and Agoda. However, my favourite tool for finding authentic homestays is Homestay.com.
A homestay is an accommodation type where you stay with a local Balinese family for a fee. Typically, you will have your own private room.
I like homestays because they give you an opportunity to meet and live with the local community, to see how they live day-to-day. For gluten-free people, the benefit of this is that they also often know the best local places to visit and eat out. Often, the hosts provide one or two local meals as part of the package (often the same food the family eats).
Advantages:
✓ Hosts usually have a good level of English, making it easy to communicate.
✓ They have a good in-depth knowledge of local restaurants and often the ingredients used in Balinese and Indonesian cuisine.
✓ If they provide food as part of the homestay, it should be easy to communicate your dietary requirements or ask to overlook the cooking process.
✓ It's usually easy to contact the hosts in advance and let them know your dietary requirements.
✓ Some hosts may allow you to use their kitchen if you ask in advance.
Disadvantages:
✖ There's always a chance that the hosts will not fully understand your gluten free dietary requirements.
✖ There's a danger of cross contamination in the kitchen.
Gluten free shops in Bali
Supermarkets with gluten-free products in Bali
Supermarkets in Bali are your best bet for finding gluten-free grocery products (such as gluten-free bread, pasta, and cereals) in Bali.
In Bali, I came across limited gluten-free products in Pepito Supermarkets or Coco Supermarkets, such as:
Schar gluten-free penne pasta.
Schar gluten-free biscuits/cookies.
Johnsonville gluten-free sausages.
Schar gluten free cornflakes.
Try the following supermarkets:
Canggu – Pepito Market on Jalan Raya.
Uluwatu – Pepito Market on Uluwatu Street.
Kuta – Grand Lucky Supermarket on Jl. Sunset Road.
Denpasar – Primo Supermarket on Level 21 Mall (Jl. Teuku Umar).
Denpasar – Bintang Supermarket on Jl. Hayam Wuruk.
Denpasar – Popular Market on Jl. Hayam Waruk.
Seminyak – Coco Supermarket on Jl. Laksamana.
Ubud – Coco Supermarket on Jl. Raya Pengosekan.
Ubud – Pepito Andong on Jalan Raya Andong.
Ubud – Bintang Supermarket Ubud on Jl. Raya Sanggingan.
Gluten free bakeries
The following gluten free bakeries have well-rated gluten-free options:
Seminyak – Made's Banana Flour Company and Made's Banana Flour Cafe make gluten-free bread and pastries made from banana flour. They are well-loved by Bali's gluten-free community because the whole menu is gluten free.
Ubud – Made's Banana Flour Cafe is another branch of the above bakery and cafe.
Seminyak, Petitenget, Canggu, and Ubud – Monsieur Spoon: The chain French bakery sells a large selection of gluten free cakes and tarts, stored separately to the gluten-containing products.
Canggu – Oka's Bakery & Cafe: This bakery has a large selection of gluten-free cakes and gluten free bread products.
Popular Gluten Free Restaurants and Cafes in Bali
The following restaurants have good reviews for their gluten-free menu options:
Uluwatu – The Loft: One of my personal favourite restaurants, The Loft has lots of gluten-free options on the menu. They are also happy and confident at catering to coeliac guests.
Canggu – Oka's Bakery and Cafe: Heaps of gluten free cakes and gluten-free bread products.
Canggu – Secret Spot Canggu: Gluten-free bread and gluten-free lasagna is available.
Canggu – The Avocado Factory: A good selection of gluten-free meals are available, including gluten-free rice bowls.
Ubud – Zest: Completely gluten-free and vegan menu.
Ubud – KAFE: A large selection of gluten-free meals, including popular gluten-free burgers.
Ubud – Three Monkeys Ubud: Gluten-free pizza is available.
Multiple locations (including Ubud and Uluwatu) – La Baracca Bali: Offers gluten free bread, pizza, and pasta.
Multiple locations – Bali Buda: A large selection of gluten-free options. In my experience, staff had a good understanding of which products do and do not contain gluten.
Seminyak – Mamasan Bali: An Asian fusion restaurant with a separate gluten-free menu. According to reviews, they are very attentive to gluten-intolerant and celiac guests.
Seminyak – Potato Head Beach Club: According to reviews, the beach club's restaurant provides a gluten-free burger bun upon request.
Final tips for being gluten free in Bali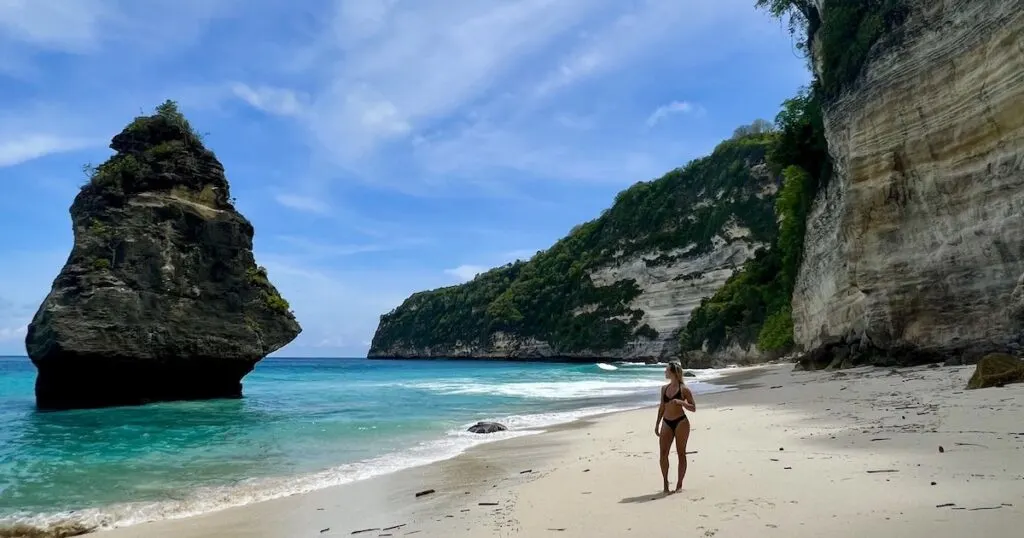 Suwehan Beach, a non-touristy beach on Nusa Penida island.
1. Give street food a chance.
Street food in Bali has a bad rep for being unhygienic and increasing your risk of food poisoning or Bali belly. However, you might want to give it a chance.
Many street food stalls in Bali already have a selection of dishes set out, but the stalls you want to look out for are those that cook your food fresh and in front of you.
That way, you can keep an eye on exactly what goes into your food. The main danger is cross contamination.
2. Get a local SIM card and keep Google Translate handy.
Google Translate is your best friend as a gluten free traveler. However, to access Google Translate and get the most accurate translations, you need to have a good internet connection.
Some restaurants and warungs will provide you with a password to their Wi-Fi connection. This is more likely in a Western restaurant or coffee shop, as they are visited daily by hordes of digital nomads trying to sniff out good food and a stable internet connection.
Having access to mobile data is important, however, for when there is no Wi-Fi connection or when the Wi-Fi connection is slow. 4G signal is good across the majority of Bali.
To buy a local SIM card in Bali, visit a minimarket such as Indomaret and ask to buy a local SIM card. Stalls on the street also sell SIM cards, but leave you vulnerable to scammers.
A sim card shouldn't cost more than 100,000 IDR, which is equivalent to under £6 or under $7. It's more expensive to buy a SIM card at the airport.
3. Ask for the chef.
Don't worry about how busy the chef is. Your health is always more important. Removing the middleman (the server) is the easiest way to avoid miscommunications with the chef.
Can you buy gluten free beer in Bali?
At the moment, I'm not aware of any gluten-free beer being available in Bali. Instead, cider, which is naturally gluten-free, is widely available in bars.
Is nasi goreng gluten free?
Nasi goreng is not gluten-free because it contains soy sauce. When it is cooked without soy sauce, nasi goreng can be made gluten free. Sometimes, nasi goreng ayam (fried rice with chicken) may include fried chicken coated in wheat flour, which is another risk factor for gluten-free diners.
Is it easy to be gluten-free in Bali?
With the correct knowledge of the ingredients in Indonesian recipes and a good translation app, it is easy to be gluten free in Bali. The main risk in Bali is cross contamination, so you may want to stay in an accommodation with private kitchen facilities to reduce the risk.
Is Balinese food gluten-free?
Not all Balinese food is gluten-free. Many rice dishes, including nasi goreng, are not gluten free because they contain sweet Indonesian soy sauce. Mie goreng is off limits because it is made with wheat-containing noodles. However, some Balinese dishes can be made gluten free by omitting soy sauce. Pepes ikan (fish grilled in banana leaf), lawar (coconut, minced meat and vegetables), and desserts like laklak are some of the best naturally gluten free Balinese food
Is Bintang gluten free?
Bintang, Bali's most popular beer brand, is unfortunately not gluten-free. It is brewed from malt.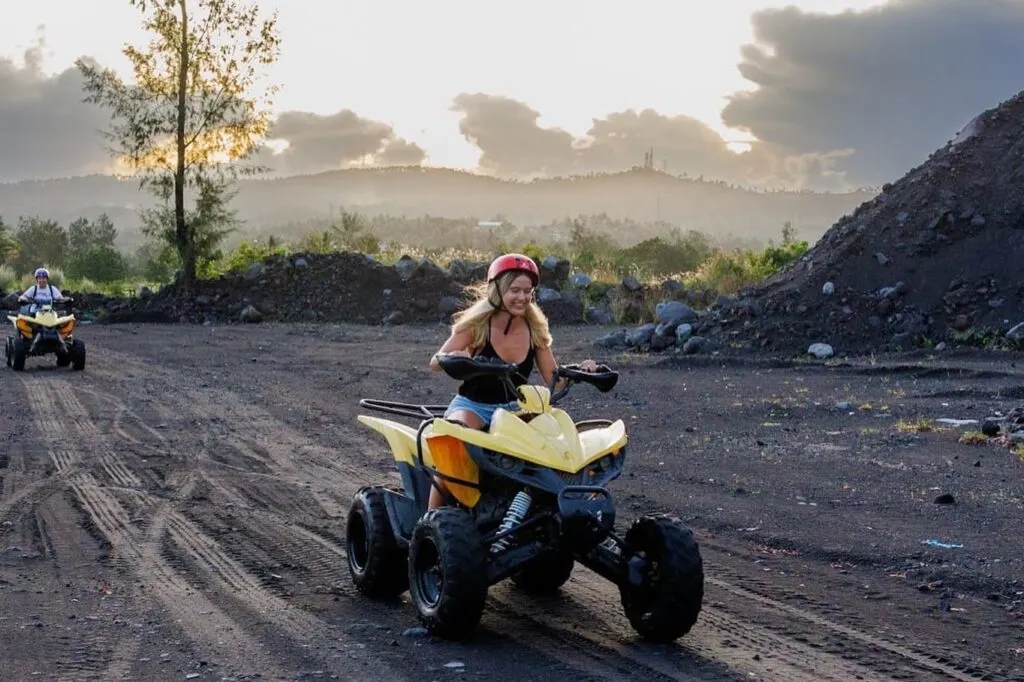 AUTHOR: KATIE TREHARNE
I'm Katie, the owner of Escape Artist Katie and a full-time digital nomad. I have been travel writing in some shape or form since 2018, including writing for luxury travel magazines. I hope you found my article useful – find out more about me here or keep up with my travels on Instagram. I'm a big advocate for offbeat travel and pushing yourself out of your comfort zone.