If you're wondering what to wear in Palawan, you're not the first person. Whether you're researching your trip or you've recently booked your flights to Palawan, you might be wondering a few things: Do I need to dress conservatively in Palawan? What should I wear in Palawan to go island hopping? Essentially, what should I pack for Palawan?
There are a few key things you need to think about when deciding what to wear in Palawan, and those are the temperature, the weather forecast, cultural expectations, mosquitos, and the unique requirements of Palawan's primary activity, island hopping.
As one of the most southern archipelagos in the Philippines, Palawan is very hot and humid. Dressing for the climate and the weather is very important. Palawan (and the Philippines as a whole) is predominantly Catholic.
Therefore, unlike in many other parts of Asia such as Kerala and Java, there is also no need to dress conservatively. Locals and tourists alike often wear short sleeves and shorts.
I've covered exactly what to wear in Palawan depending on the season, weather, and location. Having visited the archipelago twice in five years, I've tried and tested many outfits, and I'm confident that I've worked out the perfect packing formula and island hopping outfits for Palawan.
Most recently, I backpacked from Coron to Puerto Princesa in two weeks as part of a month-long trip in the Philippines covering Bicol, Palawan, and Luzon. So, I've also included by top Palawan travel tips and where to stay in Palawan.
Suggested reading:
What to wear in Palawan: Where is Palawan?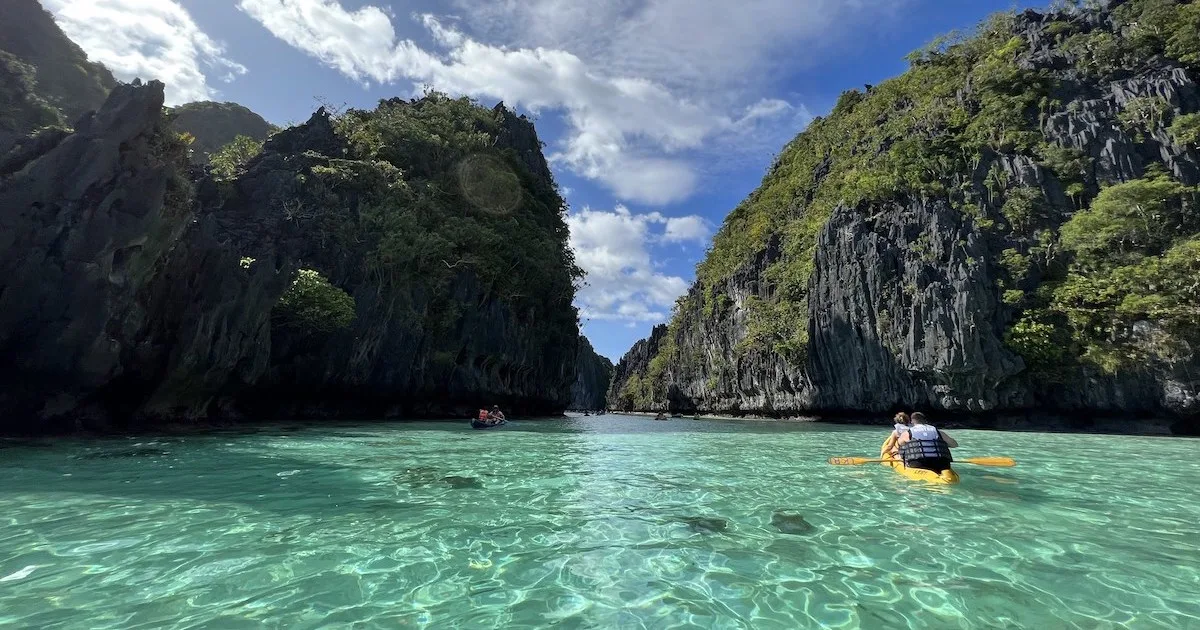 Palawan is a province in the southwest Philippines. It is an archipelago, which is essentially a fancy word for a group of many different islands and islets (1769 to be precise).
A flight from Manila to Palawan should take between an hour and an hour and a half, depending upon which of Palawan's airports you arrive into.
What to Wear in Palawan: What is the weather like in Palawan?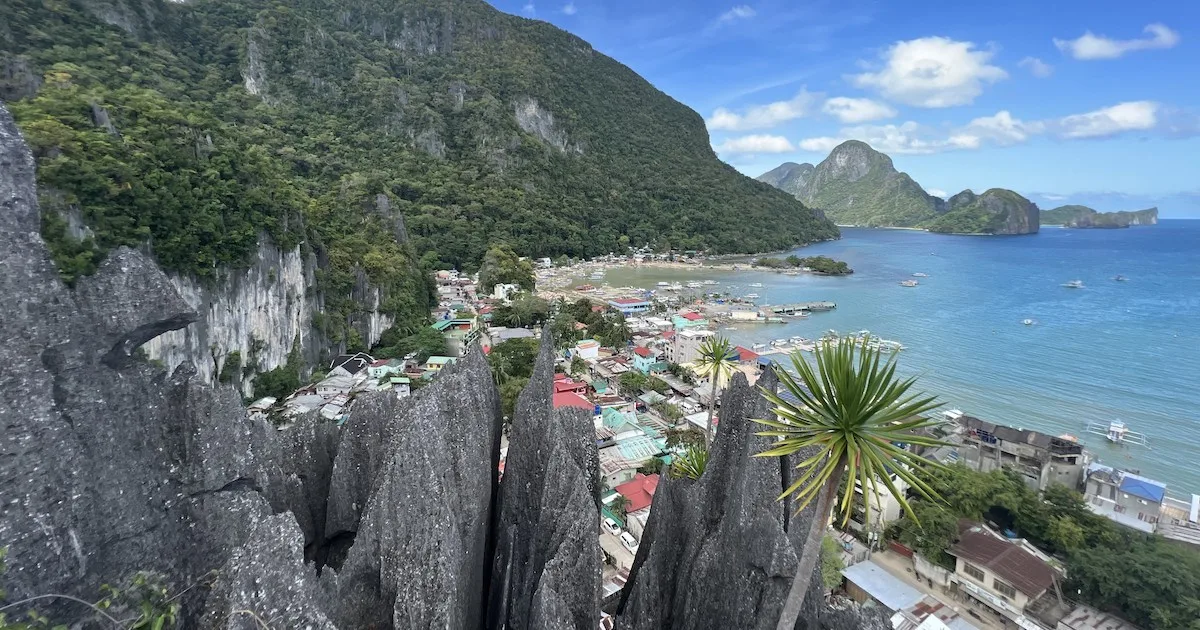 If there is one word to define the weather in Palawan, it's hot. There are two main seasons in Palawan: the dry season (between October and May) and the wet season (between June and September).
Dry season: October to May
Average temperature: 27°C
The temperature in Palawan in the dry season averages around 27 °C. Some rainfall typically persists early in the season, mainly in the months of October and November.
November through to March is typically the best time to visit Palawan because the temperatures are manageable, and there should be little rain.
I visited Palawan in November 2018 and November 2022. Both times, it was predominantly sunny with a few days of tropical downpours during the month.
There is always a small risk of typhoons. I was lucky enough to narrowly miss a typhoon before my second visit, which resulted in many of the boat tours being cancelled.
Wet season: June to September
Average temperature: 27°C
The wet season in Palawan also has an average temperature of 27 °C. However, tropical storms are likely in the wet season, as are dangerous typhoons.
The eastern side of the archipelago generally receives more rain than the west side of the archipelago.
Wet season is not the ideal time to visit Palawan.
What to Wear in Palawan: Palawan travel tips
1. Visit Palawan during the dry season.
As I learnt during two consecutive days of rainfall in El Nido, there's not much to do in Palawan when it rains. Most of the activities are centred around island hopping, beaches, and other outdoor activities.
When it rains, you're limited to indoor activities such as restaurant or café hopping, spa visits, or if you're in a city such as Puerto Princesa, visiting shopping malls.
2. Decide your route and book your flights early.
To reach Palawan, you need to fly into Manila first, and then take a domestic flight to an airport Palawan. Another option is to take a flight from another airport in the Philippines, such as Cebu airport, if you've visited a different location first.
This is likely to be more expensive, so most tourists fly into Manila first for the cheapest connection.
To find the cheapest flights to the Philippines and to Palawan, I recommend using a combination of Skyscanner and Google Flights.
Palawan island is 425 kilometres long. Puerto Princesa is the capital city. The cheapest flights into and out of Palawan are from Puerto Princesa International Airport.
If you're travelling on a tight budget, you should try to book at least one flight to or from Puerto Princesa International Airport.
I only recommend one because it is difficult and impractical to fly both into and out of Puerto Princesa if you're visiting Coron Island, because it is located a long bus and ferry ride away from the capital city.

If you're only travelling as far as El Nido, it is more practical. Flights from destinations such as El Nido and Coron are often double or triple the price of flights from Puerto Princesa.
Meanwhile, a van ride between Puerto Princesa and El Nido is the same price as a cheap lunch.
The most common route through Palawan is to fly into either Coron or Puerto Princesa, stopping by El Nido and other coastal destinations on your route to the final destination and airport.
When travelling between Coron and El Nido, you have the option of either taking a public ferry or an island-hopping tour.
A three-day island hopping tour can be as expensive as £300-400, with longer tours costing more. However, they typically include all meals, transport, snorkelling activities, and glamping-style accommodation on remote islands.
Naturally, this is going to be significantly more expensive than a £50 ferry (the typical price for the route between El Nido and Coron). However, I would highly recommend budgeting for an island hopping trip.
I still count Tao Philippines as one of my best travel experiences to date. There's nothing like the feeling of having a remote island to yourself, stopping at abandoned islets, and snorkelling all day long (with turtles, reef sharks, and shipwrecks, no less).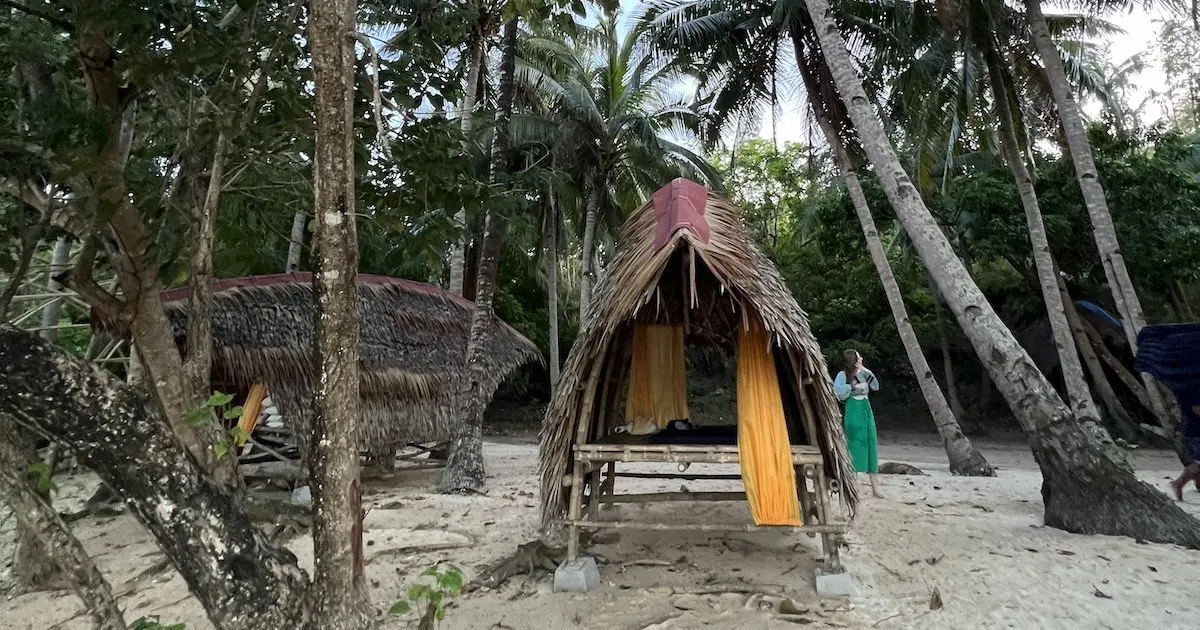 Bamboo huts in the Tao Philippines trip
The customisable route below can be completed in either direction, and includes all of the most popular and offbeat destinations in Palawan:
Coron – Island-hopping Tour Past Linapacan – Napcan Beach – El Nido Town – Port Barton – Puerto Princesa.
3. Bring plenty of cash.
When it comes to paying for things, Palawan is a card-free zone for the most part. It's uncommon for restaurants, hotels, hostels, and other organisations to have a card machine. In an ideal world, you should withdraw all the cash you need for Palawan in Manila.
There are ATMs in Palawan's bigger towns and cities, including El Nido and Puerto Princesa. However, the ATMs are often empty of cash due to the high demand from tourists.
4. Get a local SIM card.
Having a local SIM card is your key to accessing the internet on the go. This helps with everything from finding the nearest ATM to googling recommended restaurants and locating your friends if (or when) you lose each other.
SIM cards are available to buy at the airport or select newsstands, grocery shops, and post offices. The easiest way to find somewhere selling a SIM card is to ask around or ask your accommodation to point you in the right direction.
Typically, a SIM card costs between 40 and 300 PHP depending upon the plan. A pre-paid SIM card is more expensive than SIM cards that can be topped up online for an additional price. However, they are more convenient if you don't want any added faff.
5. Book your accommodation in advance.
After travelling around Indonesia prior to Palawan, I was surprised at how expensive the accommodation is in Palawan.
Good-quality, affordable accommodation is snapped up well in advance, so I'd suggest making the most of the free cancellation options on Booking.com and Agoda by booking as soon as possible.
Hostelworld has a large selection of hostels, which is great for solo travellers wanting to meet friends or for those travelling on a budget.
What to Wear in Palawan: Where to stay in Palawan
Palawan has three well-known tourist destinations: Coron, El Nido, and Puerto Princesa City.
Slightly more offbeat destinations include Port Barton, Linapacan, and Napcan Beach.
I'd highly recommend visiting Linapacan, an island between Coron and El Nido because there are few tourists and the corals are the most delicate I've seen.
On that note, I found the corals in Coron to be far superior to the corals in El Nido in terms of quality.
1. Coron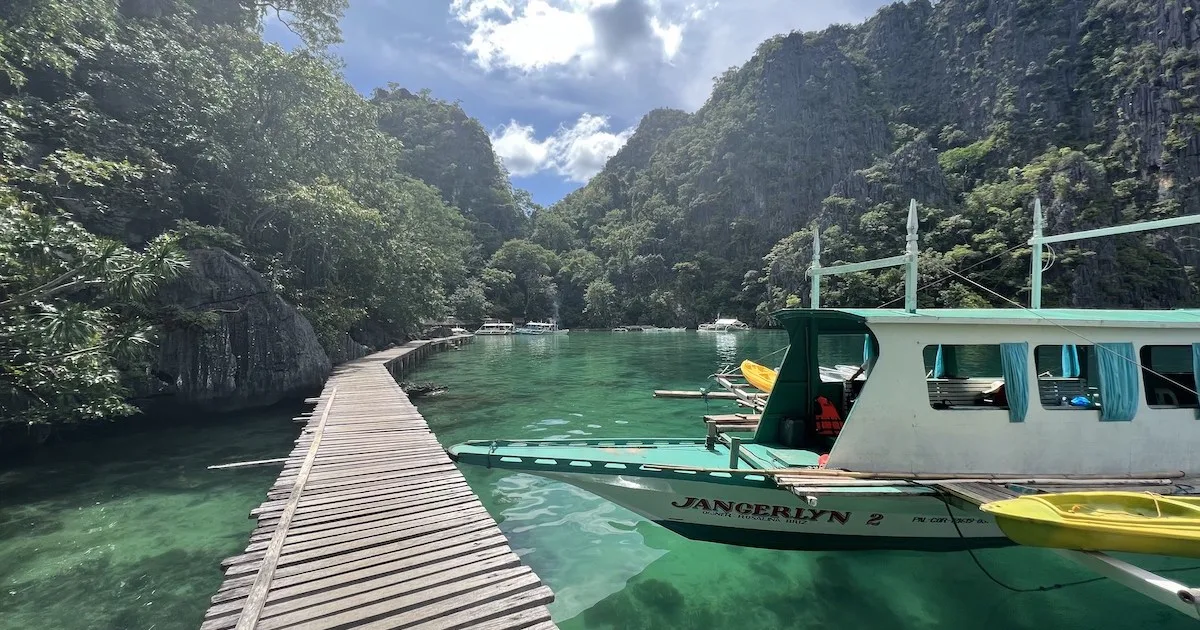 The best hostels in Coron
Best overall hostel: Hop Hostel is a stylish hostel with views of Mount Tapyas and a shared pool and kitchen.
Best budget hostel: Happy Camper Hostel is a cheap and cheerful hostel with a family feel.
Bougie pick: Avisala Hostel is a central hostel with breakfast options and curtained beds.
The best hotels in Coron
Or… Treat yourself to a luxury stay at Corto del Mar, a colonial-style hotel in the centre of Coron with a pool.
2. Linapacan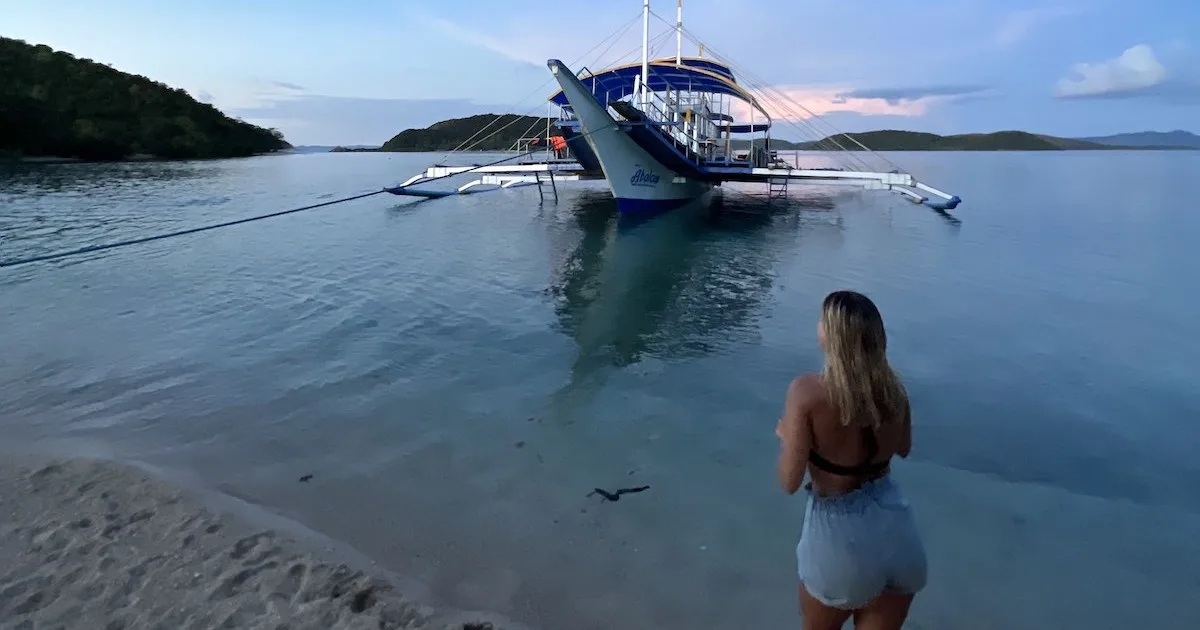 Linapacan is an island between Coron and El Nido. To get there, you need to take a several-day boat expedition from Coron, Puerto Princesa, or El Nido.
If you have a flexible budget, you can also rent a private boat to Linapacan.
I visited Linapacan as part of the Tao Philippines expedition, a three or five-day boat expedition through the remote islands between Coron and El Nido.
The expedition involves sleeping in simple but stylish bamboo tukka huts and travelling on a traditional bangka boat with a group of other adventurers.
3. El Nido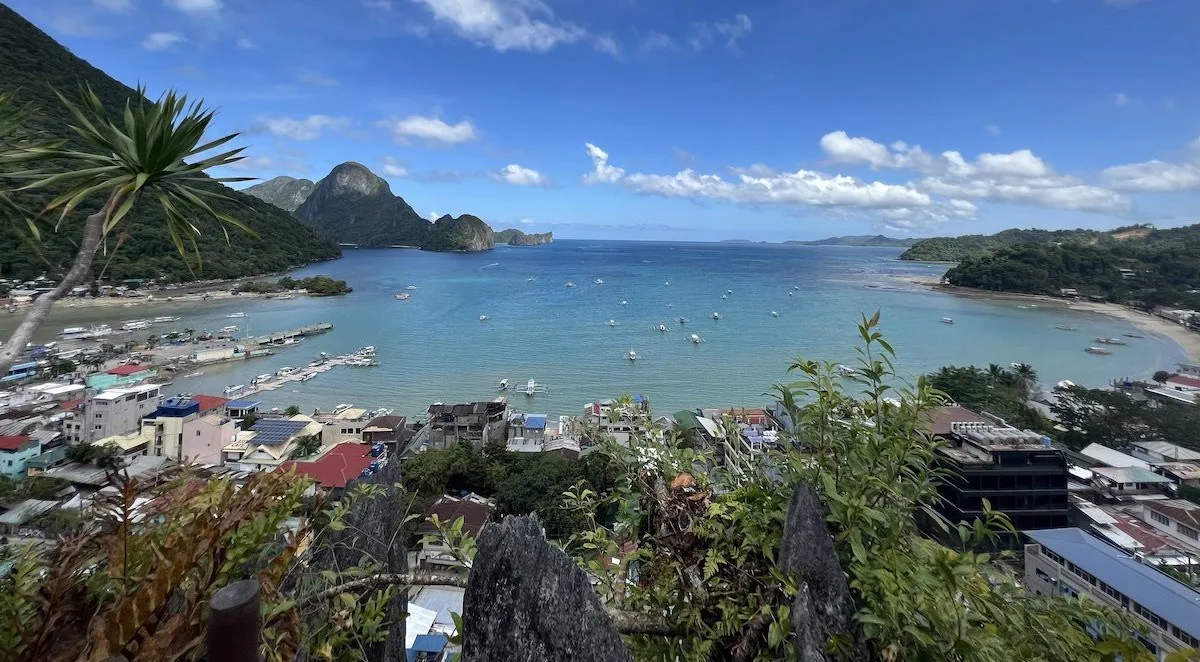 The best hostels in El Nido
Best overall hostel: Frendz Hostel is a lively, sociable hostel with a rooftop pool and bar, fab coffee, and a great communal space in the atrium.
Bougie pick: Spin Designer Hostel is a bougie hostel with a shared kitchen, games room, and a terrace with forest views.
Best budget hostel: Happiness Hostel is a centrally-located hostel above a bar with swings. Bonus: visit the Greek restaurant opposite for incredible souvlaki.
The best hotels in El Nido
Fisheye The Rooms: A cosy and affordable apartment with a small terrace in El Nido town
Casa Cecilia: Simple, cosy rooms in El Nido town with helpful staff in case you need any pointers.
Cuna Hotel: A stylish but affordable hotel with an outdoor pool, lounge, bar, and restaurant
Treat yourself to a luxury stay at S Resort El Nido, which has views over El Nido Bay, a sea view terrace, a restaurant, and a range of luxury rooms.
4. Puerto Princesa
The main reason people visit the city is to take a full-day tour of the Puerto Princesa Subterranean River from the city. It's a UNESCO World Heritage Site.
Puerto Princesa has a large range of accommodation. I found that it's very hit and miss, and I had my first bed bug experience here. Therefore, you should read the reviews in detail.
The best hostels in Puerto Princesa
Best overall hostel: Guni Guni Hostel is, as far as I'm aware, the only traditional hostel near the centre of Puerto Princesa. It has a restaurant serving American or Asian breakfasts and runs regular evening entertainment. There's a bar, a shared lounge, and a small garden.
Good for large groups: Globetrotter Inn is based in the north of Puerto Princesa. While it is dubbed as a hostel, it's more of a guest room situation. There's a large family room where big groups travelling together can sleep in a private dorm room.
The best hotels in Puerto Princesa
Hue Hotels and Resorts Puerto Princesa: A stylish hotel with an outdoor pool, restaurant, gym, and buffet breakfast in the north of Puerto Princesa.
One Manalo Place: An easy stay with an outdoor pool, spa, and two restaurants.
Alvea Hotel: Modern rooms in a centrally-located hotel with a free airport shuttle, tour desk, and an extensive breakfast spread.
Treat yourself to a luxury stay at Atremaru Jungle Retreat… Close to the Puerto Princesa Subterranean River. With easy access to the city's closest tourist attraction, the jungle-based hotel has stylish bamboo rooms and an outdoor pool.
What to Wear in Palawan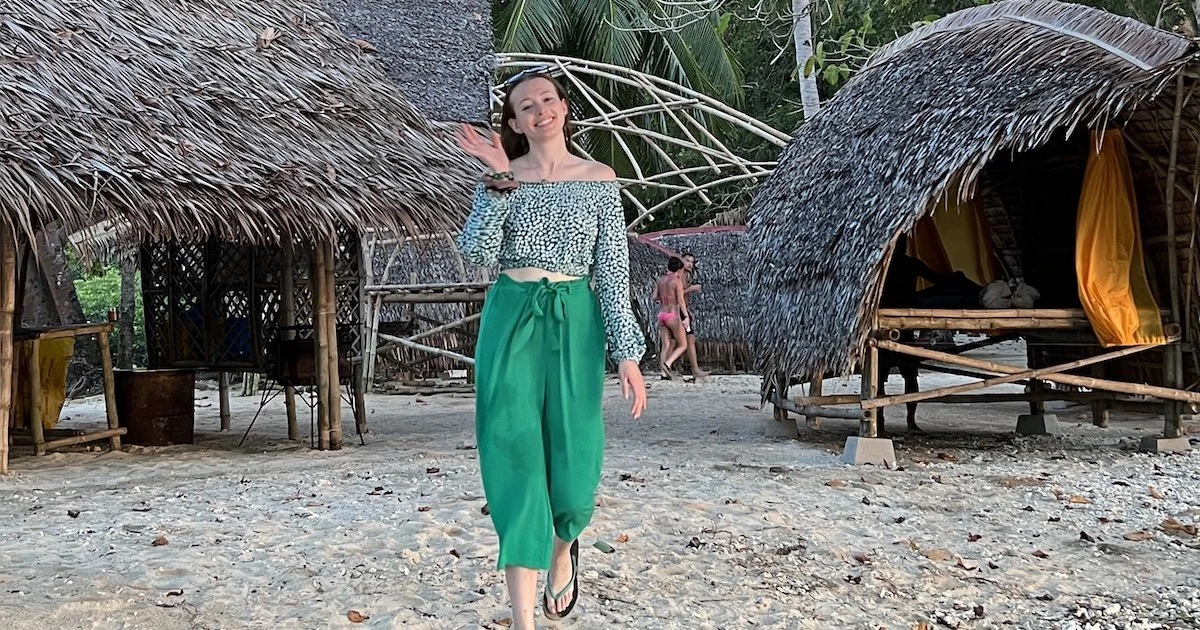 I'm going to simplify what to wear in Palawan into four simple points:
Cultural expectations: Palawan is a predominantly Catholic community, meaning that there are no cultural expectations that people living there should dress modestly. It's common to see tourists showing their shoulders, thighs, and cleavage. However, most locals are so used to the heat that they will predominantly wear outfits such as jeans and shirts or a long maxi skirt and blouse. In the centre of towns, there's an expectation from locals that tourists will be respectful of the presence of children and teenagers and dress appropriately. This means you should not wear beachwear into the town.
Climate: As Palawan is consistently hot and humid throughout all seasons, you should try to wear loose, breathable clothing to keep cool. Cottons and linens are typically very airy, but specially-made sweat-wicking fabrics (such as the fabrics you find in activewear) will also help to absorb sweat.
Activities: With island hopping and beaches being the main draws in Palawan, beach wear will make up a big part of your wardrobe in Palawan.
Weather: While Palawan is hot and sunny for the most part, it does experience sudden tropical downpours. You should carry a lightweight waterproof coat and check the weather forecast regularly.
What to Wear in Palawan: Outfit ideas
1. Palawan outfit ideas for men
Jeans or chinos and a vest or t-shirt.
A loose shirt and shorts.
Beach shorts and a vest.
2. Palawan outfit ideas for women

Blouse and shorts.
Crop top and mini or maxi skirt.
Sports bra and shorts or leggings.
Maxi or mini dress.
Long, floaty trousers and a crop top.
Denim shorts and tank top.
Bikini and cover-up for the beach.
What to wear in Palawan: What to wear in El Nido Palawan
In El Nido Palawan, tourists should wear loose, breathable clothes due to the hot climate. There is no need to dress conservatively, but when walking around the town, you should not wear beachwear. When you're island hopping, swimwear and cover-ups are essential.
There are many active bars and clubs in El Nido, where you can dress up in loose, breathable clothing.

What to wear in Palawan: What to wear in Coron Palawan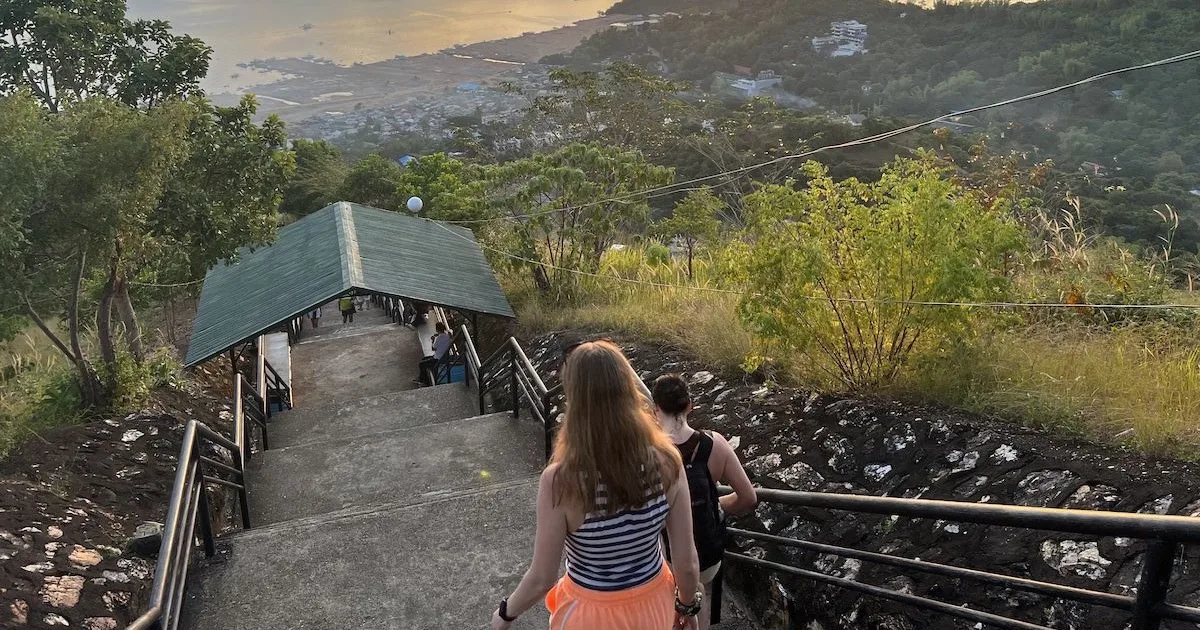 In Coron, Palawan, tourists should wear breathable, sweat-wicking clothes to cope with the hot climate. As in the rest of Palawan, there's no requirement to dress conservatively, but when walking around the town, you should not wear beachwear.
When island hopping around Coron Island, wear swimwear and cover-ups.

What to Wear in Palawan: What to wear in underground river Palawan (Puerto Princesa)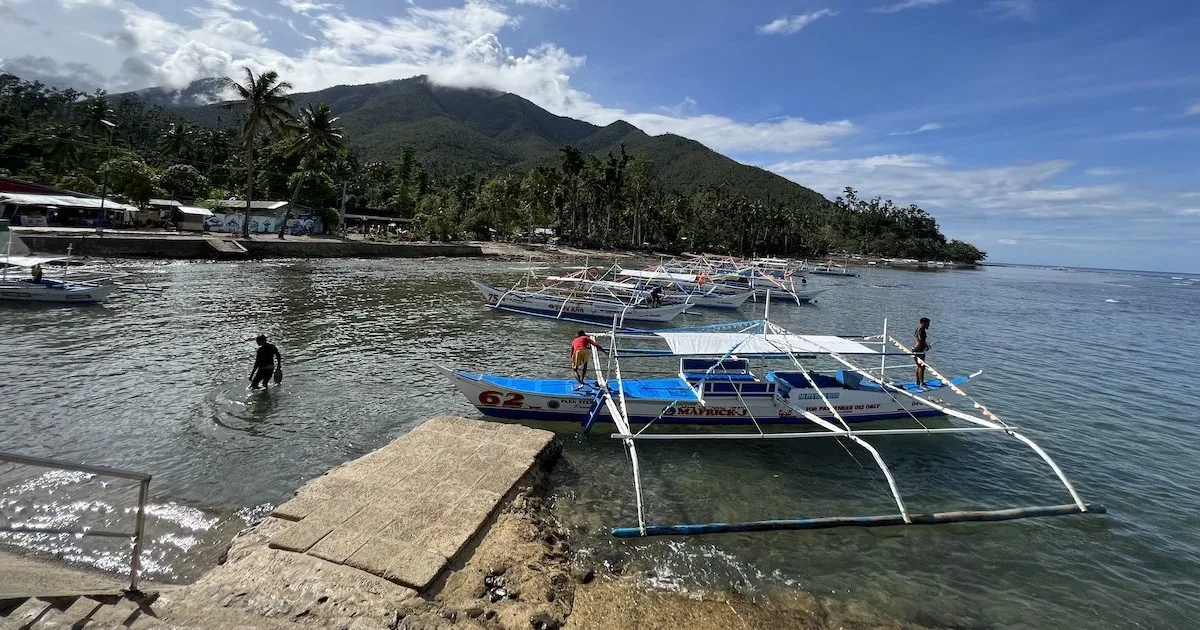 You should avoid wearing long trousers or skirts to the underground river in Puerto Princesa, Palawan, because the boat from Sabang Port arrives on a beach, where you must wade through knee-high water to reach the land.
Wear loose, breathable clothing in the underground river, as it is hot and humid. Women may feel more comfortable wearing shorts than skirts because they will need to clamber in and out of boats.
You may also want to wear a cap because the ceiling of the underground tunnel drips and bat droppings often fall down onto the boats.
What to Take Island Hopping in Palawan
Knowing what to wear for island hopping in Palawan can make or break your experience. Sharp rocks and corals mean that reef shoes and first-aid kits are an essential. A dry bag is also imperative to keep your belongings dry while on the boat or beaches.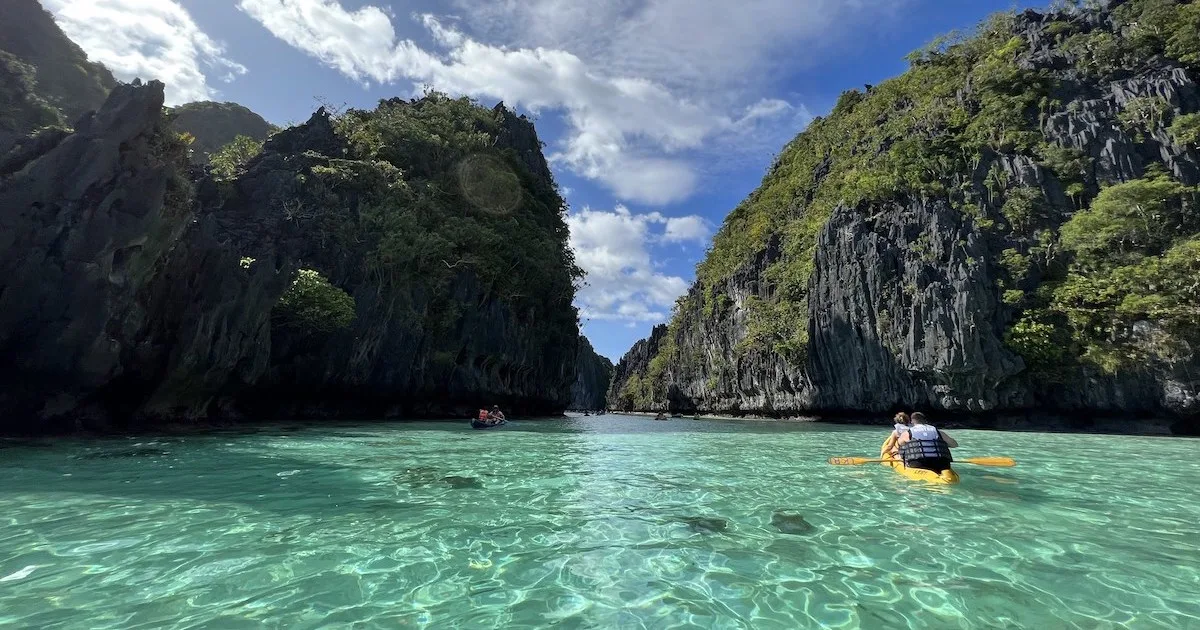 Dry bag: A dry bag is an essential island hopping item. A 10-20 litre bag should be sufficient for an average island hopping pack. They can be brought for a reasonable price from stalls in the towns and beaches; just be prepared to haggle.
Reef shoes: Many of the reefs are shallow and many island hopping trips involve climbing over rocky shore breaks to reach hidden coves, so reef shoes are an essential island hopping item.
Sun cream and cap
Reusable water bottle: Keeping the ocean free from plastic should be the goal of all visitors and local. Palawan has already banned plastic straws due to the increasing level of plastic in their oceans.
Towel: A quick-dry microfibre towel.
First-aid kit, including plasters, immodium, anti-allergy tablets, bandages, sterile wipes,
Toilet tissue paper: While there's a shortage of toilets on island hopping trips, the beaches where most boats take their lunch break have a basic toilet. It's unlikely to have any toilet paper, so bring your own.
Snorkel (optional): Most boat trips include snorkels in the price or provide them for an additional price, but you may feel more comfortable using your own gear. Many of the snorkels are faulty.
What to Wear in Palawan: Island hopping outfit for Palawan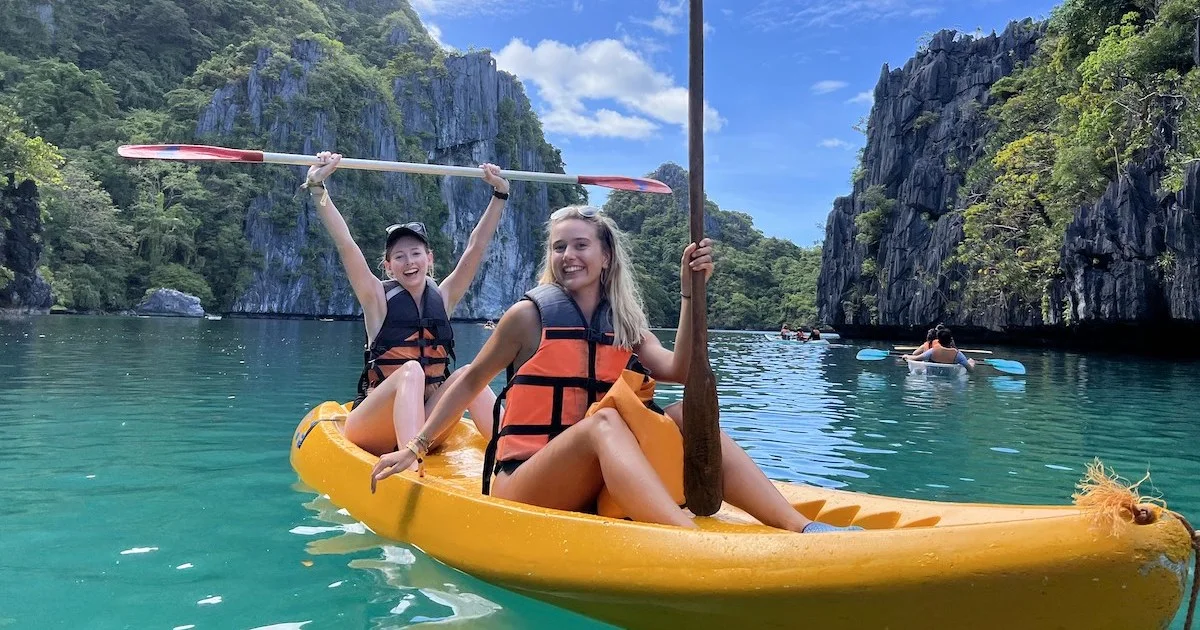 Island hopping outfit for Palawan: Men
Swim shorts.
Loose t-shirt (to remove on the boat/in the water).
Sandals or flip flops.
Sunglasses and/or cap.
Island hopping outfit for Palawan: Women
Bikini, tankini or swimsuit
Loose dress or loose. shorts/skirt with a tank or crop top.
Kimono to cover up if required.
Sandals or flip flops.
Sunglasses and/or cap.
Hair bobbles.
Full Palawan Packing List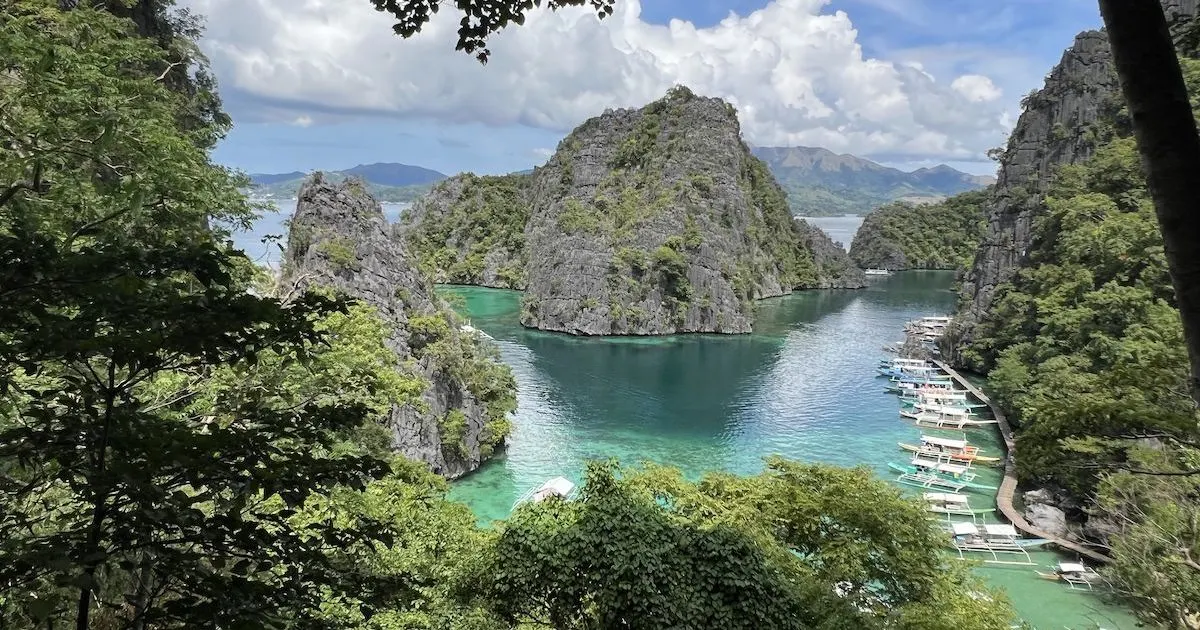 What not to pack for Palawan
Bulky raincoat. There's no reason why you'll need a thick raincoat in Palawan. When it rains, it's still hot. Your raincoat should be lightweight and have a Durable Water Repellent (DWR) coating.
High heels. While there are some great bars and clubs around locations such as El Nido, the roads are packed with obstacles and uneven surfaces. You don't want to risk a twisted ankle.
Packing List
Miscellaneous
Lightweight beach towel (ideally microfibre).
Sunglasses.
Sun cream.
Padlocks for hostel lockers.
Mosquito repellent.
Tissues and/or toilet paper.
Snacks.
A reusable water bottle.
Travel journal. If you're new to journalling, I have a full travel journaling guide, which explains how to write a travel journal from scratch.
Clothes
Lightweight t-shirts or shirts, including lots of spares.
Lightweight jackets or cardigans.
Shorts or skirts.
Dresses.
Long, breathable trousers.
Swimwear.
Beach cover-ups.
Socks.
Underwear and bras.
Jewellery and/or watch.
Shoes
Flip-flops or sandals.
Sturdy trainers or hiking shoes.
Reef shoes.
Bags
Day backpack.
Dry bag.
Tote bag or clutch, if required.
Toiletries
Face wash.
Shower gel.
Shower poof or scrubber.
Razors and razor cream.
Shampoo and conditioner.
Moisturiser.
Deodrant.
Body spray or perfume.
Tweezers.
Nail clippers or scissors.
Hair brush or comb.
Hair bobbles and clips.
First-aid kit
Waterproof plasters.
Blister plasters.
Bandages and surgical tape.
Immodium for traveler's diarhhea.
Rehydration sachets
Anti-allergy tablets.
Antiseptic wipes.
Antibacterial cream such as Savlon.
Painkillers like Paracetamol or Ibuprofen.
Mosquito relief cream or hoe hin.
Anti-acids.
Anti-sickness tablets for motion sickness.
Valuables
Any prescription medicine, accompanied by a doctor's letter.
Passport.
Tourist visa (or other suitable visa)
Travel insurance documents. I recommend using Staysure or Safety Wing travel insurance.
Mobile phone.
Phone charger.
Laptop and laptop charger (if required).
Padlock for lockers in hostels.
Ear phones.
Plug adaptor. The Philippines typically uses plug type A, which has two flat parallel pins. This is the same plug used in North America. Some plugs may require a type C adaptor, which is a European-style adaptor.
Camera, including a memory card and camera charger.
Power bank.
ID card.
---
Katie Treharne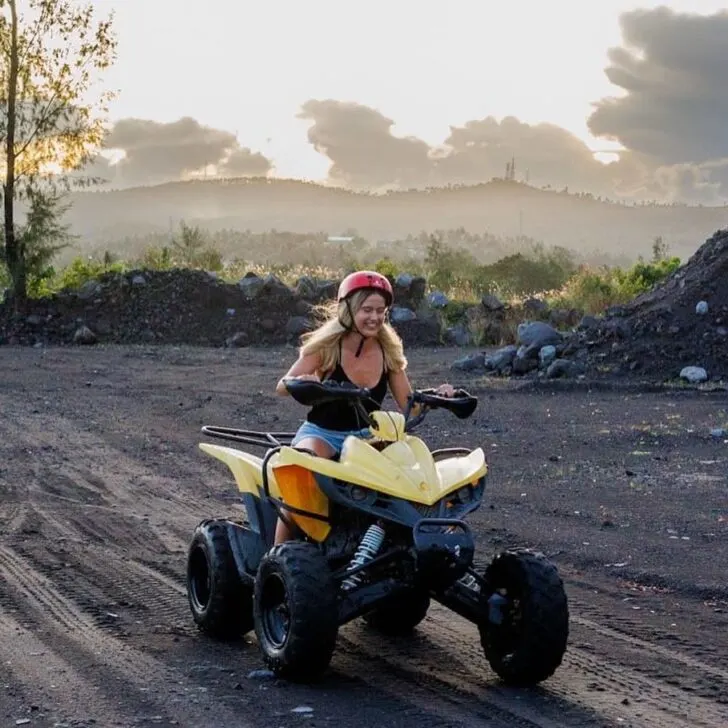 I'm Katie, the owner of Escape Artist Katie. I have been travel writing since 2018, including writing for luxury travel magazines and publications such as Wanderlust.
As well as being a digital nomad who works and lives abroad permanently, I'm a big advocate for offbeat travel and pushing yourself out of your comfort zone.
I hope you found my article useful – find out more about me here or keep up with my travels on Instagram.
---