Nunggalan Beach isn't a typical Bali beach. To start with, there are no crowds, thanks to the adventurous trek required to traverse up and down the surrounding cliffs. Its most defining feature, however, is its shipwreck. To be precise, there are two parts of the same shipwreck buried in the sand. Graffitied by local artists, these lost fractions of history make Nunggalan even more romantic and wild, and the ideal place to let your imagination run wild.
Located in Uluwatu, which is another name for the Bukit Peninsula at the very southern end of Bali, Nunggalan Beach Bali is definitely off the tourist track. During my three hours on the beach, I came across only eight other people on the beach. That's not counting the handful of small, non-intrusive stalls that entrepreneurial locals have set up in the forest and on the beach.
Nunggalan Beach is not for you if you like the type of beach where you can roll up with your scooter and reach the sand in a matter of seconds. To access Nunggalan Beach Uluwatu, you must hike along a steep path down the cliff and through the forest, passing by monkeys and makeshift stalls. This only adds to the adventure of Pantai Nunggalan.
With the following guide, you don't need to worry about getting lost or arriving unprepared, as I've covered exactly how to get there, the facilities on the beach, what to bring, and whether you can swim and surf. If you're looking for more less-busy beaches in Bali and elsewhere, check out my offbeat travel guides, which include secret beaches like Bias Tugel Beach and how to avoid the crowds at Tanah Lot at sunset.
Why should you visit Nunggalan Beach?
If you like golden-sand beaches with fewer crowds and you're not averse to an adventurous trek and lost pieces of history like shipwrecks, Nunggalan Beach Bali is for you. It is the perfect beach for those who are interested in offbeat travel.
Half of the adventure is getting to Nunggalan Beach. There's a moderately challenging trek downhill through the jungle, past monkeys and rundown stalls and warungs. The views of the beach are to die for on the way down, so expect to stop and take photographs plenty.
There are two shipwrecks on the beach. I believe they are two sections from the same wreck, as locals told me that third, separate wreck was swept away years ago and never seen again.
The scenery on the beach is incredibly unique, and not just due to its shipwrecks. The white sand backs onto steep cliffs with dense jungle, so it feels like you're chilling on an almost-deserted beach on a remote island somewhere tropic. The sand also stretches for miles without sign of civilisation, aside from two villas high up on the clifftop.
There are also hardly any people on the beach. Many of Uluwatu's scenic cliffside beaches are packed with crowds, but that's not the case at Pantai Nunggalan. If you're lucky, you might have the beach to yourself or, at the very least, you'll have to share it with a couple of handfuls of people.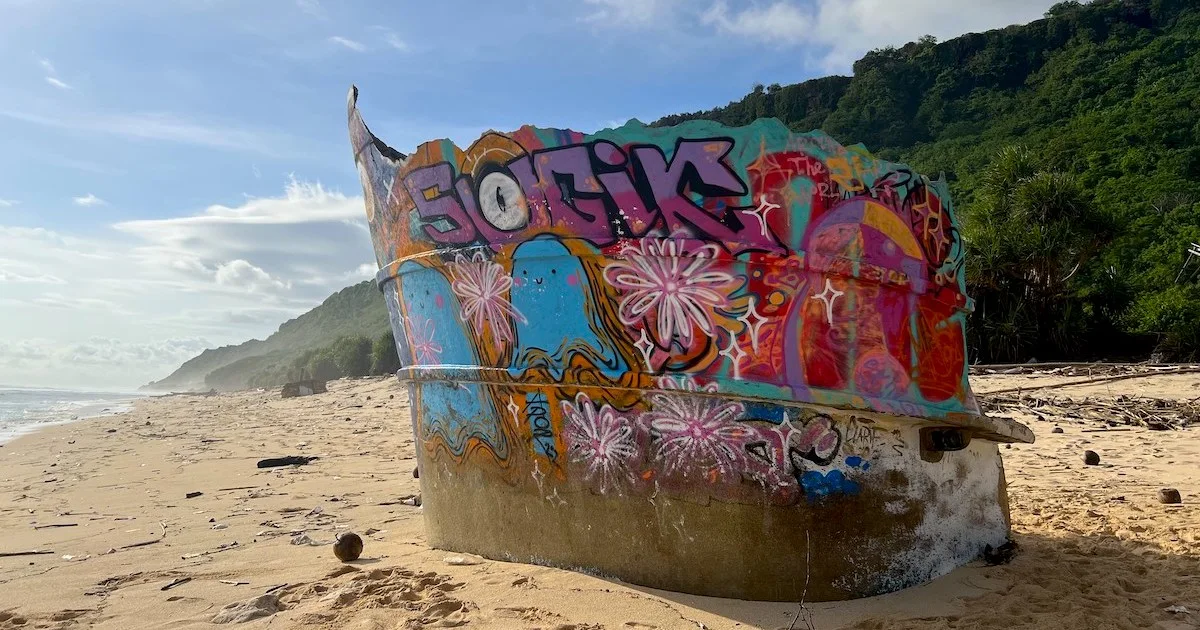 The only downside to Nunggalan Beach Uluwatu is the litter. Most of the plastic on the beach has been swept onto the sand by the currents, so it's bound to increase in quantity as the years go on unless we take personal and global action. Unfortunately, plastic on the beach is a problem all over Bali, so Pantai Nunggalan is no different.
I'd suggest taking a bag and a litter picker (or a stick from the forest) with you onto the beach. If we all clear some of the litter away, it'll make a difference.
Where is Nunggalan Beach?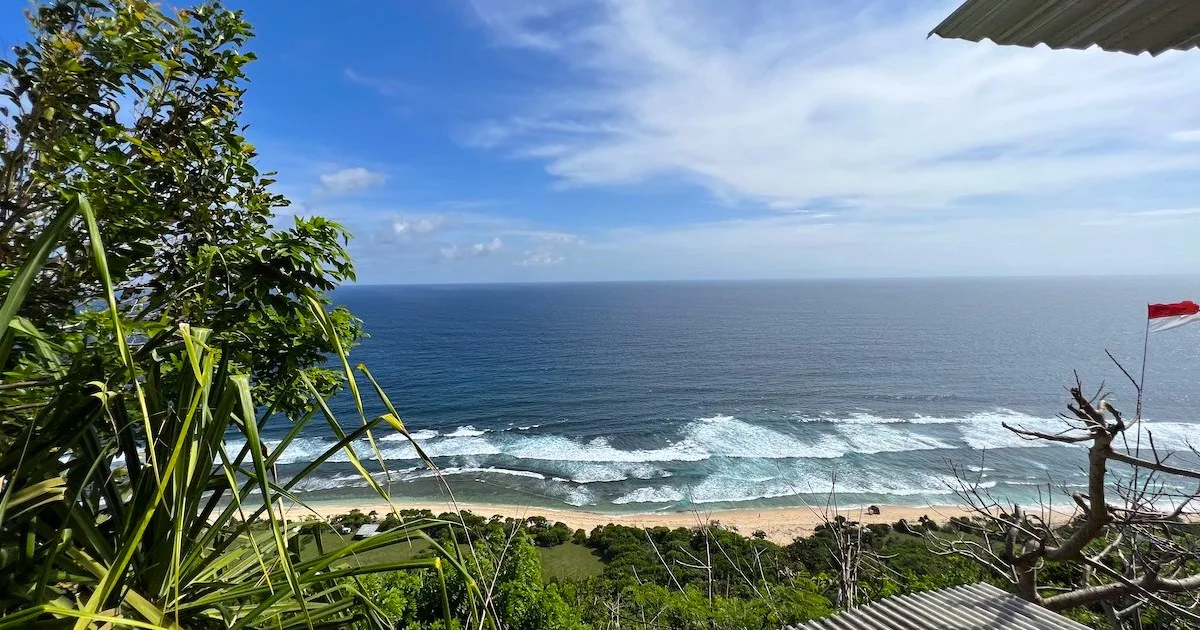 Nunggalan Beach is located on the Bukit Peninsula, a round stretch of land at the very south of Bali. Affectionately known as Uluwatu, the peninsula is best-known for its white or golden-sand beaches and wild cliffs. Many of the beaches on the peninsula require a hike up and down a clifftop.
Nunggalan Beach is on the very south coast of the peninsula, around 25 minutes' drive west from Melasti Beach (the location of the sought-after Sunday's Beach Club) and 10 minutes' drive east of Nyang Nyang Beach, another less-busy beach in Uluwatu.
If you're staying in the centre of the peninsula or in the area immediately surrounding Bingin Beach, expect a 15-minute drive to Nunggalan Beach Bali.
If you're making a day trip from elsewhere in Bali, Nunggalan is an hour and a half's drive away from Canggu and an hour and 45 minutes' drive away from Ubud.
How to get to Pantai Nunggalan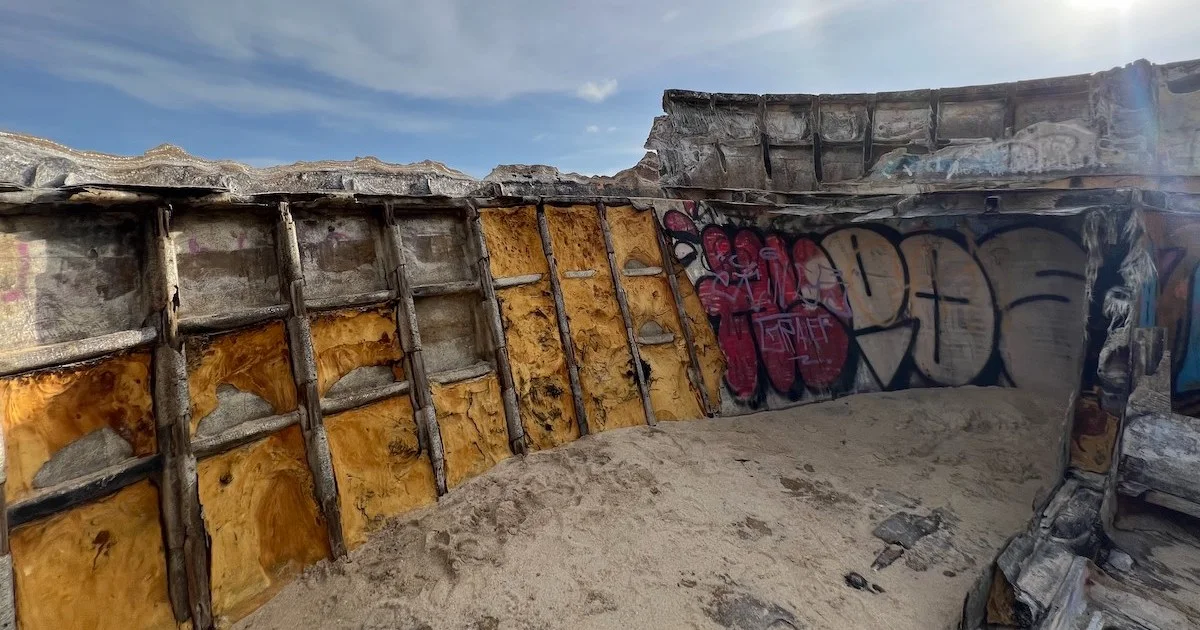 Getting to Nunggalan Beach isn't as tricky as reaching some other secret beaches in Bali. You need a scooter or a car to reach the parking area for Nunggalan Beach, but the track is mostly pothole-free and it isn't steep or bumpy.
Your first option is to hire a scooter or a car. Typically, scooter hire in Uluwatu costs 50,000-100,000 IDR daily. Your second option is to book a GoJek or Grab, which are two apps which work in the same way as Uber. You can book a cheap ride on the back of a scooter in a car. The apps require an internet connection.
I would suggest using Google Maps to find Nunggalan Beach. Either purchase a local Telecom SIM card from a mobile stall to use and access the maps or download an offline map using WiFi at your accommodation. Google Maps takes you directly to the parking area for the beach.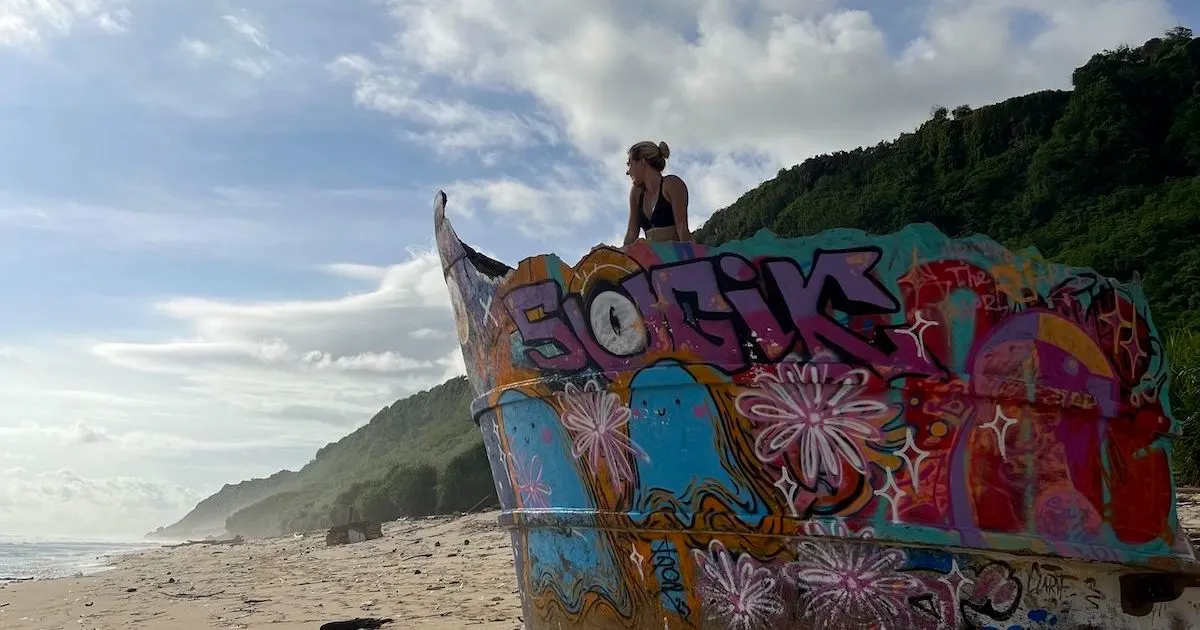 When you leave the main road Jl. Raya Uluwatu Pecatu, you will turn onto a small street called Jl. Batu Nunggalan. The country lane has several turns and bends, but keep following it straight until you reach a parking area opposite a sign for Villa Plenilunio.
A group of opportunistic locals have set up the car park and will charge you 5,000 IDR to park a scooter. Expect to pay slightly more for car parking.
There's a warung located a two-minute walk uphill, which has a basic, mosquito-ridden toilet available for use for 5,000 IDR per go. This is the only toilet you will see during your time at Nunggalan, so be sure to use it if you need to. You might want to lather yourself in insect repellent before entering the toilet, as I walked away with at least 10 bites.
The locals will direct you down the path to the beach, but in case by some miracle, they're not there to make you pay up, just head downhill out of the car park and follow the paved lane that goes down the right-hand side of a gated villa.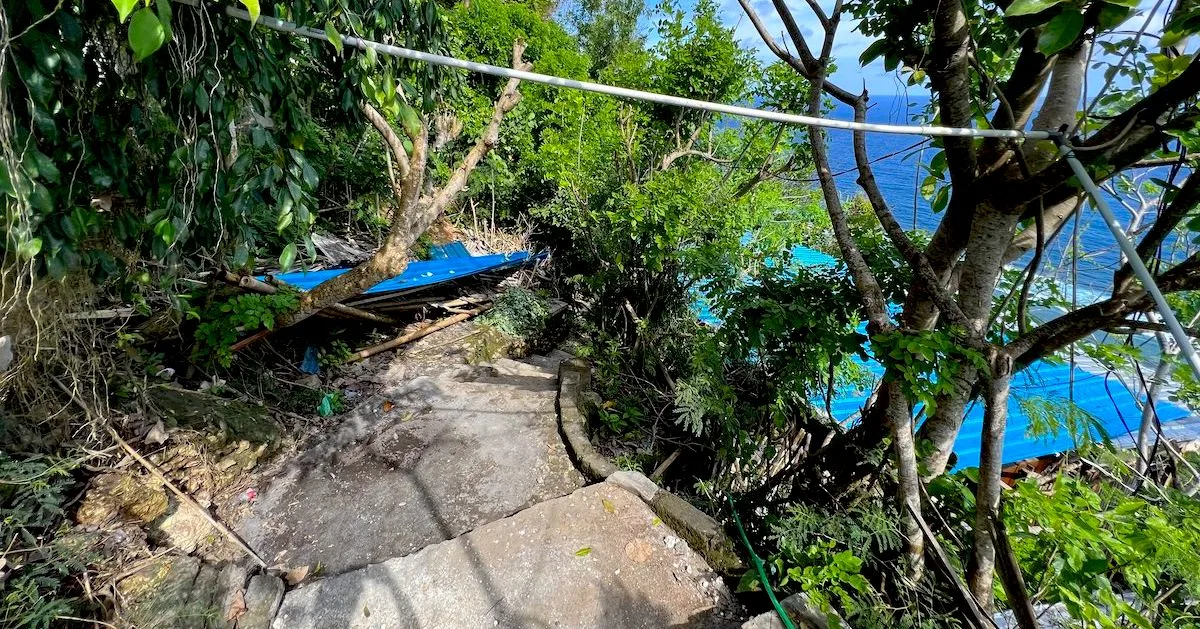 The hike to the beach requires a sturdy pair of shoes, as it consists of a mix of steep gravel, mud, and makeshift stairs. The hike takes approximately 25 minutes or half an hour downhill, depending on how often you stop to rest or take pictures. However, the return hike may take you up to 45 minutes depending upon your pace and fitness level.
There is one warung early on in the trek. It has views over the beach and sells basic Indonesian dishes such as nasi goreng and mie goreng.
A few other stalls sell coconuts and cold drinks along the way. The coconuts typically cost around 25,000 IDR and the cold drinks cost around 15,000 IDR. They sell fizzy drinks like Coca Cola or small water bottles.
Towards the end of the trek, you will come across a fork in the path. The signposts point to Nunggalan Beach in both directions, so it's slightly confusing. Don't be fooled by the 'topless beach' signpost, as I believe that's just a well-humoured joke planted by locals.
Both paths lead to the beach, but the path to the right is slightly quicker and it emerges closer to the shipwreck than the left-hand path.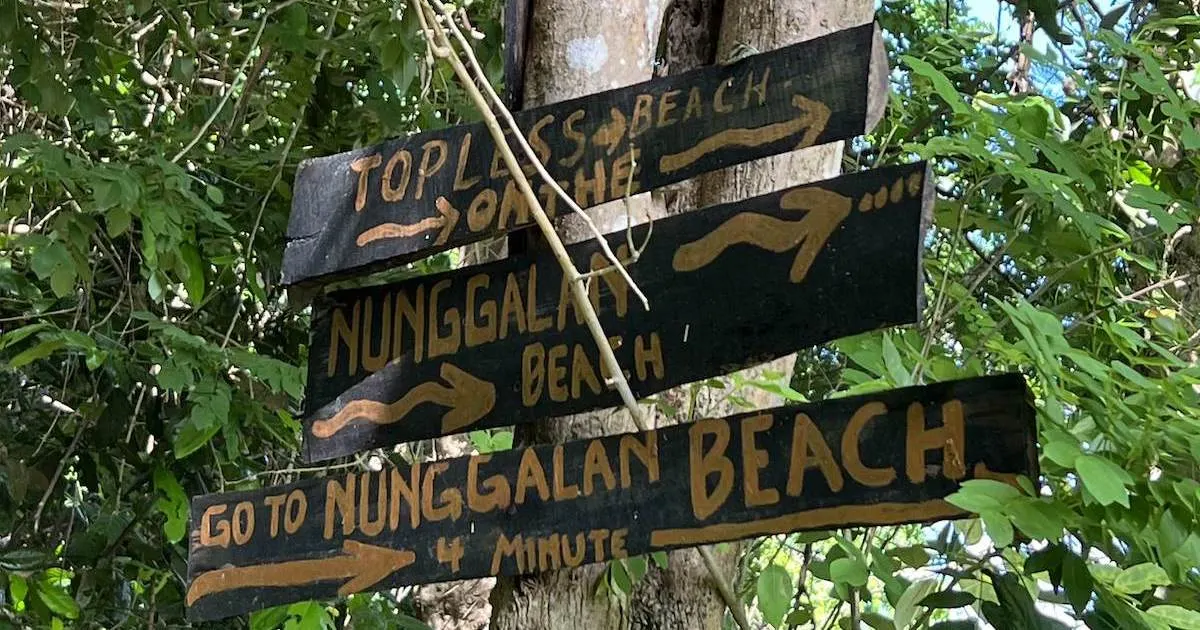 Where to stay in Uluwatu
Whether you're heading to Uluwatu just to visit Nunggalan Beach or staying for several days to go surfing, beach-hopping, and beach clubbing, it's likely that you'll want a reliable base.
I stayed in several places during my time in Uluwatu. My favourite hostel and hotel, however, is One Degree Sunset Hill Leisure. I stayed in the six-person dormitory room, which costs around 240,000 IDR (£13) per night, but they also have high-quality private rooms, which are some of the best I've seen in Uluwatu for the pricepoint. Stationed on the most scenic road in Uluwatu, it has an infinity pool with sensational sunsets every evening.
These are my other top picks for Uluwatu:
Sultans of Swell: A laidback, friendly hostel with excellent private rooms and a communal kitchen. It's not the most social place I've ever stayed at, but it has a central location in the middle of the peninsula and it's surrounded by restaurants, cute coffee shops, and food shops
The Ungasan Clifftop Resort: If you have the budget for a luxury break, The Ungasan Clifftop Resort is a luxury clifftop hotel above Sunday's Beach Club. With access to the private beach club included and villas with sea views, the resort is the go-to for a luxury break in Uluwatu.
Home-Bience Hostel: On the other side of the coin, Home Bience Hostel is a budget hostel with dorm rooms and private rooms run by a friendly family. It has a central location in Uluwatu, so it's easy to reach all the different beaches.
What to take to Pantai Nunggalan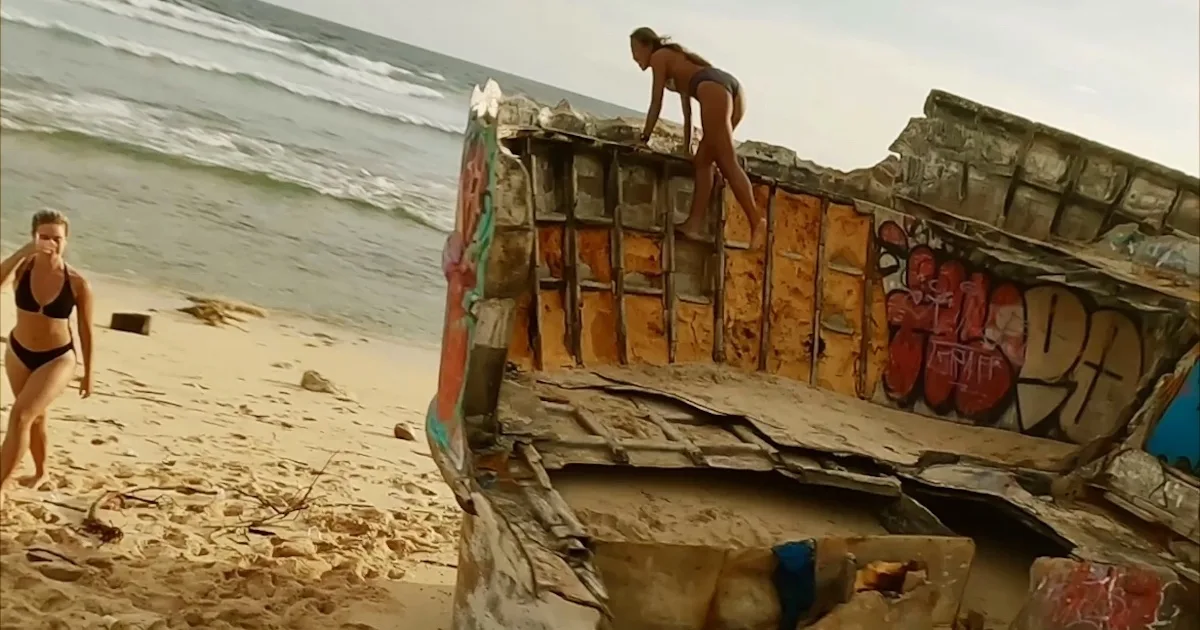 Just as important as dressing correctly is bringing the right gear. Nunggalan Beach Bali requires a little more planning than other beaches due to the limited facilities on the beach.
The following list should make sure that you're adequately prepared for the beach:
Insect repellent: There are mosquitos and other insects in the forest, especially when the sun starts to set.
Suncream: Suncream is an essential on any Bali beach, but especially Pantai Nunggalan, because there isn't much shade available aside from at the shipwreck and the couple of warungs.
Water: Water is a must, unless you want to buy the small bottles sold by the stalls. You'll need plenty of water to carry you through the hike and a complete day or afternoon in the sun.
Cash: If you want to buy food or drinks, you will need cash in IDR. Handily, the food and drink isn't expensive, so you won't need to bring too much cash with you. Card is not accepted.
A towel: Whether you wade in the ocean or want to lie down on the sand, a towel is a must.
Snacks: There isn't much in the way of food on Pantai Nunggalan, unless you count a can of Coca Cola, a coconut, or a small, overpriced packet of Pringles. Bring your own snacks in case you get hungry.
A camera, GoPro or drone: The shipwreck combined with the natural green slopes create the perfect scene for a photo or video. Drone footage is especially spectacular on this beach due to the lack of people.
Toilet paper: If you want to take an alfresco toilet break in the forest, you might want to bring a wad of your own toilet paper or tissues.
A first-aid kit: The biggest lesson I learnt during my time in Bali is to always carry a first-aid kit to the beach. There are so many hazards, whether it's reefs, sharp shells, rocks, and slippery paths, so you want to be prepared for all eventualities.
Facilities at Nunggalan Beach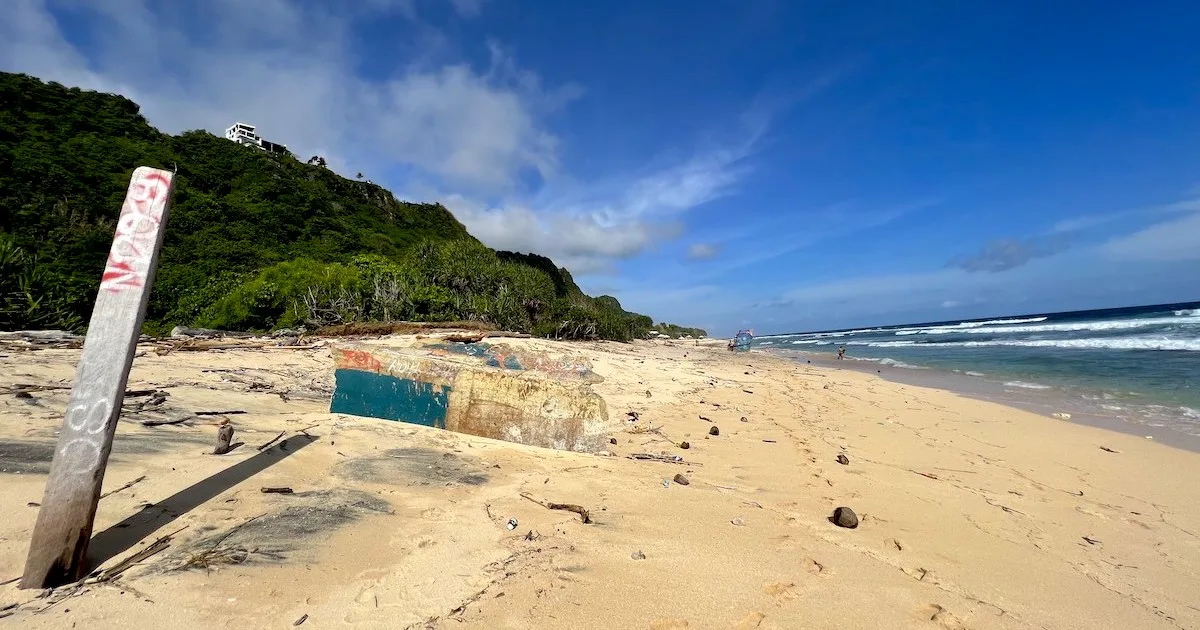 Nunggalan Beach Bali isn't built up. However, there are some facilities available. Most are congregated around the beginning of the trek through the forest.
There are no toilets at Pantai Nunggalan. The only toilets are located at the top of the car park, as part of the warung. They cost 5,000 IDR. Based in a small, rickety shed, they are very basic and inhabited by a throng of huge mosquitos.
There are two warungs at Nunggalan Beach. The first warung is located at the top of the car park. However, the second and most scenic warung is located a short, five-minute walk into the hike to the beach. The warung is run by a friendly old man who lives and sleeps there, and it has incredible views over the waves below.
There are two or three more stalls on the path to the beach. They sell cold drinks and coconuts, as well as a few limited snacks and souvenirs. On the beach itself, there are two competing stalls selling coconuts, cold drinks and souvenirs, but no food.
Can you swim at Nunggalan Beach?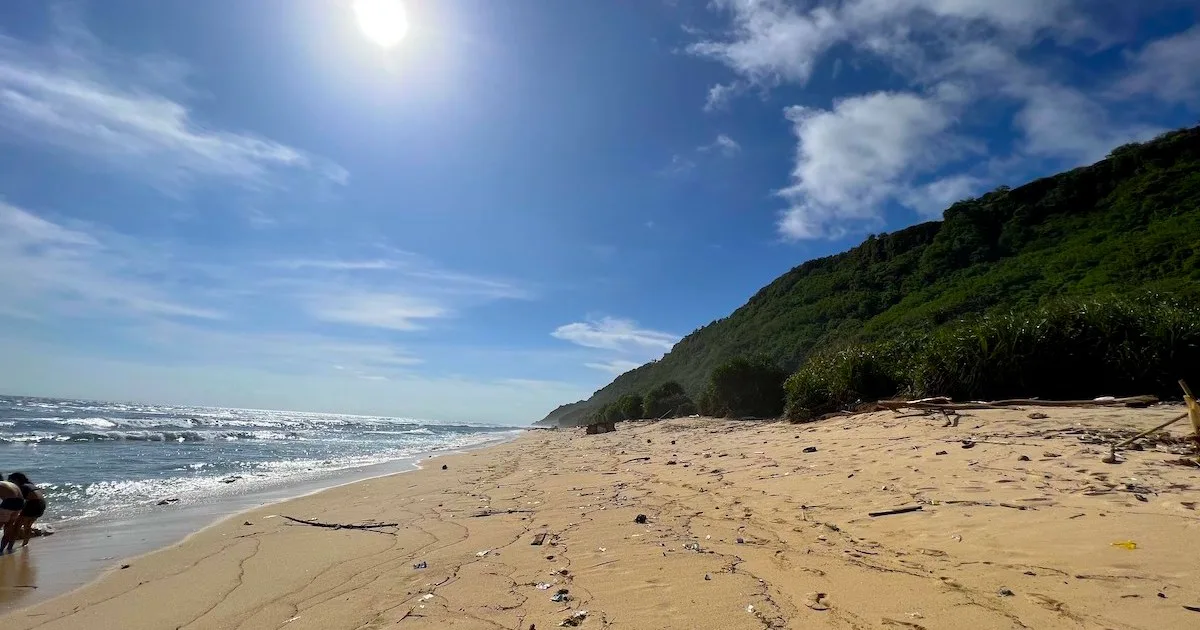 Just like many of the beaches on the Bukit Peninsula, Nunggalan Beach has a few hazards in the water, reefs and rip currents included.
While I was sipping on a Coca Cola with a friend at one of the stalls, I watched one woman step into the ocean and try to swim. She was rapidly carried out to sea by a rip current, but luckily, she managed to climb onto a sandbank. That proved to me that swimming at Nunggalan Beach can be dangerous if you're not familiar with the ocean and its currents. The waves can also be fairly large, but they're not as huge as some of the swells around the peninsula.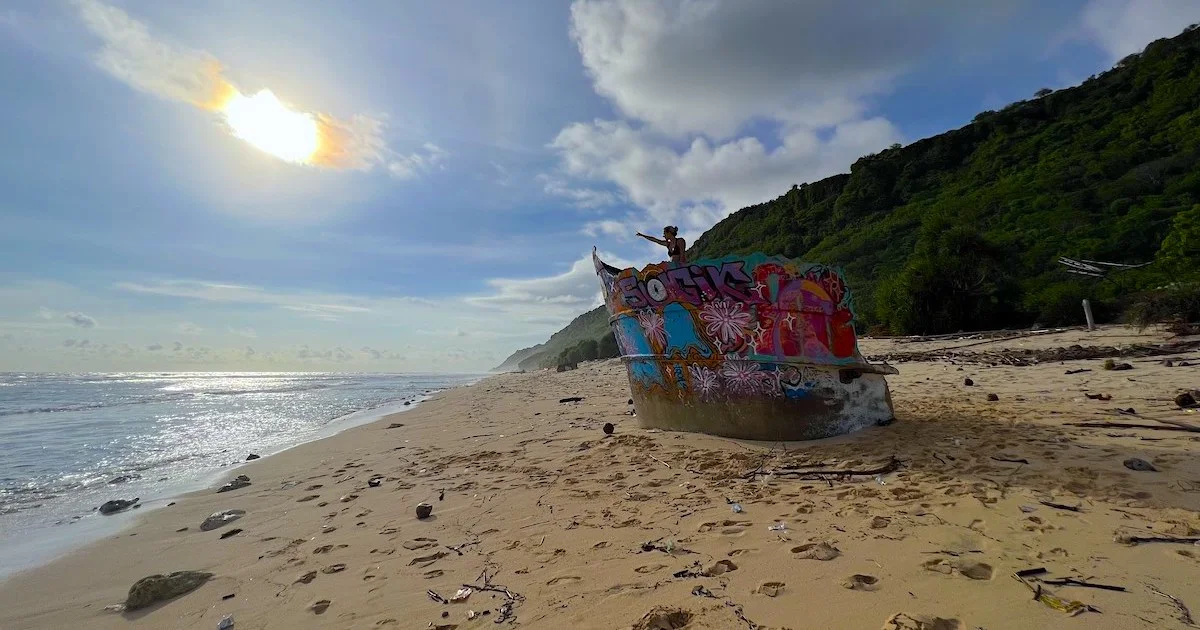 There's a mix of reef and sand at Pantai Nunggalan, so another hazard in the water are the coral reefs. Keep an eye out for blue patches and ripples in the ocean, which are usually a telltale sign that there's shallow water and therefore, sharp coral reefs. They can deliver a nasty scratch.
---
Travel insurance is essential for any trip abroad. If you're in an accident or experience an emergency, you need adequate cover. I recommend Staysure for single or multiple trips per year and SafetyWing for digital nomads.
---
Surfing at Nunggalan Beach
Nunggalan Beach is a good beach for experienced surfers, as it often experiences large swells. There's a mix of sand and reef on the beach. You will need to bring your own surfboard and be prepared for a lengthy trek to and from the shore.
---
If you're visiting Nusa Penida Island, I've created a guide to the best beach in Nusa Penida for every type of traveller, which features less touristic beaches such as Suwehan Beach.

Are there toilets at Nunggalan Beach?
There are no toilets on Nunggalan Beach. However, there are toilets located at the top of the cliff. They belong to a warung and cost 5,000 IDR to use. Turn left out of the car park and walk slightly uphill for two minutes until you reach the warung.
Are there restaurants at Pantai Nunggalan?
There are two warungs on the way to Nunggalan Beach. The first warung is located at the top of the cliff, left of the car park. The second is a short, five to 10-minute journey into the hike and has views over the beach below. It sells basic Indonesian dishes such as nasi goreng and mie goreng. There are also stalls selling snacks and cold drinks on the hike and on the beach.
How long is the hike to Nunggalan Beach?
The hike to Nunggalan Beach takes approximately 25 minutes downhill. Uphill, the hike takes between half an hour and 45 minutes, depending upon your pace.
Is Nunggalan Beach the same as Nyang Nyang Beach?
Nunggalan Beach and Nyang Nyang Beach are two separate beaches located along the same stretch. You must park in a different area to access each beach. Nunggalan Beach is a remote beach with shipwrecks, whereas Nyang Nyang Beach is slightly busier and more built-up.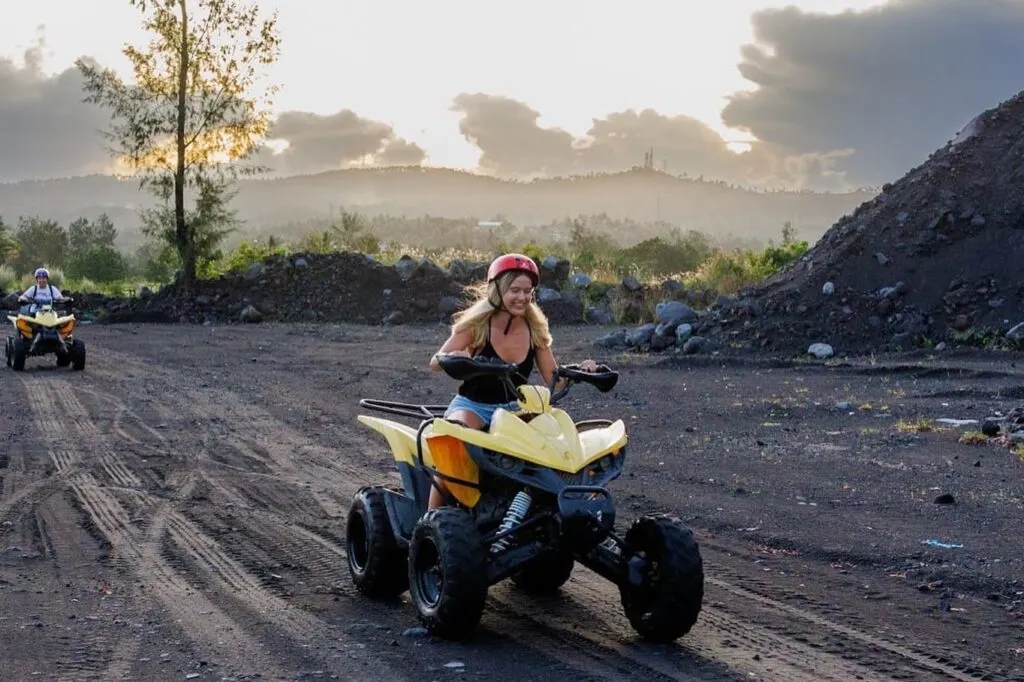 AUTHOR: KATIE TREHARNE
I'm Katie, the owner of Escape Artist Katie and a full-time digital nomad. I have been travel writing in some shape or form since 2018, including writing for luxury travel magazines. I hope you found my article useful – find out more about me here or keep up with my travels on Instagram. I'm a big advocate for offbeat travel and pushing yourself out of your comfort zone.