Ditching the crowds is easy at Suwehan Beach. Whether you're looking for a smaller, less-busy alternative to the ever-popular Diamond Beach in east Nusa Penida or you're keen to explore outside of the usual island tourist track, this is the place to start.
Located on the east side of the island of Nusa Penida, Suwehan Beach has sheer cliffs, wild surf, and a spectacular diamond-shaped rock located just offshore. En route to the beach, the scenery of the Sebungah Hills and tiny Balinese villages only add to the adventure.
Mostly due to the fact that Suwehan does not form part of the east Nusa Penida tour route, it's not unusual to have the beach to yourself. At the very least, you might share it with just a handful of other intrepid explorers.
As an offbeat travel destination in Bali, Suwehan Beach Nusa Penida takes more planning and preparation than your typical beach day. In the following guide, I'm going to explain exactly why Suwehan Beach should form an essential part of your Nusa Penida itinerary. I'm also going to cover how to visit the beach if you are not confident at driving a scooter (among those that have heard of it, the beach has a fierce reputation for the tricky road to and from the beach).
Visiting offbeat beaches has a certain thrill to it, so if that's your style of travelling, I have written detailed travel guides on how to visit the secret Bias Tugel Beach in Padangbai, Bali, and Nunggalan Beach, a hard-to-reach beach with a shipwreck in Uluwatu, Bali.
Is Suwehan Beach worth it?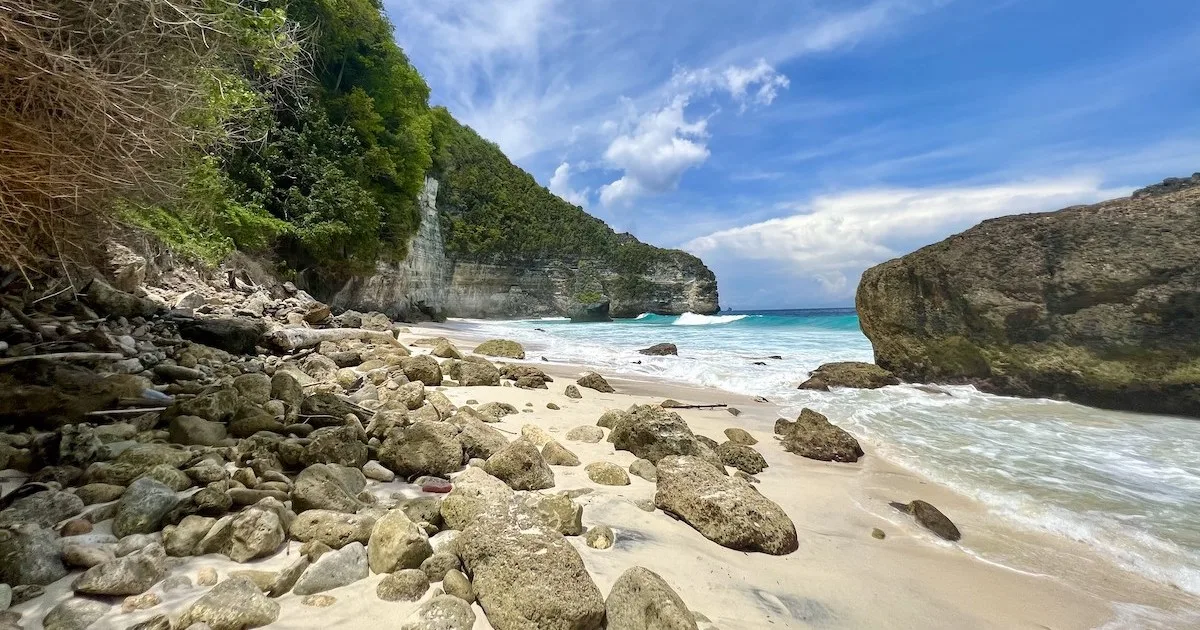 If you want to dodge the crowds on Diamond Beach and potentially have an entire beach to yourself, Suwehan Beach is definitely worth visiting.
There's a fairly challenging hike involved, making a day there packed with adventure. The water is also slightly calmer than at Diamond Beach, meaning it's more likely that you might be able to wade in the shallows.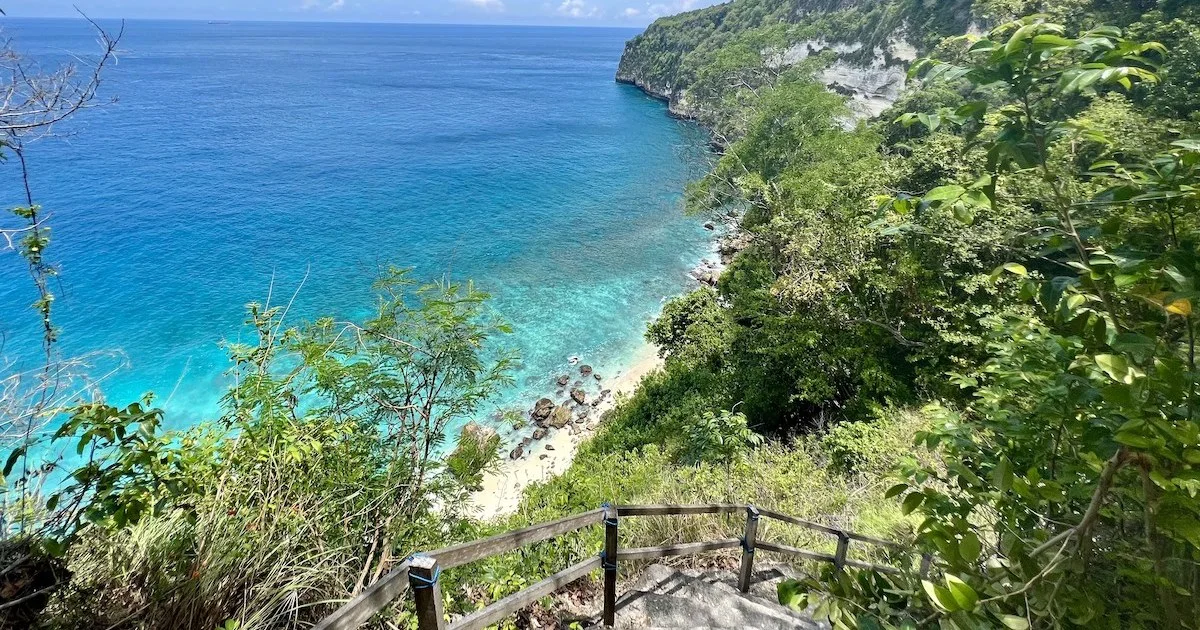 Just like the collection of diamond-shaped rocks at Diamond Beach, Suwehan Beach has one pointed rock which juts out of the ocean just offshore. So, get your cameras ready.

To add to all of that, the journey to and from Suwehan is the most scenic stretch I experienced on Nusa Penida. There are dome-shaped hills and authentic Balinese villages en route, and if you have a driver or your own scooter, you'll have the freedom to stop off wherever you like.
Where is Suwehan Beach?
Suwehan Beach is located on Nusa Penida, a small island just off the coast of southeast Bali. It is the largest of a group of three islands named Nusa Dua, Nusa Lembongan, and Nusa Penida.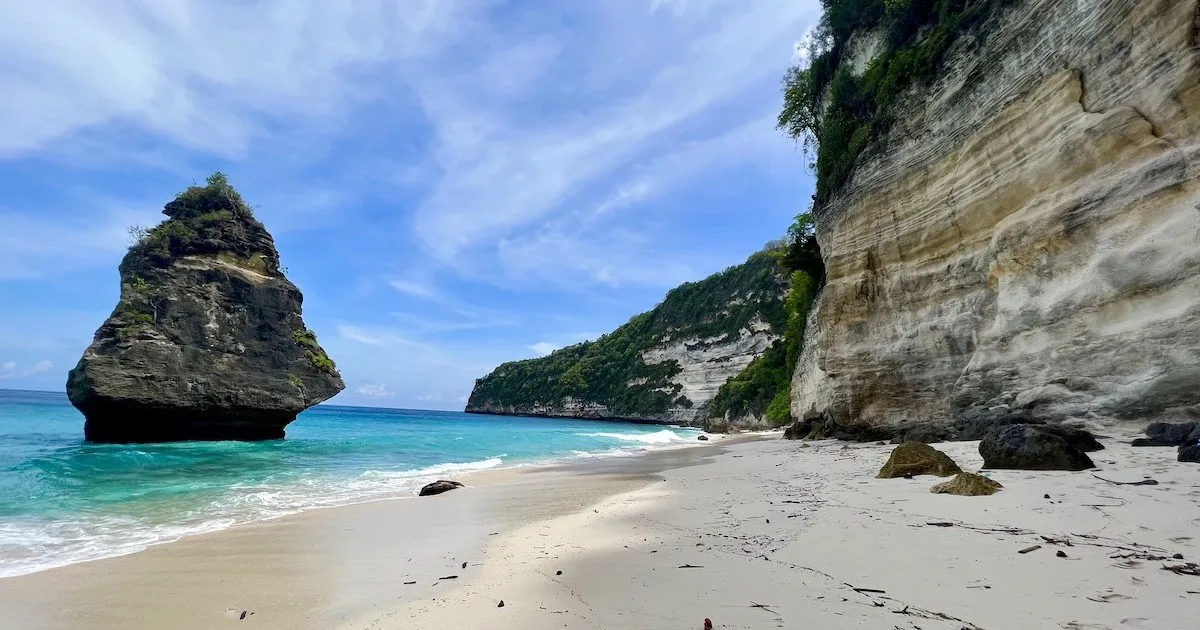 Suwehan Beach is on the east side of the island. It's a 25-minute drive south of the popular Diamond Beach. Unlike Diamond Beach, however, it doesn't form part of the traditional east Nusa Penida tour. This usually covers Diamond Beach, Atuh Beach, Treehouse Molenteng, and the Teletubbies Hills.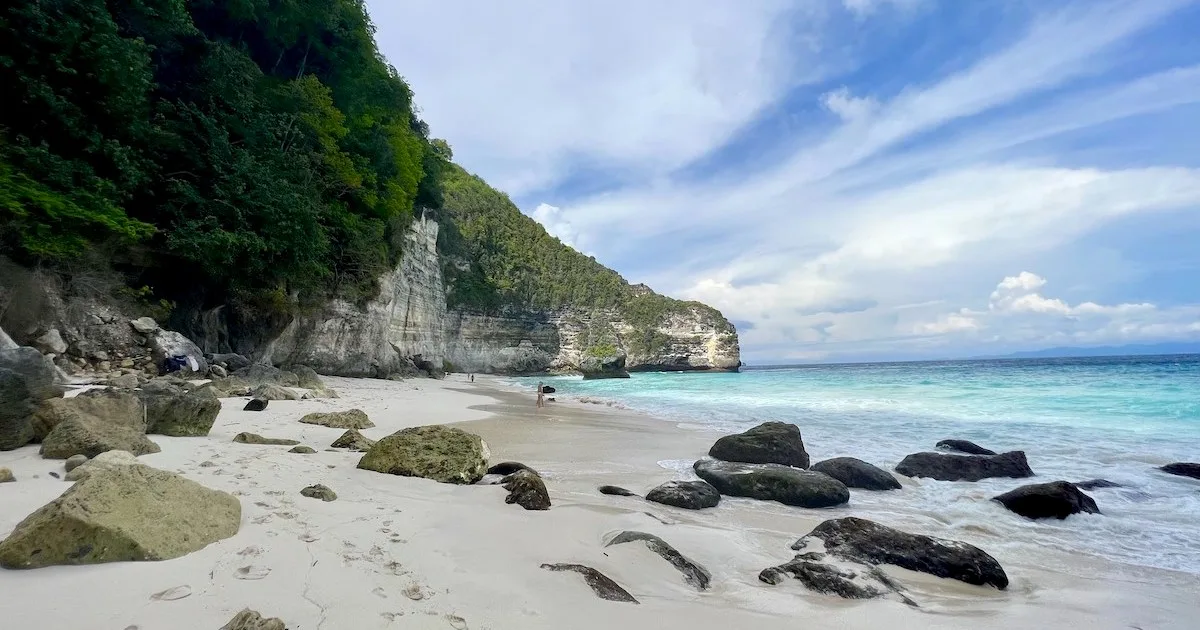 It takes between an hour and an hour and a half's drive to reach Suwehan Beach from the west side of the island. The west side is where the majority of accommodation and the marinas (with ferry connections to and from the mainland) are located.
How to get to Suwehan Beach
To reach Suwehan Beach, you must travel by scooter. The roads are extremely steep and windy. They may also be scattered with gravel or littered with potholes. Therefore, they are not suitable for cars.
Any scooter driver travelling to and from Suwehan should be experienced and confident. The weather conditions should be as dry as possible, otherwise the scooter may be harder to control on wet, gravelly slopes.
Scooter rental on Nusa Penida typically costs between 70,000 rupees and 100,000 rupees daily, making it a cheap way to travel the island.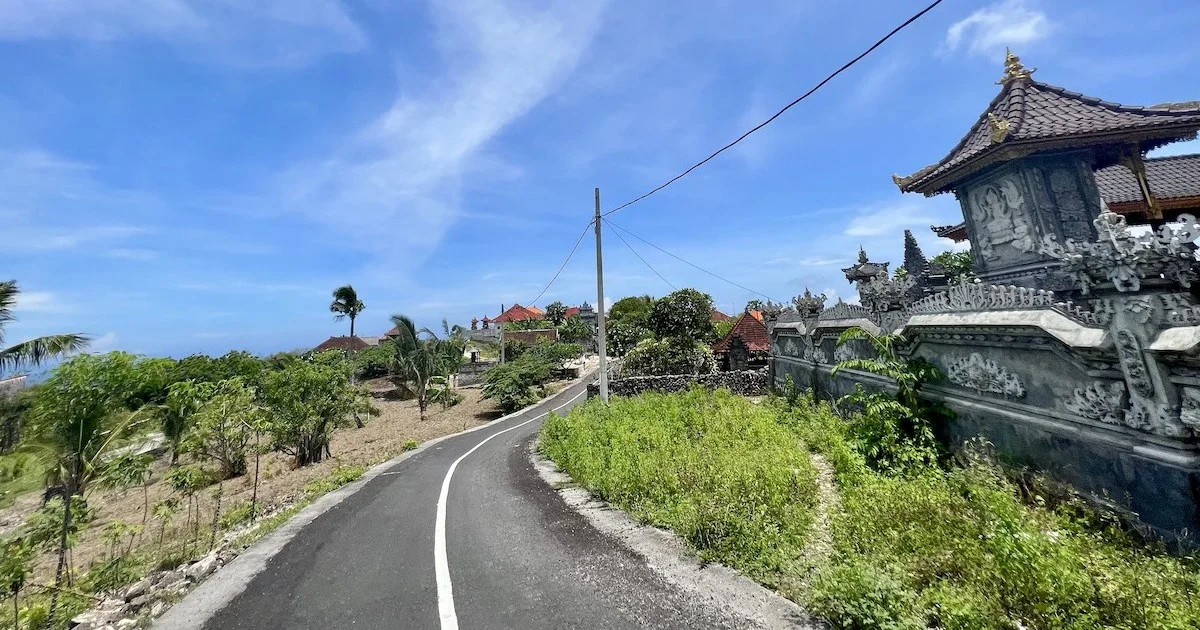 If you are not a confident driver, you will need to hire a scooter driver to take you to the beach. You may need to use Google Maps to explain where you want to visit. I took a driver to east Bali to visit Diamond Beach and Suwehan Beach, but he had never been to Suwehan Beach. He had no clue how to get there. I used Google Maps (and the patchy 4G) to guide him to the beach.
Usually, it's possible to hire a reliable scooter driver from your hostel or hotel for a fixed price. My driver cost me 200,000 IDR for the day.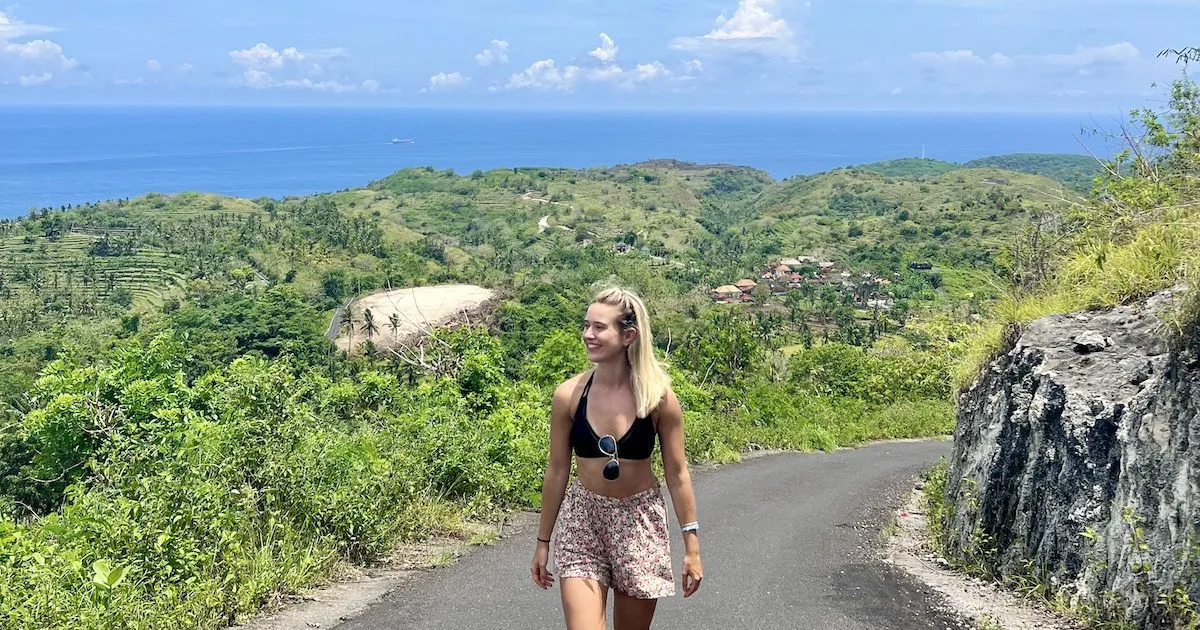 I paid him an additional 50,000 IDR to take me to Suwehan Beach after Diamond Beach. The only reason I paid extra is because it is a tricky drive. Always agree a price upfront before travelling anywhere.
The walk to Suwehan Beach
The walk to Suwehan Beach takes approximately 20 minutes on the descent and between half an hour and 45 minutes on the ascent, depending upon your fitness level. The more stops you take, the longer the hike will be – and believe me, you'll need a few stops, because the stairs are higher than knee height in some places.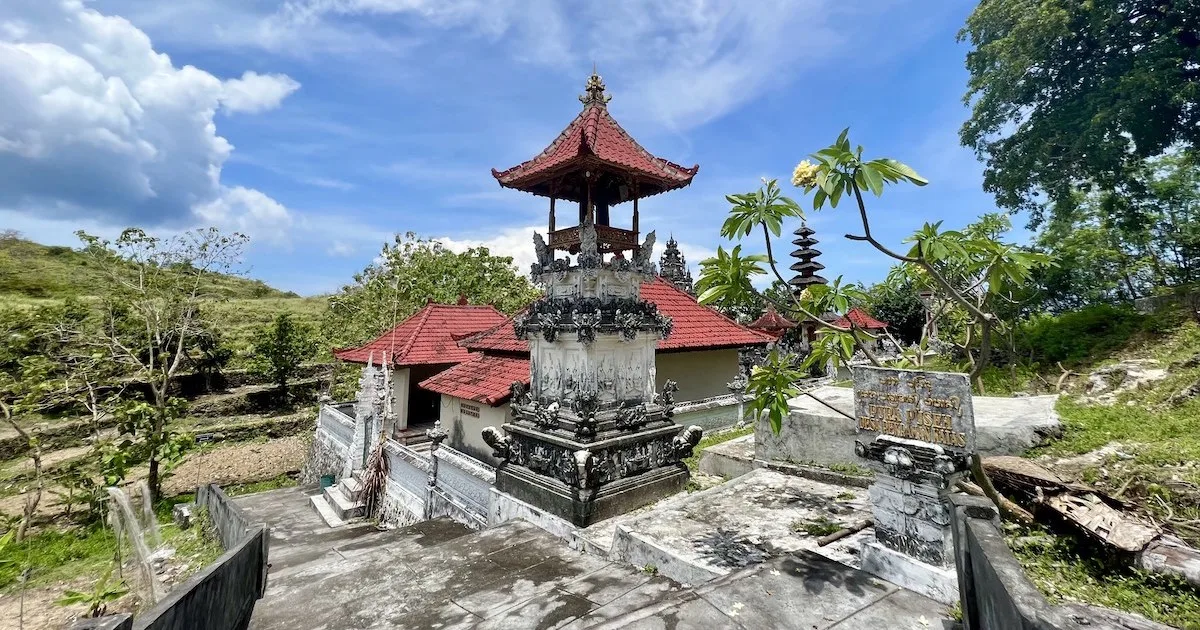 The path to the beach begins with an easy stretch past a temple. It then follows a short dirt track through the forest, before it morphs into a long section of steep steps which zig-zag down the side of the cliff. There's a wooden railing to hold onto all the way.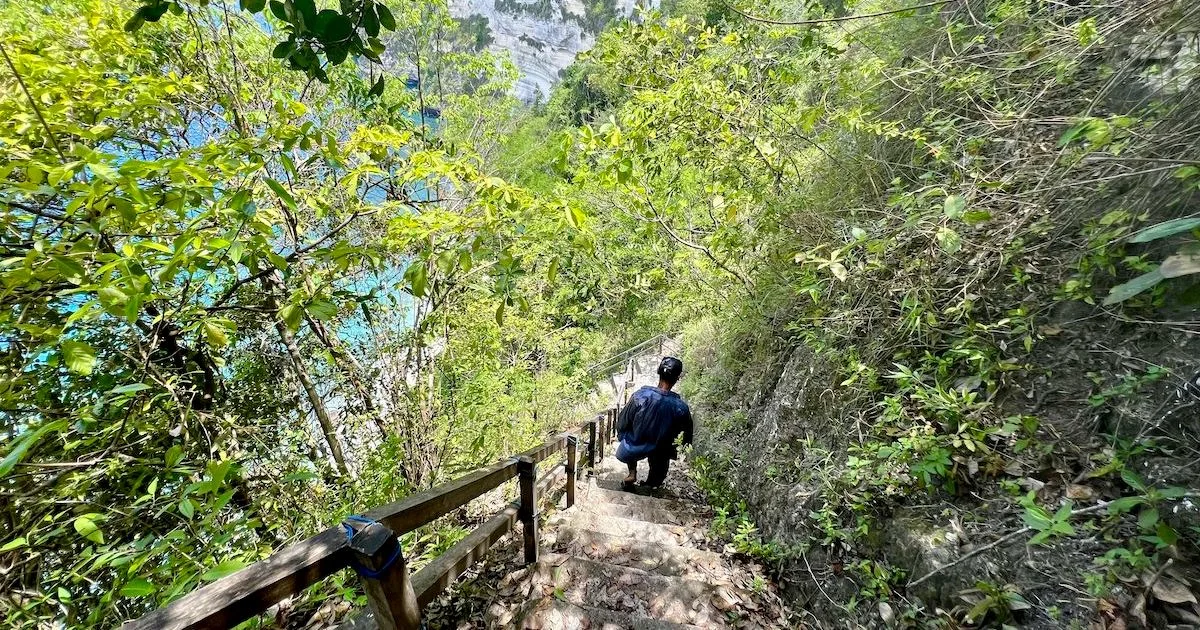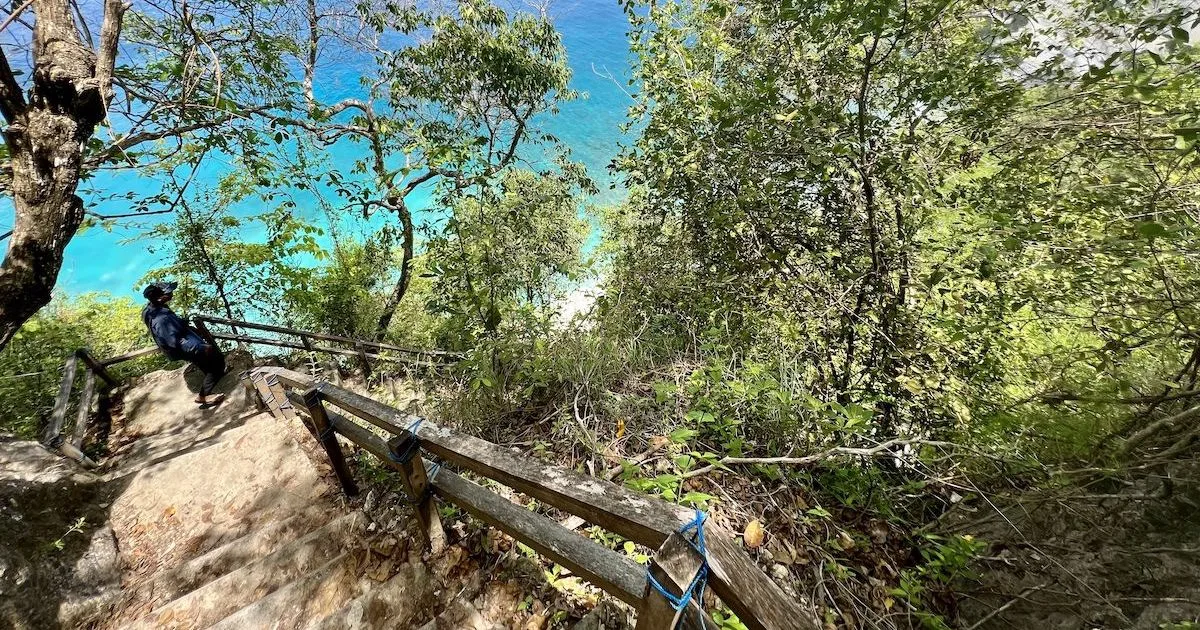 At the very bottom of the path, you'll reach a large collection of boulders. You must scramble over the boulders to reach the sand. This might take several minutes.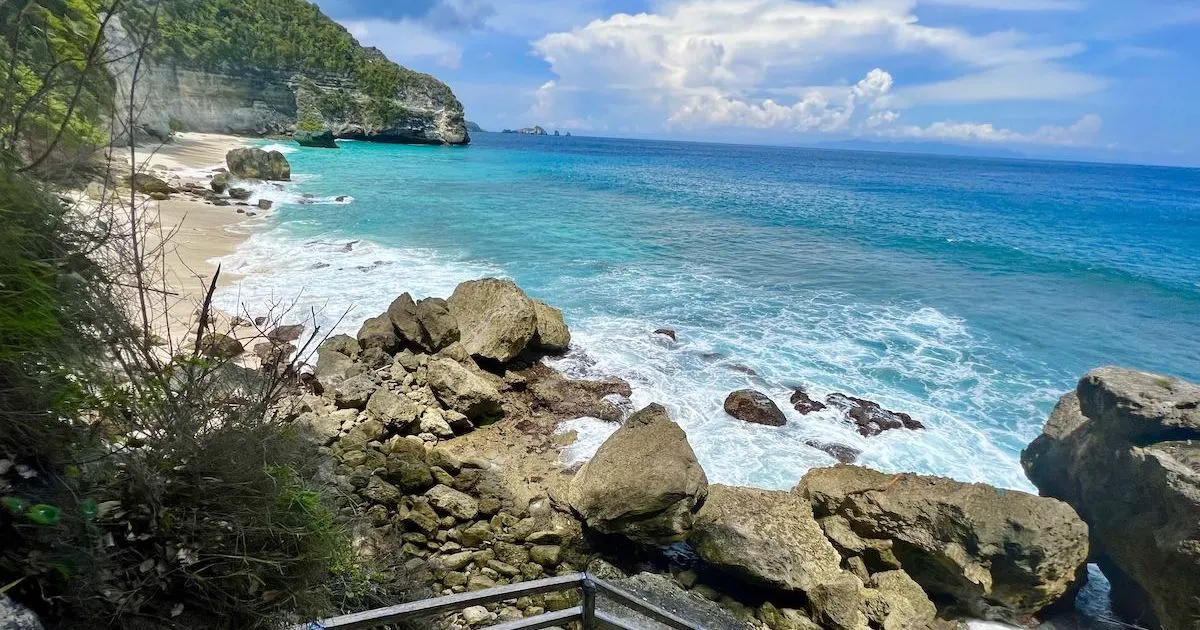 Naturally, the ascent is far more demanding than the descent, so you should make sure that you're carrying plenty of water and take regular rests.
Where to stay in Nusa Penida
Where you stay in Nusa Penida will impact how long it takes you to get to Suwehan Beach and other spots in the east of Nusa Penida. If your accommodation isn't up to scratch, it can have a ripple effect on the rest of your trip, setting you up for an uncomfortable (and unenjoyable) getaway.
The west side of Nusa Penida may be furthest away from Suwehan Beach and other spots in the east, but it's still the best place to stay in Nusa Penida because of its proximity to the ferry terminals to mainland Bali. It also has easy access to the west of Nusa Penida, trips to Manta Bay, and the best sunset bars on the island.
The best hostels in Nusa Penida
Best overall hostel
A relaxed but sociable hostel with cottage-style dorms, two swimming pools, and a restaurant. I stayed at Nuansa Penida.
Best budget hostel
A budget-friendly hostel on the north coast of Nusa Penida with private room options, a swimming pool, and a shared kitchen.
Bougie hostel
Newer on the scene, The Packer Box has capsule-style beds and garden seating. It's on the north coast of Nusa Penida.
The best hotels in Nusa Penida
Treat yourself to a luxury stay… Sea La Vie Resort: A four-star beachfront hotel with luxury suites and an infinity pool that's to die for.
What to wear to Suwehan Beach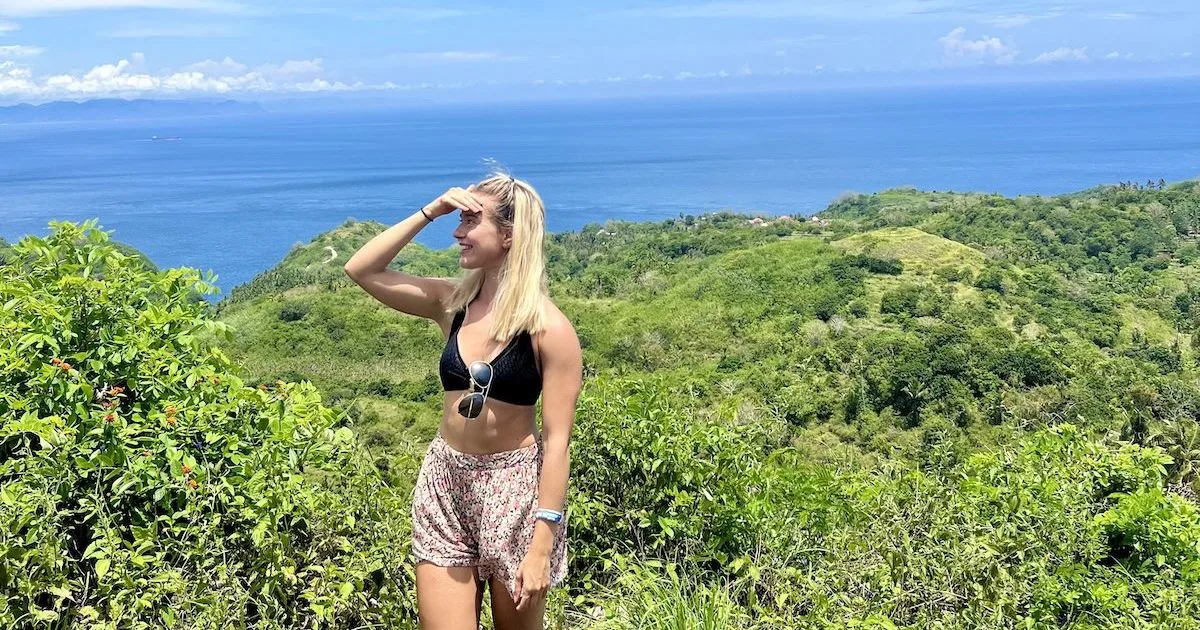 It's always best to be over-prepared. That starts with the simple decision of what to wear to Suwehan Beach. In general, Nusa Penida has a hot climate, so the ideal outfit for Suwehan Beach is beachwear covered by lightweight, comfortable clothes suitable for hiking.
Since there's a significant trek to and from the beach, you might feel most comfortable wearing sweat-wicking sportswear with a swimming costume or swimming shorts. Otherwise, lightweight cotton or linen is likely to keep you cool and prevent chafing when you are ascending and descending the path.
I'd advise wearing a backpack rather than a tote bag because the path requires scrambling and features steep steps. Keeping your balance and having your hands free is important.
Can you swim at Suwehan Beach?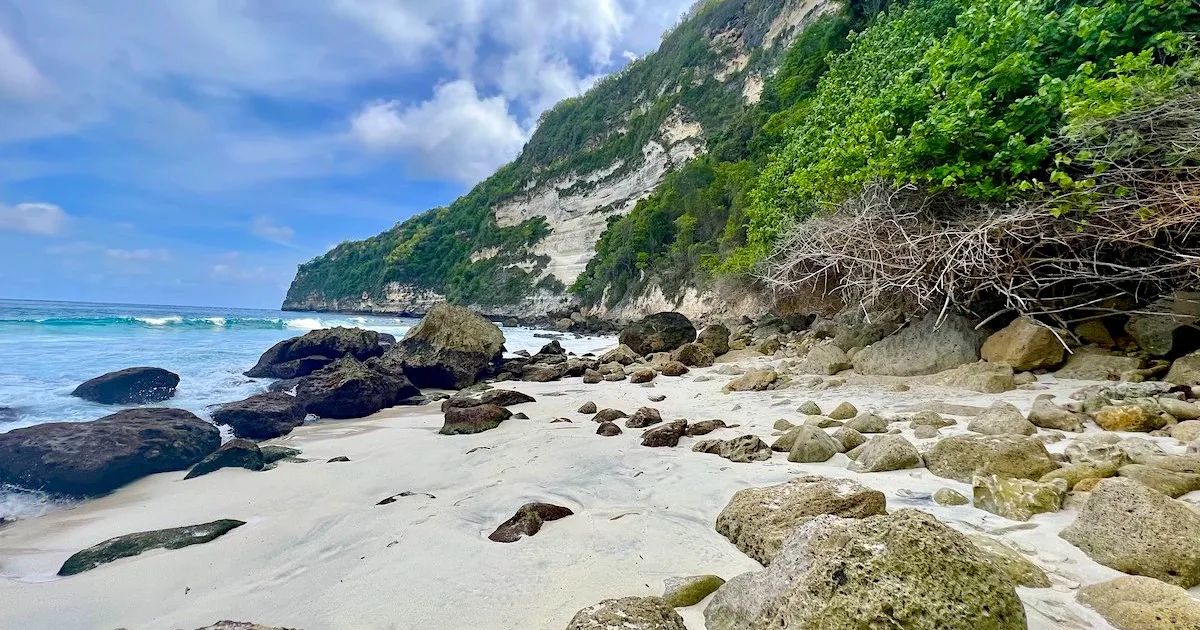 Conditions at Suwehan Beach are slightly less aggressive than at Diamond Beach, which is renowned for its huge waves and unpredictable surf.
Nevertheless, the waves at Suwehan Beach are still pretty sizable. There are no lifeguards present on the beach, so you will also be swimming at your own risk. Nusa Penida is renowned for its unpredictable currents, especially off the east coast, so I wouldn't wade further than knee deep unless you're a very confident swimmer and accustomed to unpredictable ocean conditions.
On the day I visited, I waded into knee-deep water. The waves were large enough to dump me to the sand. There are also large rocks which are picked up by the waves. I gained a nice little scar in the process, after a rock landed on my big toe.
---
Travel insurance is essential for any trip abroad. If you're in an accident or experience an emergency, you need adequate cover. I recommend Staysure for single or multiple trips per year and SafetyWing for digital nomads.
---
Facilities at Suwehan Beach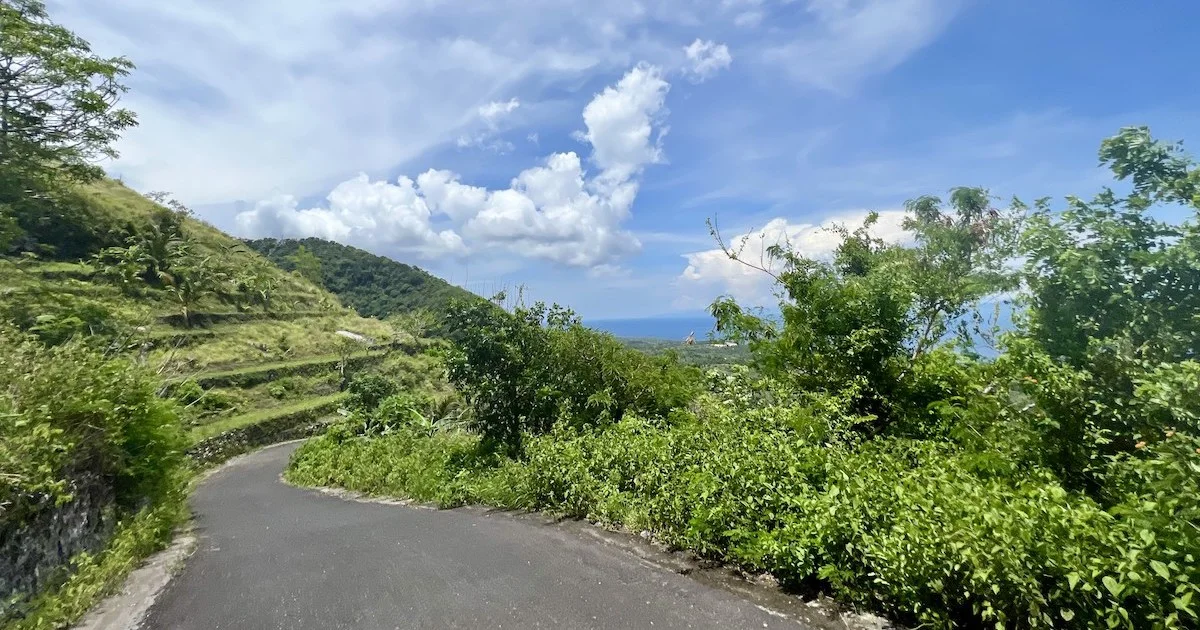 Facilities on Suwehan Beach are non-existent. There are no toilets, no lifeguards, no shops and no restaurants on the beach.
At the top of the hike down to the beach, just before the temple, there is a small shop selling chilled drinks and snacks. It also has a warung, which sells basic Indonesian meals such as nasi goreng (fried rice) and mie goreng (fried noodles). There are toilets at the warung.
Aside from this, there are limited local restaurants within a 20-minute drive of the beach.
What to take to Suwehan Beach
Since there are very few facilities at Suwehan Beach, you need to pack appropriately. There are a few things you won't want to leave behind when you're visiting Suwehan Beach.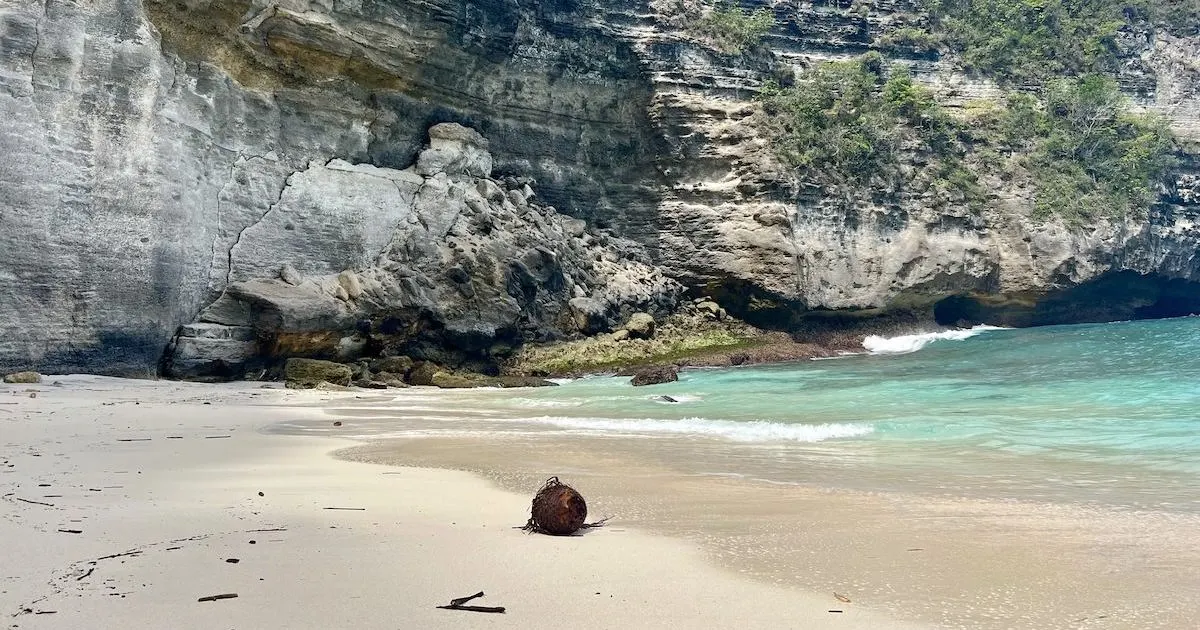 The number one thing I recommend taking with you is at least one litre of water. The second is a first-aid kit. Obviously, things like a camera, swimwear, and a beach towel will come in very handy too.
At least one litre of water.
Swimwear.
Lightweight beach towel.
A first-aid kit, including items such as plasters, bandages, saline, antihistamines, travel sickness tablets, and painkillers.
Camera and/or phone.
Toilet roll.
A book, headphones or other entertainment.
Sun cream and sunhat.
Things to do near Suwehan Beach
1. Diamond Beach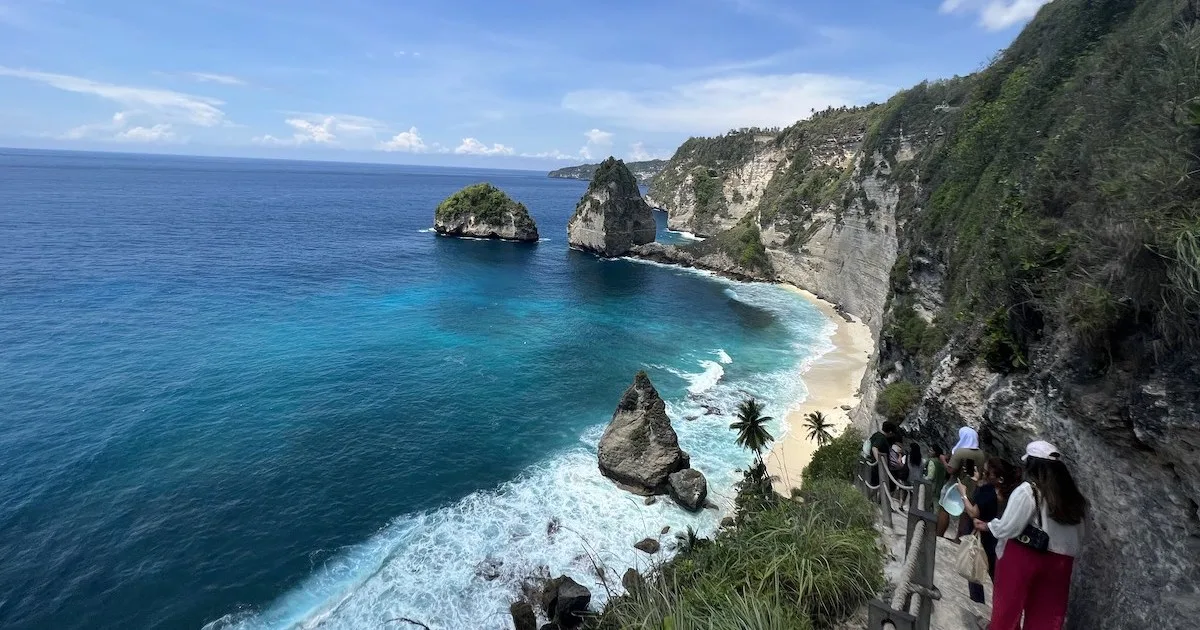 Diamond Beach is Suwehan's best-known neighbour. Highly sought out for the typical Instagram shot from the cliffs, Diamond Beach has a cliffside walk with views of diamond-shaped rocks jutting out of the ocean and a notoriously tricky trek down to a sandy beach. The surrounding cliffs also have stunning views of other rock formations.
2. Teletubbies Hills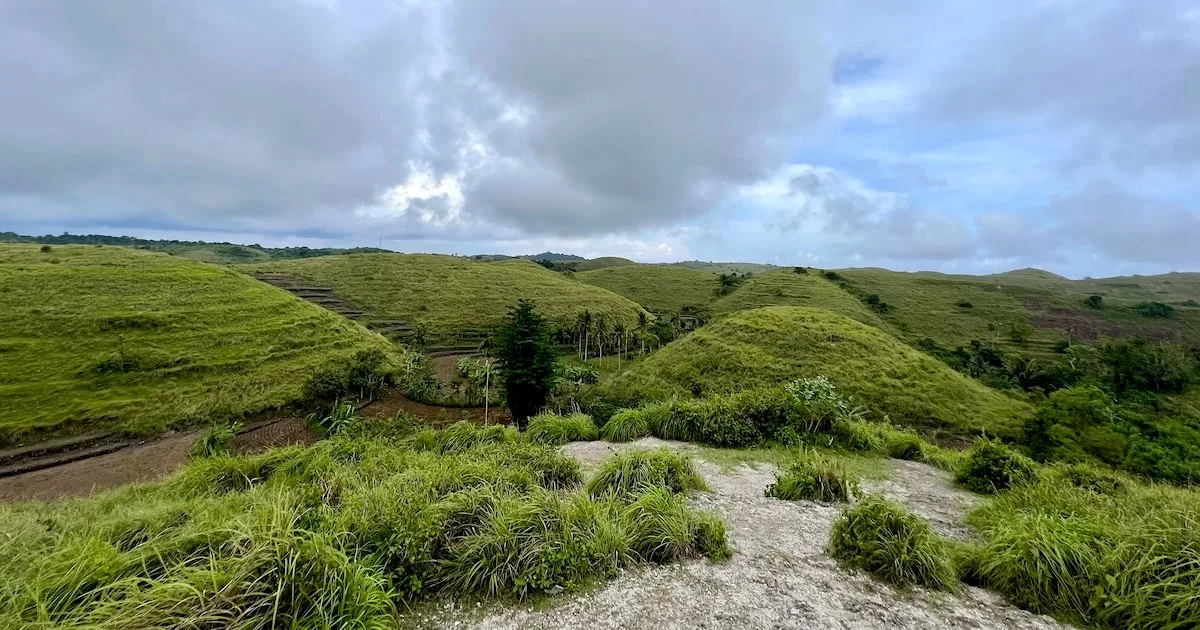 The Teletubbies Hills are easy to visit on your return drive from Suwehan Beach. The dome-shaped hills were named after the similar hills in the background of the Teletubbies kids' programme.
Personally, I found the Sebungah Hills on the approach to Suwehan Beach even more impressive. However, this is still a worthwhile stop, with rice paddies alongside the hills too.
3. Atuh Beach
Atuh Beach is located next to Diamond Beach and well-known as its safer neighbour. On a good day, you can swim at Atuh Beach. This is perhaps the most 'traditional' beach on the island, because it has sunloungers available to rent and several warungs. It's also scenic; there are more limestone rock formations in front of the beach, including an arch. As usual, there is a steep hike to and from the beach.
4. Thousand Islands Viewpoint and Treehouse Molenteng
Together with Treehouse Molenteng, The Thousands Islands Viewpoint forms part of the Rumah Pohon Molenteng site. Again, this is one of the typical tourist sites in east Nusa Penida. The viewpoint is on a cliff's edge and looks over a series of small islets on the coast.
Treehouse Molenteng is a place you might recognise from Instagram. Built on a clifftop over the same stretch of coast, the treehouse shares an almost identical view. The difference is that you can pose on the wooden steps that lead to the cabin. It's an impressive shot, as the treehouse balances on wooden stilts and a wide tree trunk.
Tips for visiting Nusa Penida
1. Book your ferry to Nusa Penida in advance.
If you want to avoid haggling for the price of your ticket to Nusa Penida and the potential disappointment of all boats being fully-booked on the day, you should purchase your boat ticket to Nusa Penida in advance online. I use 12Go to book my ferry tickets in Bali, simply because it has an easy interface where I can compare the different ferry prices.
2. Prepare for boarding the boat.
Wear slip-on shoes for the ferry to Nusa Penida. When boarding the boat in Sanur, you will need to wade through the water. Therefore, you will need to remove your shoes. You should wear shorts, as any long trousers or maxi skirts will get wet.
3. Book your accommodation in advance.
Nusa Penida is a popular tourist destination. The number of hostels and hotels don't always match the influx of visitors. Therefore, they often get booked up several days in advance.
Handily, Booking.com often has booking options which have free cancellation. I'd recommend making the most of this when travelling to destinations such as Nusa Penida, because it still gives you a degree of flexibility.
Agoda is another good booking website. It's worth comparing prices on Booking.com with Agoda – and Hostelworld too – if you're on a budget.
4. Bring a local SIM card to access the internet.
Navigating Nusa Penida is tricky, not to mention when you don't have an internet connection. If you're going to be travelling by scooter, you want to have a working internet connection to access Google Maps.
Likewise, if you're visiting Suwehan Beach with or without a driver, it helps to have directions handy and a way to contact any friends in case you get into trouble.
5. Travel light.
The easiest way to get around Nusa Penida is by scooter. For any day trips, you're going to want to bring a lightweight backpack which will be easy to wear on hikes and scooter journeys.
In terms of more substantial luggage, a lightweight backpack is also ideal because it will be easier to transport to and from your accommodation. My hostel was able to fit my 70-litre backpack onto a scooter for the journey to my hostel – yes, really.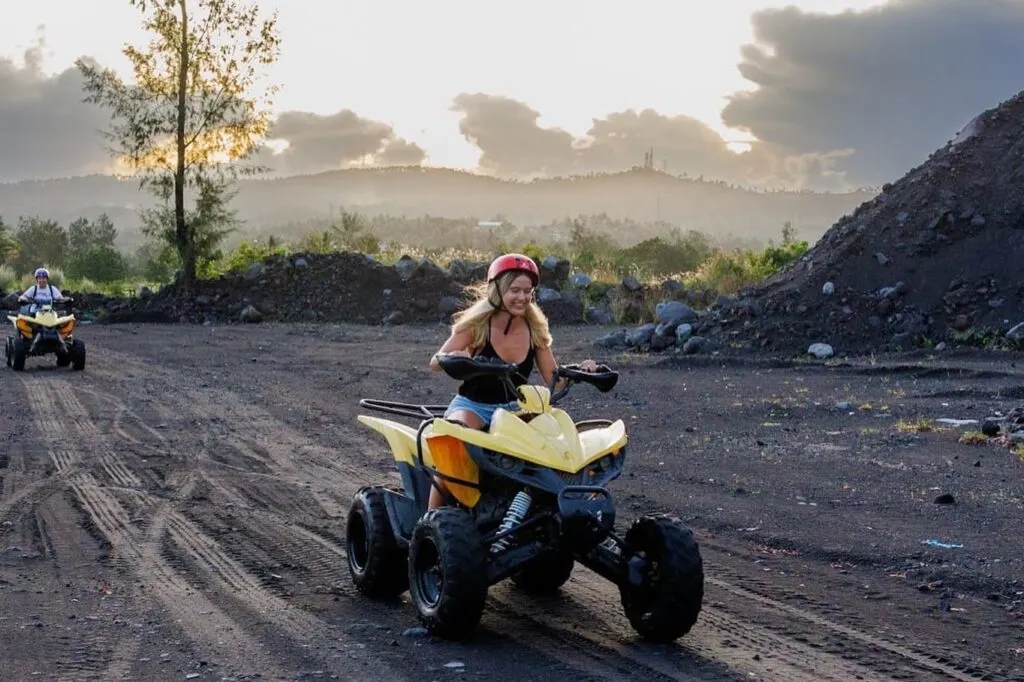 AUTHOR: KATIE TREHARNE
I'm Katie, the owner of Escape Artist Katie and a full-time digital nomad. I have been travel writing in some shape or form since 2018, including writing for luxury travel magazines. I hope you found my article useful – find out more about me here or keep up with my travels on Instagram. I'm a big advocate for offbeat travel and pushing yourself out of your comfort zone.