Enter: Bias Tugel Beach, a white-sand beach in Bali without the crowds. Located in Padangbai, a small port town on the east coast of Bali, Pantai Bias Tugel (as it is known by the town's small population) is a true secret spot, tucked at the end of a path through the jungle. It's no wonder that the beach was named Bias Tugel; roughly translated from Balinese, it means 'cut-off beach'.
Most tourists don't bother to stop and explore Padangbai because they are fixated on their next destination. The port town is best known for its fast ferry connections to the Gili Islands, Lombok, and the Nusa Islands.
It was by chance that I wound up with several days to explore Padangbai, and happened upon the secret of Bias Tugel Beach. My travel companion had succumbed to Bali belly poisoning and a chance storm had halted all of the boats leaving for the Gilis, leaving us 'stuck' in the town.
Bias Tugel provided me with many hours of entertainment: white sand, big waves, snorkelling, views of an abandoned hotel, and – no joke – the best egg fried rice I have ever eaten.
I've covered exactly how to find this 'secret beach', as well as the facilities and activities on the sand and a short guide to where to stay and what to do in Padangbai.
As an offbeat travel blog, I've been searching Bali for less touristic beaches with fewer crowds; other of my favourite finds include Suwehan Beach in Nusa Penida, a less touristic version of the famous Diamond Beach, and Nunggalan Beach in Uluwatu, which has a shipwreck and a steep trek.
How can Bias Tugel Beach be a 'secret'?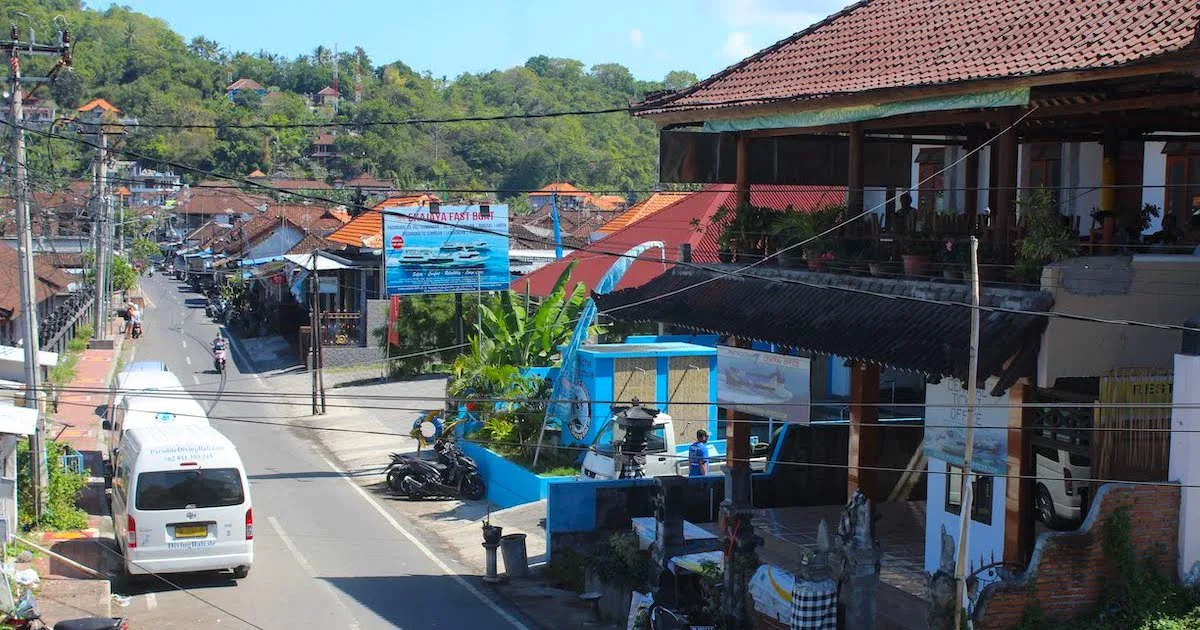 If Bias Tugel Beach is so good, how can it be a secret? Good question. The answer is that Bias Tugel isn't on the tourist track.
Aside from those staying at the few diving resorts which provide trips to diving spots with turtles and colourful corals, Padangbai isn't a destination that many stay in for longer than one night before they board a boat to a different part of Bali or Indonesia.
It's not like you will stumble upon Bias Tugel while you're walking around the town either. The town's main beach, Padangbai Beach, is a thin strip of beige-coloured sand lined with Balinese fishing boats and stalls attempting to sell snorkelling or diving trips. There's a lot of litter, and no space to relax or swim.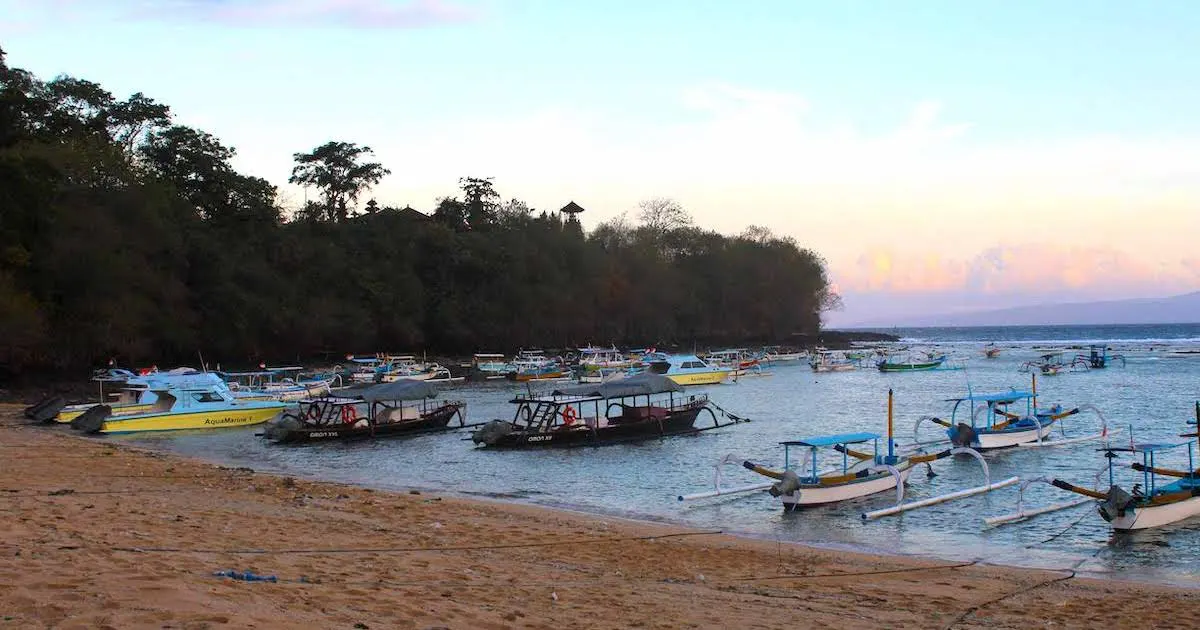 If you walk towards Silayukti Temple, which is positioned on the small peninsula above the west side of the beach, and then follow the road around to the left and to the right, you will emerge at a second beach named Blue Lagoon.
Sheltered on either side by steep cliffs, Blue Lagoon is a small, cosy cove which receives sun for a short amount of time each day. The beach is surrounded by black corals, making it ideal for snorkelling activities, and gear is available to hire on the beach.
However, Bias Tugel is its flashier older sibling. In my experience, Blue Lagoon quickly fills up with people. Your time in the sun is limited before the beach is obscured by shadows from the cliffs. It also has a large hotel, so it doesn't quite have the same remote jungle setting as Secret Beach.
Bias Tugel is located over the other side of Padangbai. It's not far away from the port distance-wise. However, the beach can't be seen from the town because it is masked by a jungle-clad hill. To get there, you must walk uphill through a small suburban area of the town, and then take a steep uphill and downhill trek through the palm trees.
How to get to Bias Tugel Beach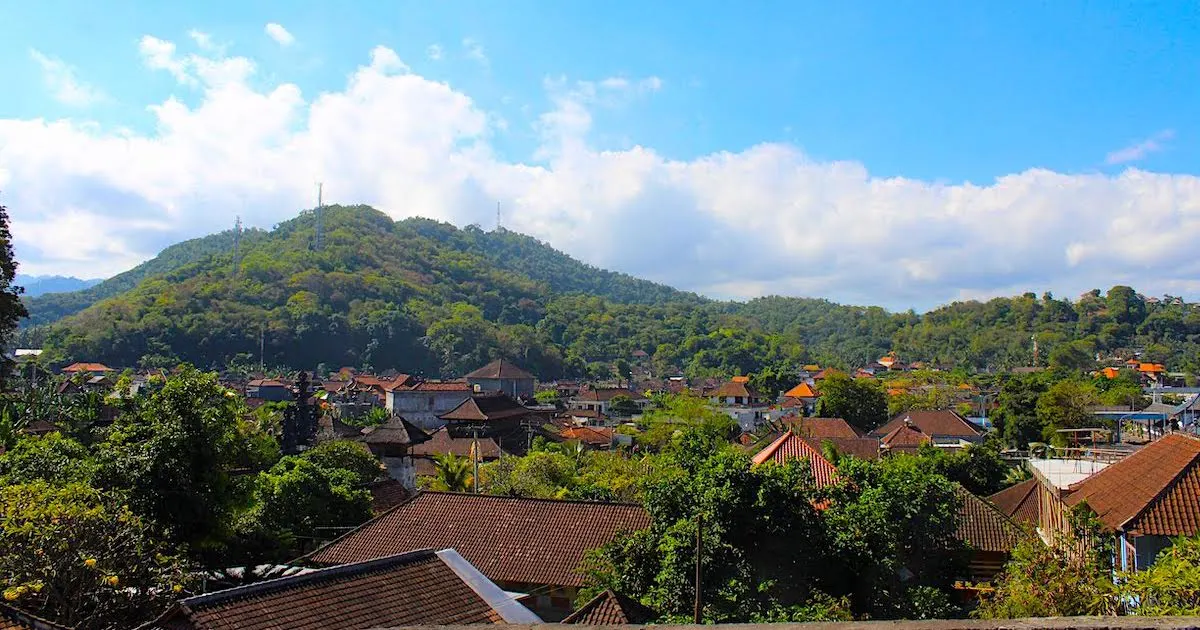 Don't worry if locating Bias Tugel Beach sounds intimidating. It's very straightforward when you have a reliable set of directions.
First, if you're not already staying in Padangbai, you need to reach the port town. Located in east Bali, it is around an hour and 15 minutes' drive from Denpasar or Ubud and around an hour and 35 minutes' drive from Amed. You can drive or take a taxi. A Grab (Bali's version of Uber) might cost anywhere between 350,000-500,000 IDR from Denpasar, Ubud, or Amed.
Once you arrive at the port in Padangbai and you are facing the ocean, walk away from the ocean. At the first intersection, take the road to the left (heading south). The road is called Jl. Penataran Agung.
As you walk along the road, you should pass by a cell phone shop and several lodgings. Eventually, the road will begin to slope gently uphill.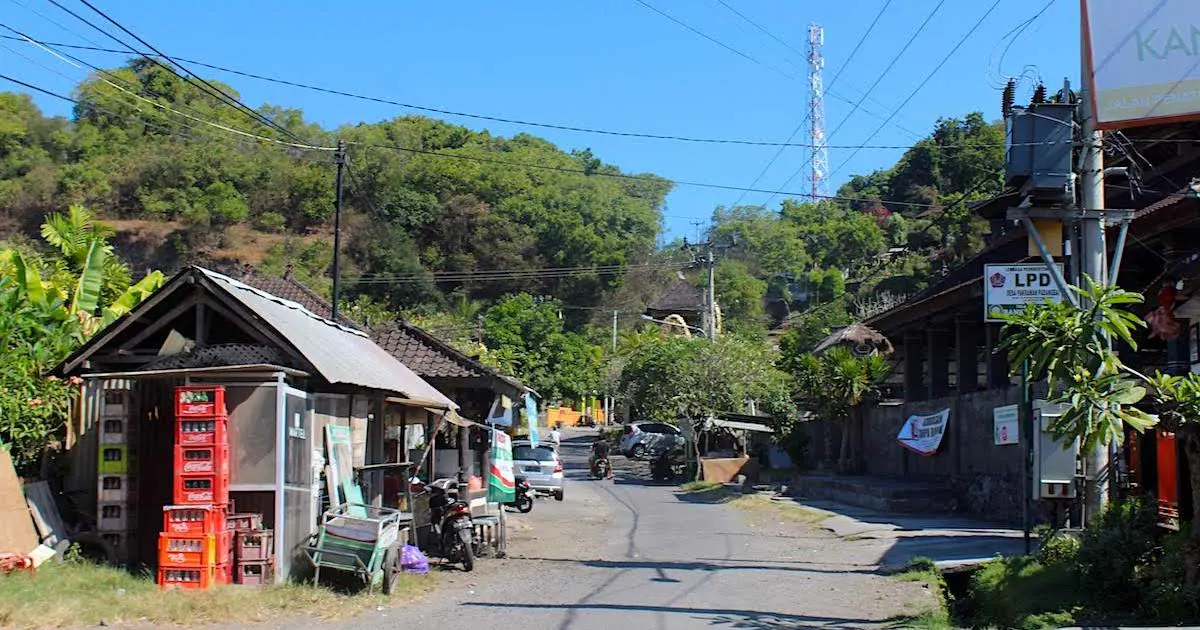 The road leading to the entrance for Bias Tugel Beach.
Just after Bamboo Paradise Hostel, take the gravel path on the left-hand side. Surrounded by bristly bushes, the path heads uphill. There are views over Padangbai, the ocean, and the surrounding hillsides on the left-hand side. If you're anything like me, they will probably keep you occupied for a while (taking pictures or simply ogling).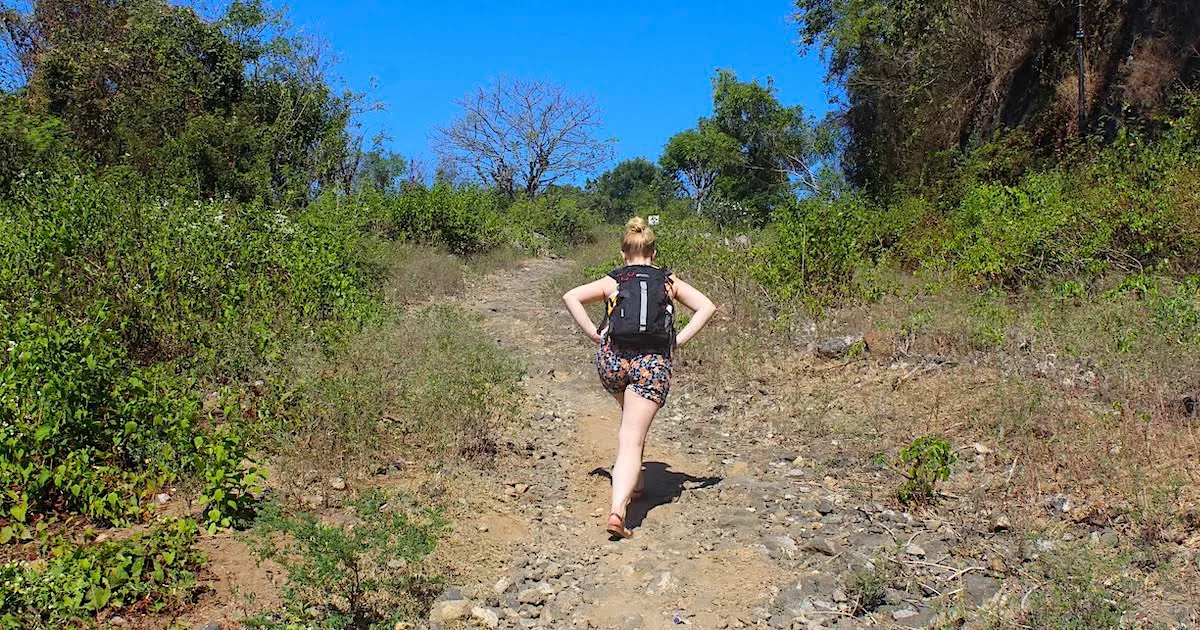 The gravel path leading to Bias Tugel.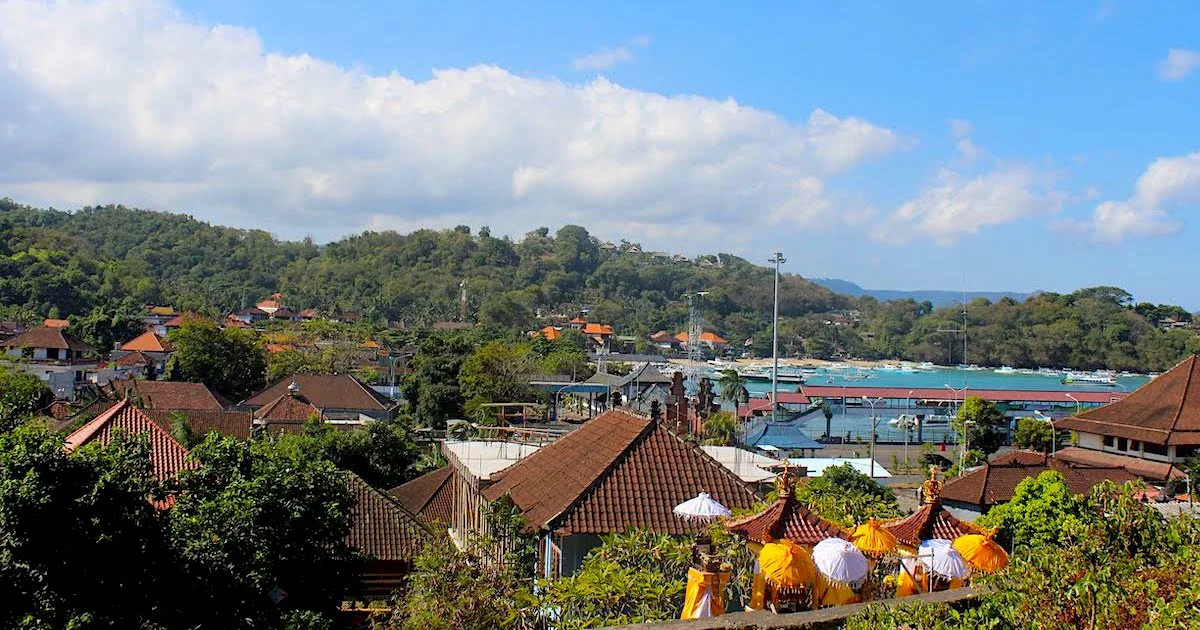 Follow the path until you reach an intersection. There will be a signpost for the beach. Turning left at the intersection (in the direction marked by the signpost), follow the path downhill.
The path has additional signs for the beach and will get progressively steeper and more slippery, so be careful where you tread. You may need to pass tied-up cattle on the path, but in my experience, they are just chilling and happy enough to let you pass by.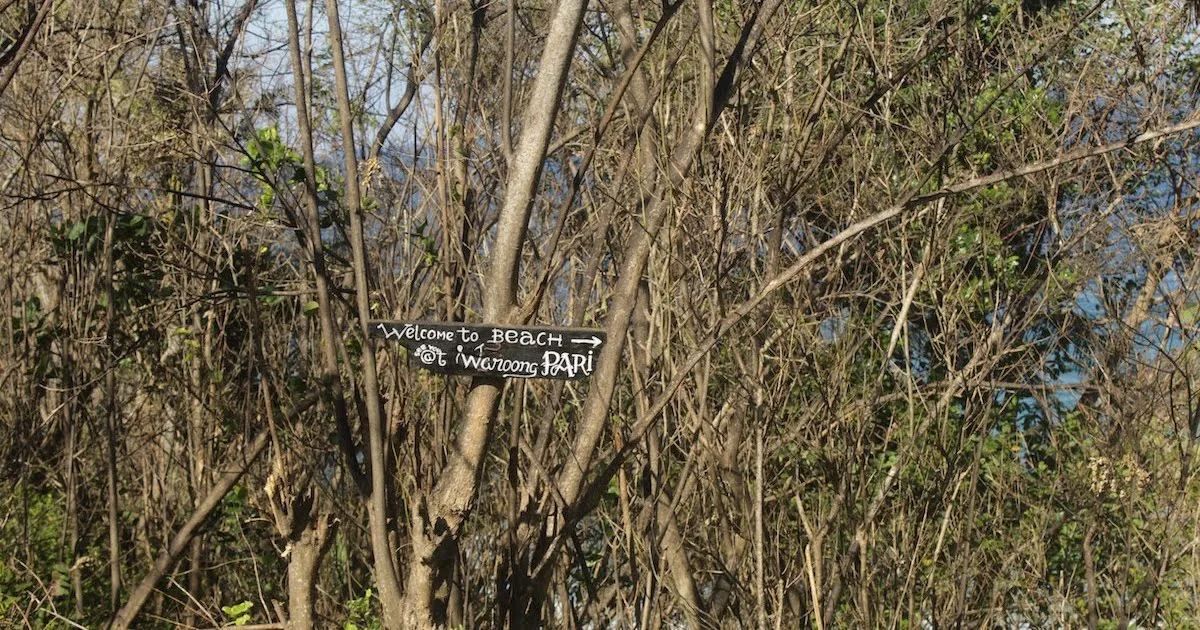 Eventually, you should see the ocean through the palm trees The path emerges at the back of the restaurants. The beach is accessible through the restaurants.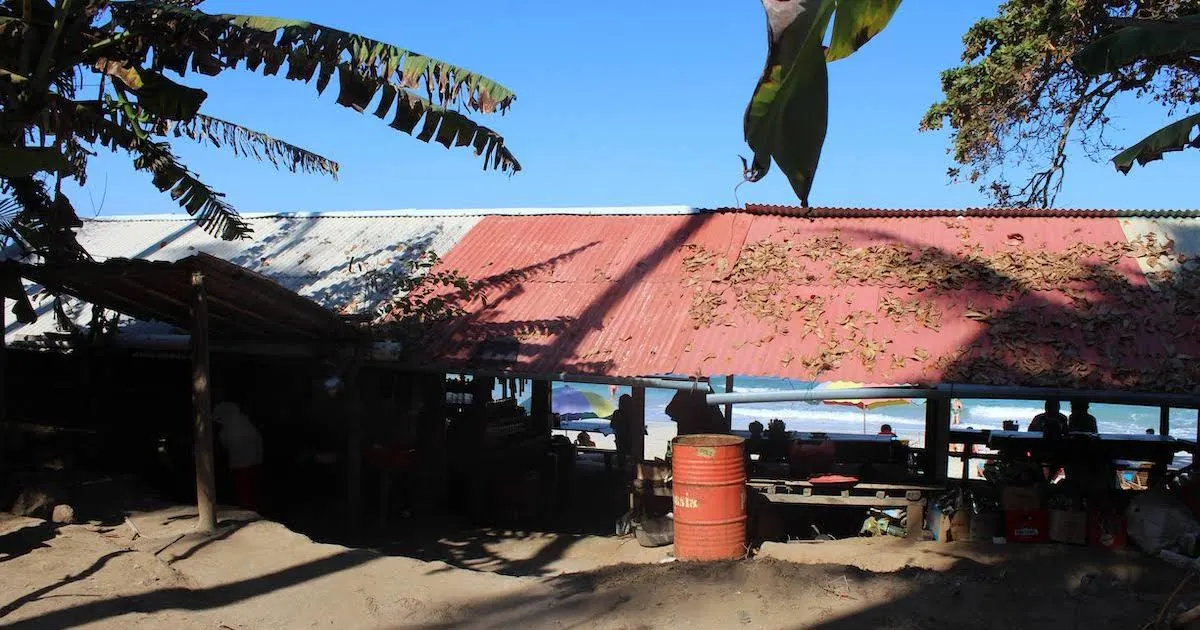 When to visit Bias Tugel Beach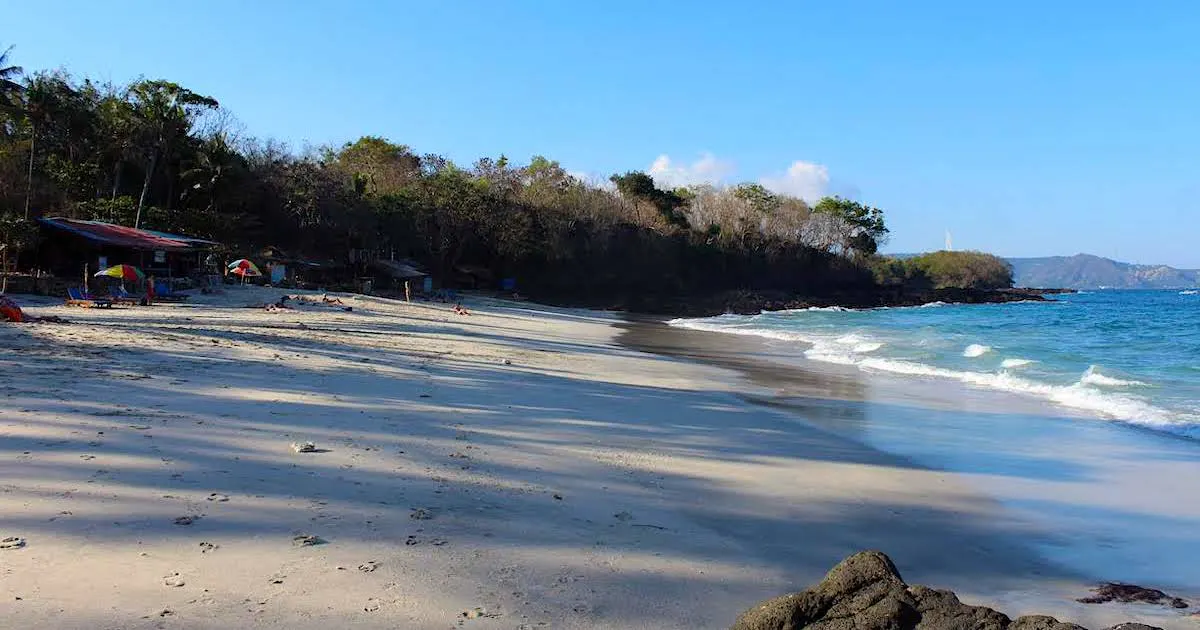 The best time to visit Bias Tugel is between late morning and early afternoon. By the time it reaches the late afternoon, which is usually around 3-5pm depending upon the time of year you visit, the sun will begin to move over the other side of the hills. Therefore, the beach is gradually covered in shade from the trees, as pictured below.
Check the tide times before you visit too. Bias Tugel isn't completely submerged at high tide, but you will have less space to stretch out and the currents may be stronger as the sea pulls the tide back out.
Activities at Bias Tugel Beach
If sunbathing on white sand and dining on fried rice isn't quite enough to entertain and relax you, there is snorkelling equipment for rent at Bias Tugel Beach. Typically, renting snorkelling gear costs around 100,000 – 150,000 IDR.
If you're into surfing, you might want to bring your own surfboard and catch some of the regular swells that visit the beach – they're particularly big during the full moon, so the locals say.
There are a handful of rocks that you can clamber over on the east side of the beach, but if you're looking for a particularly big adventure, just look to the cliffs over the east side of the beach.
Look up at the eastern clifftops to view a ruined hotel that was abandoned partway during construction. If you're up for a big adventure, you can find your way to the hotel and do some exploring. Your best bet is asking a local for directions, but make sure you have plenty of hours of sunlight remaining in case you get lost out there.
---
Travel insurance is essential for any trip abroad. If you're in an accident or experience an emergency, you need adequate cover. I recommend Staysure for single or multiple trips per year and SafetyWing for digital nomads.
---
Facilities at Bias Tugel Beach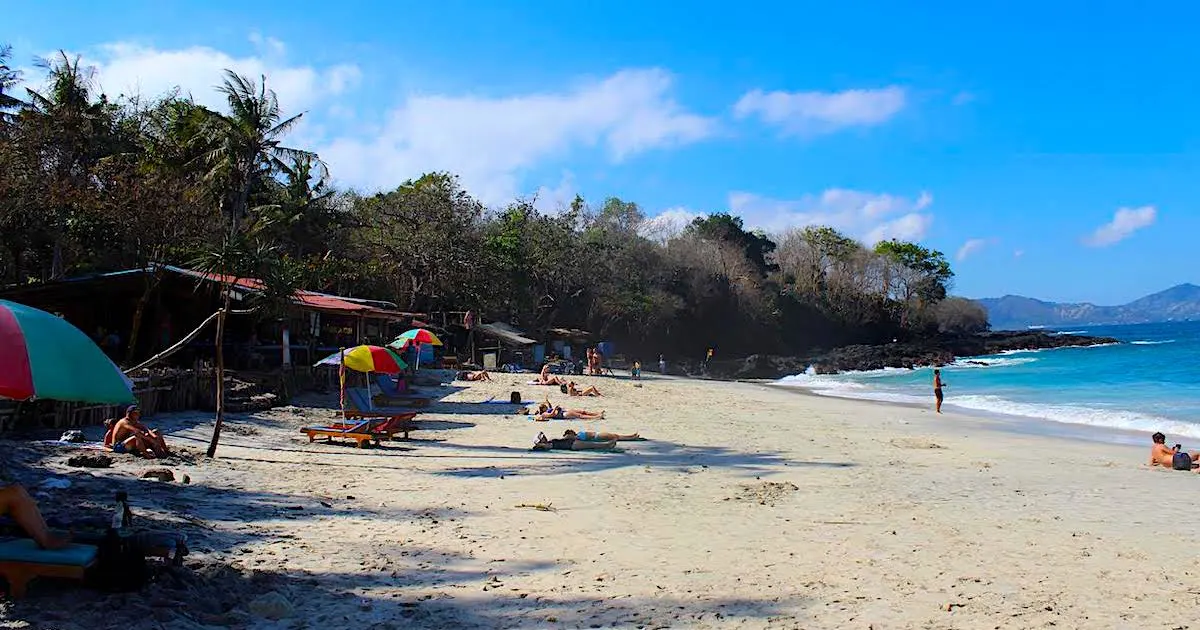 Bias Tugel isn't built up like many of Bali's white-sand beaches. There are no fancy resorts or hotels backing the beach, only palm trees and forest-clad hills. That's what makes it so special.
Because of the short trek to get there, the facilities on the beach are quite basic. The warungs (Balinese restaurants) have been fashioned from metal cladding and coconut-leaf roofs, and they are propped up with bamboo poles.
Sat at one of the wooden tables outside of a warung, you can dine on very affordable local Bali cuisine such as nasi goreng and chicken satay. They also sell a variety of drinks, including beer, smoothies and fizzy drinks.
I'd highly recommend visiting the warung on the far-left of the beach (when you're facing the ocean). To this day, I still rank the lady's fried rice as the best fried rice I have ever had in my life – and when you realise that countries such as Vietnam are included in where I've been, this is even more impressive.
In the way of toilet facilities, there is one very basic toilet located on the east side of the beach. It is based in a small hut made from metal cladding, and there's no toilet paper (unless you get really lucky). You may need to pay a small fee to use the toilet.
There are also sun loungers and umbrellas on Pantai Bias Tugel – usually, you can spend a day on the a sunlounger if you promise to dine in the warung that owns it. Otherwise, the sand is very soft.
Where to stay in Padangbai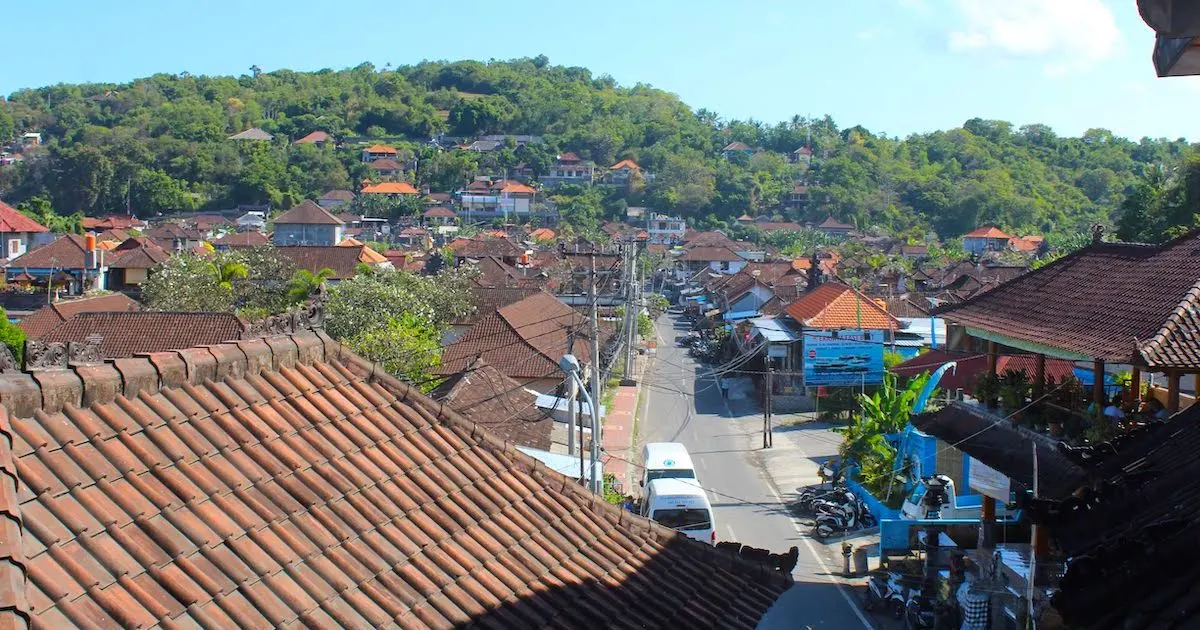 There is currently one hostel in Padangbai. Named Bamboo Paradise Hostel, it is located just before the gravel pathway to Bias Tugel Beach, making it an excellent base for visiting the beach. There is a kitchen and a bar on site.
There are a handful of guesthouses and small hotels around Padangbai, as well as a couple of small diving-oriented resorts.
These are some of the best-rated options:
Things to do in Padangbai
If you have time to spare in Padangbai, there are several ways to entertain yourself aside from visiting Bias Tugel. Most, but not all, of the activities are water-based.
1. Go diving
Padangbai has around eight dive sites, including boat and reef diving sites, including Blue Lagoon, Jepun, Secret Jepun, Tanah Ampoe, White Sand Beach, Ferry Channel and Temple.
The Blue Lagoon dive site is the best-known, as it has sea life such as leaf scorpion fish, cuttlefish, turtles, and crocodile fish over a white-sand slope suitable for beginners. There is also a wreck dive.
There's also a good chance of getting to witness sharks in their natural environent, especially whitetip, blacktip and nurse sharks around the Tanjung Sari and Ferry Channel dive sites. Elsewhere, there are moray eels, clownfish, jackfish, octopus, and green turtles.
2. Go snorkelling
If you're not up for diving, snorkelling is also a great activity in Padangbai. You can snorkel directly from Blue Lagoon and Secret Beach or take a snorkelling trip with one of the organisers in Padangbai.
There are a number of stalls along the seafront, but the experiences are usually overpriced and short-lived. GetYourGuide runs a day's snorkelling experience.
3. Visit Blue Lagoon Beach
Located on the other side of Padangbai, Blue Lagoon is the other viable beach option in the port town of Padangbai. It is excellent for snorkelling, but it is completely submerged at high tide, so you will need to check the tide timings before visiting.
4. Visit Silayukti Temple
On the way to Blue Lagoon, visit Silayukti Temple on the clifftop above Padangbai Beach. A favourite spot for the town's monkeys, the 11th-century Hindu temple is only small. However, it is spectacular at sunset, and it provides gorgeous views over the town and the bay.
5. Take a yoga class.
If you want to take a break from swimming and stretch out, relax and embrace Bali's spiritual side, it's not tricky to track down a yoga class in Padangbai. OK Divers runs daily yoga classes, so call by to book a place.
---
If you're visiting the island of Nusa Penida, and I very much recommend you do if you like quiet places because it's a more peaceful version of mainland Bali, I've ranked all of the beaches to find the best beach in Nusa Penida. While there, be sure to visit Manta Bay Nusa Penida, where you can snorkel with manta rays.
Are there toilets at Bias Tugel Beach?
Yes. There is one very basic toilet facility at Bias Tugel. You may need to pay a small fee in IDR. Bring your own toilet paper.
What can I do at Bias Tugel Beach?
At Bias Tugel Beach, you can rent out snorkelling equipment or bring your own surfboard. There are restaurants serving local cuisine.
Should I visit Bias Tugel or Blue Lagoon in Padangbai?
Bias Tugel is a remote, white-sand beach accessible with a short trek. It is more peaceful than Blue Lagoon, which is located on the other side of the port town and backed by a hotel. Blue Lagoon is more desirable for snorkelling, but it receives limited time in the sun and it is completely submerged at high tide.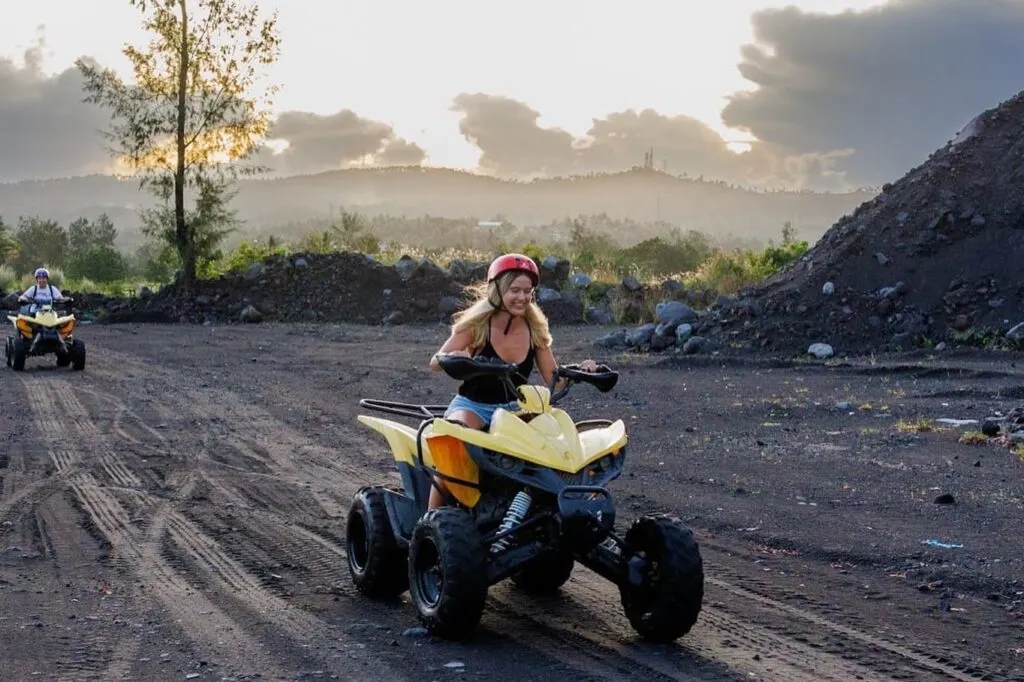 AUTHOR: KATIE TREHARNE
I'm Katie, the owner of Escape Artist Katie and a full-time digital nomad. I have been travel writing in some shape or form since 2018, including writing for luxury travel magazines. I hope you found my article useful – find out more about me here or keep up with my travels on Instagram. I'm a big advocate for offbeat travel and pushing yourself out of your comfort zone.