If swimming with manta rays has been on your bucket list for a long time, Manta Bay Nusa Penida should be at the top of your Nusa Penida itinerary. In this rocky section of Nusa Penida's coastline, reef manta rays measuring up to five metres are frequently spotted chasing plankton pushed into the bay from the deeper ocean.
As plankton floats, the huge creatures loiter near the surface of Manta Bay. There's nowhere that can compare to this spot for snorkelling with manta rays in Bali. While it's most common to see one or two lone manta rays, it's not uncommon for manta rays to travel in groups through Manta Bay too. That means that you could be lucky enough to see eight to 10 manta rays in one trip.
Despite the name, Manta Bay Nusa Penida is not a beach. It is a small, deep-water section of the sea surrounded by rugged rocks. It's also not to be confused with Manta Point, a popular dive site further south in Nusa Penida. Snorkelling is not recommended at Manta Point due to the strong currents.
There are many operators which provide snorkelling trips to Manta Bay Nusa Penida. They usually head to Manta Bay first thing in the morning, followed by several visits to other nearby snorkelling sites such as Crystal Bay and Gamat Bay.
If you're considering snorkelling with manta rays in Nusa Penida, I've covered exactly what to expect on a snorkelling trip and your chances of seeing manta rays in Nusa Penida. If, however, you're searching for a beach, check out my guide to the best beach in Nusa Penida for every traveller.
Where is Manta Bay Nusa Penida?
Manta Bay is a snorkelling site on the west coast of Nusa Penida, a tropical island approximately 15 miles from mainland Bali. Manta Bay is only accessible by boat, meaning that you must book onto a snorkelling trip or own a boat to visit the site.
Snorkelling tours depart from Nusa Penida, Nusa Lembongan (a neighbouring island) and Sanur (mainland Bali).
Manta Bay is located just south of Broken Beach and Angel Billabong, which are two popular tourist destinations on the west coast of the island. When visiting the two sites, you will often see manta rays around the coastline on their journey to or from Manta Bay.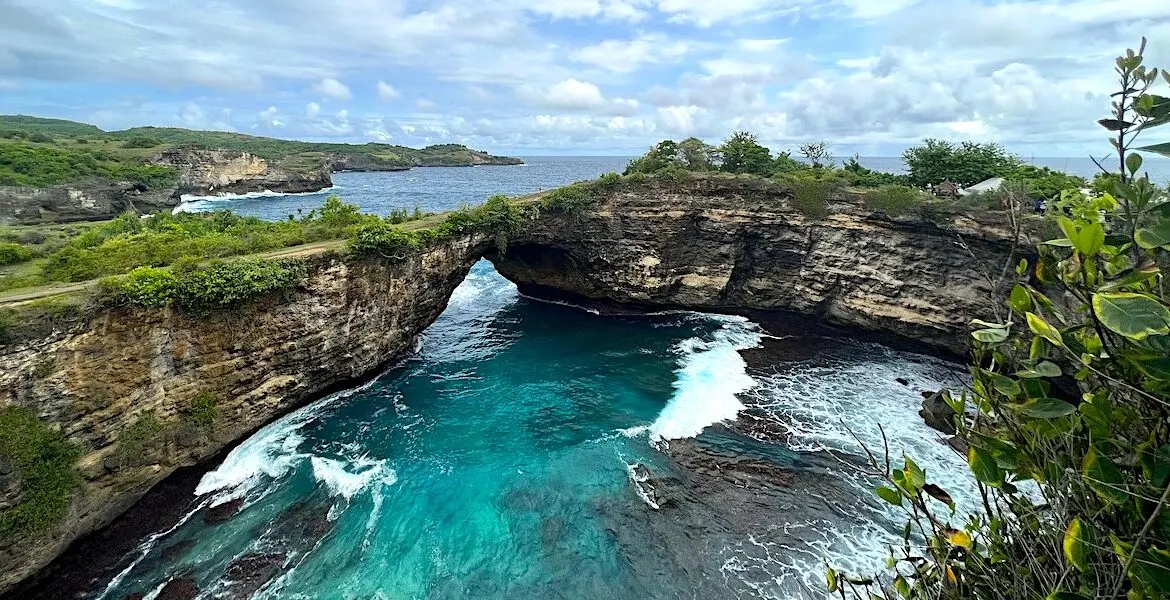 Broken Beach, Nusa Penida
Snorkelling trips to Manta Bay from Nusa Penida usually depart from Toyapakeh port, which is near to where the ferries from mainland Bali arrive and depart to the island.
When can you see manta rays in Nusa Penida?
Manta rays roam the sea around Nusa Penida throughout the whole year. There's no so-called 'manta season' in Nusa Penida because conditions are fairly optimal year-round.
Some diving sites recommend trying your luck in late spring or summer, between May and September. During this time, the process of 'upwelling' occurs, where cold water rises to the surface of the ocean.
This causes nutrients such as plankton to float. Subsequently, manta rays appear nearer to the surface in seek of food.
What are the chances of seeing manta rays in Nusa Penida?
A manta ray sighting is never 100% guaranteed at Manta Bay in Nusa Penida. Manta rays are wild animals whose habits depend upon the ocean currents, food availability, and many other factors. Therefore, you might not see a manta ray at Manta Bay during the short window that your boat visits.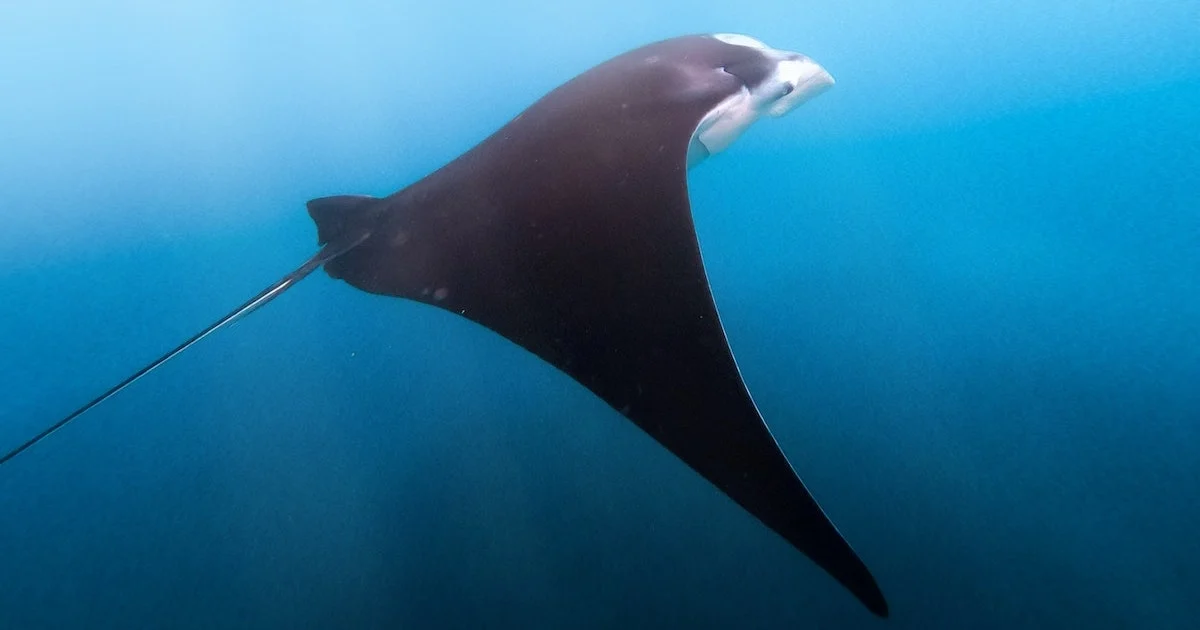 Many visitors have a successful sighting of one or more manta rays. Less frequently, visitors may get lucky enough to witness a group of manta rays passing through Manta Bay. Nevertheless, some unlucky visitors will also leave without glimpsing one manta ray.
It's still worth trying your luck, though – this is one of the best chances you'll get at seeing manta rays in Indonesia and southeast Asia. I saw three manta rays during my short visit to Manta Bay.
How to see manta rays in Nusa Penida
There are two main ways to see manta rays in Nusa Penida. One involves snorkelling, and the other involves scuba diving.
1. Snorkel at Manta Bay in Nusa Penida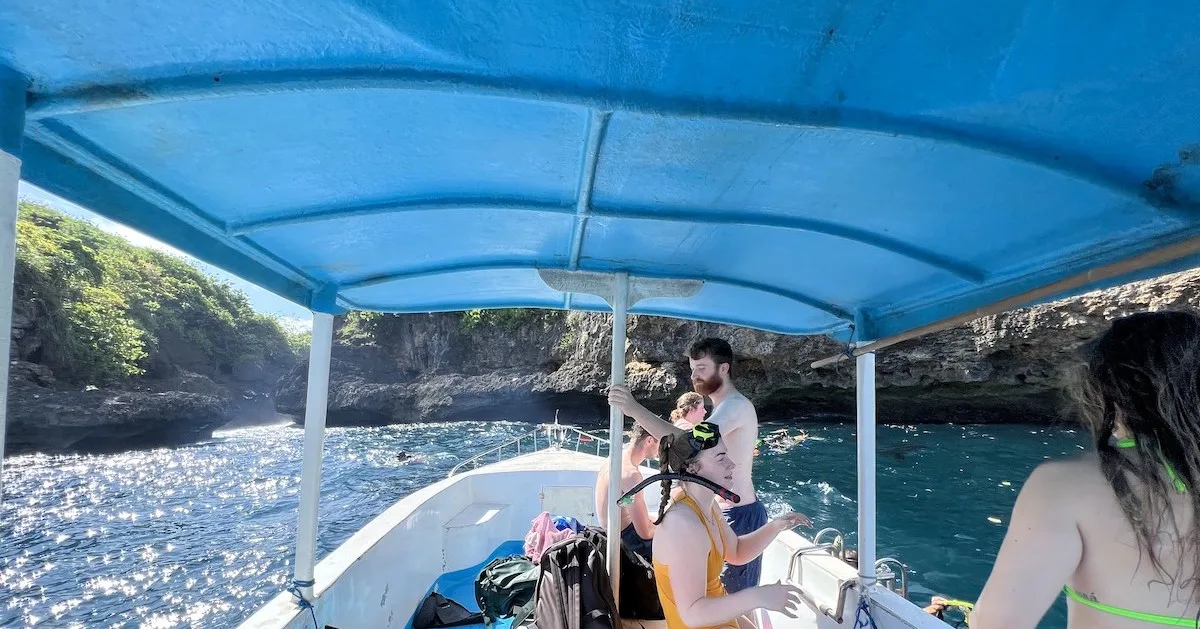 Manta Bay on the west coast of Nusa Penida is frequently visited by manta rays, especially during the morning. Therefore, every morning, snorkelling tours visit Manta Bay by boat and lend snorkelling equipment to visitors. That way, they can jump into the water to snorkel and hopefully see the creatures up close.
The snorkelling tours usually visit a number of other snorkelling sites along the west coast of Bali, including Gamat Bay, Crystal Point and Mangrove Point.
Divers do not typically visit Manta Bay.
The following tours visit Manta Bay and depart from either Nusa Penida, Nusa Lembongan, or Bali:
2. Dive at Manta Point in Nusa Penida
Manta Point in Nusa Penida is a diving site where scuba divers can dive with manta rays. It is located on the southwest coast of Nusa Penida, slightly offshore.
While there are limited snorkelling tours visiting Manta Point too, it is not recommended because the point is exposed to strong currents and waves. As a snorkeler, you are more likely to experience sea sickness and get into trouble in rough or dangerous swimming conditions.
Diving tours are provided by a handful of operators on Nusa Penida island. The following manta ray diving tours are well-rated by guests:
Neptune Scuba Diving has a five-star-rated dive trip visiting Manta Point in Nusa Penida. The trip departs from Sanur in Bali, with other meeting points and hotel transfers available.
Zero Gravity Diving provides a package of two dives from mainland Bali with one guide to four divers. They visit Nusa Penida and Nusa Lembongan. Free transfers are included from Sanur, Nusa Dua, Jimbaran, Kuta, Seminyak and Kerobokan.
Penida Dive Resort provides a four-day manta ray diving program with accommodation included, increasing your chances of seeing the creatures.
What to expect when snorkelling at Manta Bay Nusa Penida
1. Potential sightings of manta rays
The type of manta rays that visit Manta Bay Nusa Penida are reef manta rays. Reef manta rays are up to five metres long, which means that they are hard to miss.
Under the water, you should get a fairly clear view of their bodies, which are made up of large mouths, triangular pectoral fins, and smaller horn-shaped cephalic fins.
Manta rays are not dangerous to humans. They are gentle creatures, which feed on plankton. They move slowly and peacefully through the water. However, you should be well-prepared for their size, as they are some of the biggest creatures in the ocean.
2. Deep water
Manta Bay is not a beach, so your feet will not touch the ocean floor when you are snorkelling. You should be comfortable with swimming in the open ocean, where the water is very deep.
3. Potential swells and strong currents
Manta Bay is exposed to the Indian Ocean, so the water is often very choppy. On a gentle day, you might only experience some choppy water. However, on a typical day, the sea will have currents and moderate, choppy swells.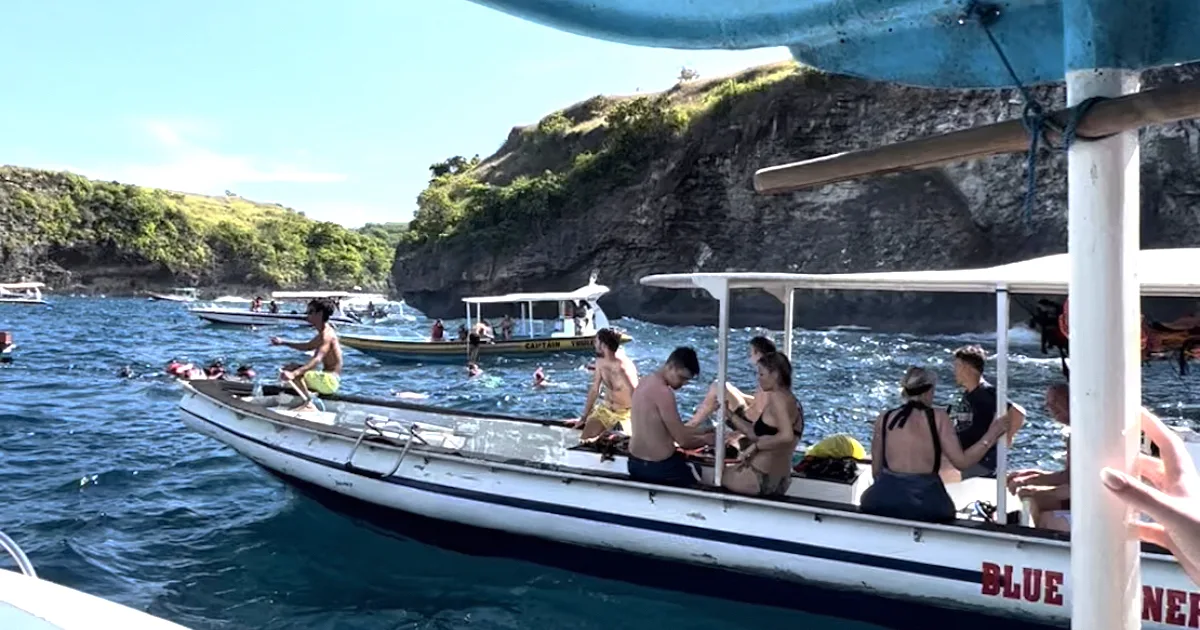 On the day I visited Manta Bay, conditions were rougher. There were large waves and very choppy water. The boats rocked significantly, which increased the risk of seasickness.
You should be a strong and confident swimmer, with at least some experience snorkelling. Otherwise, I would suggest that unconfident swimmers request a lifejacket from their boat in advance.
Because of the busy nature of the snorkelling site, there's often a lot of shouting and movement happening all at once. I would say that it's easy for a weak swimmer to to get lost in the crowd of swimmers. I'd err on the side of caution and give the trip a miss if you're not confident snorkelling in open, choppy water with or without a life jacket.
4. Potential seasickness
Unfortunately, sea sickness often goes hand-in-hand with rough sea. The rocking movement of the boat can cause nausea and vomiting. This is likely on the journey to Manta Bay, as well as on the stationary boat.
Taking motion sickness medicine several hours before your trip should protect against sea sickness.
5. Crowds
Unlike some of the offbeat travel experiences I cover on my blog, Manta Bay gets very busy. The site is visited daily by handfuls of tour boats all in the search of the same thing at the same time.
Each boat is usually packed with a dozen or so snorkelers, who will all be competing with you for the best view of a manta ray.
---
Travel insurance is essential for any trip abroad. If you're in an accident or experience an emergency, you need adequate cover. I recommend Staysure for single or multiple trips per year and SafetyWing for digital nomads.
---
What to take snorkelling at Manta Bay Nusa Penida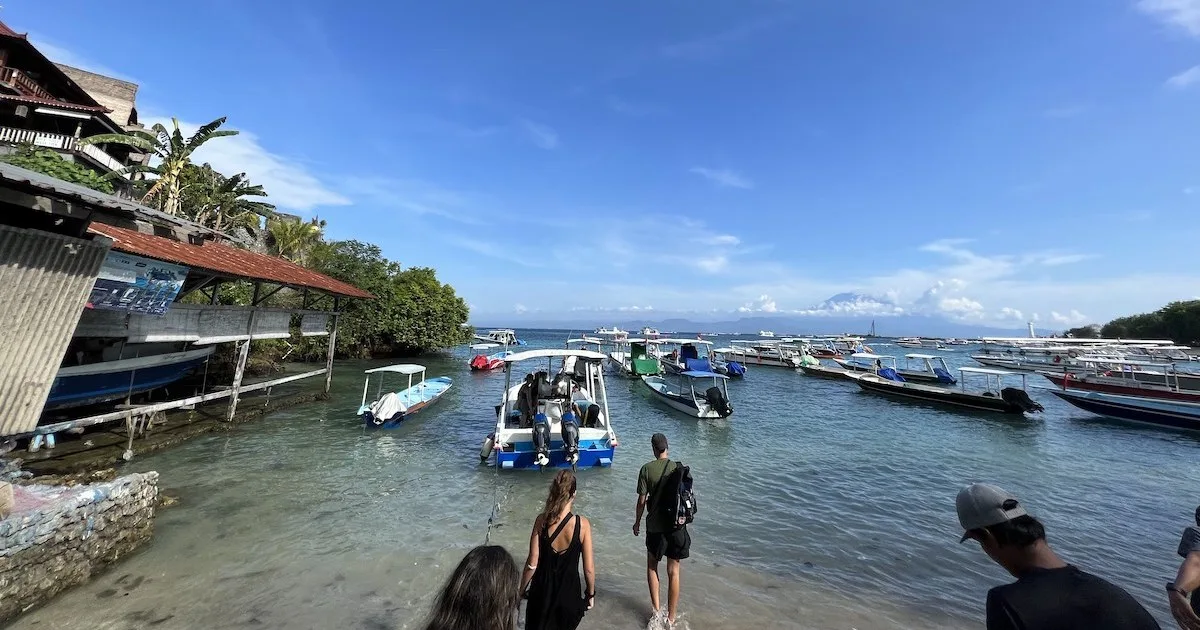 The number-one essential on a snorkelling trip to Manta Bay is seasickness tablets. This can make or break your experience.
Second to that, I'd highly suggest bringing a dry bag for your belongings because there is a significant amount of turbulence and ocean spray on the journey to and from Manta Bay, as well as plenty of wet equipment (and people) that could get your belongings wet.
You should wear your swimming costume onto the boat because there are usually no changing facilities.
All snorkelling gear should be provided by your tour provider.
Motion sickness tablets
Dry bag
Swimming costume (to be worn)
Light, breathable clothes (to be worn)
Lightweight towel
Wallet and mobile phone (optional)
Underwater camera (optional)
Where to stay in Nusa Penida
Alongside snorkelling at Manta Bay, there are so many things to see on Nusa Penida. Kelingking Beach and Diamond Beach are some of the most photographed beaches in Indonesia, let alone Nusa Penida.
On top of that, I count my trip to Suwehan Beach as one of the greatest off-the-tourist-track beaches I've visited during my travels so far.
Driving around Nusa Penida is an activity in itself; there are temples, traditional Balinese villages, sheer drops, palm tree forests, dome-shaped hills, and winding roads.
Where you stay in Nusa Penida will set you up for success. Staying on the west side of Nusa Penida, near to the port, is ideal for those who want to take a manta ray snorkelling trip because most tours depart from Toyapakeh port.
The best hostels in Nusa Penida
Best overall hostel
A sociable hostel with a cosy vibe. The bungalow-style dorms have access to two outdoor swimming pools and a restaurant.
Best budget hostel
Located on the gorgeous north coast of Nusa Penida, the cost-friendly hostel has a pool and a shared kitchen.
Bougie pick
The Packer Box brings pod beds to the island. With a garden to chill in, it's a great place to stay on the north coast of Nusa Penida.
The best hotels in Nusa Penida
With a swimming pool overlooking Bali mainland and its volcano, you can't get much better than a beachfront hotel with cosy rooms.
Friendly and cosy, and near Crystal Bay, Griyatama Bungalow is well-located and has easy access to the island's best sunset spot and the port of Toyapakeh.
Infinity pool and sea view – tick. The hotel is a short drive away from Gamat Bay, a popular snorkelling destination.
Treat yourself to a luxury stay at Sea La Vie Resort: A four-star beachfront hotel with luxury suites and an infinity pool that's to die for.
---
If you're also spending time on mainland Bali, why not explore some less touristic beaches, such as Nunggalan Beach and Bias Tugel Beach or find the best photo spots at Tanah Lot at sunset?
Where can I see manta rays in Bali?
The best places to see manta rays in Bali are at Manta Bay and Manta Point in Nusa Penida, where ocean currents carry plankton to the shores. Manta rays are often spotted near the surface, feeding on the plankton. Manta rays are often spotted around the shores of Nusa Lembongan too.
Where can I swim with mantas in Nusa Penida?
You can snorkel with manta rays at Manta Bay in Nusa Penida. Manta Point is a diving site where manta rays are often spotted.
Is one day enough in Nusa Penida?
While you can snorkel or dive with manta rays in one day in Nusa Penida, several days is ideal to see other sights on the island, such as Kelingking Beach, Diamond Beach, and Suwehan Beach.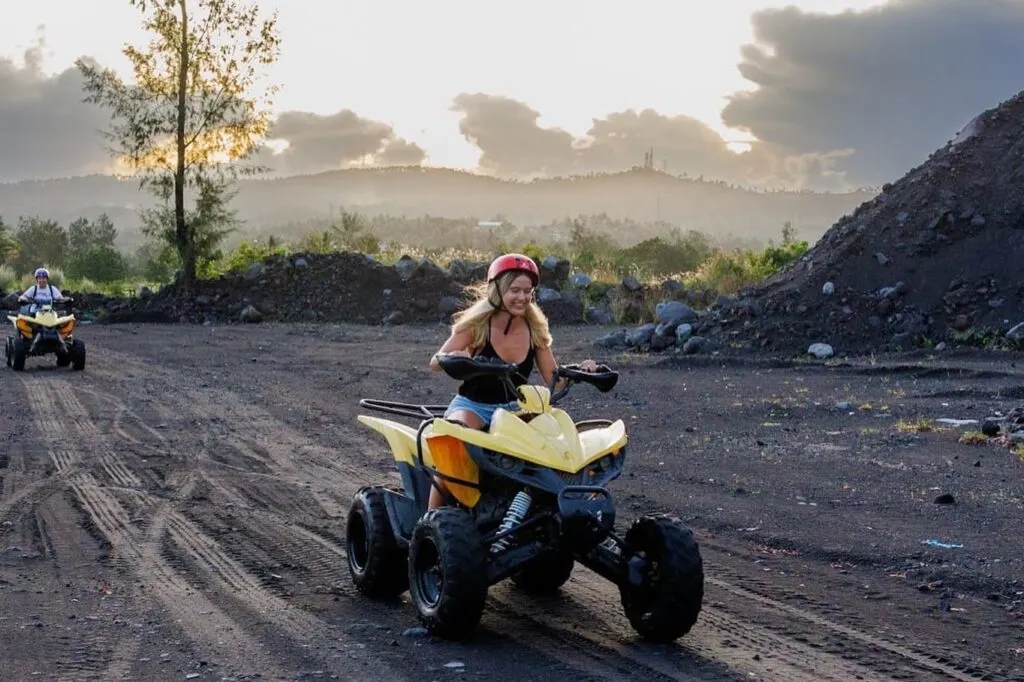 AUTHOR: KATIE TREHARNE
I'm Katie, the owner of Escape Artist Katie and a full-time digital nomad. I have been travel writing in some shape or form since 2018, including writing for luxury travel magazines. I hope you found my article useful – find out more about me here or keep up with my travels on Instagram. I'm a big advocate for offbeat travel and pushing yourself out of your comfort zone.