So, you want to go off the beaten tourist track? Check out Harau Valley in west Sumatra, on Indonesia's largest island.
Fondly nicknamed 'the Yosemite of Indonesia' by the global rock climbing community but also reminiscent of Switzerland in places, the valley is formed of up to 300-metre-high granite and sandstone cliffs, powerful waterfalls, and bowls of rice terraces and farming villages.
I hear what you're asking… 'So, how come no one goes there?'
Simply put, not many people travel to Sumatra. When they do, they're focused on seeing orangutans and the world's largest crater lake, Lake Toba, in north Sumatra.
However, Harau Valley is unmissable if you want to experience the slow pace of rural life in Sumatra.
Here, it's possible to soak up some of Indonesia's most unique scenery and spend your days hiking, tracking down waterfalls, or taking day trips to mountains, rice paddy scenery, or traditional markets.
The valley is located within driving distance of Bukittinggi, one of west Sumatra's more established tourist destinations, but nothing can beat staying within the valley.
It's also one of the most popular rock climbing destinations in Indonesia (although, right now, that pastime is for pros only because there are no rock climbing activity organisers).
I've created this Harau Valley travel guide to cover all the practical aspects of visiting the valley, as well as things to do, the best places to stay, the ultimate Harau Valley hiking trail, and the best day trips nearby.
My Sumatra backpacking itinerary provides more information on the best destinations and routes across north and West Sumatra.
I also have a guides to what to wear in Sumatra and the best things to do in Bukittinggi and Maninjau Lake.
Where is Harau Valley?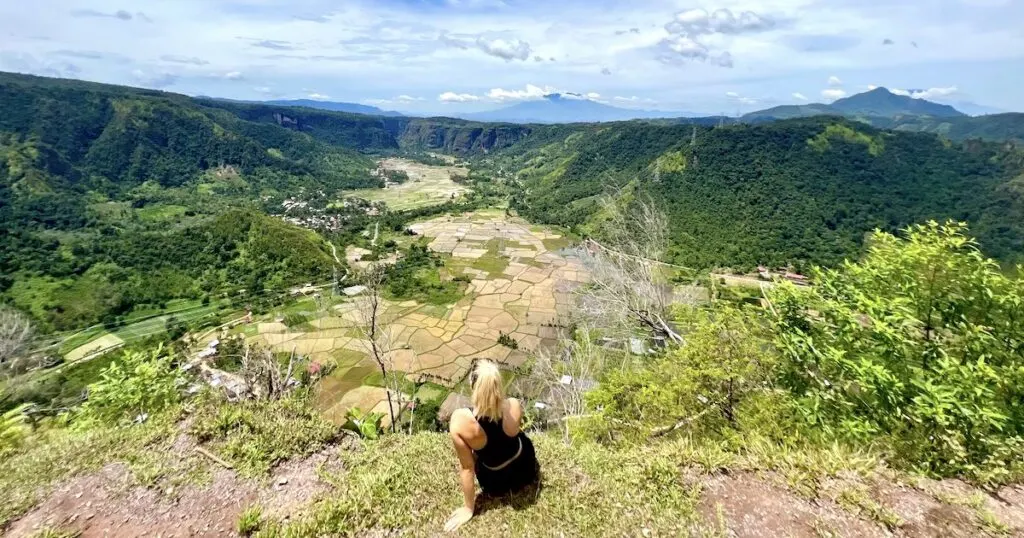 Harau Valley is located in west Sumatra, on Indonesia's largest island. More specifically, it is located in the Minangkabau Highlands.
The destination is an hour's drive from the city of Bukittinggi, which has World War II tunnels, traditional food markets, and hiking trails around the Sianok Canyon.
Payakumbuh is the nearest city and is packed with traditional markets and street food. However, mostly, the valley is surrounded by countryside and smaller villages.
Why should you visit Harau Valley?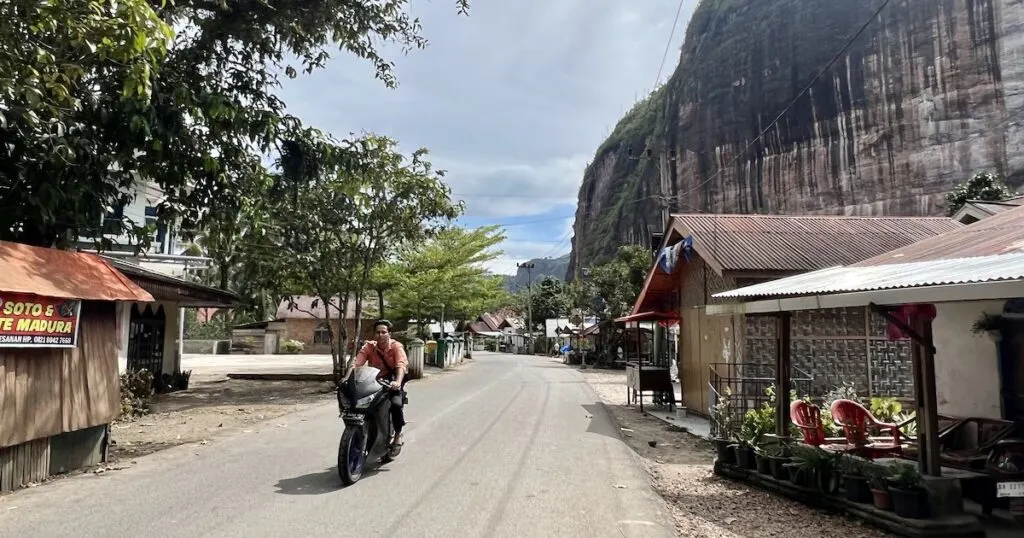 Visiting Harau Valley is a bit like stepping into the unknown. There's hardly any information online, and yet, if you speak to any local person in Bukittinggi, the first place they'll recommend you visit is Lembah Harau (followed by their own city, of course).
While a brief drive through the valley is enough to grasp the sheer magnitude of the canyon, staying longer means that you have time to take hikes with views over rice terraces, forests, volcanoes, waterfalls, and farms.
Harau Valley is also a great destination for those who just want to enjoy 'la dolce vita' (the sweet life). The valley is exceptionally peaceful. There are dramatic sunrises and sunrises, as well as opportunities to take part in cooking classes and browse traditional markets.
For me, the valley was the perfect place to relax for a few days while I worked on a freelance writing deadline and explored in my spare time.
Rock climbers really like Harau Valley too. According to the tourist board's website, there are approximately 300 routes through the Harau Valley, so it's unlikely that they'll be crowded.
To summarise, visit Harau Valley for:
Hiking trails.
Incredible scenery and waterfalls.
Cooking classes and farm tours.
Relaxation.
Rock climbing.
Day trips to Sikabu, Mount Sago, and Payakumbuh.
A Short History of the Valley
Also known as Harau Canyon or Lembah Harau, the valley is thought to have once been part of the sea floor. This was the conclusion of a German geological survey which found seabed rocks including breccia and conglomerate. This also matches the tales of traditional legends told within the valley's villages.
The name of the valley has a fairly morbid backstory. 'Orau' means 'hoarse'. This word was used to describe the area because villagers of Jambu Hill would often call out in distress during disastrous fast floods. Over the years, 'orau' morphed into 'Harau', and it stuck.
Not much is known about the valley's history aside from this, but the karst landscape hosts a number of old, rural villages where the families earn their main living from farming.
It's not uncommon to see the farmers and rice pickers, women included, in the fields. Often, they are operating old machinery or tending to water bulls.
We know more about the history of the nearby town, Payakumbuh, which is the second-largest city in west Sumatra. This town is where the Negeri Sembilan people in Malaysia originated.
Payakumbuh has been inhabited since ancient ages, according to stones discovered in the town. It's also the origin of the Randai tradition, which merges martial arts, dance, and Minangkabau music.
How to get to Harau Valley
The main way to get to Harau Valley is by taking the bus from Bukittinggi.
Local buses leave the Aur Kuning bus terminal and take just over one hour (or closer to two or three hours if there's traffic) to reach the village of Sarilamak, just past Payakumbuh.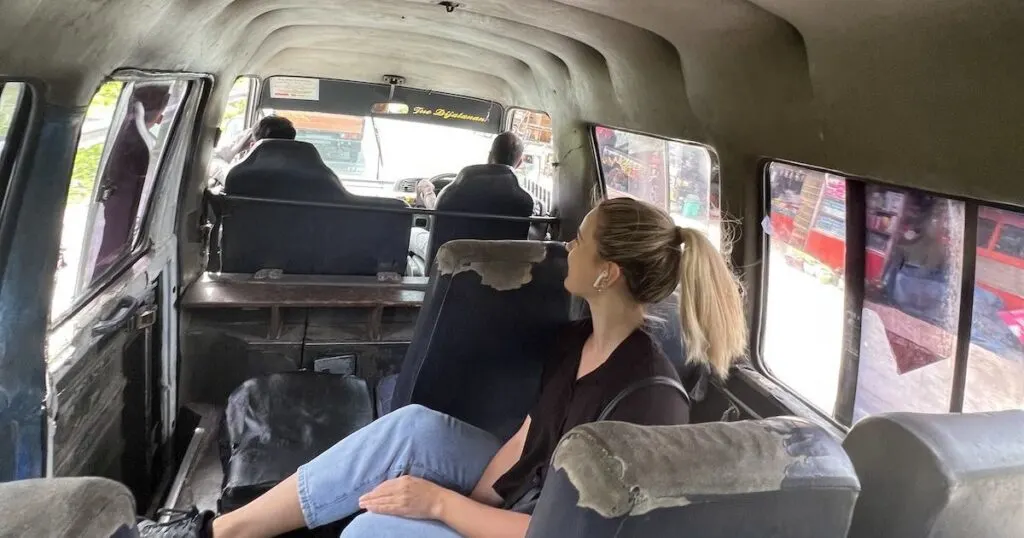 The local bus from Bukittinggi to Harau Valley
When you arrive at the Aur Kuning bus terminal, ask for the bus to Harau Valley.
The staff will guide you to the correct bus (which is more of a mini-bus than anything else) and inform the driver of your end destination. They will ensure that you are dropped off in the correct village and transferred to an opelet.
The buses don't travel all the way into the valley, so you will complete your journey on the opelet, a traditional form of transport in the valley consisting of a scooter with a sidecar. Ask them to drop you at your accommodation.
A local bus to Bukittinggi should cost around 15,000 IDR.
An opelet journey should cost around 20,000 IDR from the village to Harau Valley.
You can also take a private taxi to Harau Valley from Bukittinggi or another destination in west Sumatra. However, expect this to be significantly more expensive.
How to get around Harau Valley
The Harau Valley is large, so most of the time, you will need a form of motorised transport to reach hiking trails, waterfalls and other attractions. There is no public transport.
1. Rent a scooter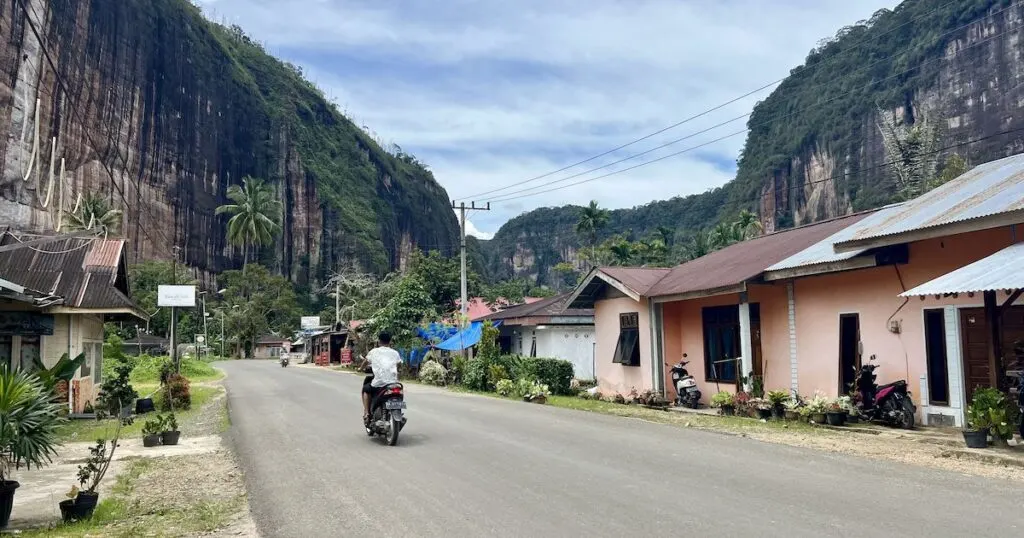 Renting a scooter from your homestay is the best option for getting around the valley because it gives you the freedom to go wherever you please.
While the main roads are in good condition, many smaller roads are ridden with gravel, dirt, and potholes. You can also expect steep gradients in some places.
Therefore, riding a scooter in the valley should only be attempted if you are experienced and capable (and remember to have the relevant licence).
Scooter rental is offered by homestays in the valley. It typically costs around 50-100k IDR per day depending upon who you rent from.
2. Opelet
If you can't rent a scooter, the opelet taxi is the valley's version of a taxi.
As a rather basic form of transport, the scooter will struggle to shift the sidecar up and down very steep hills or very, very bumpy tracks. It also travels slowly.
Therefore, it's not always a feasible form of transport for long or challenging journeys.
The opelet is a good option for getting from the Harau Valley to the local villages and towns for a reasonable fare.
3. Scooter tours
Scooter tours are the most expensive option but if you're not a confident driver, you'll need them to reach faraway places or traverse more challenging roads.
I booked a full-day tour with my homestay, which included an opelet to and from the Harau Valley hike and Abdi Homestay for two people, followed by two scooter tours to and from Sikabu Glamping. The latter scooter tour was a four-hour round-trip.
In total, the day cost around 80k IDR per person.
Where to stay in Harau Valley
Top Pick: Abdi Homestay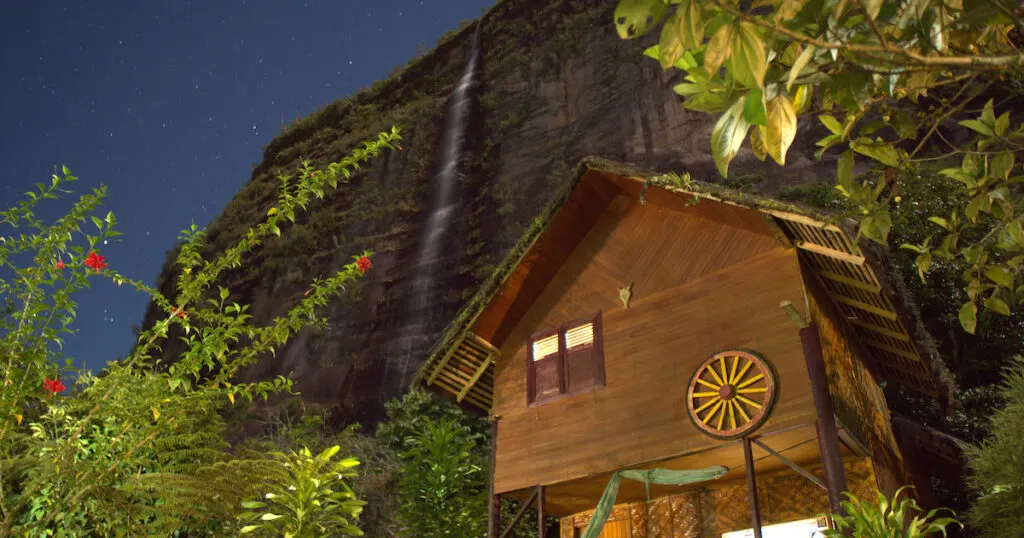 The best place to stay in Harau Valley is Abdi Homestay.
The collection of hand-built wooden huts are positioned in a generous swathe of greenery with miles of rice fields on one side and a cliff with a 50-metre waterfall on the other.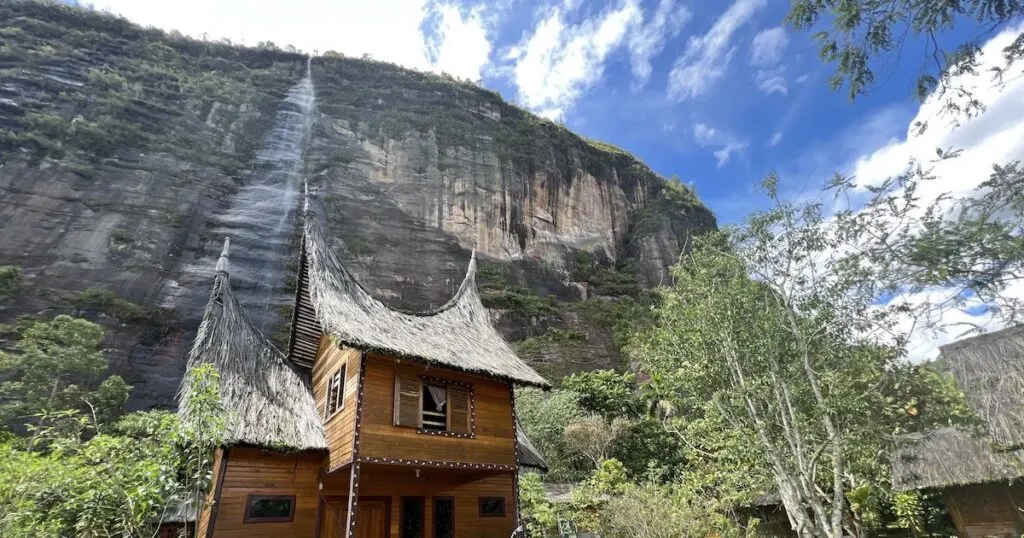 The friendly owners are a family who an organise treks, day trips, cooking classes (150k per class), scooter rental and other activities in the valley.
On the first day, I extended my stay from two nights to four just because of how beautiful it is and how comfortable I felt.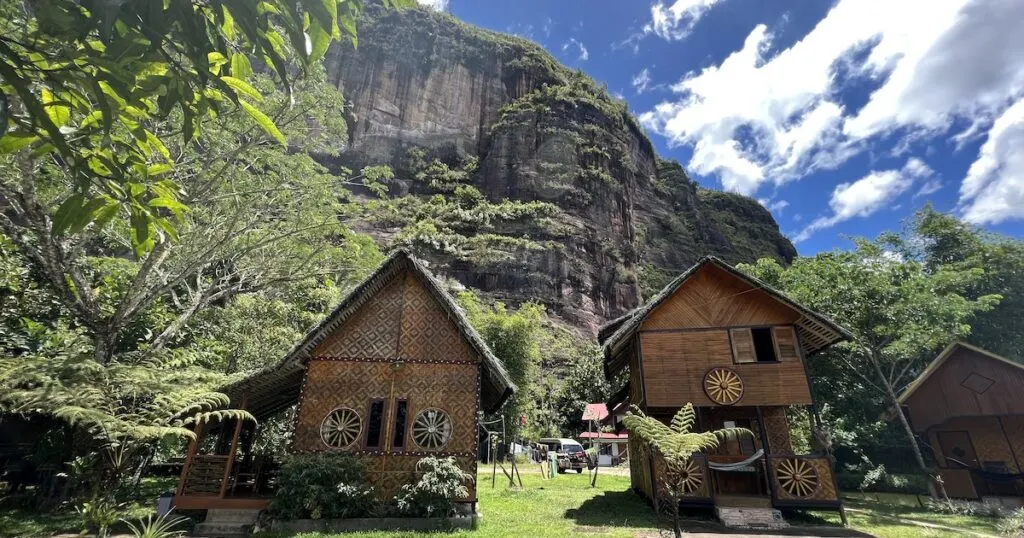 To book a hut at Abdi Homestay, you must contact them directly by Whatsapp. The number is listed on their Instagram account.
The larger huts, which have a hammock and seats on the balcony and two double bedrooms cost 300k IDR per night.
The smaller huts, which have a balcony and one double bedroom, cost 200k IDR per night.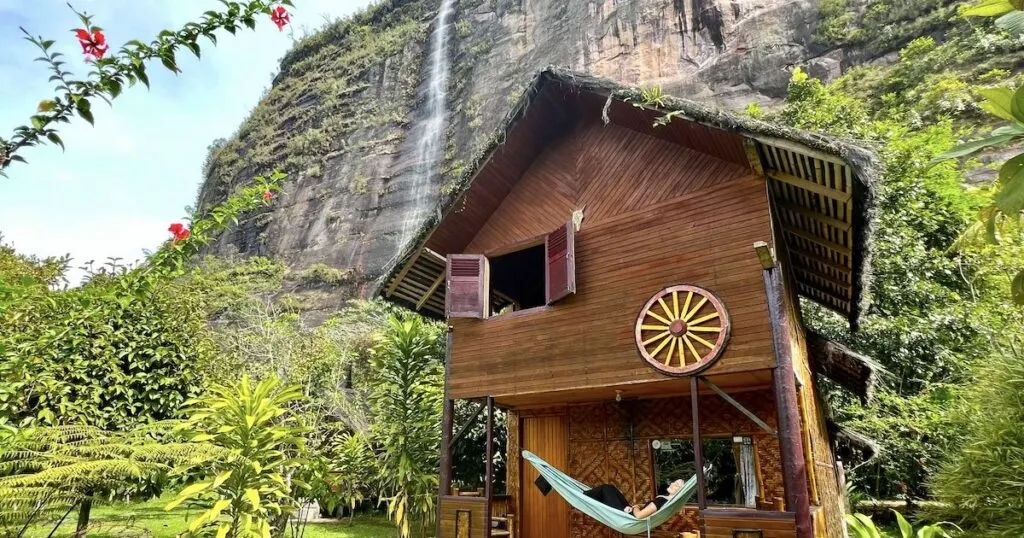 I stayed in one of the larger huts, and this was the view.
Other well-rated budget options:
The Edge Harau Glamping is an extraordinary glamping site with 17 luxury bell tents in the Harau Valley with a five-star rating on Google. They are set alongside the river's edge. If I was going to return to the valley, this is where I'd want to stay. Book through their Instagram and Whatsapp link.
Orau Inn Homestay has a five-star rating on Google and 9.4/10 on Booking.com. It is family-run and reviews say it's friendly and has fab food.
There are plenty of budget homestays scattered throughout the valley, which you can visit in-person to book a stay when you arrive.
There are also budget places to stay in Payakumbuh, although these are half an hour's drive from the valley itself.
Luxury Hotels and Resorts
There are no luxury hotels or resorts in Harau Valley or Payakumbuh.
The nearest luxury hotels are in Bukittinggi, which is an hour's drive from the valley. From the city, you can arrange a day trip to the valley by scooter or car.
These are the best luxury picks in Bukittinggi:
Tours in and around Harau Valley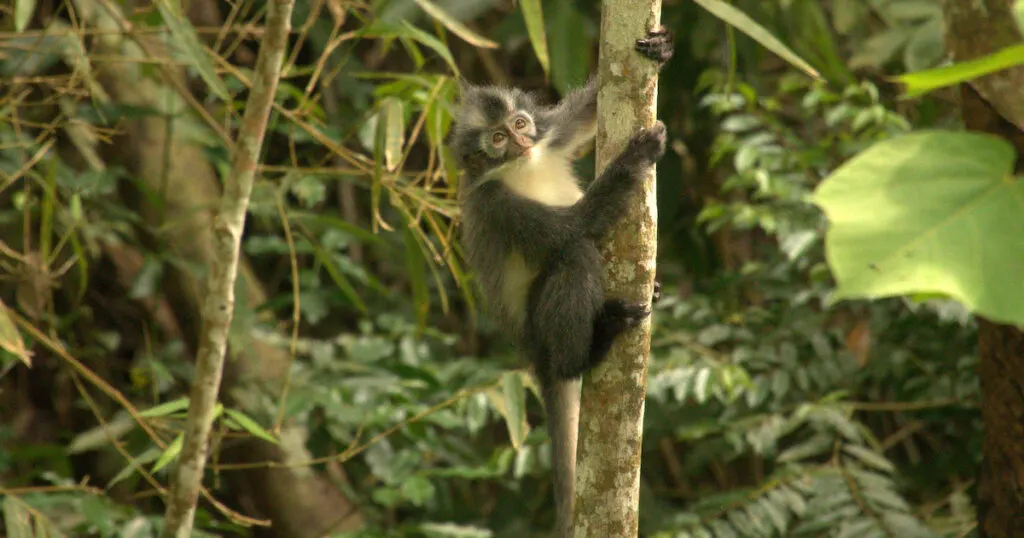 The best way to arrange tours in the Harau Valley is through your accommodation.
This is another reason why I've ranked Abdi Homestay as the best place to stay, because the friendly owners provide a varied scheme of tours, including hikes, waterfall visits, and day trips around the local area.
For an activity you can book online, this four-day west Sumatra cultural tour visits Harau Valley and arranges visits to waterfalls, bamboo rafting, and guided trekking on days two and three.
There are far more fab tours bookable online for the north of Sumatra, including:
What to Wear in Harau Valley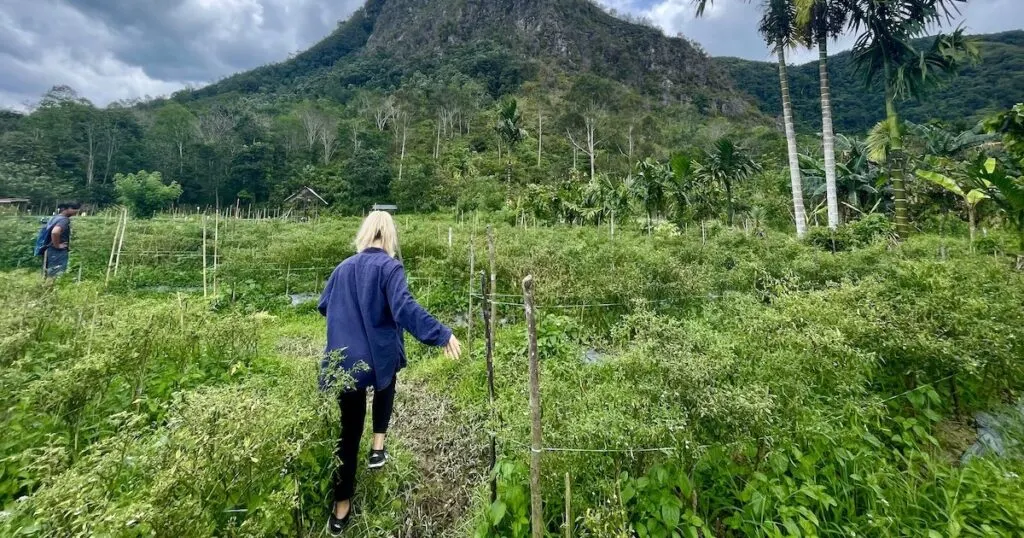 The valley consists of small farming villages with a majority conservative Muslim community.
Therefore, you should dress respectfully by covering your knees, shoulders and chest, just as per my advice in my post on what to wear in Sumatra.
When you're trekking in the Harau Valley, long sleeves and long trousers and socks are especially important because the forests have large mosquitos. Leeches may also be present.
At Abdi Homestay, I felt slightly more comfortable wearing slightly shorter dresses because the owners are more accustomed to the Western style of dress. Just note that they do get visitors, who may be more interested.
Things to Do in Harau Valley
1. Hike to the Harau Valley viewpoint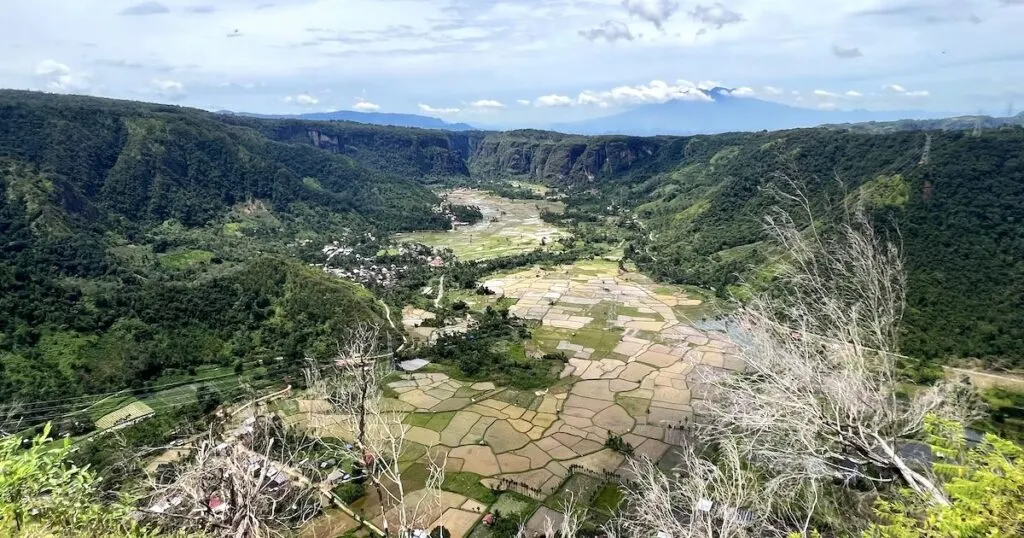 If there's only one thing you do in the Harau Valley, make it climbing to the Harau Valley viewpoint.
Let me be absolutely clear: this hike is not for the faint-hearted, but the reward is well worth the climb.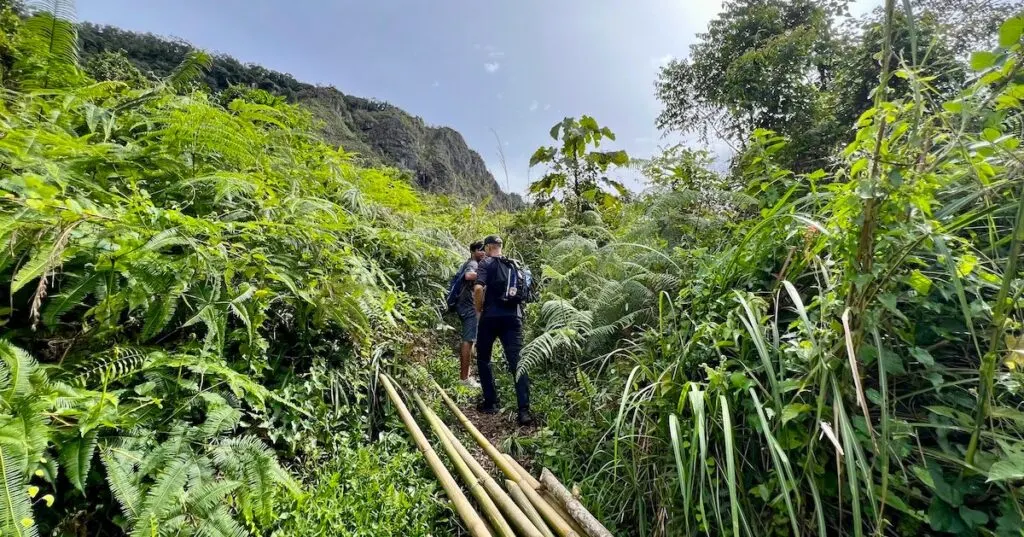 The entrance to the trek
The hikes involves a steep uphill trek for around an hour, beginning and ending with crossing through thick ferns. The middle section, which is the majority of the trek, is a very steep, zig-zagging 'trail' consisting of dirt, mud, small rocks, and leaves.
I wasn't surprised when my guide from Abdi Homestay said that 50% of hikers give up on the ascent.
But, look, when you finally emerge from the challenging ascent, the view is incredible.
The first viewpoint
The hill overlooks a basin of rice terraces (much like a patchwork), surrounded on all sides by granite cliffs as tall as 300 metres. Above the cliffs, the volcano (Mount Sago, I believe) completes the scene.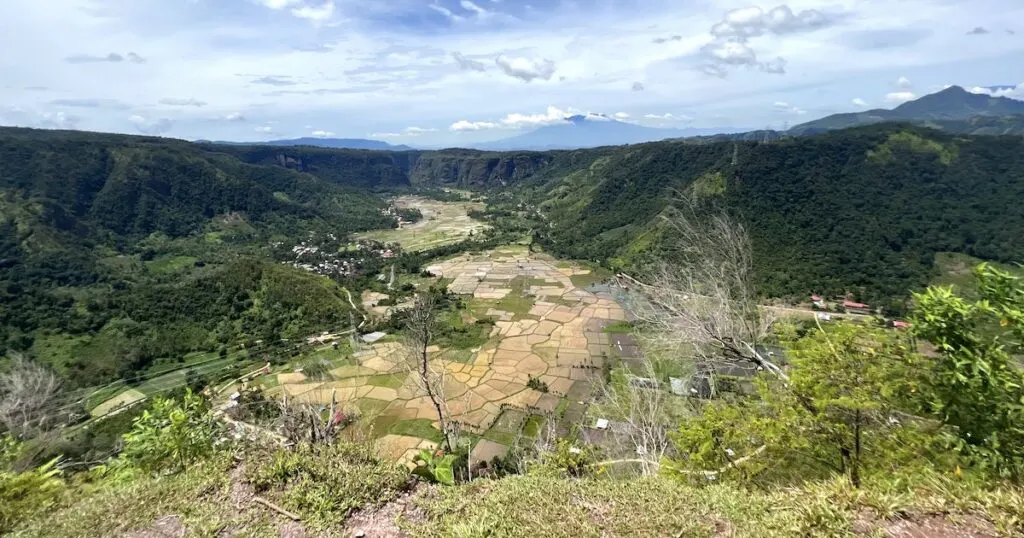 The second viewpoint
At this point, you can carry on upwards to reach a 'cave', which is more of a rock ledge than an actual cave.
Some guides will arrange for you to camp overnight at the cave if you want. A sunrise view over the valley would be the reward.
A guide is essential for the hike because the trail is impossible to follow without prior knowledge of the route. Most tour guides in Harau will know the hike, but if not, show them the photos above and they should recognise the view.
2. Stroll through the valley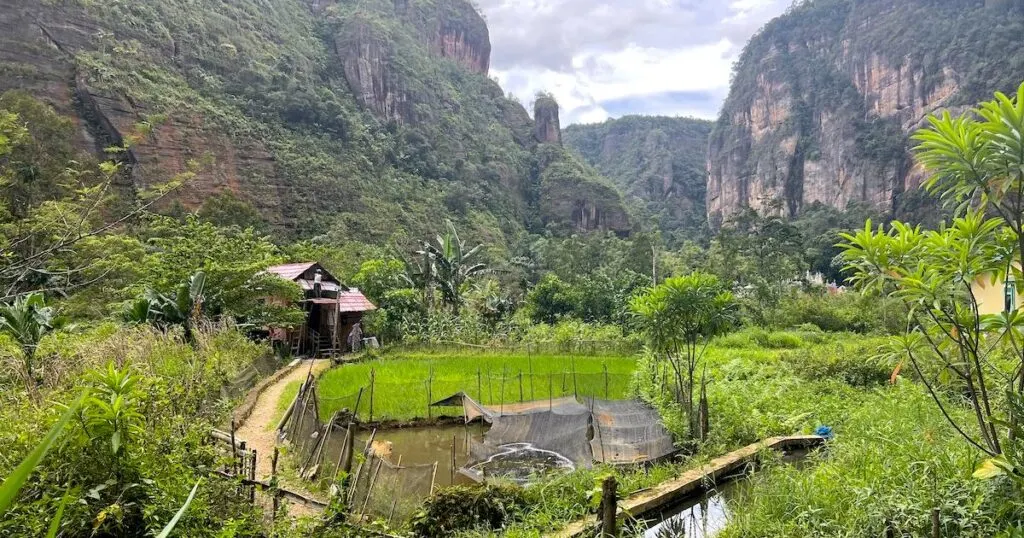 Strolling through the valley with no other purpose than to take in the views of 300-metre-high cliffs and villages is a must.
Along the main road, you will pass guesthouses, food stalls, a waterfall where locals bathe, small villages, paddy fields, crops, and sections of forest where you might get lucky enough to see macaques or gibbons in the branches.
Look out for schools of ducks waddling around and bulls grazing in the paddocks.
3. Check out the valley's waterfalls
Waterfalls are everywhere in the valley.
Some are easier to find than others, so your best bet is to do a good scan of the locations on Google Maps to check out the reviews and routes.
1. Harau Valley Waterfall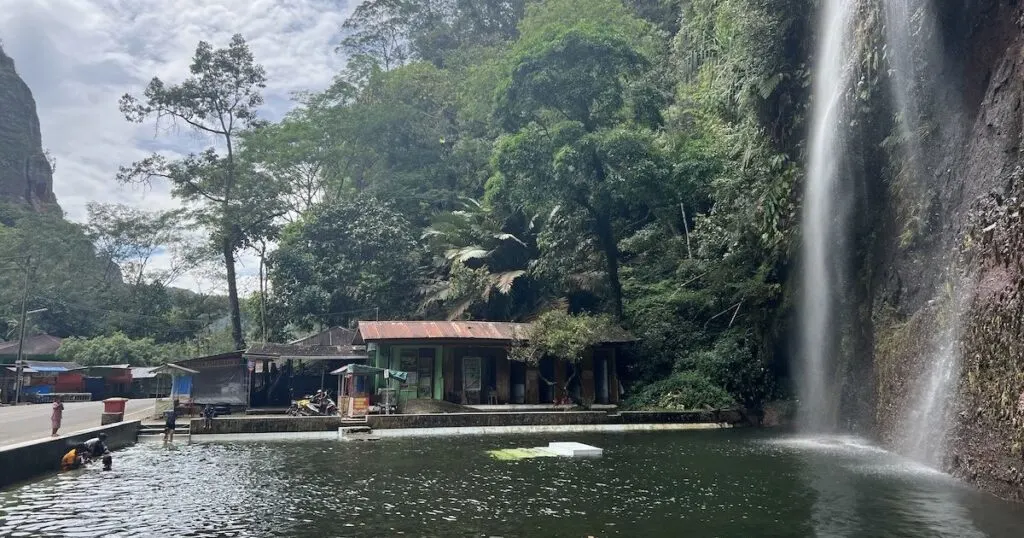 This is perhaps the best-known waterfall in the valley, mainly because it cascades metres down a sandstone cliff face alongside the main road through the valley. It's hard to miss.
A pool has been built around the base of the waterfall. At most times of the day, you'll come across a group of local people either bathing or playing in the water.
Opposite the waterfall, there are rows of stalls selling snacks, drinks, and meals.
Feel free to bathe, but keep your clothes on, as this is a local spot and the predominant religion is Islam.
2. Sarasah Bunta Waterfall
Sarasah Bunta Waterfall is also within walking distance of the main part of the valley.
Fed by water from the highlands, it tumbles down the exposed rock into another locally-made pool.
3. Sarasah Donat
Sarasah Donat is located slightly outside of the main part of the valley, but it's just a short scooter or opelet ride away. Out of the three waterfall locations, it's one of the most unique.
While the main waterfall plunges a short distance into a natural pool, there are other waterfalls accessible by a wooden ladder.
One of the waterfalls tumbles through an opening in the roof of a cave.
4. Visit Pasar Sarilamak (Sarilamak Market)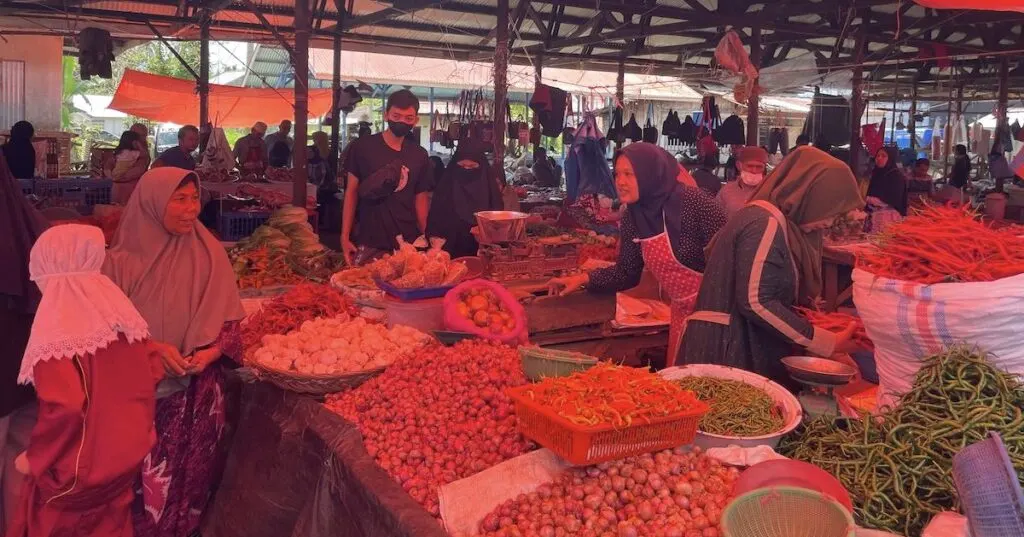 If you want to experience a traditional market (of which there are only around 50 in the region), Pasar Sarilamak is the place.
The market is based in the village of Sarilmak between Payakumbah and Harau Valley.
Market days are on Tuesdays and Saturdays.
It is packed with traditional, homemade Indonesian snacks and even items like tobacco and plates. There are tropical fruits, vegetables, fish, and other fresh goods.
8am is the best time to visit to soak up the atmosphere and get your hands on the freshest produce and snacks.
5. Explore Payakumbuh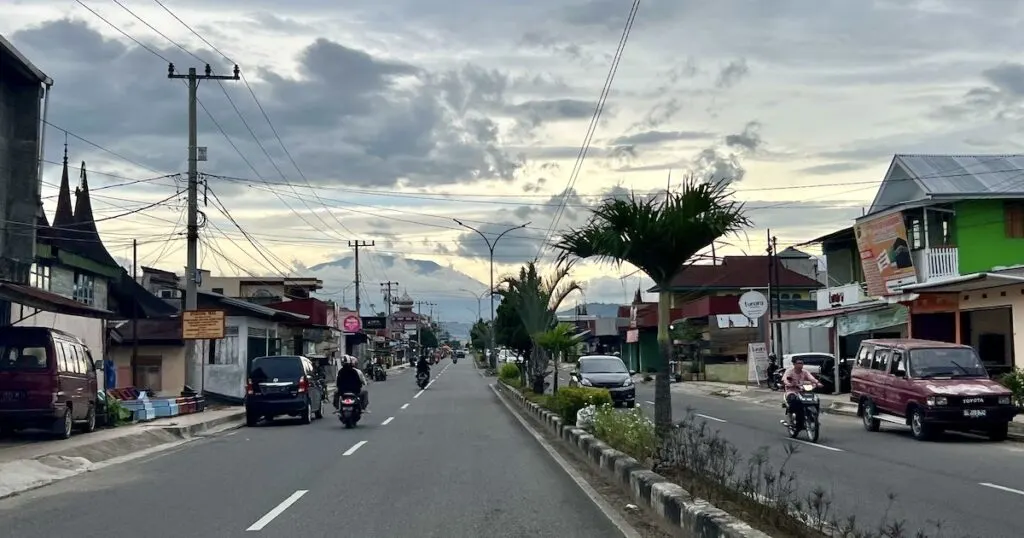 Payakumbuh is a little further on than Sarilamak, and best visited by scooter or opelet. The journey takes around 30-45 minutes from Harau Valley.
It's the second-largest city in west Sumatra and has a fascinating culture and food scene for those who are willing to travel there.
One of my favourite things about Payakumbuh was that you come across many traditional Minangkabau houses while wandering around the suburbs.
I dined on the main street during Ramadan and, as everyone broke their fast, I got speaking to a couple of friendly ladies who taught me some basic Indonesian.
The town is teeming with market stalls selling fresh goods and snacks, as well as shops (including the first place in Sumatra where I found mosquito repellent for sale).
Ancient stones were discovered in Payakumbuh, so it's likely that the town has been around for a long time. It's also where the Randai tradition (a combination of martial arts, dance and Minangkabau music) originated.
6. Take a cooking class.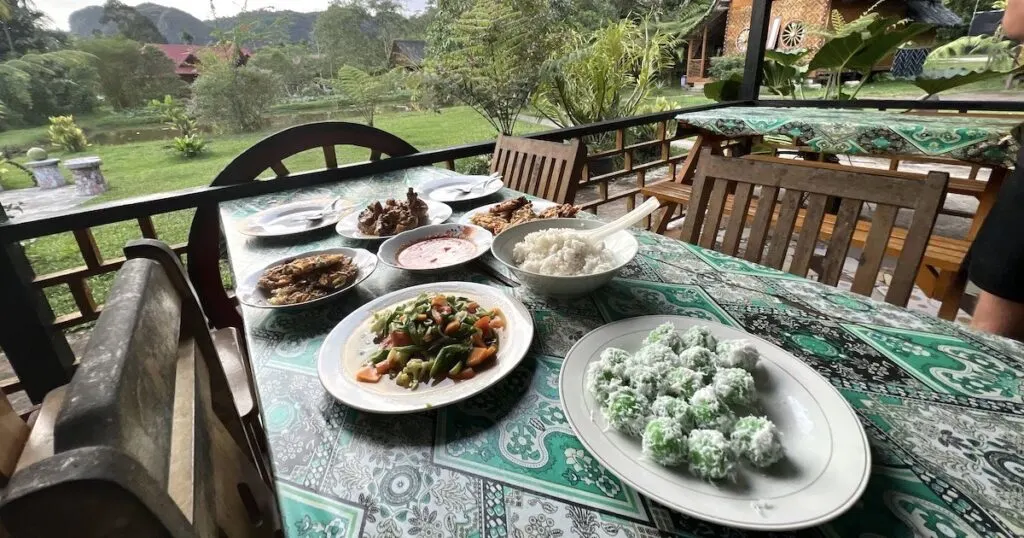 Harau Valley is the perfect place for a cooking class. As a peaceful, rural area, you'll probably have plenty of downtime.
Abdi Homestay organises cooking classes for 150k IDR (get in touch when you stay or contact them directly through their Instagram). They are based in the kitchen at the homestay.
With their help, I cooked a spicy coconut curry with chicken and several other Indonesian dishes. I also made klepon, which are rice balls filled with syrup and flavoured with pandan and coconut.
The meal coincided with sunset, which is magnificent from Abdi Homestay.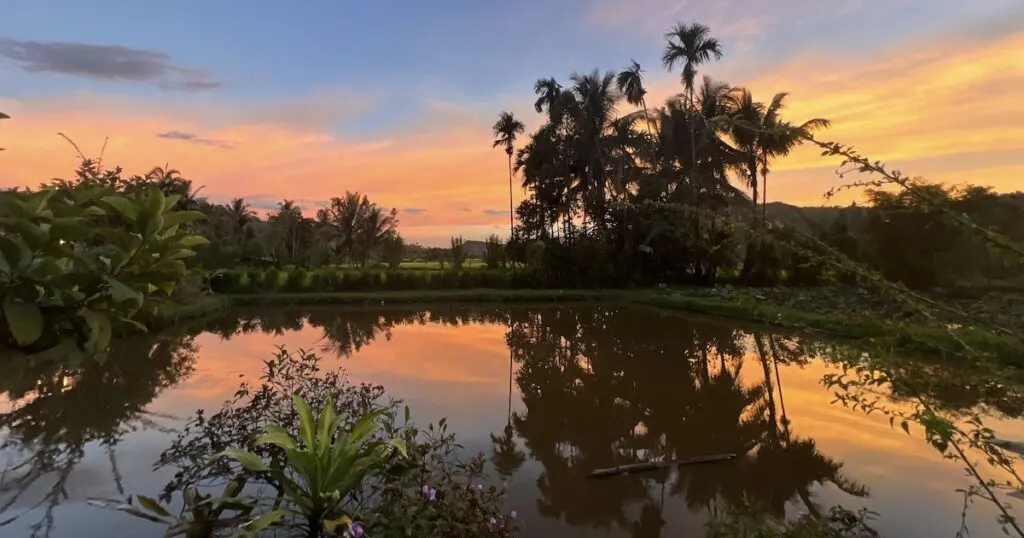 7. Take a day trip to the Sikabu rice terraces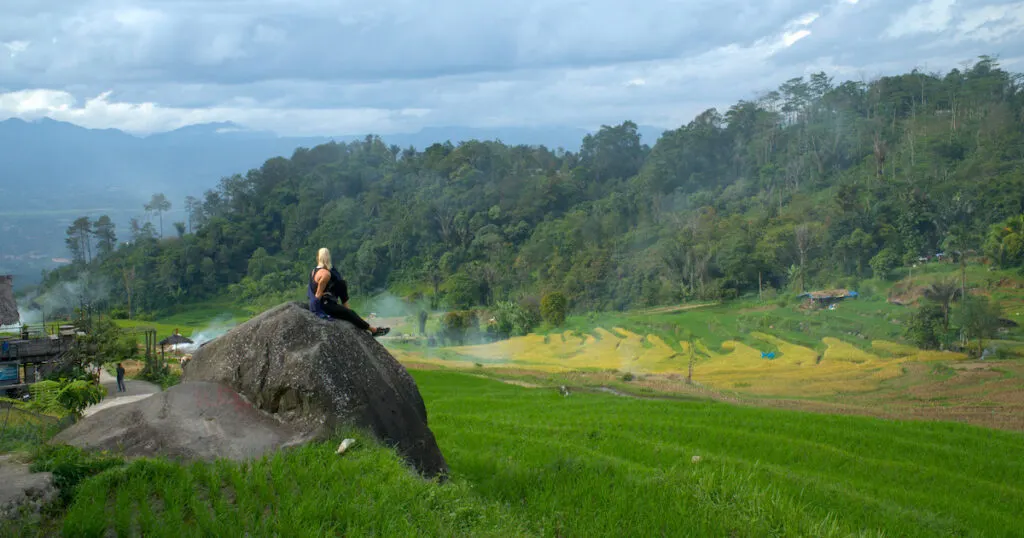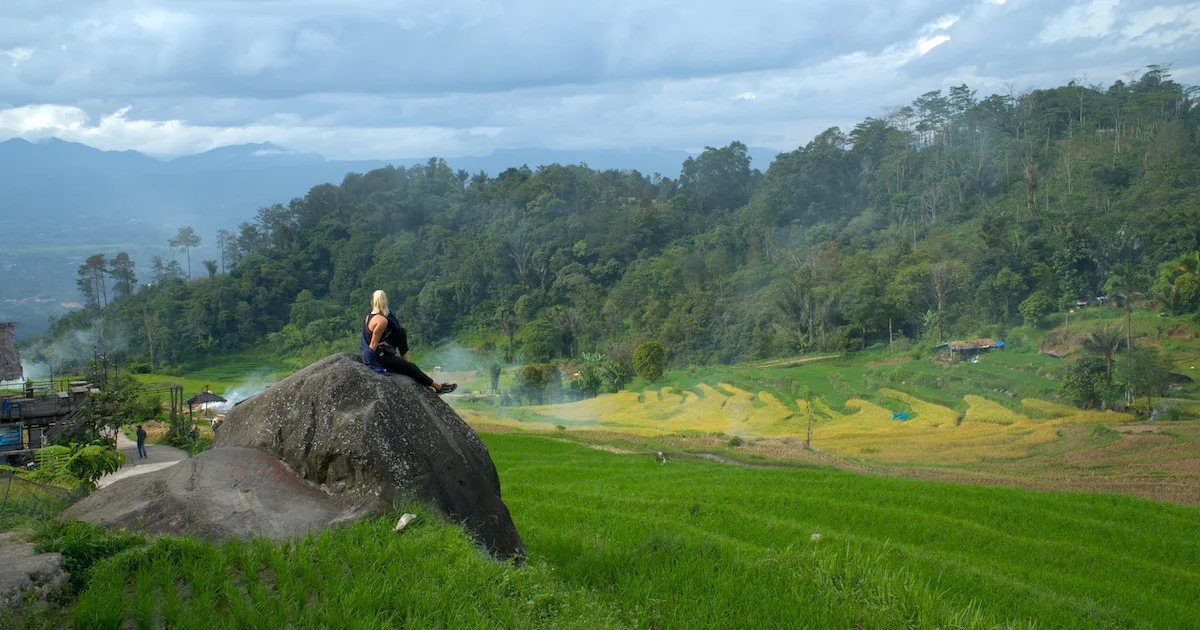 Ah, the Sikabu rice terraces… I can't think of a dreamier day trip from Harau Valley.
This underrated spot is only well-known among regional tourists and locals, but I can see it becoming more popular with international tourists soon.
Bordered by just a couple of small, fashionable coffee shops, the Sikabu rice terraces are populated by just a few water bulls, birds, and farmers. Watching the farmers at work and the bulls' ears flapping while you sip on a cup of tea is just fantastic.
I visited the Sikabu rice terraces during Ramadan and my friend and I had the whole coffee shop at Bumi Sikabu to ourselves.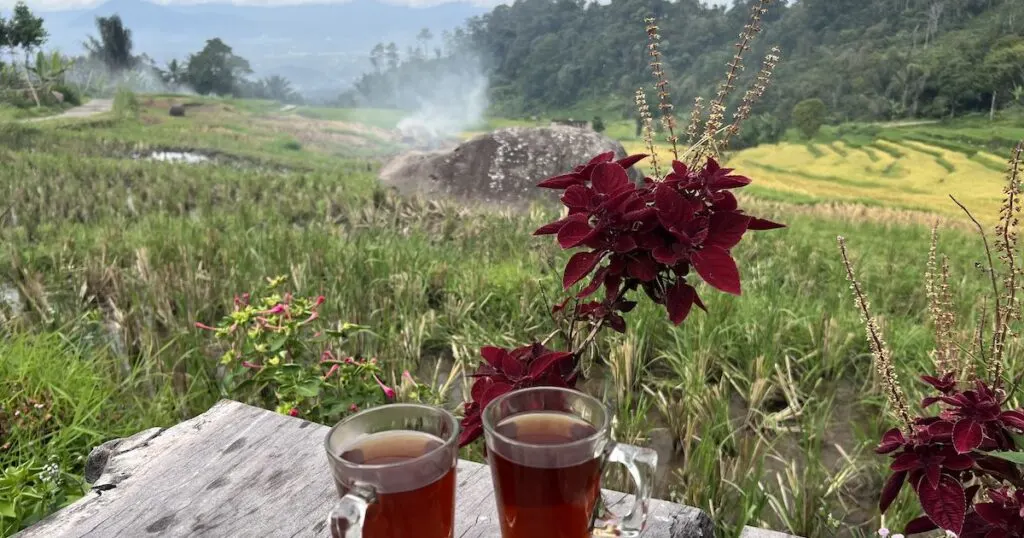 The only other people were the workers and a little boy who we helped get his kite out of the unyielding grip of a tall palm tree alongside the road.
8. Visit Kelok 9
You thought that a road couldn't be a tourist attraction? Kelok 9 will prove you wrong.
This highway, which consists of nine sharp turns, weaves through the east entrance to the valley.
I guess you could say that Kelok 9 was the first attraction I experienced in Sumatra. Just as the sun was rising during the morning of my 15-hour overnight bus ride from Damai in east Sumatra to Padang in west Sumatra, I opened my eyes and found the bus twisting and turning between the tall, forest-clad cliffs. I thought, 'Sumatra is really something'.
There are touristic viewpoints over the main bends in the road where you can take photographs. However, if you really want to see this attraction, I think that it is best experienced from a scooter or vehicle on the road.
9. Go for a drive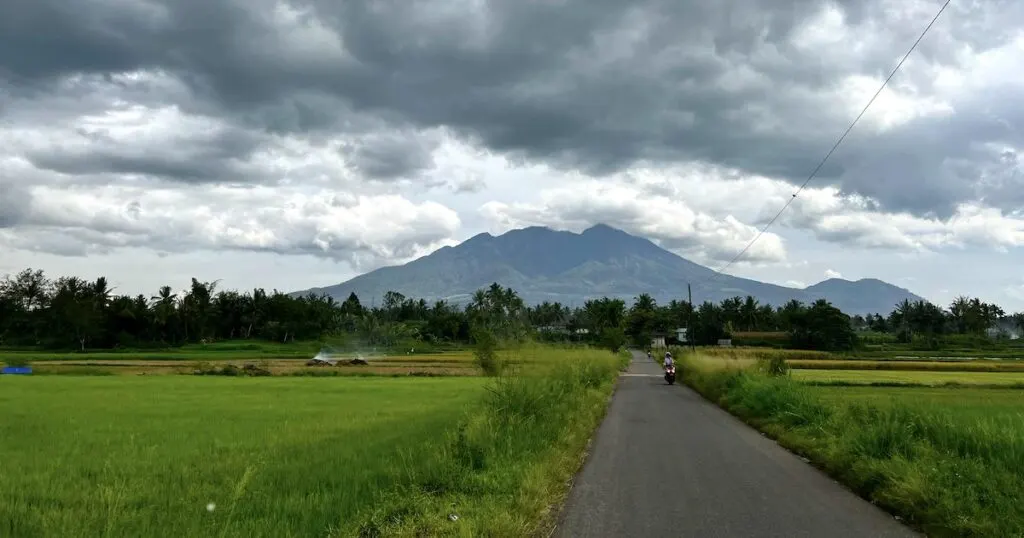 Something as simple as a drive is worth a whole afternoon or day of entertainment in the Harau Valley.
With a scooter, you're free to go anywhere: drive through the valley to see the many farms and villages or through the countryside towards Mount Sago and the Sikabu rice terraces.
One of my favourite afternoons was driving a round-about route to the Sikabu rice terraces, where I passed by some of the beautiful scenery I've seen in Sumatra.
There were nooks of rice terraces squeezed between forest and viewpoints over Payakumbuh and miles of paddy fields. It's never-ending.
10. Go bamboo rafting in Taram
Take a day trip to Taram village to try out bamboo rafting on a river surrounded by slopes covered in head to toe with forest.
The rafts are are strung together in the traditional way and propelled by a guide who uses a large bamboo pole. They depart from the river mouth, so ask the locals for Kapalo Banda.
There are also rubber dinghies and rubber rings for sale if you'd rather float around on a different form of raft.
Look out for the map of the nearby area, which will show you the route for a hiking trail which visits seven waterfalls. The trek is called 'Air Tejun 7 Tingkek'.
---
Reminder: Purchase travel insurance for your trip to Sumatra. If you get sick or injured, you will need adequate coverage. I recommend Staysure for single or multiple trips per year and SafetyWing for digital nomads.
---
11. Go rock climbing
Rock climbing in the Harau Valley is for experienced outdoor climbers only, as there aren't any climbing centres which provide rock climbing tours at the moment.
As Harau Valley is an offbeat travel destination in Sumatra, it's very likely you won't be competing with crowds of other climbers.
Most likely, you'll have the views of the sandstone, rice terraces, and mountains all to yourself.
Helpful resources for rock climbers include:
Places to Visit After Harau Valley
1. Bukittinggi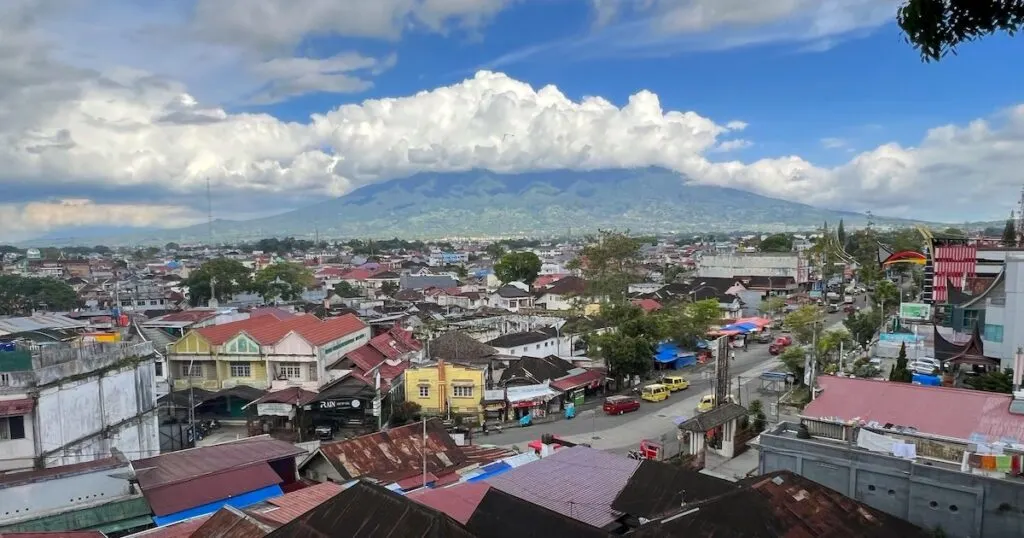 Cradled between two volcanoes, Bukittinggi is one of the best places to soak up the culture in west Sumatra.
The traditional markets and street food will occupy your mornings and evenings, while hiking Sianok Canyon and visiting a network of underground tunnels dug out under the order of the Japanese during World War II will occupy your afternoons.
Check out my full guide to the best things to do in Bukittinggi.
2. Maninjau Lake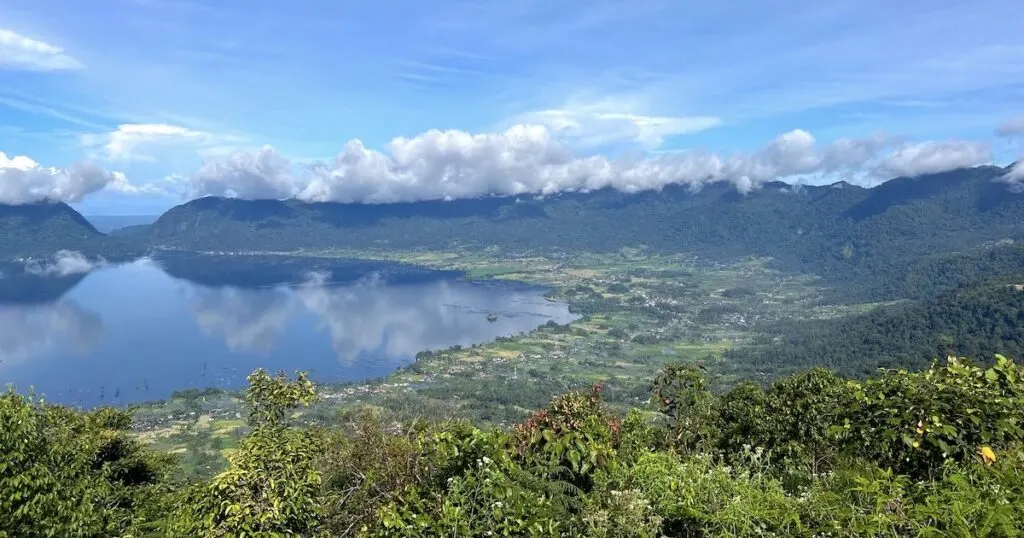 I bet you haven't seen a lake like this before. Formed by a long-ago volcano eruption, this small crater lake is surrounded by a bowl of rice terraces and fishing villages where life goes by at a lazy pace.
Take a pedal bike around the lake, explore the hikes in the area, and check out the viewpoint from Puncak Lawang on the hills above.
Check out my full guide to Maninjau Lake and the Puncak Lawang viewpoint.
3. Padang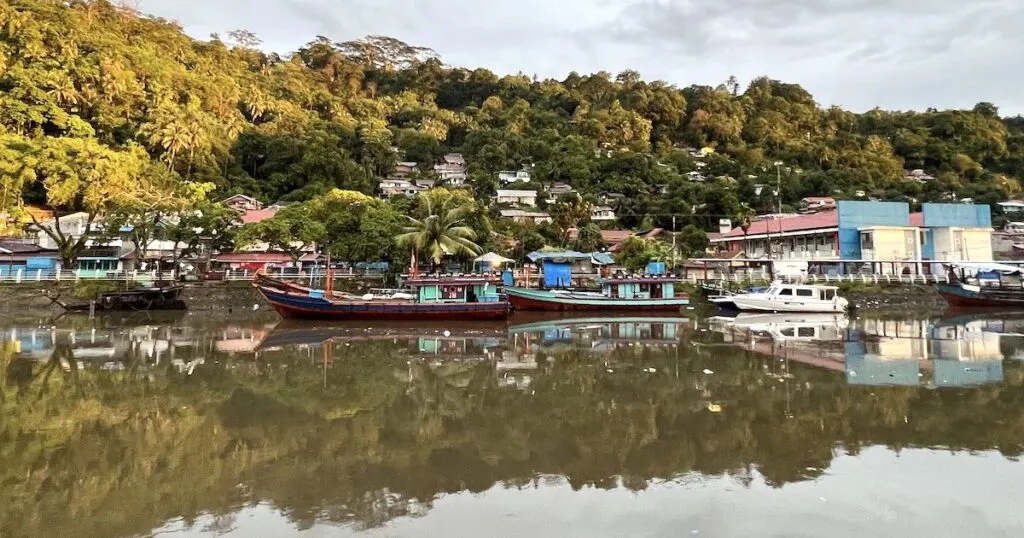 Padang is a verified foodie city. Many Sumatran and Malaysian dishes originate here, but it is most famous for the style of dining called nasi Padang (Padang rice), where diners must choose from up to 50 different local dishes.
Padang is your springboard to the surf camps of the Mentawai Islands; a ferry runs between the destinations several times per week.
---
Recommended reading:
---
---
Katie Treharne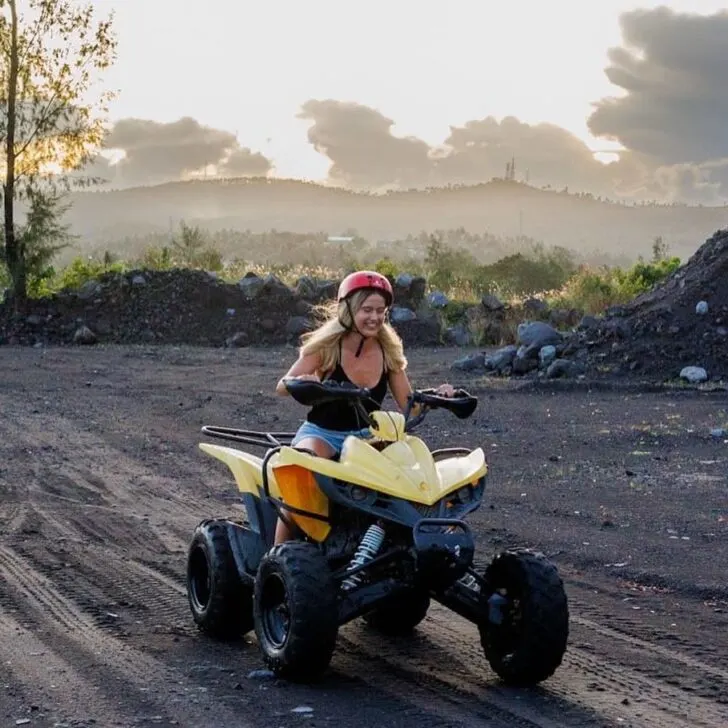 I'm Katie, the owner of Escape Artist Katie. I have been travel writing since 2018, including writing for luxury travel magazines and publications such as Wanderlust.
As well as being a digital nomad who works and lives abroad permanently, I'm a big advocate for offbeat travel and pushing yourself out of your comfort zone.
I hope you found my article useful – find out more about me here or keep up with my travels on Instagram.
---