It's nearly impossible to not feel impressed when you get your first glimpse of Maninjau Lake in west Sumatra. The 52,000-year-old crater lake, formed by a long-ago volcanic eruption, adds new meaning to the word breathtaking.
Unlike the famous Lake Toba in north Sumatra, which is the largest crater lake in the world, Maninjau is much smaller and therefore way more intimate.
The road around Lake Maninjau is only 50 kilometres long, making it possible to cycle around the shore in six hours or ride the loop by scooter in three hours. Peppered around the edge of the lake are mosques, fishing villages, and kilometres of rice terraces.
Visiting the Maninjau crater lake was my favourite experience in west Sumatra. I'd also say that it comes in a joint first-place with seeing orangutans in Bukit Lawang as my favourite experience on my entire Sumatra backpacking itinerary.
Before I delve into the best places to stay and the best things to do at Maninjau, open up some new tabs with my Harau Valley travel guide or the best things to do in Bukittinggi for more inspiration for your west Sumatra trip.
Disclosure: This post includes affiliate links. If you decide to click through and make a qualifying purchase, I will receive a small commission at no extra cost to you – thanks for your support.
Where is Maninjau Lake?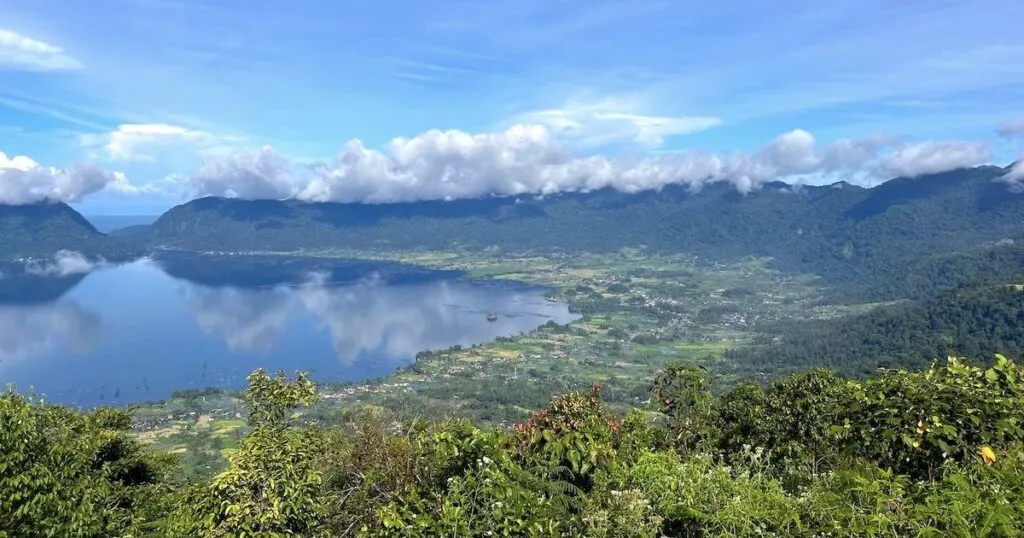 Maninjau Lake is in west Sumatra. Sumatra is the largest island in Indonesia, positioned adjacent to Malaysia and northwest of Java. Hardly any tourists visit the island compared to Bali, Lombok, and Java.
The lake is contained within a crater which was formed millions of years ago. The crater is located approximately 30 kilometres west of the city of Bukittinggi, which is the third-largest city in west Sumatra,
The lake is easiest to get to from Bukittinggi, Pakayakumbuh and Harau Valley, and Padang.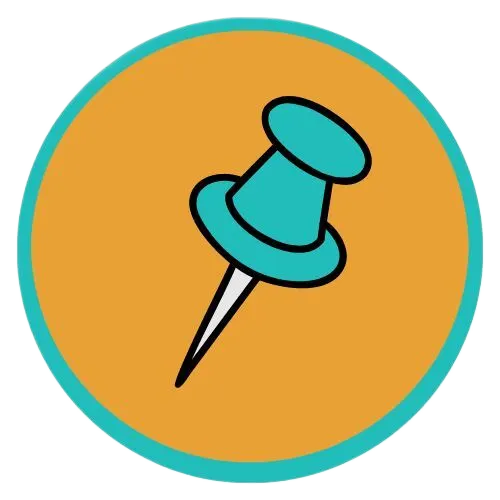 ASIA CHEAT SHEET
I've lived and travelled in Asia for over one year. These are the booking resources I return to time and time again.
Book your flights direct with AirAsia – my favourite money-saving hack.
Book accommodation on Booking.com or Hostelworld.
Find a tour or experience on Get Your Guide.
Travel the world for free with TrustedHousesitters.
Is Maninjau Lake Worth Visiting?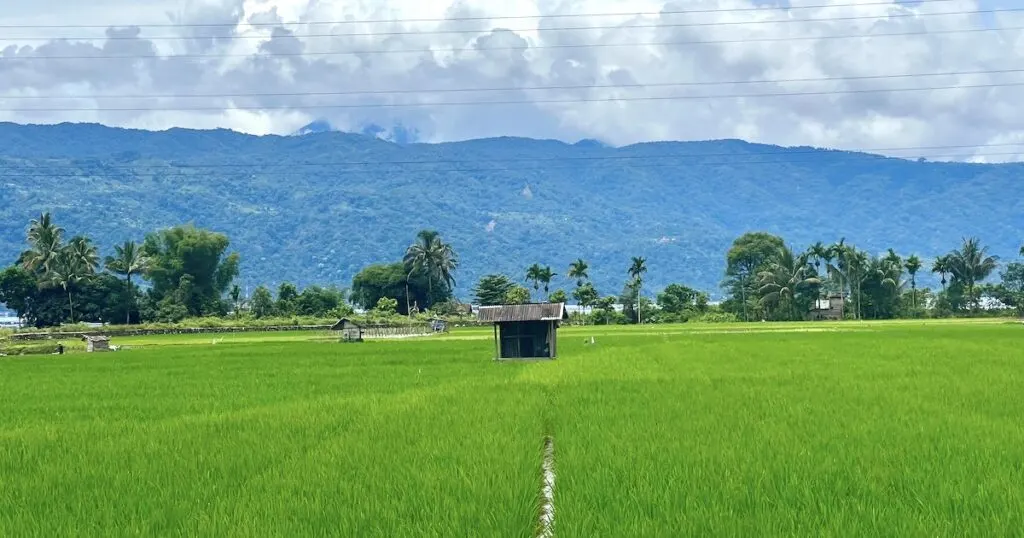 You can't swim in Lake Maninjau. Instead, you'll spend most of your time on the shore, either relaxing, exploring the fishing villages, cycling or walking, or eating.
As the first President of Sumatra said (in rough translation) in his poem, 'Do not come to Minang lands if you do not stop at Maninjau'.
If you're into sketching, painting, or writing, this is absolutely the place to do it. There's inspiration everywhere.
If you're a backpacker or traveller who prioritises places where you can easily chat to locals, this is also a good location. While cycling around the lake, I was happily swarmed by a group of school kids wanting to practice their English. I was also invited by fishermen to try using their fishing rods.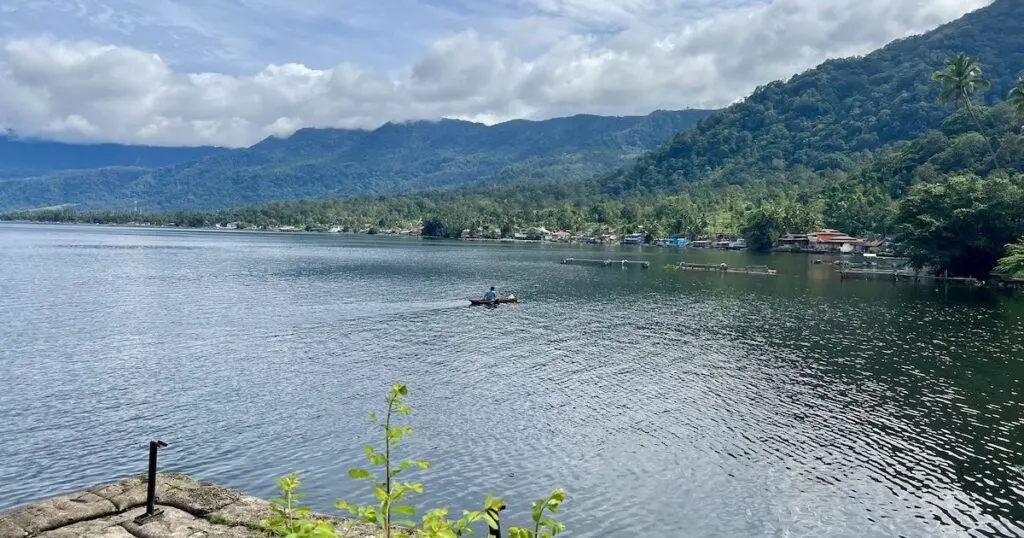 Many villagers were very curious to see two blonde-haired foreigners cycling the length of the lake (especially with rain clouds brewing towards the end) and stopped to chat and ask us questions in bewilderment.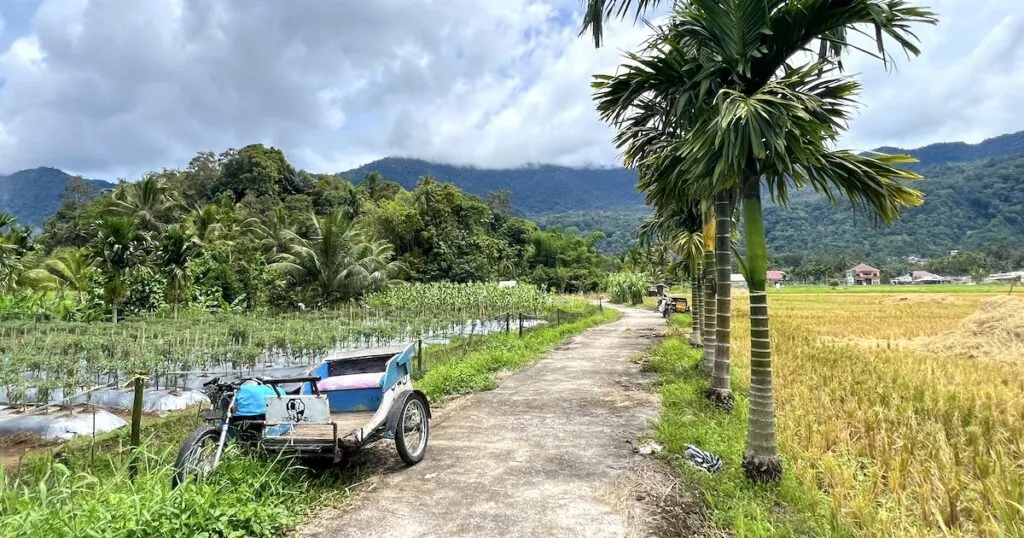 In short, Maninjau is worth visiting for:
Relaxation and rest.
Cycling or riding a scooter around the lake.
Meeting friendly locals.
Eating local food.
Scenery like mosques, rice paddies, fishing boats, and riverside parks.
Trips to Puncak Lawang, the viewpoint above the lake.
Exceptional sunsets.
A Short History of Maninjau Lake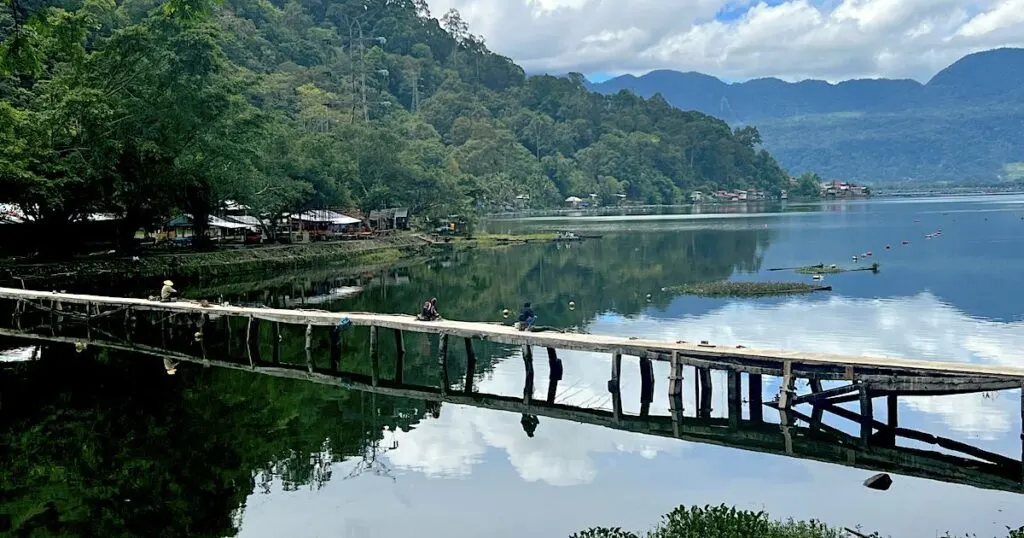 The crater of Maninjau was formed over 52,000 years ago, although the precise date remains unknown.
Before 1998, tourists and locals could swim in the lake. Sadly, after a series of natural disasters struck Sumatra, tourism suddenly declined.
The locals had to find other forms of income. Fish farms were set up so that villagers could extract two valuable seafood products from the lake: pensi, a small mussel, and palai rinuak, a small fresh fish.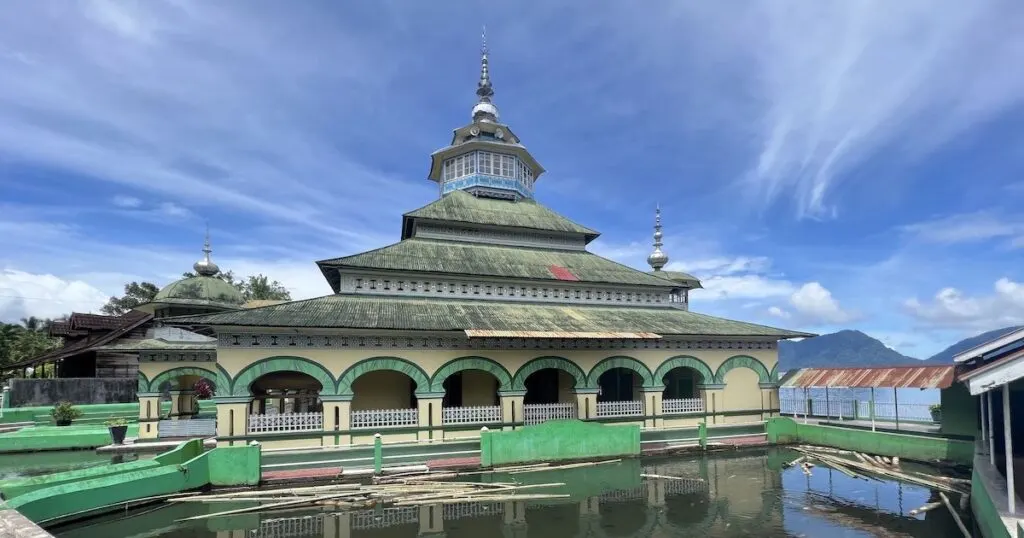 Aquaculture has been used since 1992 but accelerated during this time. Sadly, the water quality has declined as a result. In the words of a local Bukittinggi man I met, the water will make you 'itchy' if you swim in the lake.
The main villages around the lake are Maninjau village and Bayur village, which are predominantly occupied by Minangkabau people.
How to Get to Maninjau Lake
The easiest way to get to Maninjau Lake is by travelling by bus from Bukittinggi. There are local minibuses, which have a set price, or tourist minivans, which you'll need to haggle for.
I travelled directly from Harau Valley to Maninjau. After taking the local bus from Payakumbuh to Bukittinggi, I was dropped on a street corner in Bukittinggi where the tourist minivans were waiting.
We haggled a one-way price of 30k per person for four people, down from their initial price of 50k per person.
I've heard that the local bus, which runs from the Aur Kuning terminal in Bukittinggi, is less expensive (around 15-20k per person). A private taxi is, of course, the most expensive option.
You can't travel directly to Maninjau from Padang. You will need to switch to a different bus in Bukittinggi. The buses don't leave for Maninjau Lake in the late afternoon or evening, so plan your itinerary accordingly.
How to Get Around Maninjau Lake
1. Scooter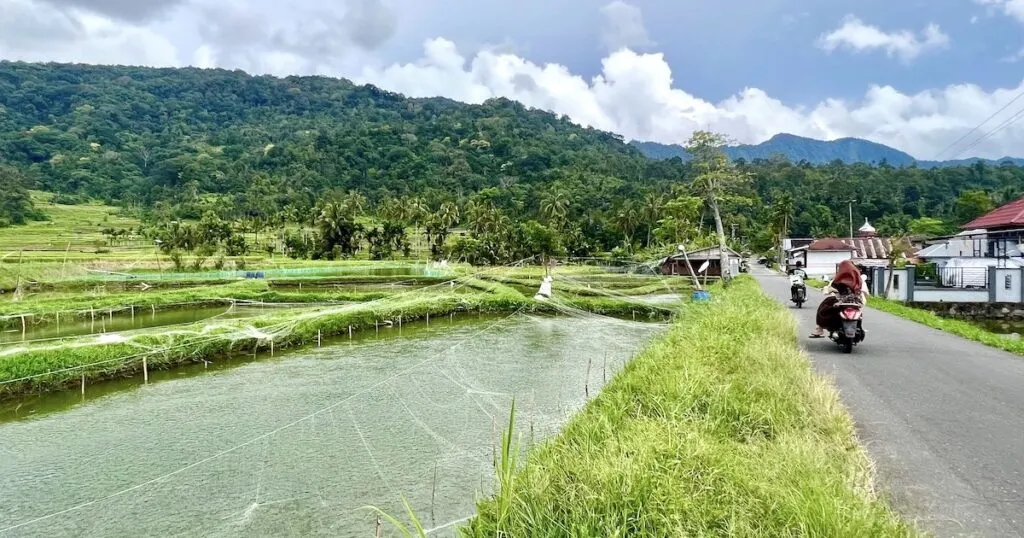 The best way to get around the lake is by scooter. Scooter rental in Maninjau should cost approximately 100k IDR per scooter per day.
The main road around the lake is well-kept and mostly flat with a few small hills on the remote western edge.
There isn't much traffic around the lake either, making it safe for cyclists or scooter riders. There are some cars and trucks passing along the main stretch between Maninjau village and the north of the lake, but after that, you will share the road with predominantly scooters and a few rare cars.
2. Pedal bicycle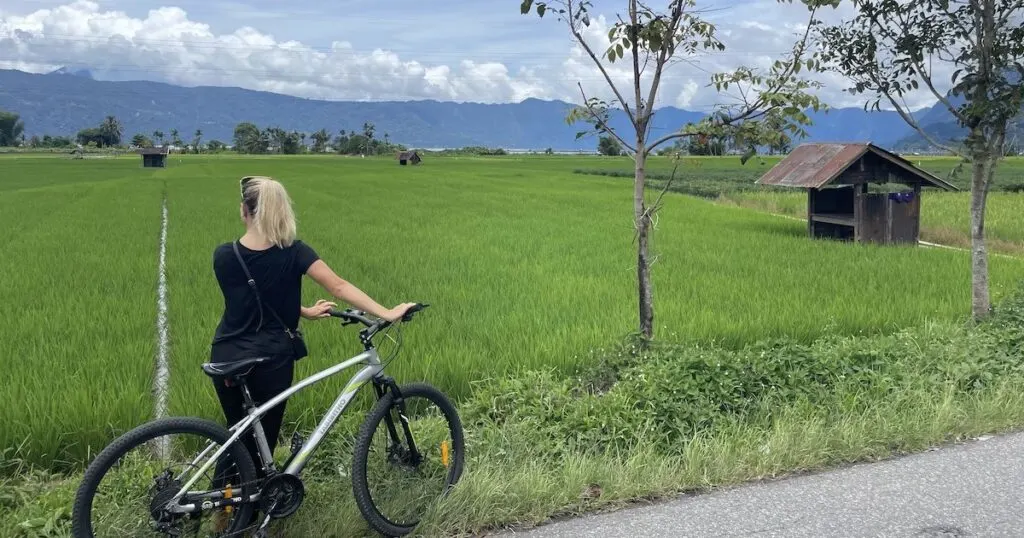 The road around Maninjau is 50 kilometres long, so it's possible to cycle around the whole lake in around six hours. A bicycle is also handy for exploring the immediate area around your accommodation.
Bicycle rental is the most affordable form of transport for the lake. I rented bicycles from Beach Guesthouse for 60k IDR per bicycle.
3. Car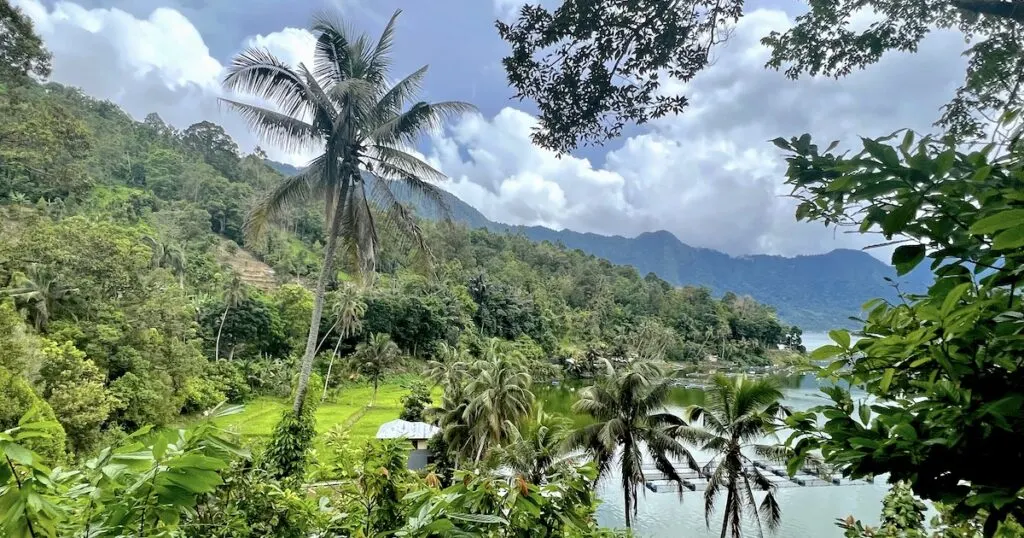 Unless you are already travelling Sumatra with a rental car, travelling Maninjau by car will require a taxi.
Taxis are the most expensive option for getting around the lake. A car and driver for the day can cost anywhere between 250k and 300k IDR.
For 300k IDR, you should be able to convince the driver to take you to Puncak Lawang, the viewpoint above the lake.
If you want to include the wider region in your trip and visit places such as Puncak Lawang, Bukittinggi, and Koto Gadang in one day, a driver and fuel will cost 750k IDR.
Maninjau Lake Hotels: Where to Stay
There are three main places to stay at Maninjau Lake. The most popular place for foreign tourists is Beach Guesthouse.
1. Beach Guesthouse
Beach Guesthouse is the most popular place to stay at Maninjau Lake. Located directly alongside the lake in the main village, it has a lakeside restaurant terrace and comfortable but basic rooms.
Expect to see spectacular sunsets every evening and listen to the call to prayer reverberating across the lake while you tuck into your dinner. Restaurants, waterfalls, and hot springs are within walking distance of the rooms.
The guesthouse can arrange bicycle or scooter rental, tours, and taxis. I can't fault my stay at Beach Guesthouse, although the rooms are basic and have basic toilet bowls without a proper toilet seat.
2. Eka's Bungalows
Eka's Bungalows, also known as the Muaro Beach Bungalows, is another popular choice in the main village. Just like Beach Guesthouse, it is located on the lakefront and has a restaurant.
The accommodation at Eka's Bungalows is made up of wooden bungalows. They're consistently given five-star ratings, which is always a great sign. This is the second go-to accommodation option for international tourists.
3. Hotel Maninjau Indah (The Lakeside Resort)
There is one resort with a swimming pool at Lake Maninjau. The swimming pool is outdoors and has magnificent views over the lake.
For a 'resort', the rooms are fairly basic. However, if you want to stay somewhere where you can swim, it's a great option. Compared to the Beach Guesthouse, you also get the luxury of a proper toilet.
If you're only visiting Maninjau for the day from Bukittinggi, you have far more options as to where to stay. There are also far more luxury hotels in Bukittinggi.
Check out the best options in Bukittinggi:
Things to do at Maninjau Lake
1. Drive down the Kelok 44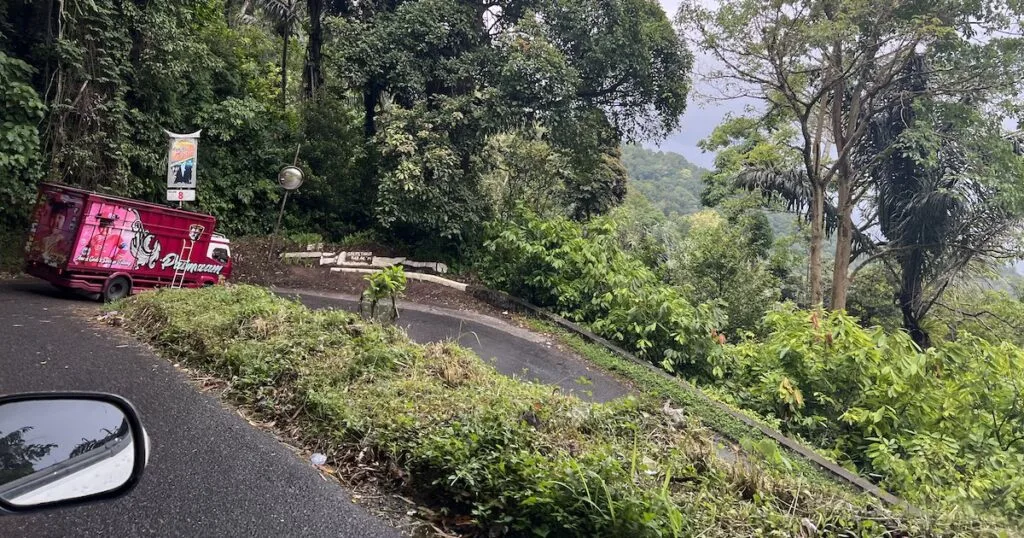 Technically, you can't get to Maninjau Lake without passing through Kelok 44 unless you're taking a very long route from Padang. Kelok 44 is a series of 44 famous hairpin road bends which weave sharply downhill towards the lake.
The road is some people's worst nightmares, and for others (including those who have had the forethought to pop a couple of travel sickness pills), it's a great thrill.
The higher sections of the road are lined with coffee shops and warungs where you can stop for a drink and meal to enjoy the view over the lake or watch the cars and scooters navigate the sharp turns.
Of course, these coffee shops are best visited when you're ascending Kelok 44 rather than descending because you might not want to eat or drink too much before you've finished navigating the majority of the bends.
2. Cycle around the lake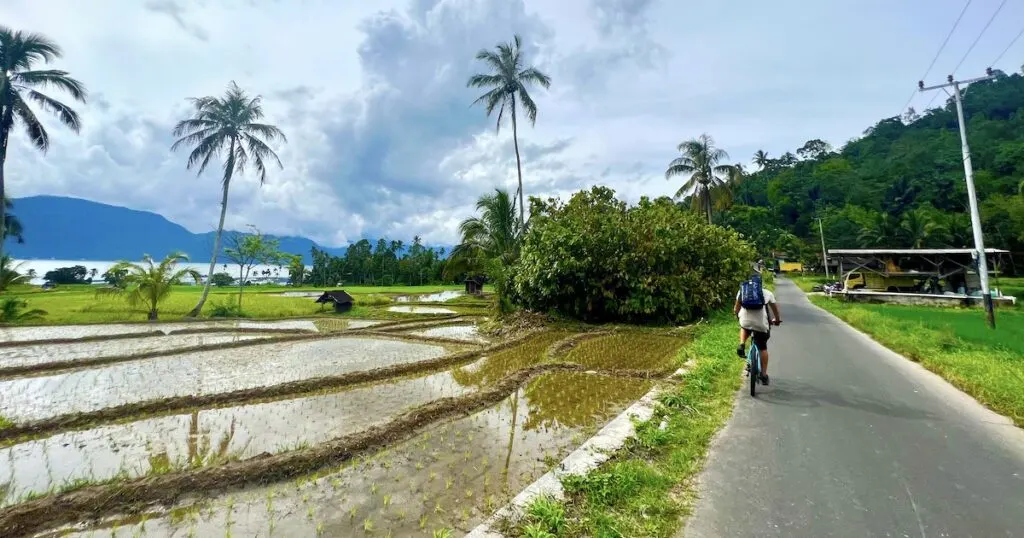 My favourite memory of Maninjau was the day I rented a pedal bicycle and completed the 50-kilometre loop around the lake.
The lake is surrounded by paddy fields, fishing villages, mosques, and lakeside parks where you can watch the local fishermen in their boats.
There are shops the entire way around the route, although they thin out on the western shore of the lake where there are only smaller villages. Restaurants are mostly gathered around the main villages on the north and west of the lake.
The road is mostly flat with a few small hills around the western and southern sides of the lakes. I'm not a regular cyclist but I lift weights 4-5 times a week and found the route challenging only around the eastern and southern slopes.
With plenty of stops for rests, refreshments, and chats with the villagers, cycling the entire lake should take you between 6 and 8 hours. Bicycle rental costs 60k per person per day.
3. Visit Puncak Lawang, the Maninjau Lake viewpoint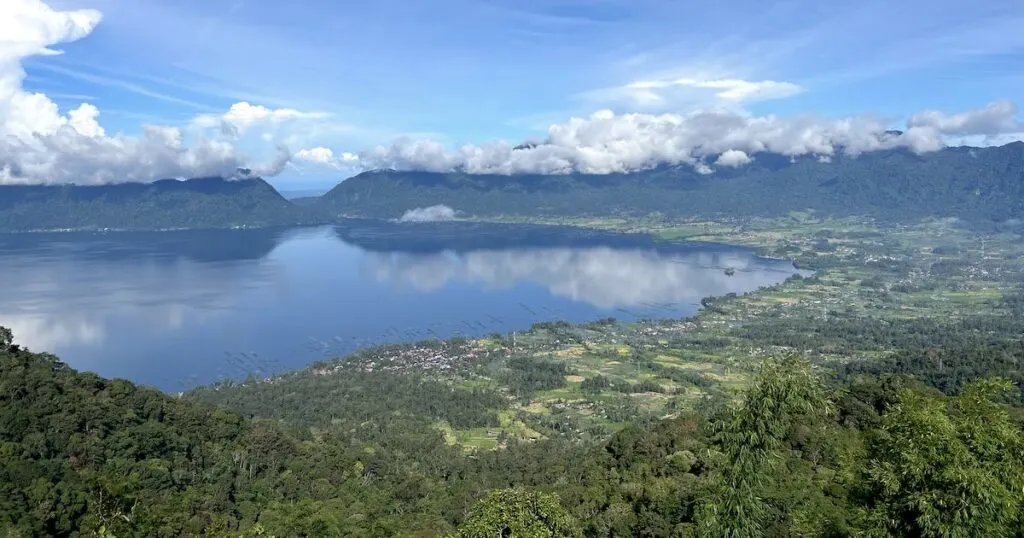 Exploring the inside of the Maninjau crater, but visiting Puncak Lawang gives you an additional birds-eye point of view.
From the hills above the lake, you can really soak up the full magnitude of the lake and admire the belt of sloping fruit and spices trees around the top of the crater too.
Puncak Lawang is half an hour's drive from Maninjau village, past Kelok 44. The hilltop site has been transformed into quite the tourist stop; it has a coffee shop with a terrace and rows of benches. There are also opportunities for paragliding (if the team is on site and willing to do it).
Check out my guide to Puncak Lawang for the best times to visit, how to get there, and the entrance fees.
4. Try palai rinuak
Palai rinuak is Maninjau's most famous food. The small fresh fish is caught in the lake and traditionally fried and served with coconut and spices before being wrapped in a banana leaf. It has a thick consistency.
Look out for the dish at the markets surrounding the lake. It's quite a specialty and fairly expensive, so you may need to haggle for a good price. Dried fish can be taken away as a souvenir too.
5. Watch the fishermen from Linggai Park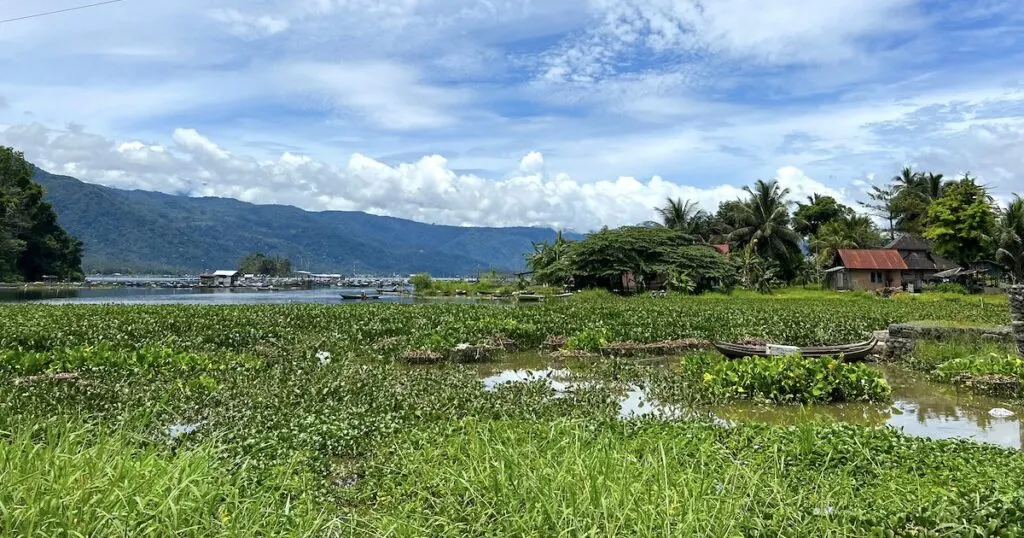 There are lots of small, waterfront parks around the lake used by locals to relax and socialise. Linggai Park is one of the best.
The main part of Linggai Park has large, touristic signposts and nothing much of interest aside from toilets and a brick wall.
However, just before the main tourist area, there's a small collection of round benches overlooking a shallow bay where you can watch the fishing boats make their rounds in the morning. This is a good place to relax.
6. Visit Bayur Central Mosque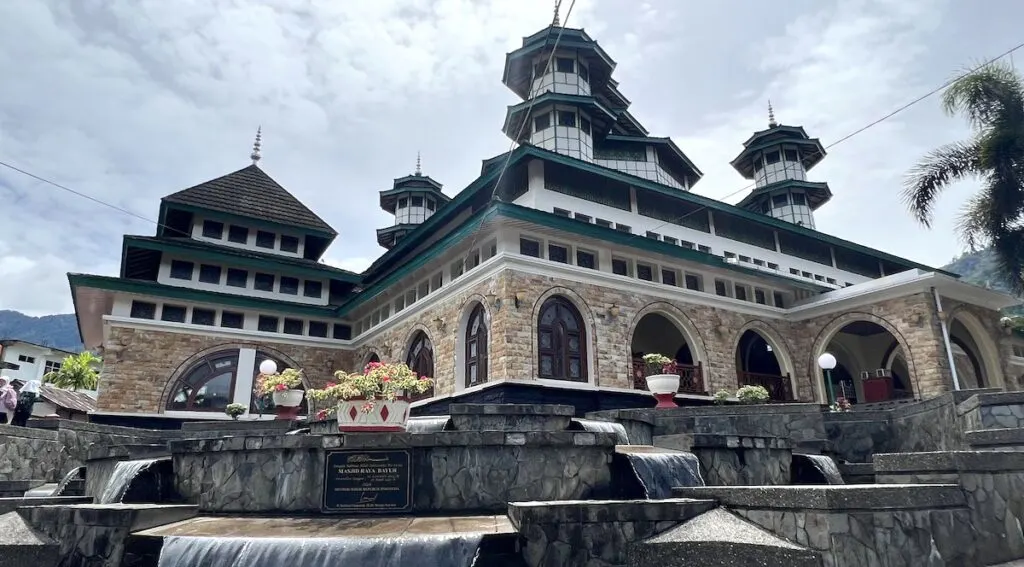 The lake is surrounded by mosques of all different colours, shapes, and sizes. The Bayur Central Mosque is considered to be the most impressive of them all.
The architecture of the mosque combines the tiered roofs of traditional Minangkabau houses with the four towers of pagodas in Buddhist countries such as Thailand.
In the courtyard of the mosque, there is a tiered fountain, a fish pond, and areas for worshippers to carry out wudu (the washing before prayer).
7. Explore the villages on the western shore of Maninjau Lake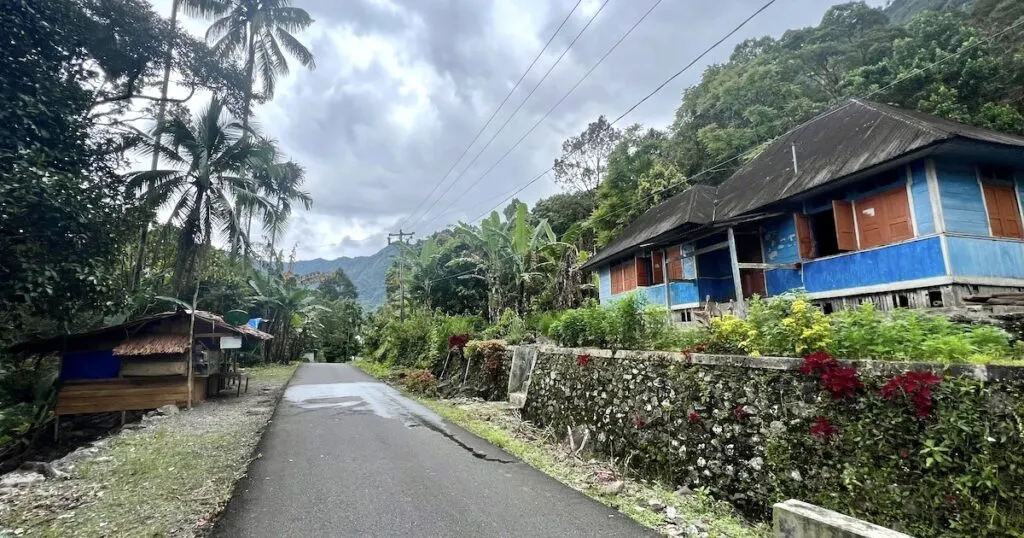 The western shore of Lake Maninjau is the remotest part of the crater. Life is simple and slow-paced. Villagers mainly work in the fishing industry.
The villages have houses, mosques, and a few small, local stalls selling essentials.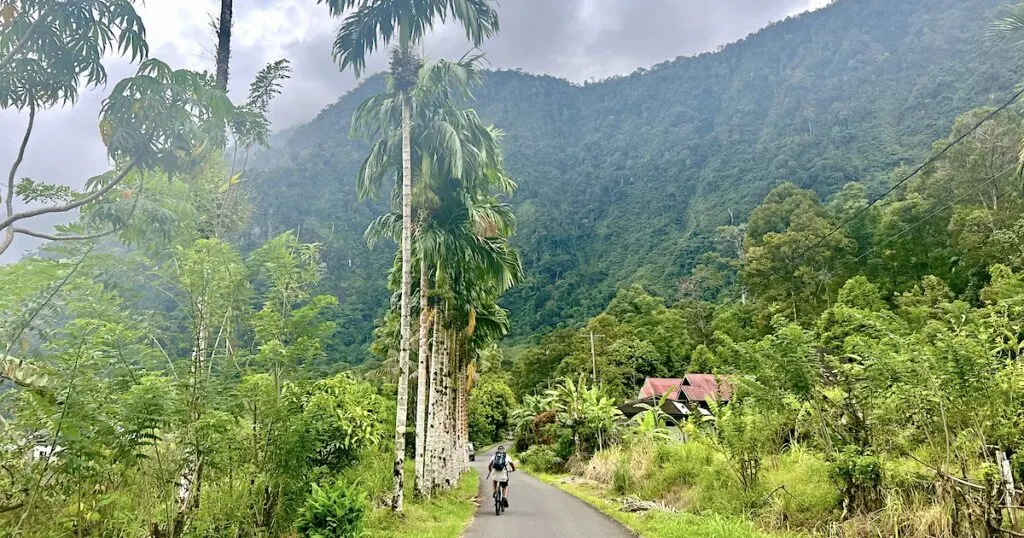 The hilly stretches around this part of the lake are great for cycling or hiking on the road. This side of the lake also has scenery which is slightly different from elsewhere around Maninjau.
There are sheer, steep ridges towering over the western shore of the lake, which reminded me of Hawaii or Madeira in places.
The villages along this stretch are called Sungai Tampang, Sigiran, Muko Jalan, Batu Nanggai and Galapuang.
8. Visit Museum Rumah Kelahiran Buya Hamka
Museum Rumah Kelahiran Buya Hamka is the lake's only museum. Located in Pandan, it's easy to cycle or scooter to (although, note that there is a long hill on the way if you're cycling in the direction from Maninjau village).
The museum is based in the former home of Buya Hamka, an Indonesian Muslim novelist born in 1908. The museum is therefore dedicated to his life and writings.
9. Go jungle trekking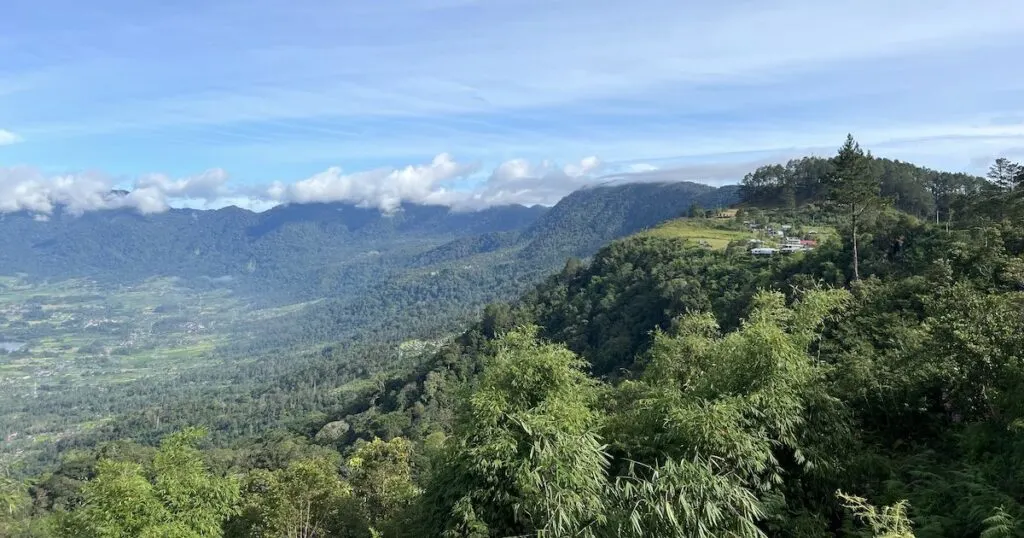 Jungle trekking tours can be arranged from Maninjau Lake. They don't take place within the crater, but rather around the area of Puncak Lawang and Sakura Hill. There used to be a trail from Maninjau village to the top of Puncak Lawang, but I'm not sure how accessible it is. Ask your guide.
10. Visit the hot springs
In the main village of Maninjau, there are hot springs called Aia Tigo Raso. The springs are only small, but some locals claim that they can cure sicknesses. There is a signpost to the springs from the main road.
Tours near Maninjau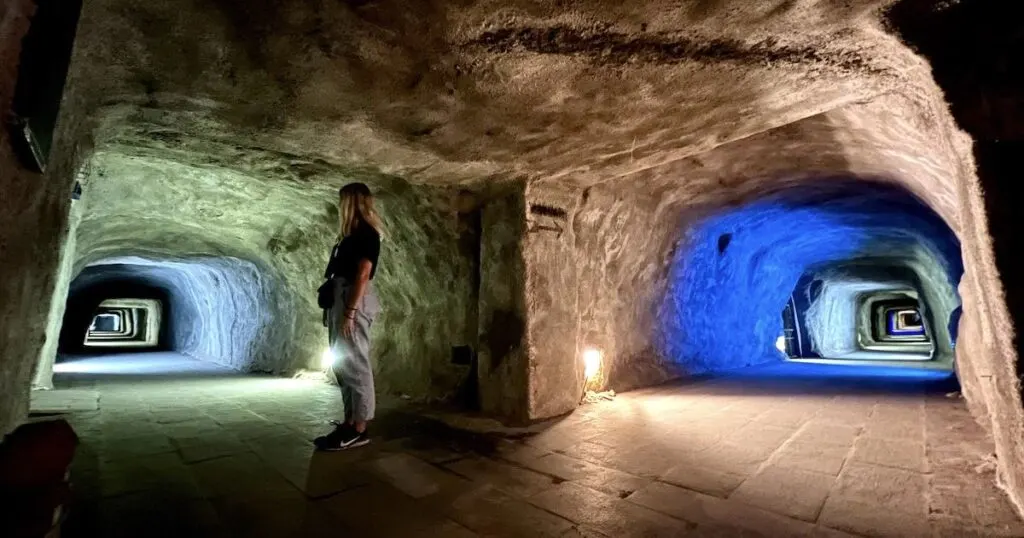 Japanese Caves in Bukittinggi, West Sumatra
Tours of Maninjau and the surrounding area are best when they are arranged through your accommodation. At the moment, there are not a wide variety of tours available online.
There are, however, a small selection of multi-day tours bookable online around the wider west Sumatra:
Popular tours in north Sumatra, the more touristy side of Sumatra, can be booked online on GetYourGuide or Klook.
Places to Visit After Maninjau Lake
1. Bukittinggi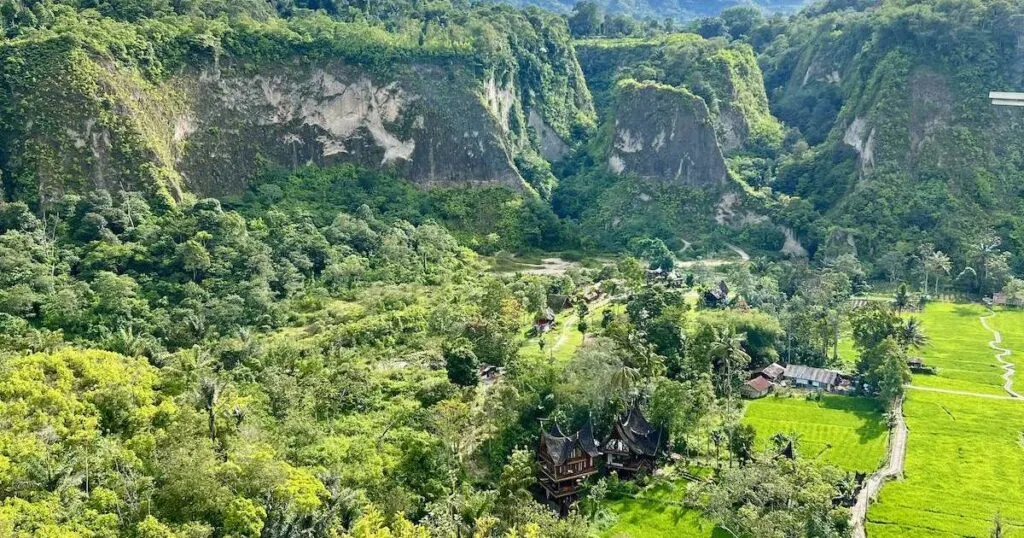 You have to go through Bukittinggi to get to Maninjau, but by no means should you pass through without staying for at least a night or two.
Bukittinggi is one of the most interesting cities in west Sumatra. It has a huge, impressive canyon with its very own 'Great Wall' on one side. There are also World War II tunnels, which are accessible by paying a small fee.
On top of that, this is one of the best places in Sumatra to try Minangkabau cuisine, visit traditional markets, and try west Sumatran street food.
Check out the best things to do in Bukittinggi.
2. Harau Valley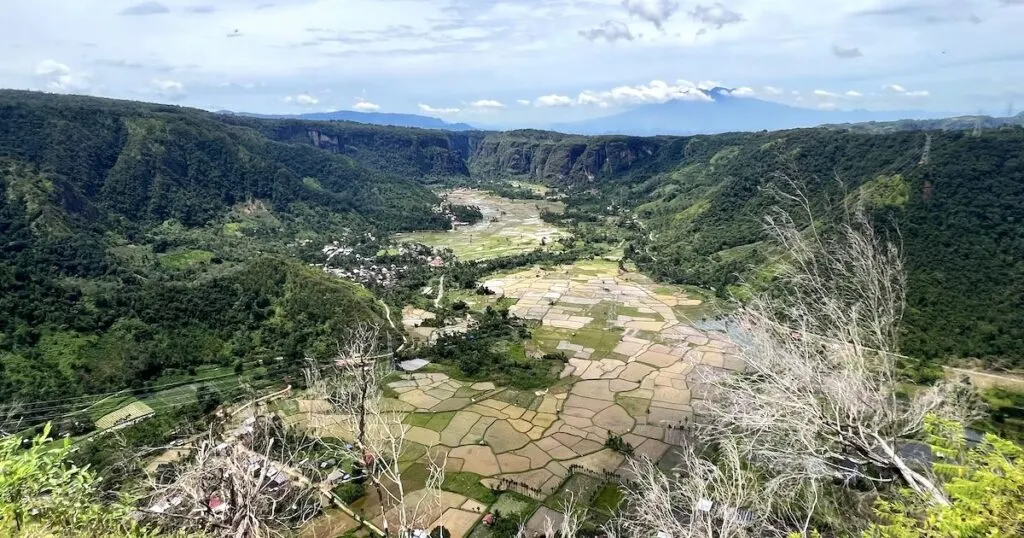 If you liked Maninjau Lake, you will probably love the Harau Valley. Located on the other side of Bukittinggi, the valley is a peaceful rural area with tall sandstone cliffs, waterfalls, and impressive treks.
Harau Valley is brilliant for active breaks but just as good for enjoying the sweet life, sunsets, and eating home cooking at feel-good homestays.
Check out my Harau Valley travel guide.
3. Padang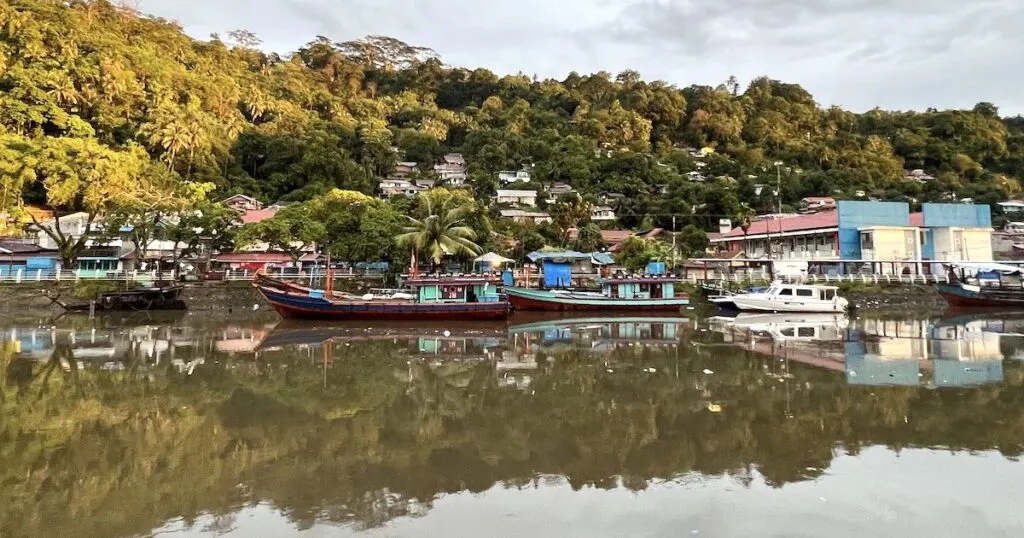 Padang is the gateway to the Mentawai Islands, a surfing hotspot. It's also the largest city in west Sumatra and very well known for its food delicacies. It has a Chinatown and several great sunset beaches – really, what doesn't it have?
---
Suggested reading:
Sumatra backpacking itinerary: an in-depth guide to travelling north and west Sumatra.
What to wear in Sumatra: get your hands on a free packing list and tips on what to wear depending upon your location.
---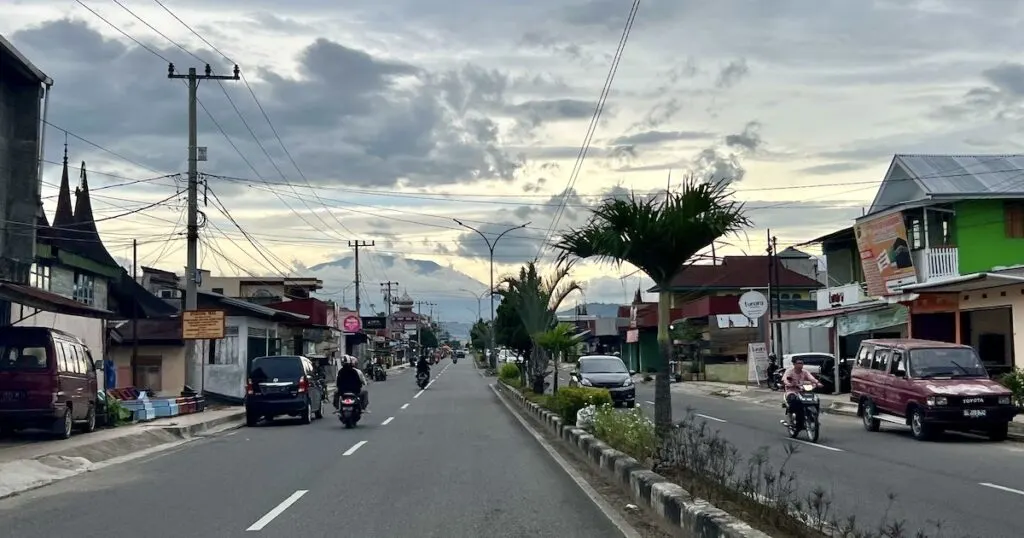 Booking flights to Sumatra using AirAsia is my favourite money-saving hack. Booking directly with the airline ensures that booking websites don't take a chunk of your money.
---
Katie Treharne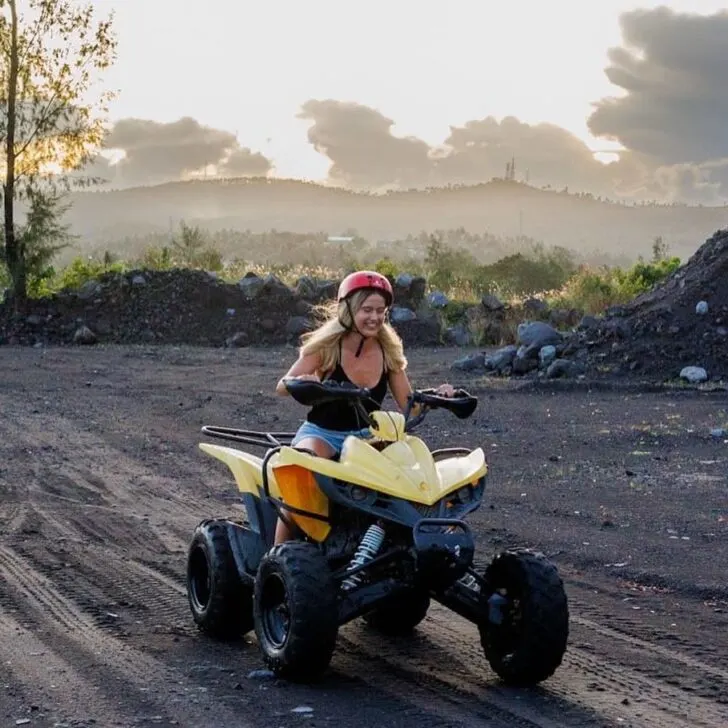 I'm Katie, the owner of Escape Artist Katie. I have been travel writing since 2018, including writing for luxury travel magazines and publications such as Wanderlust.
As well as being a digital nomad who works and lives abroad permanently, I'm a big advocate for offbeat travel and pushing yourself out of your comfort zone.
I hope you found my article useful – find out more about me here or keep up with my travels on Instagram.
---