What is the first thing you need to know about finding the best food in Kerala district? The cuisine can shift and innovate over the space of a few miles. One moment, you might be feasting on mouthwatering dishes from the Moplah cuisine such as chatti pathiri, layered savoury pancakes. The next, you might be digging into spicy karimeen pollichatthu fresh from the backwaters around you or toddy-infused kallappam rice pancakes savoured by the Syrian-Christian community. With so many different terrains, climates, and cultural influences, the Kerala cuisine can vary significantly from one district to the next.
If one thing can be said of the food of Kerala state, it's that it is light, healthy, and tastefully seasoned. The state is known both as 'the land of spices' and 'the land of coconuts'. With spice and tea plantations in the mountains, a huge network of backwaters, and access to the Arabian sea, food in Kerala is largely based around seafood, coconut, and spices such as chillies, turmeric, tamarind, and cardamom.
Compared to northern Indian states, chillies are used sparingly, black pepper is added generously, and green chillies are preferred over red chillies. There's little junk food to be seen in Kerala, and as a result, many neighbouring states compliment Kerala's locals as having glowing complexions.
Sampling the best food in Kerala district is about noticing the subtle differences from district-to-district. While many dishes are a staple across the entire state, there's always a different take on the same dish, influenced by the natural products available and the different communities living there.
In north Kerala, Malabar cuisine has Mughlai-Arab, Portuguese, British, French, and Dutch influences. In central and south Kerala, the Syrian-Christian cuisine includes coconut-rich dishes traditional to Kerala, injected with British, Portuguese, Syrian and Jewish flavours.
The following guide narrows down some of the best food to eat in Kerala and its different regions, as well as the types of food to expect, examples of tribal cuisine, food in Kerala houseboats, famous street food, and junk food in Kerala.
Types of Food in Kerala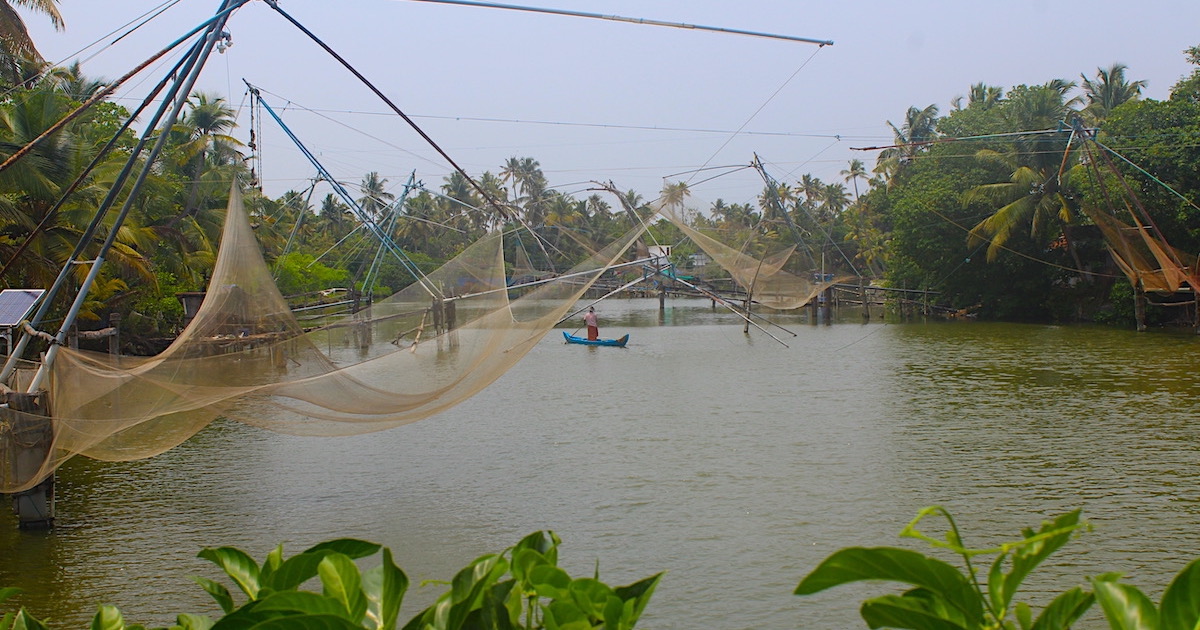 Lathered in spice plantations, tea plantations, and thick coconut groves, Kerala has the ideal climates for growing a large variety of tropical fruit and vegetables, as well as rice, tapioca, and coconuts. In the mountainous regions, tea leaves and spices also grow enthusiastically. When you consider Kerala's extensive backwaters and its position alongside the Arabian sea too, it's easy to see why the food in Kerala is largely based upon seafood, rice, coconut, and spices such as chillies, curry leaves, turmeric, tamarind, cardamom, clove, ginger, black pepper, asafoetida, and mustard seeds.
Rice and tapioca are the main starches used in Kerala's food. This has resulted in a a large variety of rice-based pancakes and pastries (sometimes mixed with tapioca starch too). Most curries are thickened using coconut milk, which balances out many of the spices, giving the food in Kerala less of a kick than in some of the other Indian states.
Non veg food in Kerala
With the help of huge 10-metre-high Chinese fishing nets suspended from teak and bamboo poles and bountiful fishing waters, Kerala has developed a prosperous fishing industry. As a result, seafood is a staple in the Kerala cuisine, especially when it comes to the Karimeen fish living in Kerala's backwaters.
Other non veg food in Kerala includes other seafood such as lobster and crab, chicken and red meat. As my guide explained, 'The cow is holy in the north. Here, cows are delicious'. While some Hindus, especially those in the upper castes, will not consume cow, many do.
Non veg food in Kerala includes:
Fish such as karimeen (pearl spot fish), vaala (belt fish), sardine, tuna, and mackerel.
Other types of seafood such as konju (freshwater lobster), crab, prawns, mussels, and squid.
Chicken
Beef
Pork
Veg food in Kerala
With such a wide variety of grains, fruits, and vegetables growing across India's southernmost state, and many traditional vegetarian dishes influenced by the large Hindu communities, there are plenty of vegetarian dishes to savour in Kerala. In fact, one of Kerala's traditional meals is Sadya, a vegetarian meal eaten on banana leaves and traditionally served in banquets or ceremonial occasions. Sadya-style meals are also served across restaurants and hotels, but especially in locals' eating joints.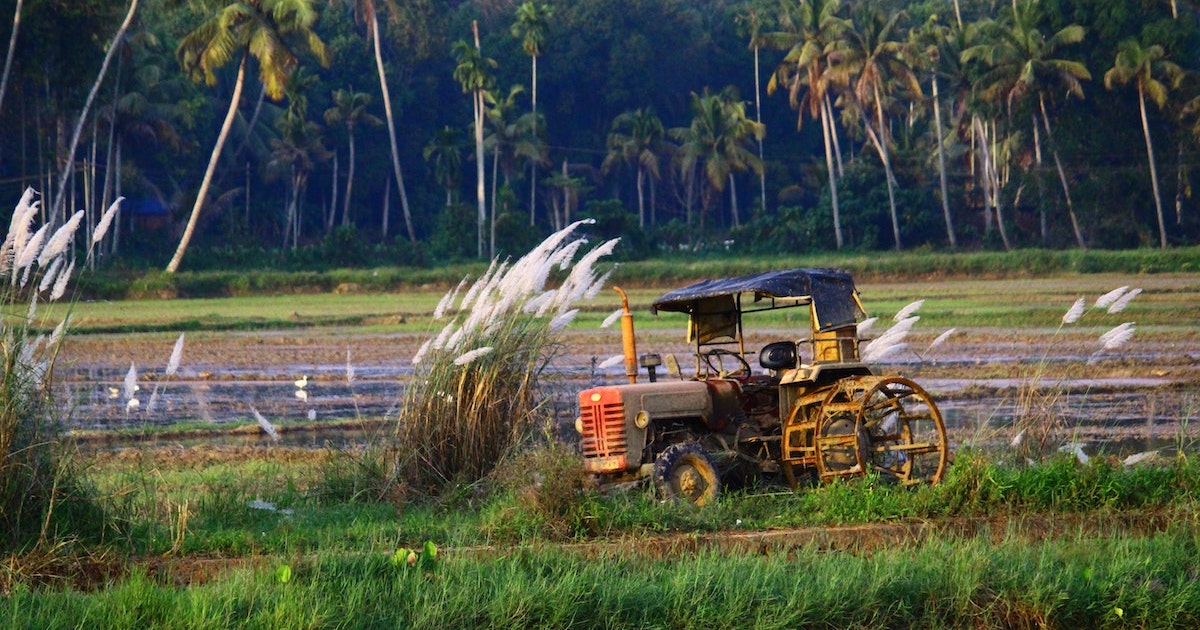 Veg food in Kerala includes:
Fruit such as pineapples, bananas (including red bananas), mango, papaya, cashew, custard apple, jackfruit, melon, and papaya.
Vegetables such as okra, yam, pumpkin, cucumber, spinach, snake gourd, tomato, and cauliflower.
Coconut milk and coconut shavings.
Rice varieties, which has resulted in many different rice-based pancakes or pastries.
Tubers such as potatoes, tapioca, yam, and cassava.
Wheat-based products such as parotta (flatbreads), chapati, and vegetable samosas.
Best Food in Kerala District: Malabar (North Kerala)
With the Western Ghats mountain range on one side and the Arabian sea on the other, the Malabar (or north Kerala) districts include Kasaragod, Kannur, Wayanad, Kozhikkode, and Malappuram.
Food in Malabar is quite distinct. Unlike in the south, it's common for Malabar food to be fried in ghee (cow's butter heated at low temperatures and strained) rather than coconut. This is due to the Portuguese, British, Dutch, Mughlai-Arab, and French influences on the food in north Kerala.
1. Thalassery biryani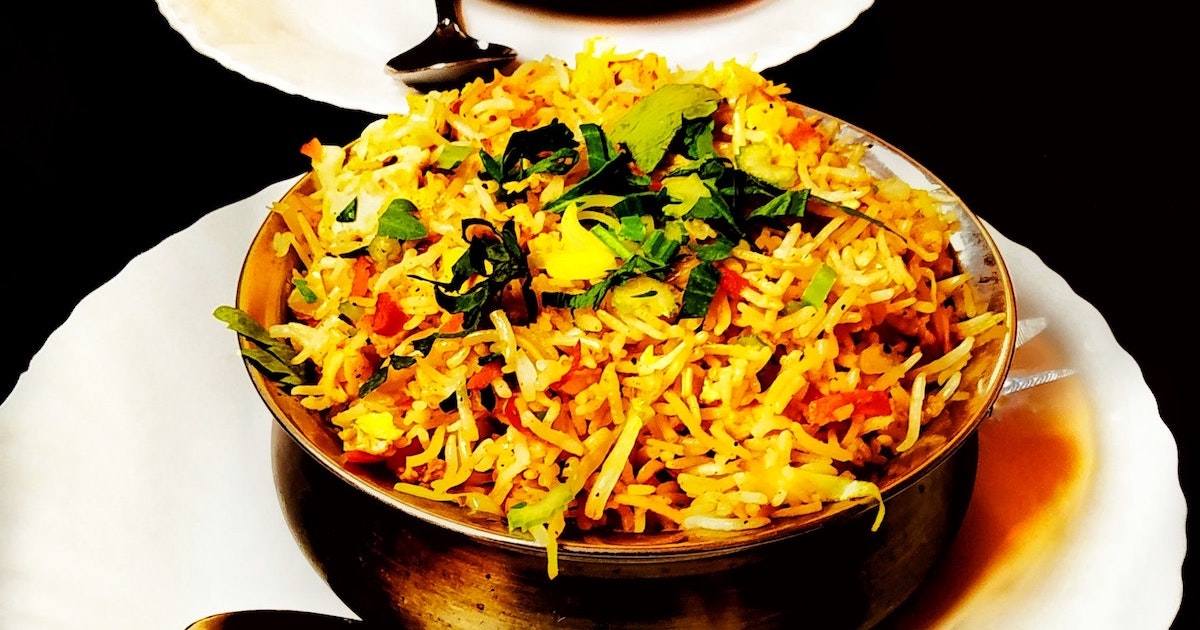 Biryani is a rich rice dish with saffron and vegetables, fish, or meat. Of Mughal origin and brought to Kerala by Muslim communities, Thalassery-style biryani still has a distinctly Malabari twist. The difference between Thalassery biryani and original biryani is that the contents are fried with ghee rather than oil and the dish uses a particularly slim and fragrant small-grained rice. The rice is also mixed with masala using a drum cooking method. Kappa (tapioca) is a common addition. The biryani may be made sweet or spicy and common variants include chicken, fried mussels, mutton, prawns, fish, or egg.
2. Muttamala
Visit someone's home in north Malabar for a special occasion and there's a good chance that they'll offer you some muttamala. Brought to Kerala by the Portuguese, muttamala is a sweet noodle of sorts, made from egg. The egg yolk is mixed with sugar and formed into narrow noodle-shaped pieces, while the egg whites are mixed with syrup and cardamom and steamed. You may find it served with cherries.
3. Chatti pathiri
One of the highlights of the Moplah (Muslim) cuisine in North Kerala is chatti pathiri, an assortment of slim egg pancakes layered over chicken or beef masala. Westerners might look at chatti pathiri and think that it's a lasagne. However, chatti pathiri is slightly sweeter than a lasagne due to the addition of raisins, fruits, and nuts. Muslim communities in north Kerala traditionally use this dish to break their fast during the month of Ramadan.
4. Malabar-style appam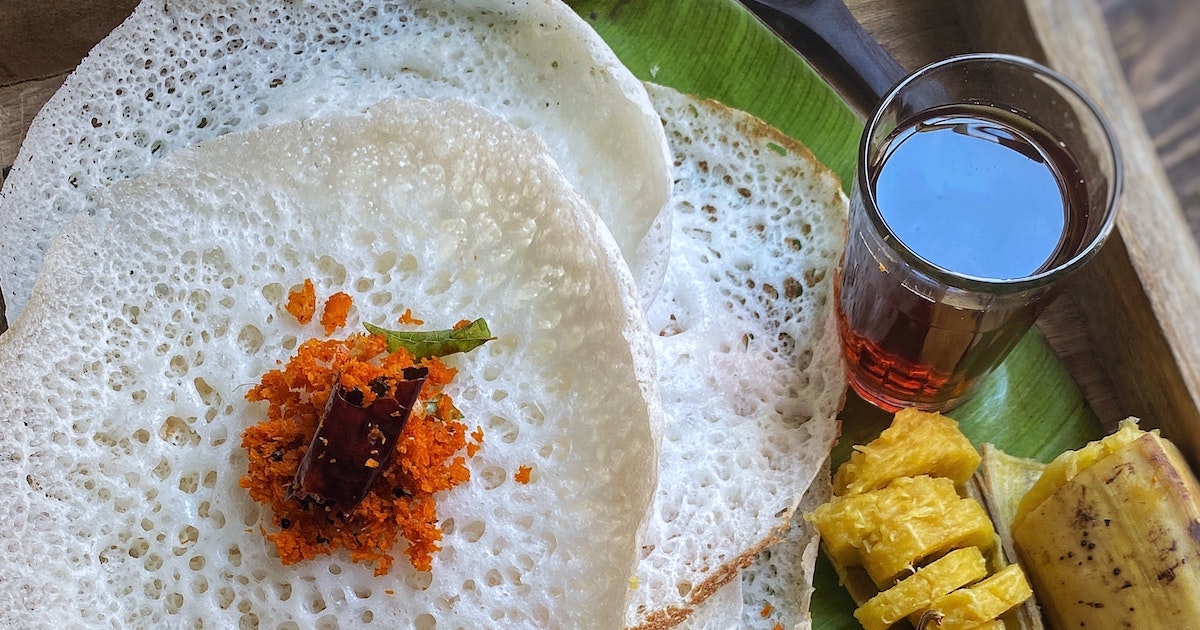 All over Kerala, people pick up appam on their way to work or school. Soft, light, and fluffy, the rice-based pancakes are a well-loved breakfast dish, especially when paired with fish moilee. In Malabar, there's a special style of appam, which is also called 'neer dosa' in Tamil Nadu or Karnataka. Roasted rice flour is mixed with shredded coconut, salt, water, and yeast. The batter should be thinner than the batter for frying a regular dosa. Unlike other styles of appam, coconut milk, sugar, and toddy are not used.
5. Mussel dishes
Mussel is to Thalassery dishes is as cheese is to Italian dishes; it's often the centre of attention. Handpicked from rocks on the Kerala coast, Asian green mussels are the key ingredient in Malabar dishes such as kallummakaya porichathu (fried mussels), kallummakaya varattiyathu (mussel with pickle), and arikkadukka (stuffed mussels).
6. Thalassery faloodha
Faloodha is technically a Persian dessert. The traditional Persian recipe uses rice noodles, rose water, and lime. The Thalassery variant doesn't usually contain any rice noodles and it uses ingredients such as blackcurrant, rose milk, pistachio, cashew, and almond. It's also topped with vanilla ice cream to make a milkshake of sorts.
7. Malabar prawn curry
What's the difference between a normal prawn curry and a Malabar prawn curry? Malabar prawn curries are traditionally cooked over an earthen vessel and fried in coconut oil. The mixture is especially tangy and creamy, but the signature flavour is down to the addition of tamarind and curry leaves. Other ingredients used in Malabar prawn curries are green chillies, fenugreek, prawns, garlic, turmeric, tomato, ground coconut, and ginger.
8. Malabari fish roast
Another traditional northern Kerala dish, the Malabari fish roast has a very exact formula. White fish is marinated with chilli powder and turmeric, before being fried in coconut oil. Then, mustard seeds, fenugreek seeds, onions, chilli, coriander, turmeric, curry leaves, tamarind pulp, coconut milk, and tomatoes are added one-by-one. The result is a mild, creamy curry fresh out of a clay pot.
Best food in Kerala District: Kochi region (Central Kerala)
The home of Kerala's plugged-in capital, the Kochi region (or Central Kerala) is a foodie capital. The region's districts include Palakkad, Thrissur, and Ernakulam. As the urban centre of a state mostly made up of rural, coastal, and mountainous terrain, Kochi region has the most variety when it comes to cuisine. Syrian, Jewish, Portuguese, British, and Dutch influences are all present.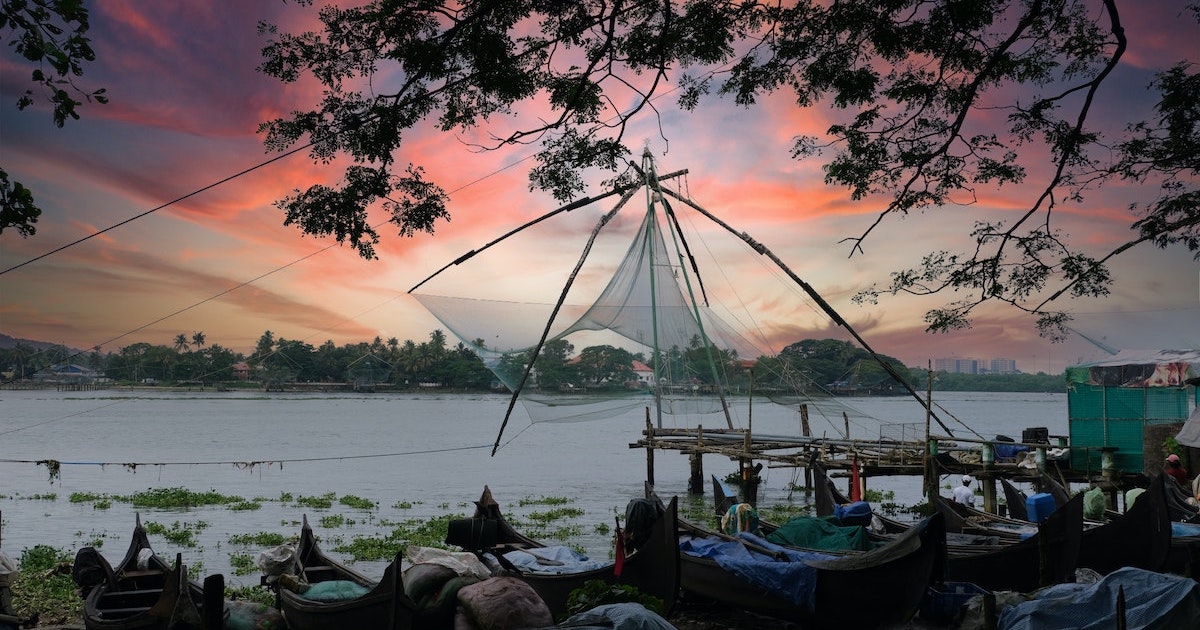 Malabar cuisine has made its way into Kochi region too. However, for the most part, Malayali cuisine is widespread. Locals in Kochi region often dine on Sadya varieties for lunch and dinner and eat puttu, appam, sambar, idiyappam, chutney, and pidiyan dishes for breakfast.
1. Fish moilee
This fragrant, yellow-hued fish curry is a Kochi region staple, originating from the Syrian Christian community in central Kerala. Stewed fish is served in a rich coconut milk gravy and paired with fluffy appam (the rice pancakes mentioned previously). On Indian terms, fish moilee isn't particularly hot; it only uses green chillies, black pepper, and ginger. Interestingly, the name 'fish moilee' came about because a lady named Moily added coconut to what was once a very hot curry to pacify Portuguese colonists who were unable to cope with the original heat of the dish.
2. Kappa meen curry
Divide kappa meen curry into its two words and you get exactly what it says on the tin: kappa (cassava) and meen (fish) curry. It's unusual to visit a restaurant in Kochi region and find kappa meen curry missing from the menu. The curry contains chunks of kingfish in a coconut milk-based gravy seasoned with onion, ginger, green chilli, curry leaves, garlic, turmeric, fenugreek, salt, and coriander. Traditionally, fish moilee comes with a piping-hot side of chunky cassava.
3. Sadya
While Sadya is traditionally the food of Kerala's state festival, many varieties of Sadya are eaten across the Kochi region daily. Traditionally, Sadya is a vegetarian banquet meal. However, many restaurants serve seafood dishes Sadya-style. At a Sadya-style restaurant, a server will ladle rice and other dishes onto a banana leaf. In Kochi region, common dishes served include sambar (dal-based curry), pachadi (fresh pickle), aviyal (vegetable mixture with curry leaves), kalan (sour yoghurt and coconut gravy), rasam (spicy soup), and pappadam.
4. Dosa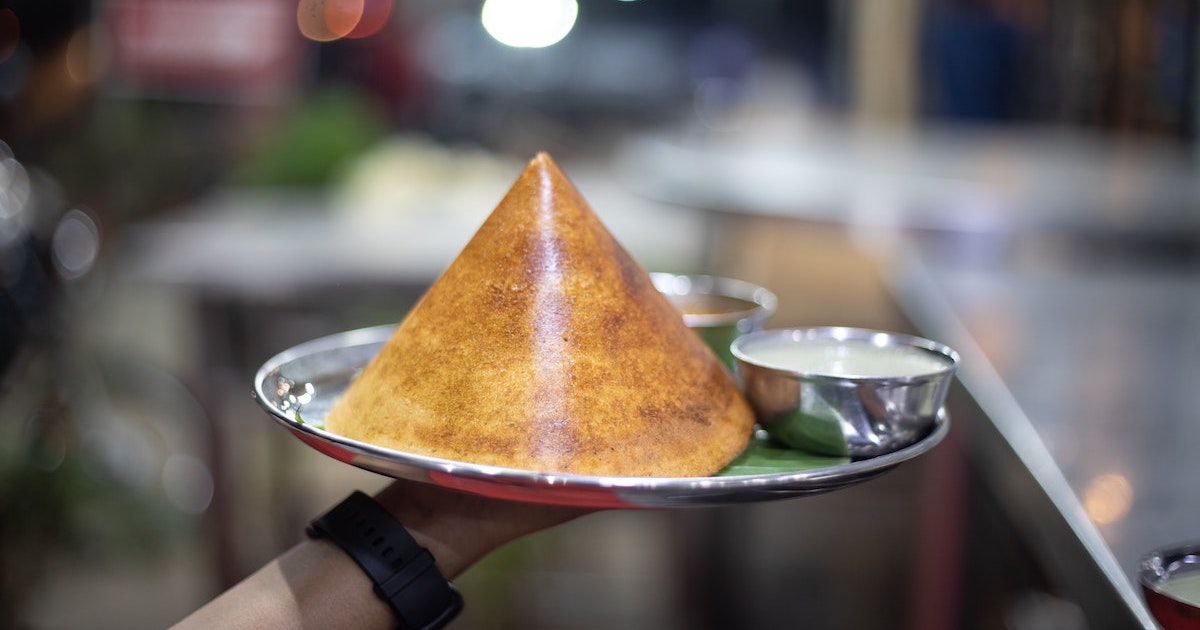 Dosa is practically appam's bigger, thinner, and crispier brother. It is a Malayali rice pancake made from fermented rice batter and urad dal (black lentil). While other countries such as Vietnam have a similar style of rice pancake, the Kerala rice pancake is unique in the way that the raw rice and black lentil are ground separately before fermentation. The batter is usually fried in coconut oil too. Paired with coconut chutney and sambar, this crispy pancake is especially popular as a street food meal or breakfast.
5. Central Kerala-style sambar
You may have already tasted sambar as part of a Sadya meal. However, sambar is also a popular vegetarian stew eaten for breakfast or as an evening snack. Usually, Kerala-style Sambar uses roasted coconut. In Kochi region, however, the sambar recipes leave the coconut out. Instead, Kochi-style sambar keeps the ingredients to vegetables such as yellow pigeon peas, potato, tomato, and seasoning such as red onion, green chillies, tamarind, asafoetida, and coriander.
6. Idiyappam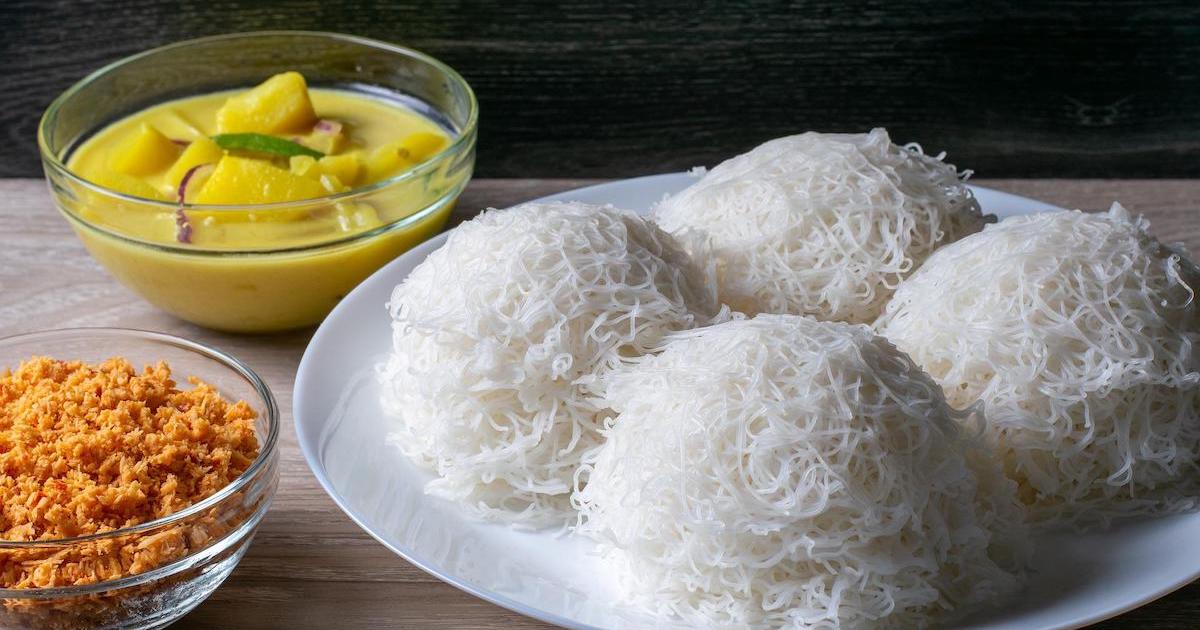 Idiyappam isn't just a Kerala specialty. It also has roots in Tamil Nadu, one of Kerala's neighbouring states. Rice flour is pressed and steamed to form a cylinder made up of thin, flaky noodles. In Malabar, it's served with coconut milk and sugar, but in Kochi region, idiyappam is served with a spicy potato, egg, fish, or meat curry and coconut chutney.
7. Breudher bread
In Kerala, Breudher bread is pretty much exclusive to Kochi city. There are hardly any remaining bakeries that sell this specialty, aside from Quality Bakers on Pattalam Road and Elite Bakery on Burger Street in Fort Kochi. It's thought that the bread was brought to Kerala through trade with the Dutch. However, Breudher bread is largely considered a Sri Lankan specialty. Many Kochi locals still debate whether Breduher bread is really bread or cake. If it's bread, it's certainly a sweet and buttery variety. Ingredients include wheat, eggs, butter sugar, nutmeg, and raisins.
8. Puttu and Kadala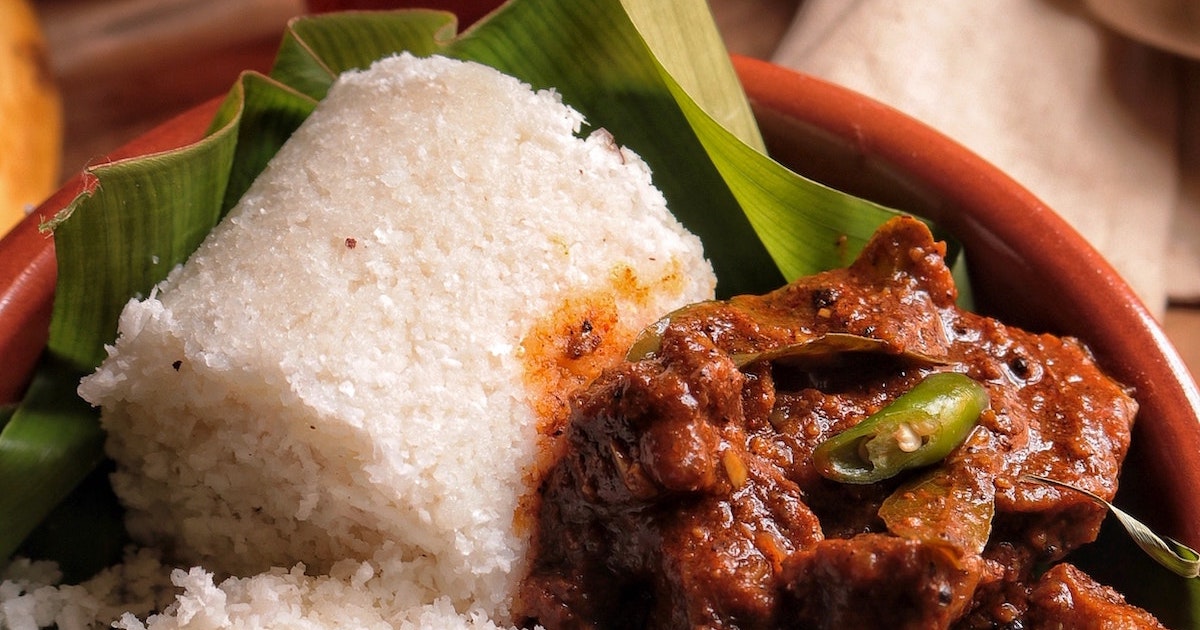 Puttu is yet another beloved breakfast dish in Kochi region, sold from restaurants, cafes, and roadside stands. A special bamboo cylinder (called a puttu kadam) is used to roll white rice into a cylinder shape. As the chef adds the rice, they also sprinkle grated coconut into the cylinder before the mixture is steamed. The traditional way to eat puttu is with kadala curry on a banana leaf. The kadala curry is made of black chickpeas, coconut and mild curry leaves, making it a warm and filling dish.
Best Food in Kerala District: Travancore (South Kerala)
Best known for their fishing villages, backwaters, spice plantations, and tea plantations, the Travancore (or South Kerala) districts include Thiruvananthapuram, Kollam, Alappuzha, Pathanamthitta, Kottayam, and Idukki. The cuisine in South Kerala is fairly similar to the food in Kochi region; there is a large Syrian-Christian influence. On the border with Tamil Nadu, plenty of Tamil food has made its way into the Travancore cuisine too.
1. Beef ularthiyathu
Beef ularthiyathu is consumed by the pot-full in central Travancore. To make this tasty dish, chunks of beef are slow-roasted over the fire with coconut oil, onion, curry leaves, coconut slices, green chillies, and other spices. It's a simple but special dish in Travancore region.
2. Semiya payasam
There are plenty of fans of semiya payasam all over Kerala, but it's especially popular in Alleppey district. Traditionally served in a mud pot on special occasions such as Diwali, the dish consists of very thin, chopped-up vermicelli rice noodles, cow's milk, dry fruits, cardamom, and sometimes saffron. In Alleppey, there are heaps of cafes that serve semiya payasam in mud pots for passers by to try the dish the traditional way.
3. Karimeen pollichatthu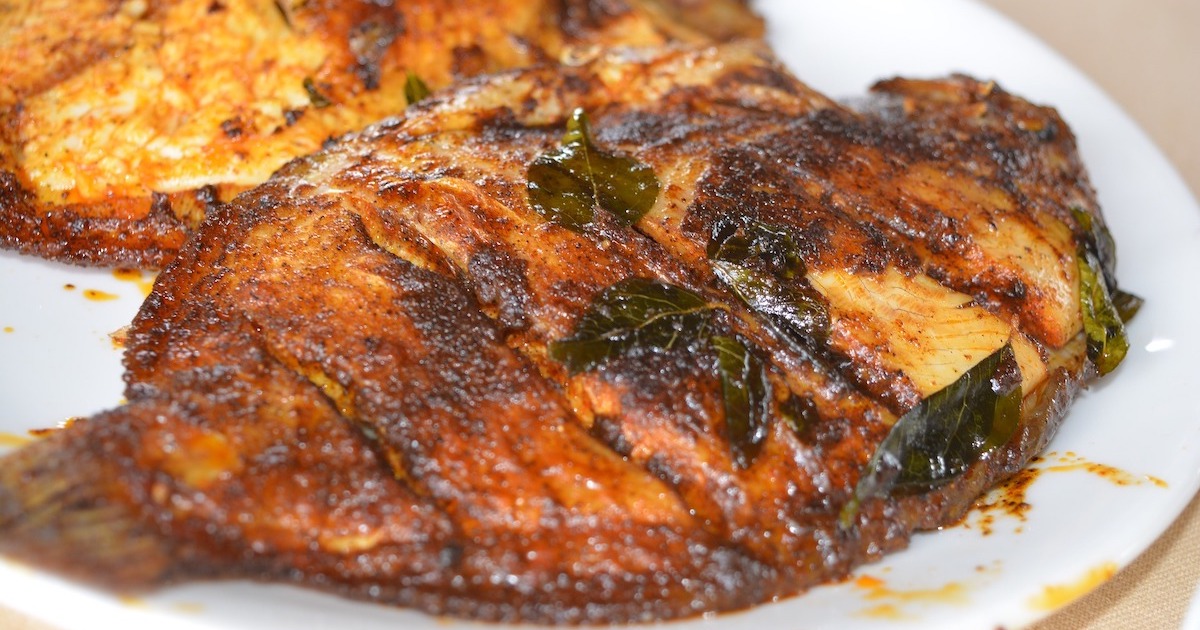 'Karimeen' is the word used to refer to Kerala's state fish, the green chromide or pearl spot fish. That's why karimeen pollichatthu is so common in south Kerala and especially around the backwaters of Alleppey and Kollam. Karimeen fish fry is easy to identify because the fish is very round and rather boney. To make karimeen pollichatthu, the fish is baked in a banana leaf with spices such as curry leaves, garlic, ginger, garam masala, and turmeric. Unwrapping the banana leaf is part of the magic.
4. Kallappam
In Kottayam, a favourite grab-and-go breakfast is kallappam. This is another delicious dish that originates from the Syrian-Christian community in Kerala. It's also another variation of a rice pancake. However, kallappum is completely different from a normal appam. The fermented batter is thicker – it has 'thari', as the locals say – and it uses a tiny amount of toddy, a sugary and spicy alcoholic drink made with alcohol brewed from from the sap of palm trees. Red onions, garlic, and jeera add extra flavouring to the dish. The round pancakes aren't thick in the middle like traditional appam; they are consistently thick the whole way through. In Kottayam, kallappum is served with a coconut curry containing chicken, mutton, egg, or vegetables.
5. Koottu puzhukku
At the time of harvest, Idukki locals (and visitors, of course) like to indulge in koottu puzhukku. The dish consists of steamed yam, bengal gram, and beans, mixed with a thick and spicy coconut paste containing grated coconut, chillies and fennel seeds.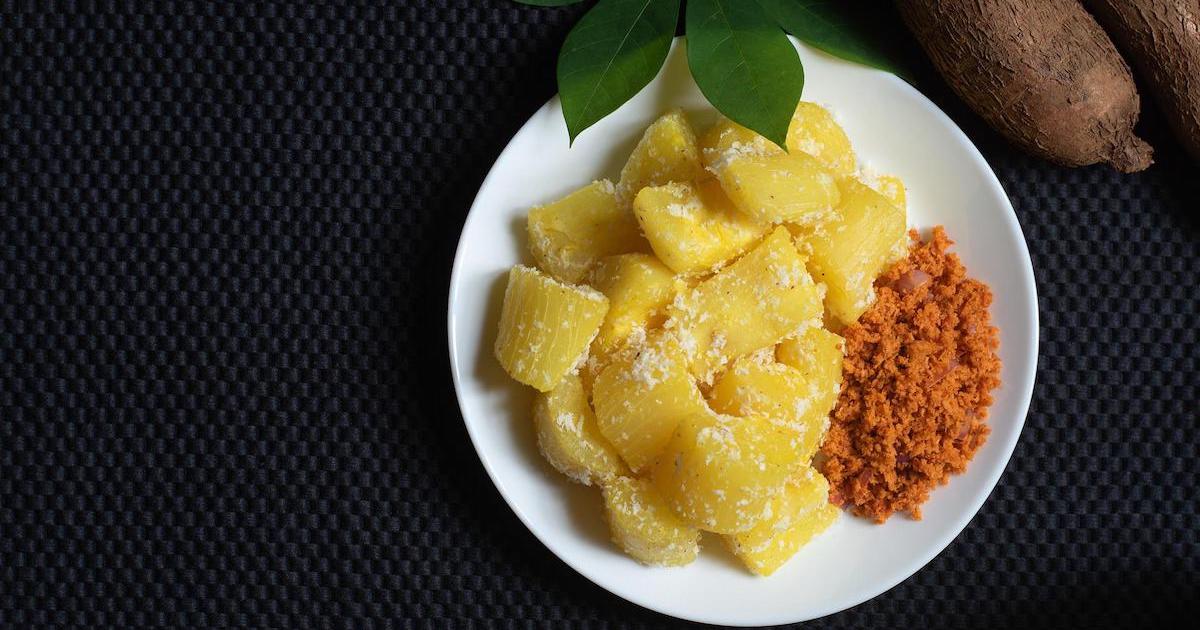 Yam: a common ingredient in south Kerala cuisine
6. Chena erissery
Chena erissery is nothing short of tasty. A traditional recipe consists of yam prepared in coconut and served with rice. In Pathanamthitta district, the dish is a key part of Sadya meals, where it is mixed with cow peas and grated coconut. Other parts of Kerala are likely to substitute the yam in erissery with pumpkin.
7. Cashew theeyal
The Kollam district is Kerala's cashew-producing hub. So, it should be no surprise that cashew theeyal has emerged as a traditional Malayali side dish. It combines cashews, grated coconut, pearl onions, and drumsticks (the vegetable kind) in a light gravy with onion, green chillies, tamarind, mustard seed, turmeric, and coriander.
8. Pazham pori
Pazham pori, also known by the names ethakka appam and banana fritters, is a fried snack eaten all over Kerala. You might pick it up from a roadside stand or your Homestay host. Or, you may be staying on a houseboat, where it is commonly served as a pre-bedtime snack. Either way, the dish is made by slicing bananas, dipping them in sugary wheat batter, and frying them. In Travancore, many labourers working in the fishing, tea, and spice industries rely on pazham pori as an energy-boosting snack on their way to and from work.
Tribal Cuisine in Kerala
If you're visiting Kerala and looking for offbeat activities on your Wayand or Munnar Itinerary, tasting Kerala's tribal cuisine should be near the top of your list. Kerala's tribal communities live in the forests and mountains of the Western Ghats. So, tribal cuisine looks very different from other food in Kerala; rarer ingredients are used and the communities rely on very specific formulas.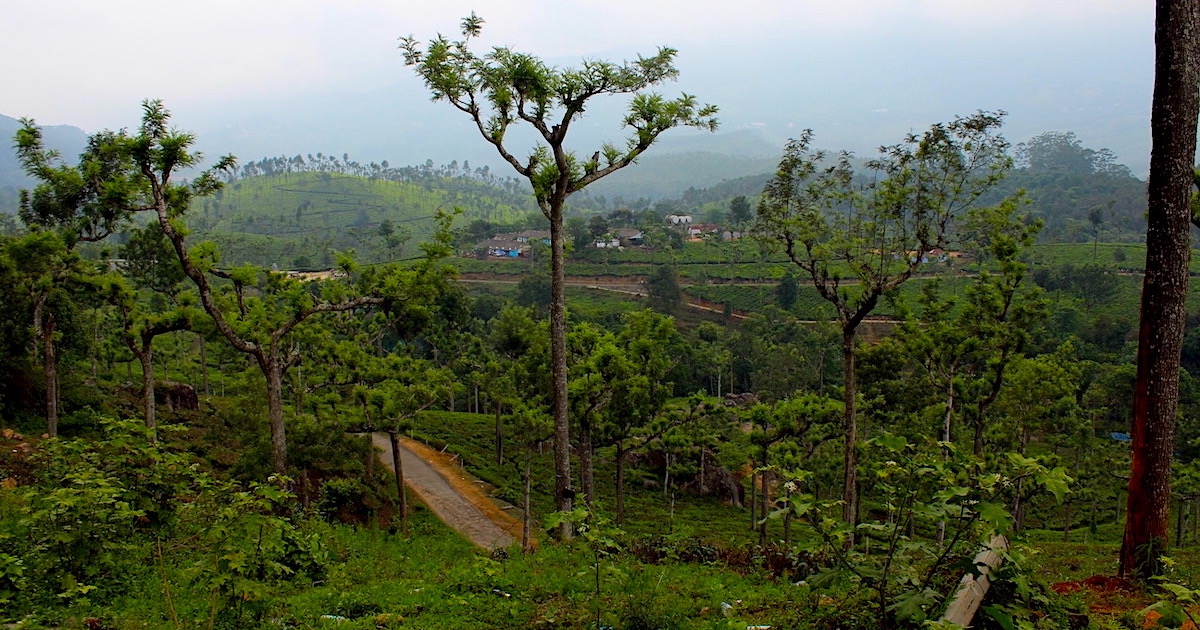 Some offbeat tour companies arrange visits to tribal communities where you can try their food. In Wayanad especially, hotels and roadside stands attempt to authentically recreate tribal cuisine by using native earthen vessels and firewood.
Chemmeen kari: Chemmeen kari or prawn curry is a quick dish made by boiling and frying ingredients such as prawns, curry leaves, pepper, ginger, garlic, and coconut oil over an earthen vessel. Tribal communities use coccum as a sour alternative for tamarind, which transforms the flavour of the dish.
Puzha meen: Puzha meen or river fish curry is another tribal specialty. Rather than using backwater or seawater fish, tribes catch fish from the rivers in the forests and mountains. The recipe differs between different tribes; some use coconut and some don't. Others combine the curry with boiled tapioca. They traditionally season the dish with green chillies, chilli powder, coriander, garlic, turmeric, ginger, and coccum.
Thal curry: Thal curry or yam stem curry comes from Malabar's tribal communities. When yam is in season, usually after the monsoon, the stems are removed, chopped up, and boiled with a spice preparation. The curry is served in limited rural areas, so tracking down this dish is part of the adventure.
Njandu varattiyathu: Njandu varattiyathu is a traditional tribal dish made using crab. It's fairly easy to come by; many restaurants across Kerala now serve this dish. Drenched in coconut milk, the crab is combined with spices such as turmeric, chilli powder, green chillies, garlic, curry leaves, and coriander powder.
Kurumulaku Kanji: Also called pepper porridge, kurumulaku kanji originated from Kerala's tribal communties. Nowadays, it's more commonly prescribed to post-partum ladies due to its nutritious properties. When it is prepared traditionally, the rice porridge is cooked in coconut milk, pepper, cumin, garlic, salt, and imodakam for at least half an hour.
Best Food in Kerala district: Sadya Kerala
If there's one food you must try when visiting Kerala, no matter the district, it's Sadya. Sadya translates to 'banquet' in Malayalam, which makes sense, because it is traditionally served at banquets for Onam, Kerala's state festival. When the banquet is in full flow, Sadya can involve anywhere between 24 and 28 dishes in a single sitting.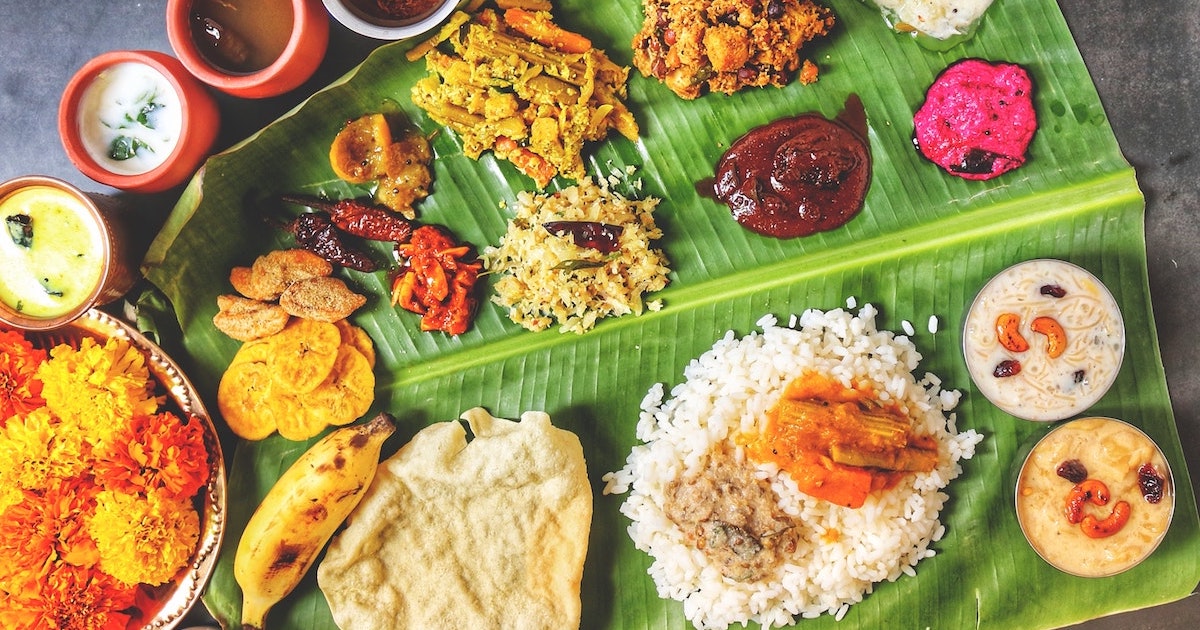 Nowadays, Sadya-style food is served at restaurants across Kerala. Because it uses so many different dishes, many chefs add their own spin, while keeping in with the tradition of serving Sadya on a banana leaf and serving rice, banana, pappadam, and a range of dishes one-by-one. While the traditional version of Sadya is vegetarian, many restaurants serve seafood dishes Sadya-style.
For tourists, part of the activity is mastering how to eat Sadya. Sadya is eaten with the right hand only, by scooping food with your first three fingers and pushing the food into your mouth using your thumb. The method takes some practice for visitors to Kerala (that's all part of the fun).
A traditional vegetarian Sadya meal is made up of:
Kerala red rice
Papadam
Sharkara upperi: banana chips with jaggery
Sambar: thick vegetable gravy
Parippu: Thick lentil curry with ghee
Rasam: Watery tamarind and tomato dish
Avial: vegetables and coconut with curry leaves
Kaalan: curd, coconut and yam dish
Olan: Light white gourd or black peas coconut dish
Erissery: Curry consisting of pumpkin, black-eyed peas and coconut
Pachadi: Curd and ashgourd curry
Pulisseri: Sour yoghurt and cucumber
Achaar: Spicy pickle
Thoran: Sauteed vegetables dish
Ripe banana
Sambharam: salted buttermilk drink
Payasam: Dessert dish with vermicelli, sugar, ghee, milk and nuts
Food in Kerala houseboat
Food in Kerala houseboats differs depending upon the houseboat provider. Many have a standard menu published on their websites. The food often replicates traditional Kerala cuisine.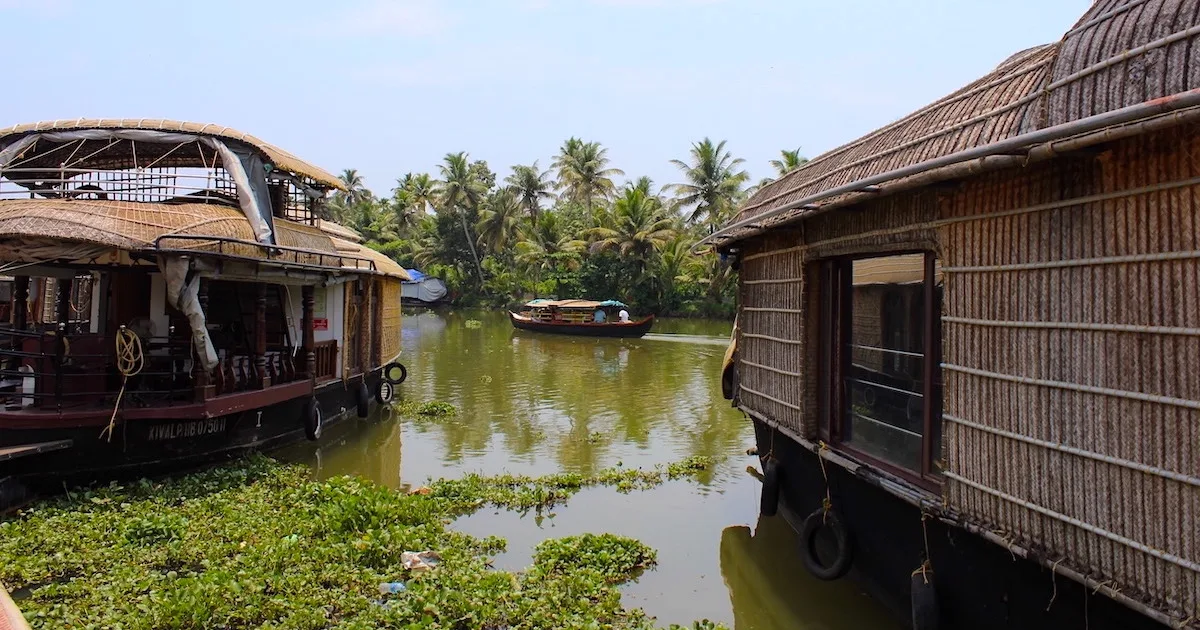 Most houseboats serve a menu with several different options, which may look like the following:
Breakfast:
Idiyappam or appam with egg curry or vegetable stew
Poori bhaji: North Indian potato curry
Puttu and kadala
Lunch:
Fish fry
Sambar
Pappadam
Vegetable thoran
Banana kalan: bananas and yam in a yoghurt sauce
Tea and coffee
Dinner:
Dal fry
Paneer masala
Chicken roast
Chicken curry
Fish curry
Chapati
Rice
Snacks:
INSIDER'S TIP
Travel insurance is essential for any trip abroad. Whether you experience an allergic reaction, falling sick, or something as simple as a road or sports accident, you just don't know what could happen. If you're in an accident or experience an emergency, you need adequate cover. I recommend Staysure for single or multiple trips per year and SafetyWing for digital nomads.
Famous street food in Kerala
Street food is fairly big in Kerala. Naturally, many of the foods I have already covered have made their way into roadside stalls. It's especially common for quick, rice-based breakfast dishes to be sold on the street, as locals pick them up on the way to their jobs.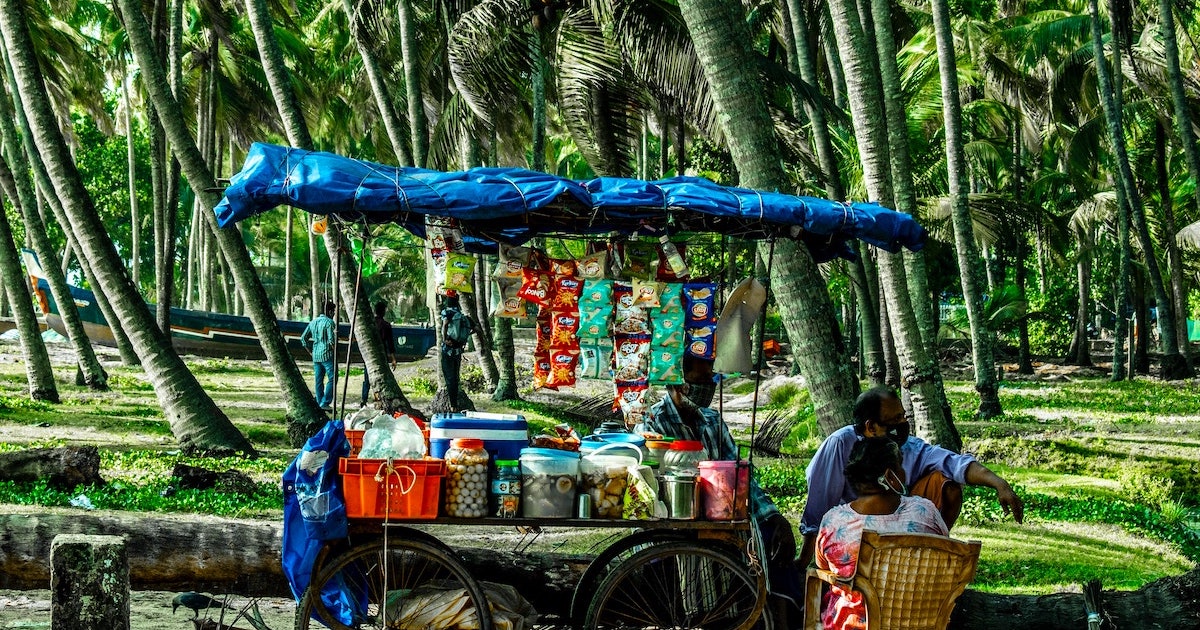 1. Idiyappam: Pressed and steamed rice flour noodle.
2. Erissery: sliced yam or plantain with lentils, turmeric, pepper, coconut, pumpkin, garlic and cumin.
3. Puttu and kadala curry: Cylindrical steamed rice rolls with coconut, paired with a chickpea and coconut curry.
4. Parotta: Round flatbread made with maida flour or wheat flour.
5. Thattu dosa: A small, steamed version of a dosa, often served with coconut chutney.
6. Appam: Small, fluffy rice pancakes with a thick centre
7. Kumbilappam: steamed jackfruit dumplings
8. Pazhampori: Banana fritters dipped in flour
Junk food in Kerala
If you're wondering where you can get your hands on junk food in Kerala after hearing all about its nutritious seafood and coconut-based curries, you may be disappointed to find out that there is a fast food tax in Kerala state. This means that you'll have to pay a 14.5% tax on what the government considers to be high-fat foods. This covers food like burgers, chips, and pasta. As a result, there are only a few fast food restaurants in Kerala, and most are located in the capital Kochi. Elsewhere, you'll just have to make do with pazhampori, fried banana fritters sold from roadside stalls. Failing that, most mainstream food stores sell items such as crisps and sweets.
---
Visiting Kerala soon? You need to know exactly what to wear in Kerala depending upon the season. Check out my guides on places to visit near Thekkady and the best things to do at Alleppey and its backwaters for inspiration for your itinerary.
Which district has the best food in Kerala?
Kochi region is largely considered as the food capital of Kerala, since the urban centre has restaurants that serve delicacies from different Kerala districts. However, Kannur also has an excellent reputation for having some of the best food in Kerala, especially when it comes to the Thalassery cuisine.
Which is the best city for food in Kerala?
Kerala's capital Kochi has the greatest variety for foodies. However, Calicut in Malabar is considered to be the best city for food in Kerala as it dishes out Thalassery and Malabar cuisine.
What is the famous street food of Kerala?
The most famous street food items in Kerala are appam (fluffy rice pancakes), pazhampori (banana fritters dipped in flour), and parotta (a round flatbread).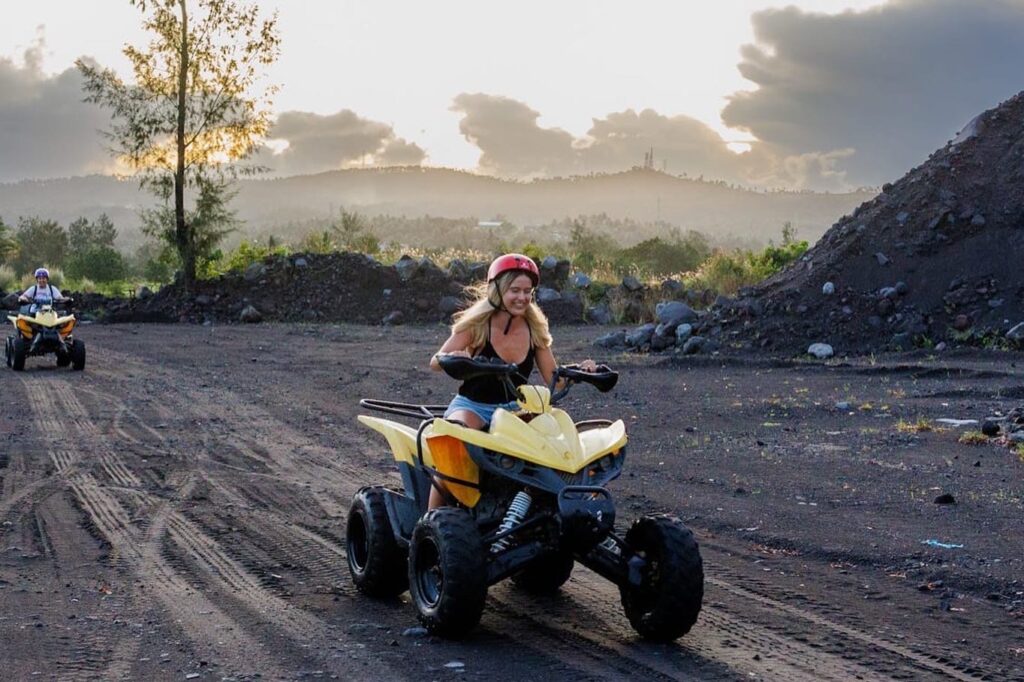 AUTHOR: KATIE TREHARNE
I'm Katie, the owner of Escape Artist Katie and a full-time digital nomad. I have been travel writing in some shape or form since 2018, including writing for luxury travel magazines. I hope you found my article useful – find out more about me here or keep up with my travels on Instagram. I'm a big advocate for offbeat travel and pushing yourself out of your comfort zone.