Simply put, there are some remarkable places to visit near Thekkady. Surrounded by the forested slopes of the Western Ghats, spice plantations, and tea estates, some of the Thekkady area's specialties are wildlife, spices, and natural scenery.
Out of all the destinations in central and south Kerala, Thekkady is one of the best for wildlife spotting, trekking, and engaging in offbeat activities. These hands-on experiences might include bamboo rafting, jungle patrolling, camping, and watching tribal dances.
When it comes to searching for places to visit near Thekkady, you should know that Thekkady is a small mountain town with a cluster of houses, hotels, resorts, and homestays. Its bigger neighbour is a plantation town named Kumily, which is considered as the gateway to Tamil Nadu, the neighbouring Indian state. The names Kumily and Thekkady are interchangeable; most people just use the name Thekkady to avoid confusion.
So, what are the main places to visit near Thekkady? The Periyar Tiger Reserve, situated alongside Thekkady, is the main attraction. It has dense forests and a dam, and it is populated with animals such as tigers, elephants, sambar, bison, and lion-tailed macaques.
Many people come to Thekkady with the sole intention of getting stuck into the hands-on, eco-friendly activities that take place in the reserve. However, there are so many more gorgeous, essential, and offbeat destinations nearby. In the following article, I've covered hill stations, valleys in Tamil Nadu, tea plantation hills, waterfalls, mountains, and forests.
What is Thekkady famous for?
Thekkady is famous for its location next to the Periyar Tiger Reserve, which is home to tigers, elephants, leopards, Indian bison, and sambar deer. The reserve hosts offbeat and eco-friendly activities such as bamboo rafting, jungle patrols, treks, camping, and boating on the lake.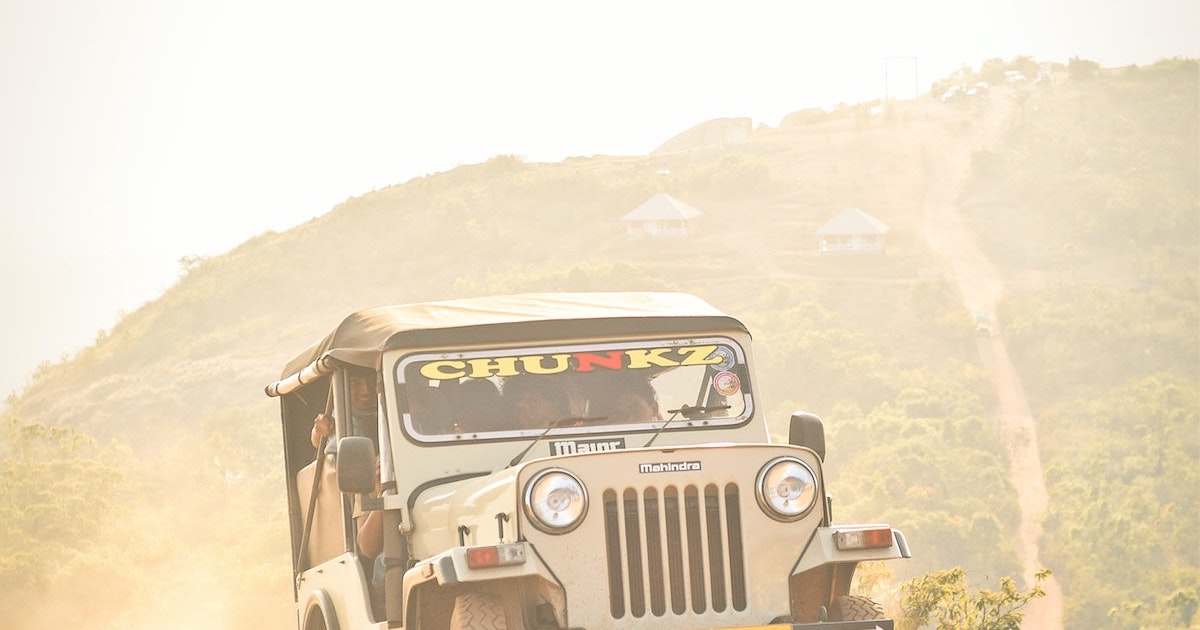 Thekkady's spice plantations are also famous. The surrounding area grows high-quality spices such as black pepper, cinnamon, nutmeg, ginger, clove, and cardamom. As part of the Western Ghats mountain range, the Thekkady area is a popular hiking destination. It's also considered to be a gateway into the neighbouring state of Tamil Nadu, where there are more valleys and mountains.
Are there tigers in Thekkady?
There are believed to be around 40 tigers in the Periyar Tiger Reserve next to Thekkady. However, visitors are far more likely to spot footprints or dung than they are to spot the creatures themselves.
14 Places to visit near Thekkady
1. Cumbum Valley
Activities: Organic farm activities and local-led trekking and cycling.
Distance: half an hour's drive.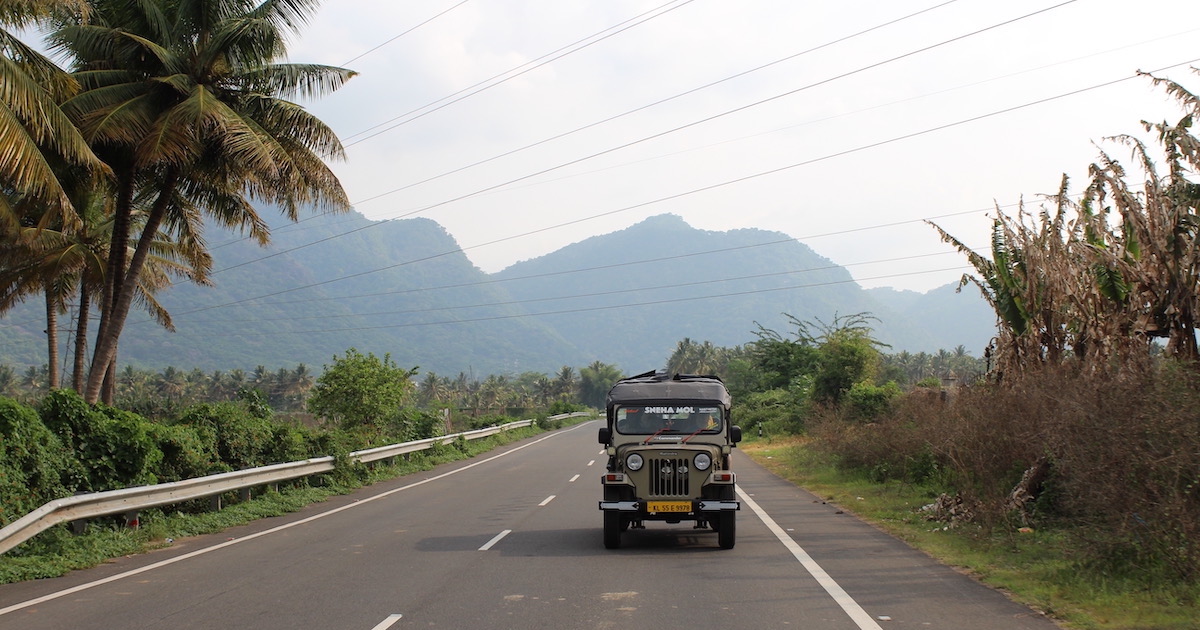 Cumbum Valley is located over the border for Tamil Nadu, down a series of scenic mountain passes that cling to the side of the mountain. As you make your way there, the valley's distant fruit and vegetable farms, palm trees, and spice gardens gradually grow closer. Bordered on all sides by the Thekkadi Hills, the Varusanadu Hills, and the Kodaikanal Hills, the farms sprout with plants such as grapevines, red banana plants, and pineapple plants and ox carts trudge by hauling the fresh harvest.
Many hotels and tour agencies can arrange jeep rides or bus rides into the valley to visit an organic farm and a typical south Indian farmhouse. The same farm, Harvest Fresh Farm, runs a homestay, which can arrange further activities such as helping out with animal care or organic farming and valley treks and bike rides led by locals. Aside from being incredibly scenic, the valley is unique, as it's one of the only places in Tamil Nadu that produces grapes (and by that, I mean that they churn out 90,000 tonnes of muscat grapes and over 10,000 tonnes of Thomson seedless grapes per year).
2. The Periyar Tiger Reserve
Activities: Hiking, bamboo rafting, jungle patrol, camping, tribal dance performances, and boating.
Distance: 10 minutes' drive.
Part of the Periyar National Park, the Periyar Tiger Reserve is a wildlife sanctuary with around 40 tigers and leagues of other native wildlife. This is a must-visit for those who are seeking eco-conscious, hands-on, and offbeat activities (which, by the way, is exactly what this blog specialises in). The activities take place around the forest and lake, and many of the activities involve an armed guard leading you deeper into the wilderness.
The entry fee for the Periyar Tiger Reserve is 500 INR (equivalent to around £5.20 or $6.40) for foreign nationals. All activities below, aside from the self-guided trek, cost extra and should be booked directly on the Periyar Tiger Reserve website. Tour agencies may book the tickets on your behalf, but it's likely to be more expensive.
Activities in the Periyar Tiger Reserve
1. Wildlife hikes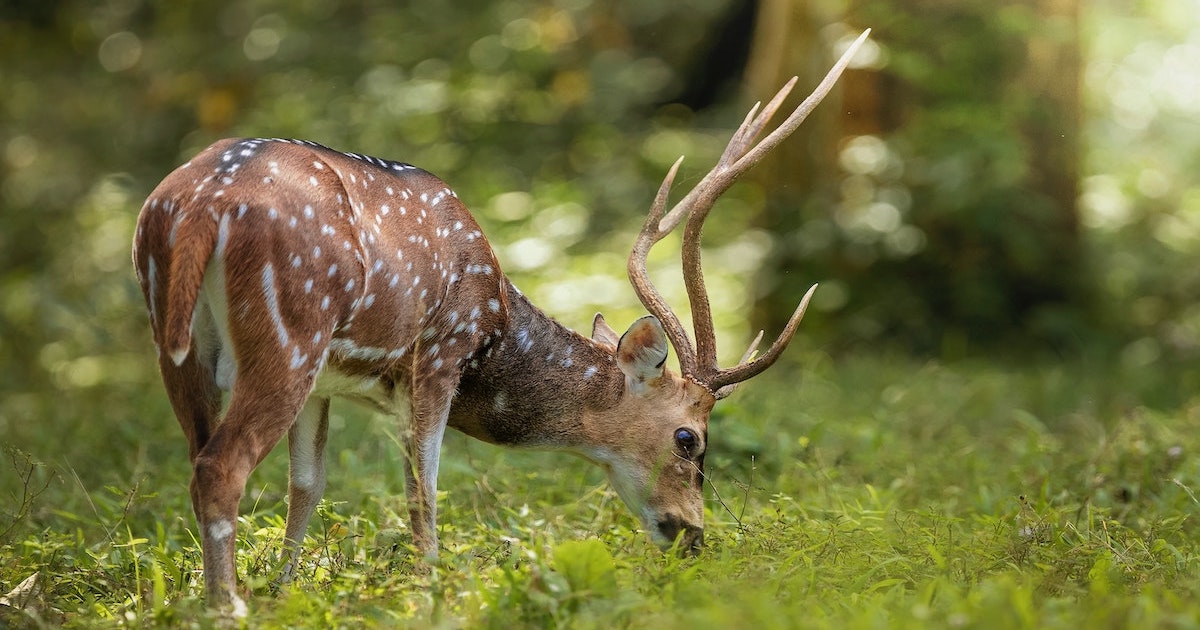 The dense forest practically invites hiking activities. There is a self-guided 'soft' trek along the Pugmark Trail, which is an easy route from the entrance gate to the boat landing, past a variety of different tree species. More intense two- or three-hour treks include sandal protection treks deeper into the reserve, led by a tribal guide who can share their insider's knowledge of the local wildlife.
Border hikes also take place on the mountainous terrain around the edge of the park, which is a favourite spot for the reserve's elephant herd. The border's slopes range between 900 and 1300 metres in height and some areas have views of the Cumbum Valley.
2. Bamboo rafting
Mountain communities have used bamboo rafts to cross the rivers of the Western Ghats for centuries. This is your chance to board a bamboo raft yourself. The rafting activities take off onto the lake, where you might spot giant squirrels, Nilgiri langur, elephants, and gaur around the shore. There are full- or half-day rafting options, which usually include an hour or more on the water and a trek with an armed-guard guide into the forested slopes.
3. Camping and trekking along the Periyar Tiger Trail
The trek along the Periyar Tiger Trail is a prime example of the transformative work done by the Periyar Tiger Reserve. The guides were once poachers, who have since been educated and now work to protect the tigers from other poachers. Since the tiger trail travels deep into the park and attempts to track down the coveted creatures, it takes one or two nights and involves camping in the jungle (that's definitely wild-style).
4. Jungle patrol
Perhaps the most exhilarating of all of the activities in the Periyar Tiger Reserve is the jungle patrol experience. Every night, patrollers head into the outskirts of the park to prevent smugglers and poachers from infiltrating the forest. You'll be part of the crew, trailing the borders for a three-hour slot somewhere between 7pm and 4am.
5. Tribal dance performance
Tribes such as the Mannan and Paliyan live on the outskirts of the Periyar National Park. Over the centuries, many of their traditional dance forms have been lost, but the tribes aim to keep their culture alive by performing traditional dances for visitors. It's an impressive sight, and one that keeps their tradition alive.
6. Boating on Periyar Lake
Ordinary boats depart from the edge of Periyar Lake in the hope of spotting wild boar, Indian otter, or guar, and gliding past the dead tree trunks buried in the water. The boats leave at 7.30am or 1.45pm and spend one and a half hours on the water.
3. Chellarcovil
Activities: Hiking, waterfall and valley view, Ayurveda, and a spice plantation tour.
Distance: Half an hour's drive.
On the way to the town of Theni in Tamil Nadu, Chellarcovil is a small village with a huge backyard, so to say. There are waterfalls and green slopes, which make a delightful refuge from the livelier urban centres in Thekkady and Kumily. Guided treks will take you into the slopes and valleys, and they're especially spectacular at sunset or sunrise. One ledge in Chellarcovil has been dubbed 'God's own balcony', as it overlooks the farmlands in the Cumbum Valley.
In the village, there's an Ayurvedic garden and there are spice tours available at the village plantation. All of the activities can be booked at the eco tourist centre in Chellarcovil. Many of the profits from the activities go towards supporting the environment and preventing deforestation.
4. Ottakathalamedu
Activities: Cycling, hiking, stargazing, picnics, and night drives.
Distance: 10 minutes' drive.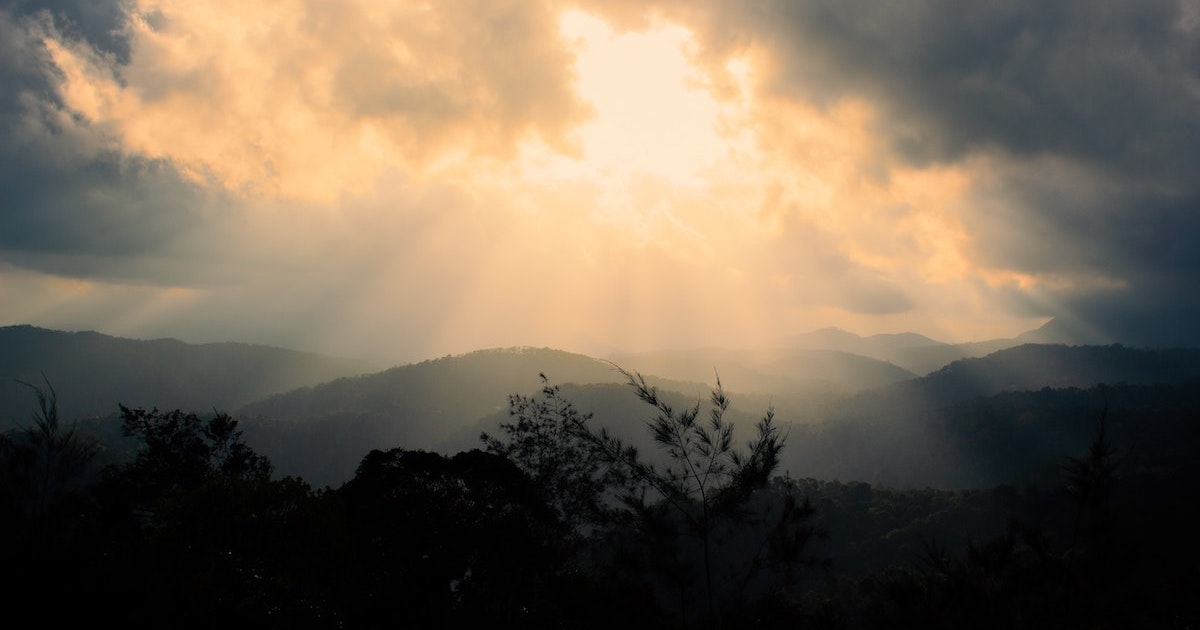 Another offbeat place near Thekkady is Ottakathalamedu, a mountainous hiking area. As it's only 10 minutes' drive away from Thekkady, this is the perfect opportunity to rent a bicycle in Thekkady or Kumily and cycle there. There are no public transport links in Ottakathalamedu. It's really offbeat, so that's your only option aside from driving.
At the top of the mountain, there are views over the Periyar Tiger Reserve and villages in Tamil Nadu and a watch tower manned by police watching out for poachers. The name Ottakathalamedu means 'the cliff of the camel's back', which refers to the open space on the mountain, ideal for picnics and soft treks. On that note, remember to bring your own picnic because there are no shops or restaurants.
Sunset is especially scenic in Ottakathalamedu. Rumour has it that stargazing summit excursions are available here on 'night drives' from hotels such as Sterling Thekkady.
5. Anakkara
Activities: Cycling, hiking, stargazing, picnics, and night drives.
Distance: 10 minutes' drive.
Intrigued by Thekkady's spices? Then, make your way to Anakkara. On the road between Kumily and Munnar, Anakkara has a famous spice garden and hikes with views over waterfalls and the villages in the Cumbum Valley.
If you're feeling particularly adventurous, paragliding is also an option. Just enquire with your accommodation or visit the information centre in Anakkara to get more details. While you're here, you might want to pick up some high-quality spices or check out the shops, which stock art hand-crafted by the local tribal communities.
6. Kadathanadan Kalari & Navarasa Kathakali Thekkady
Activities: Watching Kathakali and Kalaripayattu, two traditional art forms in Kerala.
Distance: five minutes' drive.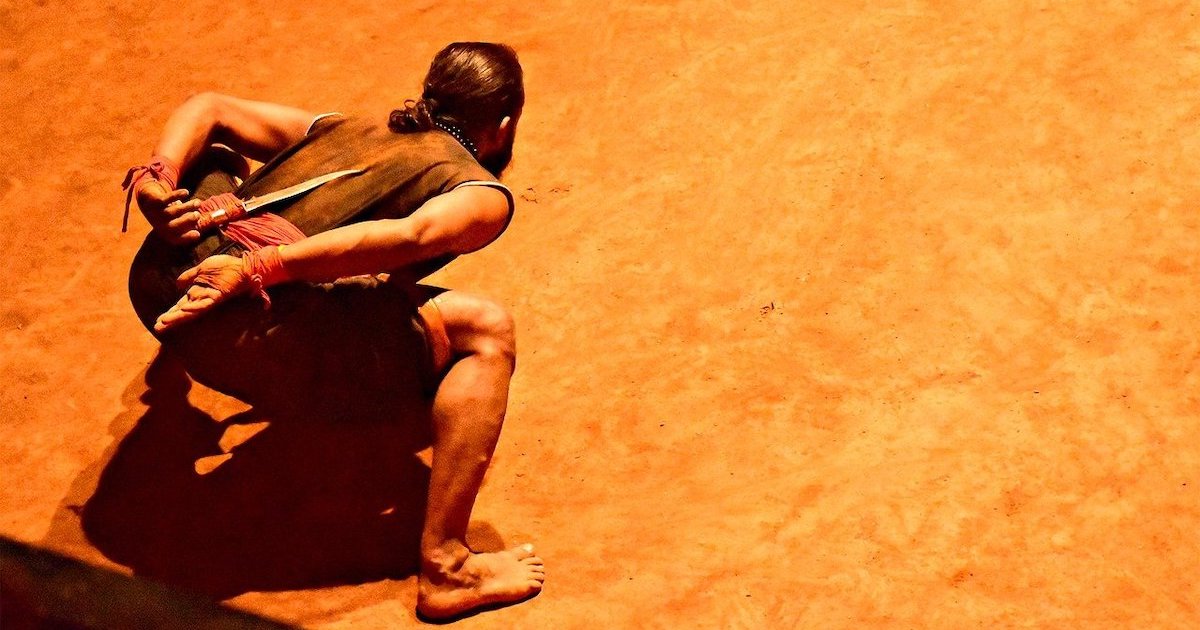 Located in Kumily, Kadathanadan Kalari & Navarasa Kathakali Thekkady is a must-visit for those interested in watching Kerala's traditional art forms. One of of these is Kathakali, a 'story play' of sorts and an ancient art form shown in the Kalari enclosure. Actors perform stories from Indian epics, dressed in elaborate costumes and makeup made from natural materials such as soot. The performance merges classical art, acting, and music.
There are also Kalaripayattu performances. This is a traditional martial art form in Kerala involving fighting with weapons and by hand. Performed by masters only, it is partly inspired by the brute force of animals such as lions, tigers, boars, snakes, and crocodiles. Hour-long demonstrations are accompanied by narration.
Kalaripayattu is shown daily between 6pm and 7pm and Kathakali is shown daily between 5pm and 6pm and 7pm and 8pm.
7. Gavi Forest
Activities: Birdwatching, hiking, safaris, camping and glamping, and boating.
Distance: two to three hours' drive.
Gavi Forest may be more of a trek from Thekkady than other destinations. However, it's well worth the journey, especially for those who are looking for more eco-friendly and wildlife-oriented activities. Gavi Forest is located in the centre of the Periyar National Park, which is a testament to the size of the national park.
The forest's wildlife includes lion-tailed macaques, Nilgiri tahr, and over 260 species of birds. Woodpecker, kingfishers, and great pied hornbill are some of its famed feathery friends. There are also rare gopher trees, according to botanists.
It's possible to go camping in the forest between November and March, which is the high season for tourism in Kerala. The most scenic route from Thekkady is the road travelling through Pathanamthitta.
The entrance fee for Gavi Forest is 25 INR for a person, 50 INR per vehicle, and 100 INR per video camera. All of the activities below are organised by the Gavi Forest division and cost extra.
Activities in Gavi Forest
1. Boating on Kochupamba Lake
Rowing boats head out on to the emerald-green Kochupamba Lake in Gavi Forest. The activity is organised as a day programme, and costs 600 INR for four people or 300 INR for two people.
2. Treks in the forest
Another full-day activity is a trek in the forest. After all, how else will you track down the gopher trees and monkeys? A trained guide will take you over a cardamom plantation, onto the lake, and into the Sabarimala Hills, which have views over the forest and a vast ravine. There's also a view of the pilgrim spot Makara Jyothi and the route also stops by a museum, where there are skeletons of animals from the park.
3. Camping or glamping in the jungle
If one day isn't enough for you, the Gavi Forest has eco-friendly camping and glamping accommodation. If you do choose to stay in the jungle lodge, Swiss cottage tent, or on a camping pitch, activities like trekking, boating, and a vehicle safari are included.
INSIDER'S TIP
Travel insurance is essential for any trip abroad. Whether you experience an allergic reaction, falling sick, or something as simple as a road or sports accident, you just don't know what could happen. If you're in an accident or experience an emergency, you need adequate cover. I recommend Staysure for single or multiple trips per year and SafetyWing for digital nomads.
8. The Silken Hills (Pattumala)
Activities: Tea factory visit, hilltop church visit, cycling, and walking.
Distance: 35 minutes' drive.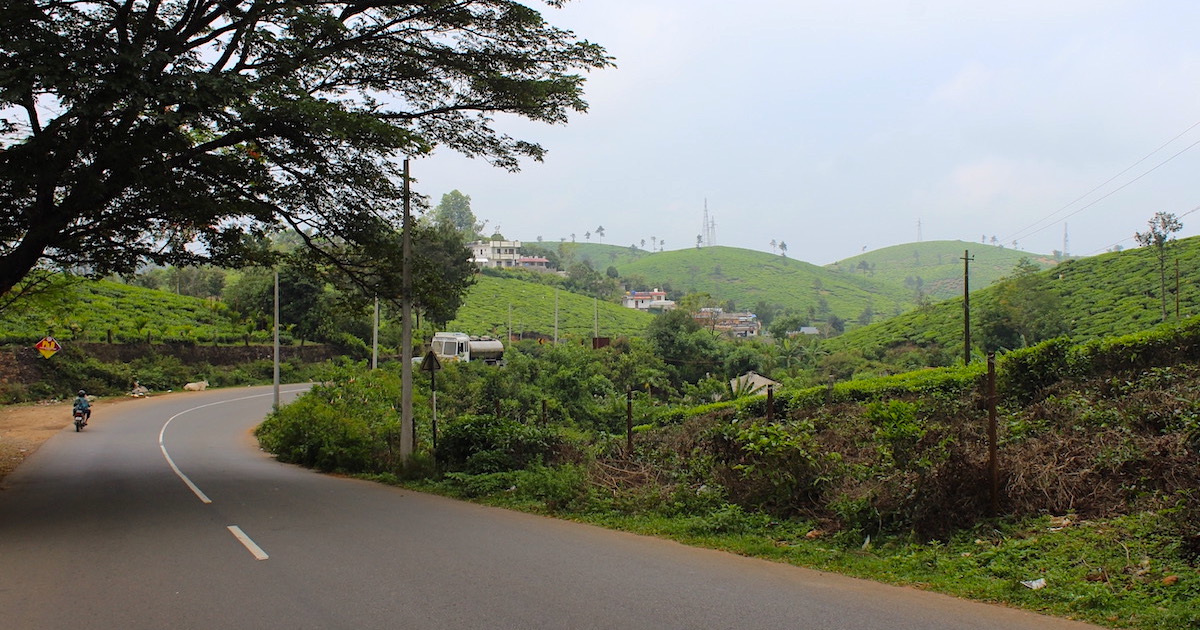 The name Silken Hills is enough to sell Pattumala already. Pattumala translates to 'hills draped in silk', and that'll be because the little peaks are laden with tea plantations and gentle streams.
One of the best views is from the hilltop Velankanni Matha Church, which has views over the Pattumalay Tea Estate. There's a tea factory on the estate, which is nearly 100 years old, and open to visitors. Of course, this sort of landscape is excellent for cycling too, and there are a few offbeat hiking trails in the area (just ask your accommodation for more details on where to join them).
9. Parunthumpara
Activities: Hiking and pilgrimage spot.
Distance: 50 minutes' drive.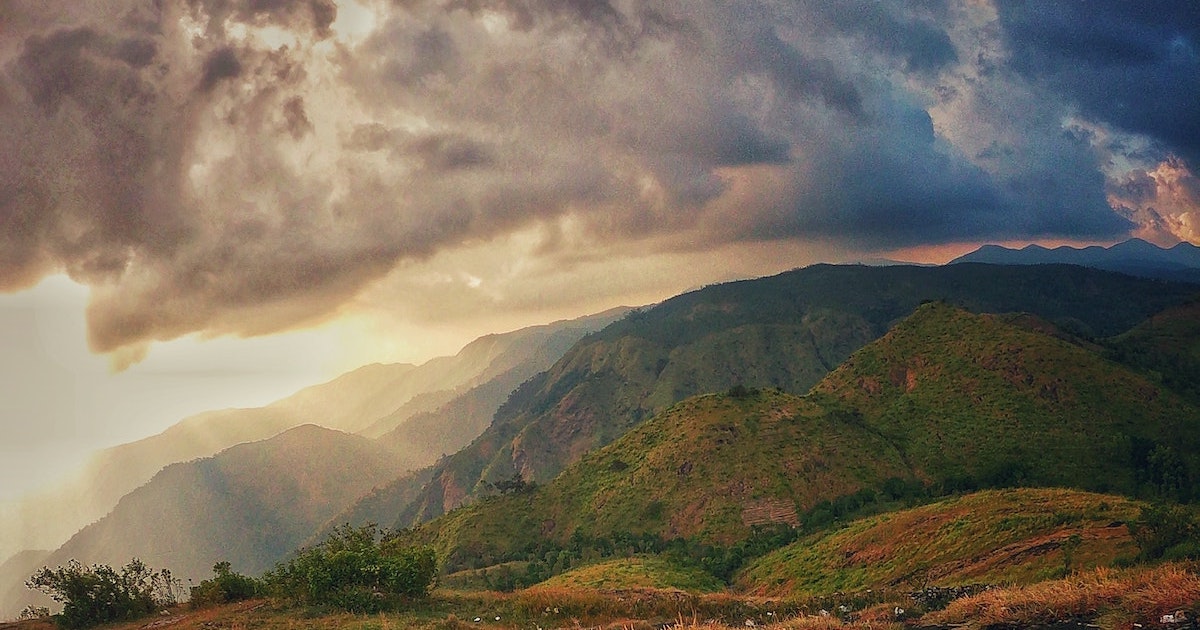 Also called Eagle Rock, Parathumpara is another offbeat hiking destination. As per the name, some of the landscape is in the shape of an eagle (or so people say). Parathumpara has views over the dense Sabarimala forests and the Azthutha River.
Its unique hiking spots include Suicide Point, which has a steep drop, and Tagor Head, where there's a rock with an uncanny resemblance to the head of the Indian poet Tagore. The trek to the Tagor Head involves a lot of climbing, but the view over the valley is worth it and best between June and January, when the valley is a lush green. At other times, the valley is red-orange and the river is fried to a crisp.
Since Parathumpara is an offbeat destination, you'll probably need to hole up for the night in Peermade, a nearby plantation town on National Highway 220, or travel to Parathumpara as an excursion from Thekkady. You might want to visit in January, when Sabarimala pilgrims come to the nearby Sabarimala Temple. This is to worship the star Makara Jyothi, which can be seen from the temple.
10. Kumily
Activities: Shopping for spices, access to the Periyar Tiger Reserve, and activities visiting the tribal communities in Kumily Panchayat.
Distance: five minutes' drive.
Kumily, the busy plantation town in the Periyar Valley next to Thekkady, is deserving of a mention on its own. Right on the fringe of the Periyar National Park, this town is as lively as it gets in the mountains. Many of the workers from the surrounding spice plantations and farms in the Cumbum Valley live in Kumily.
Kumily is considered to be the gateway into the Periyar Tiger Reserve, of course, but activities in the town include shopping for spices, plants, or starches, including rice, tapioca, sugarcane, ginger, lemon grass and coffee. Kumily has a reputation for high-quality, aromatic spices, as well as specialty spiced teas and coffees, traditional pickles, and Kerala chips (popular banana chips).
There are tribal communities living on the fringe of the Periyar Tiger Reserve, very close to Kumily. So, you can also arrange to visit the tribal communities accompanied by a tour guide. There are five different tribes living in Kumily Panchayat, named the Mannans, the Paliyas, the Uralis, the Mala-arayas, and the Malampandarams. The Mannan tribe has a Tribal Heritage Museum and provides demonstrations of tribal techniques and dances.
11. Vagamon
Activities: Hiking, paragliding, rock climbing, and boating.
Distance: an hour and a half's drive.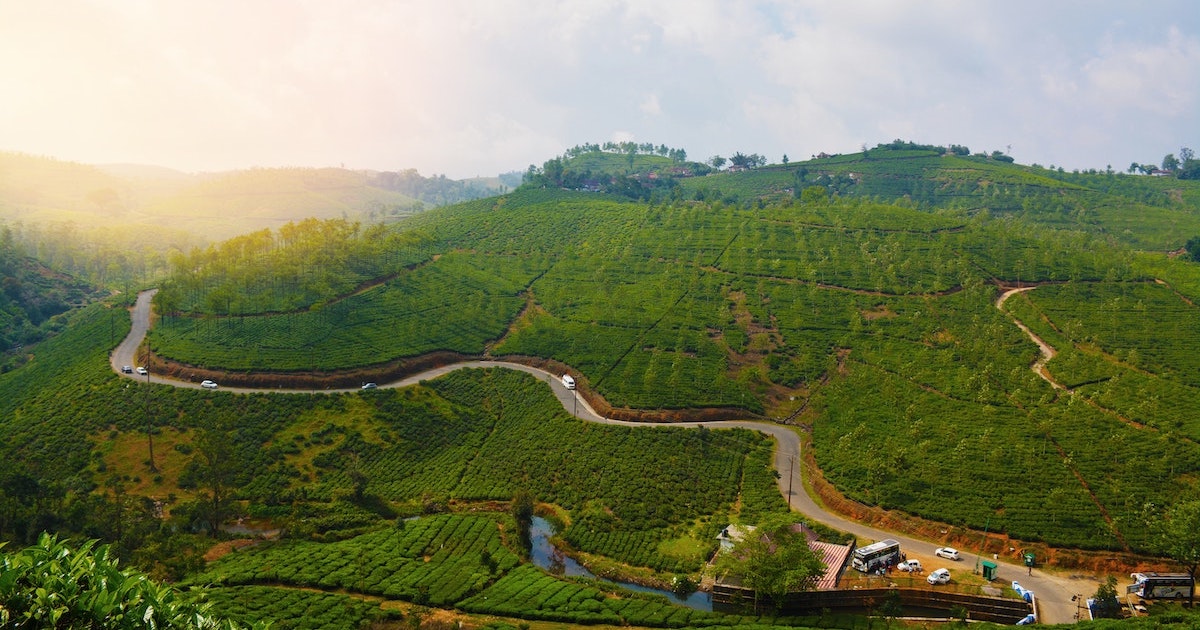 Out of all of the above places to visit near Thekkady, Vagamon is the most 'touristy'. It's not much of a surprise, considering that the plantation hill station has a huge stretch of tea gardens, a refreshing breeze 1100 metres above sea level, and access to pine forests, waterfalls, meadows, and valleys.
With so many different landscapes, outdoor activities are well-developed in Vagamon. You can go rock climbing, hiking, and paragliding across the hill station's three peaks, which include Thangal Hill, Murugan Hill and Kurismala Hill. There's boating on the lake between the three hills, as well as a stage, arts centre, and path, where traditional shows take place. The lake is also surrounded by eco village-style cottages, a unique stay in the middle of the hills.
12. Ramakkalmedu
Activities: Hiking.
Distance: an hour's drive.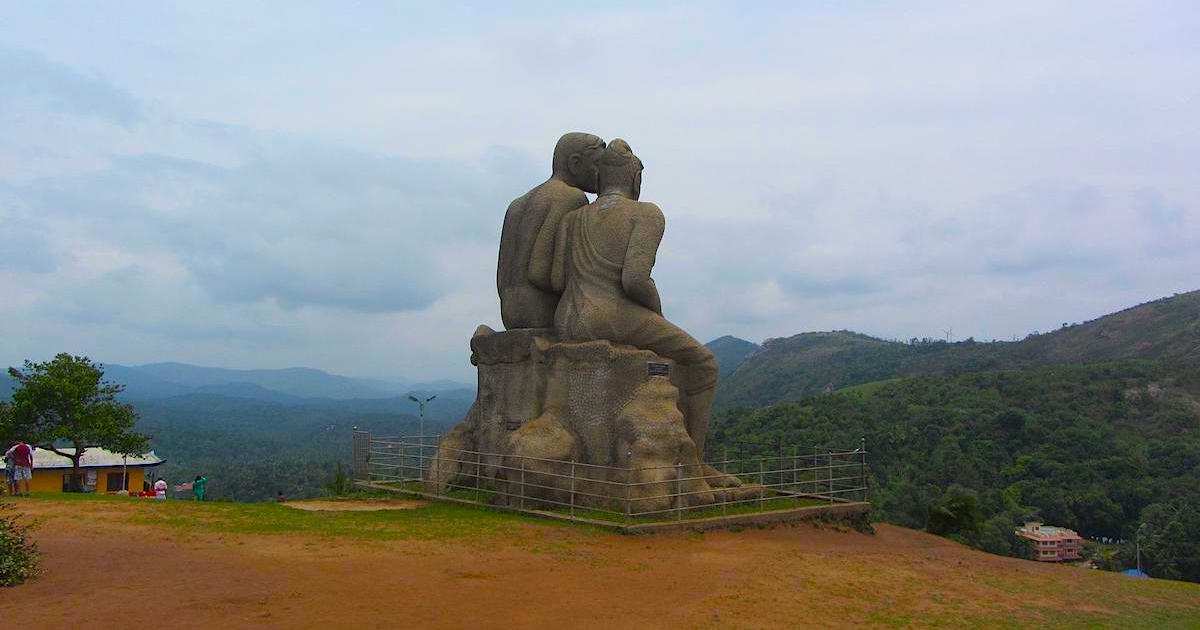 Another hill station, you say? Well, all of the hill stations in the Western Ghats have their own unique landscapes, and Ramakkalmedu is no different. The peaceful, cool hills have a 300-metre-high stone statue of two characters embracing over the green, dough-like mounds. The figures represent Kuravan and Kurathi, who are believed to have created the Idukki Dam.
The name Ramakkalmedu comes from footprints on the rocks, which are believed to have been left by Rama, a reincarnation of the God Vishnu. Hike to Frog Rock and Turtle Rock or explore around the area of the twin statue. Ramakkalmedu is still largely unexplored, so you shouldn't have to compete with too many people for the views.
13. Panchalimedu
Activities: Hiking.
Distance: an hour and 15 minutes' drive.
Panchalimedu is another hill station with an interesting story. According to legend, the heroes Pandavas and Panchali took refuge in Panchalimedu when they were exiled. That's where the name came from. The wife's name has been merged with 'medu', which means hill.
While this is mainly a hiking destination, it's not designed for the hardcore trekkers. The short and sweet hikes are suitable for kids or lazier days out. There are plenty of benches laid out along the hilltop and many locals like to come here to relax in the meadows, while taking in the views of the hills, valleys, and rubber plantations.
14. Munnar
Activities: Hiking, mountain biking, abseiling, ziplining, and village visits.
Distance: three hours' drive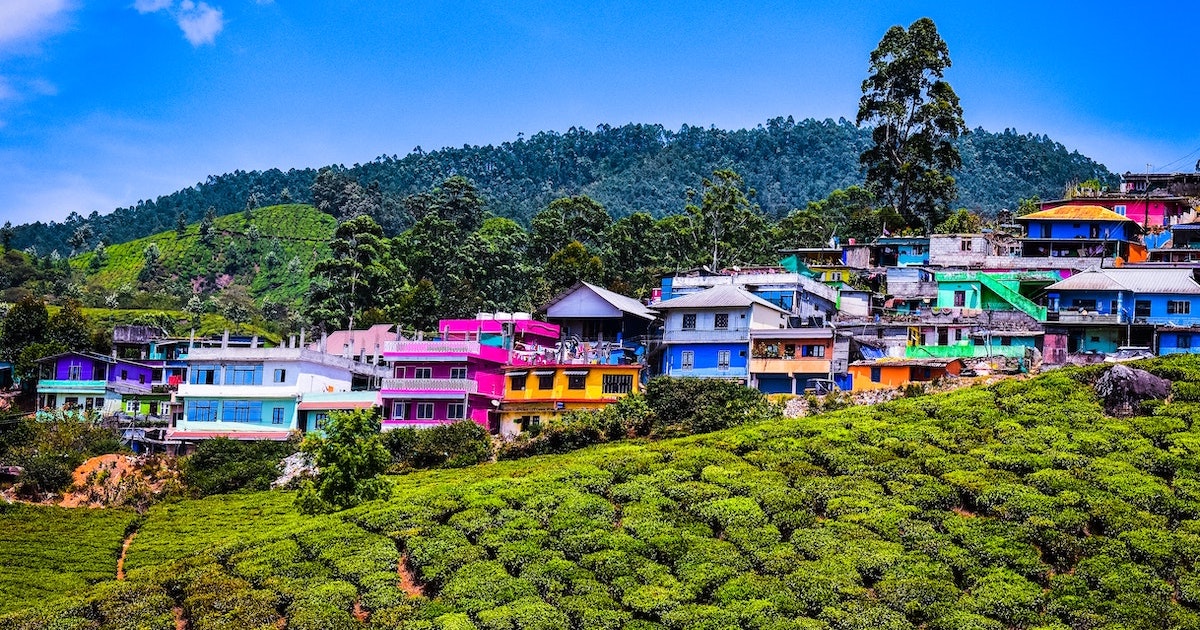 If you're looking for the next destination after Thekkady, Munnar should be one of the first places you consider. Lathered in green tea estates and their tea factories, Munnar is well-known as the 'tea land' of Kerala. The dappled green hills are worth a visit just for the views, but the area is also surrounded by mountains, which are ideal for outdoor activities such as abseiling, hiking, mountain biking, and ziplining. There's so much to do that I've dedicated an entire post to it.
Places to visit near Thekkady: The best offbeat activities in Thekkady area
By now, you should have an excellent idea of the main activities on offer in the Thekkady area. However, these are the very best offbeat activities in Thekkady and the surrounding area:
Organic farming in the Cumbum Valley, arranged as part of a stay at Harvest Fresh Farm. The homestay is available on the Thekkady Homestay page.
Bamboo rafting in the Periyar Tiger Reserve.
Visiting the Mannan tribe on the fringes of the Periyar Tiger Reserve and witnessing tribal dance and tribal technique demonstrations.
A night drive and stargazing experience in Ottakathalamedu.
Nighttime jungle patrols to guard the Periyar Tiger Reserve against poachers, led by former poachers.
Watching the ancient performance art forms of Kathakali and Kalaripayattu at Kadathanadan Kalari & Navarasa Kathakali Thekkady.
Camping and trekking along the Periyar Tiger Trail.
Trekking and camping in Gavi Forest.
Places to visit near Thekkady: Where to stay in Thekkady
Whether you're travelling on a budget or you're willing to part with a little extra money for the best experiences and accommodation, Thekkady will be no trouble for you.
Thekkady is no stranger to luxury resorts and hotels. Many have jungle settings or views over forested hills, and there are a fair few sustainable options too. These eco-friendly resorts and hotels have features such as organic farm-to-table restaurants, employ local community members, and support reforestation and recycling.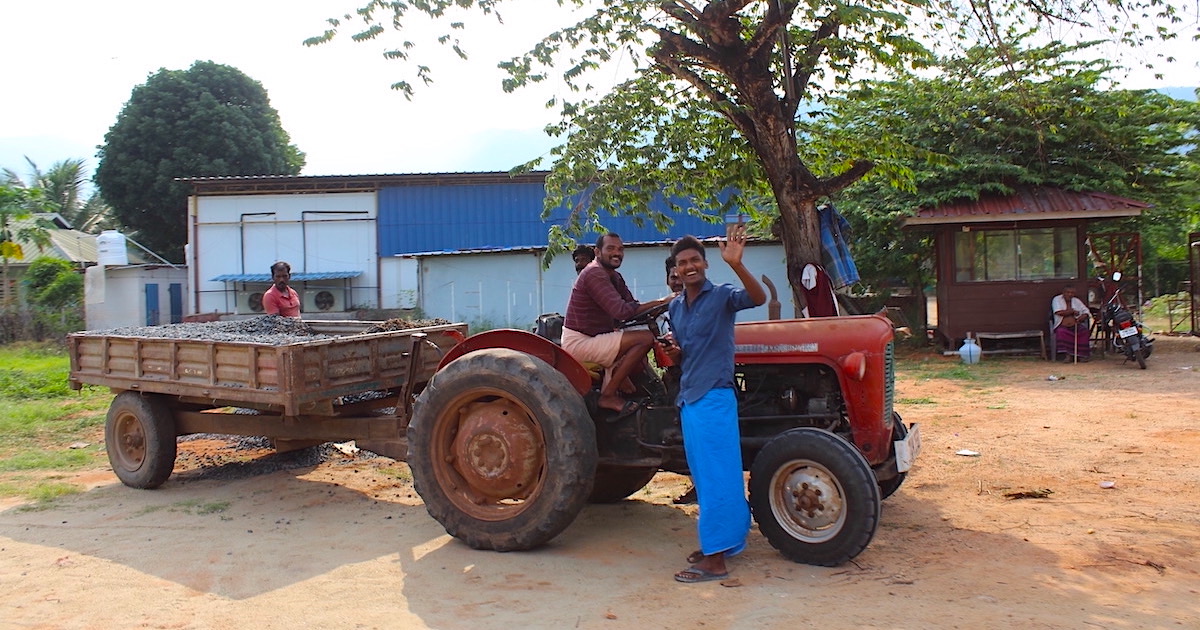 Homestays or farmstays are an excellent way to fully immerse yourself in the local culture. Not to mention, you'll also get to eat traditional homecooked delicacies, which is an excellent way to taste some of the best food in Kerala district.
There are plenty of mid-budget hotels for those looking for a happy medium, especially in the Kumily area. There are not many budget hostels in Thekkady, aside from in Vagamon.
Meanwhile, those searching for unique or offbeat accommodation will be pleased to find places to stay in the form of treehouses, camping tents, and watchtowers.
Places to visit near Thekkady: Treehouses and offbeat accommodation
If you want the ultimate forest experience, staying in a treehouse is an excellent way to get it. At treehouse-style hotels, you'll get a unique monkeys' eye view of the forest, as well as a prime position to watch the wildlife pass by below. These are some of the best treehouse hotels in the Thekkady area:
Places to visit near Thekkady: Sustainable hotels and resorts
Spice Village CGH Earth: A tribal-style village in a spice garden with self-sustaining systems, a farm, and community programmes.
Cardamom County: A family-friendly resort with a farm-to-table ethos and sustainable initiatives such as reforestation and recycling.
Hills & Hues: A resort with an organic farm and an infinity pool overlooking the Periyar Hills.
Places to visit near Thekkady: Homestays and farmstays
My favourite site for finding homestays or farmstays is Homestay. These are some of the top homestays and farmstays I've found in Thekkady for those who want to experience Thekkady under the wing of a local resident:
Harvest Fresh Farm: An organic farmstay in the Cumbum Valley with organic farming activities, available on the Thekkady Homestay page.
Indhrivanam: A stone-chipped bungalow on a family's two-acre Thekkady property, which grows coffee beans and harvests rainwater.
Wind Valley Homestay: A community-driven homestay and hostel serving traditional Kerala cuisine in Ramakkalmedu.
Places to visit near Thekkady: Other accommodation
As I cover in my travel resources, Booking.com is my go-to resource for booking travel accommodation. It has a huge selection of hotels, resorts, hostels, and homestays, and I've been booking with them for so long that I get free discounts and upgrades on my rooms.
---
Looking for more inspiration for your Kerala trip? I've covered the best things to do at Alleppey and its backwaters, along with what to wear in Kerala.
Which animal is found in Thekkady?
Animals such as tigers, elephants, lion-tailed macaques, and Indian bison are found in the Periyar Tiger Reserve next to Thekkady.
What is Thekkady famous for?
Thekkady is famous for its wildlife and its location next to the Periyar Tiger Reserve, which has around 40 tigers, forests, and a lake. It hosts offbeat activities such as bamboo rafting, wildlife treks, and camping.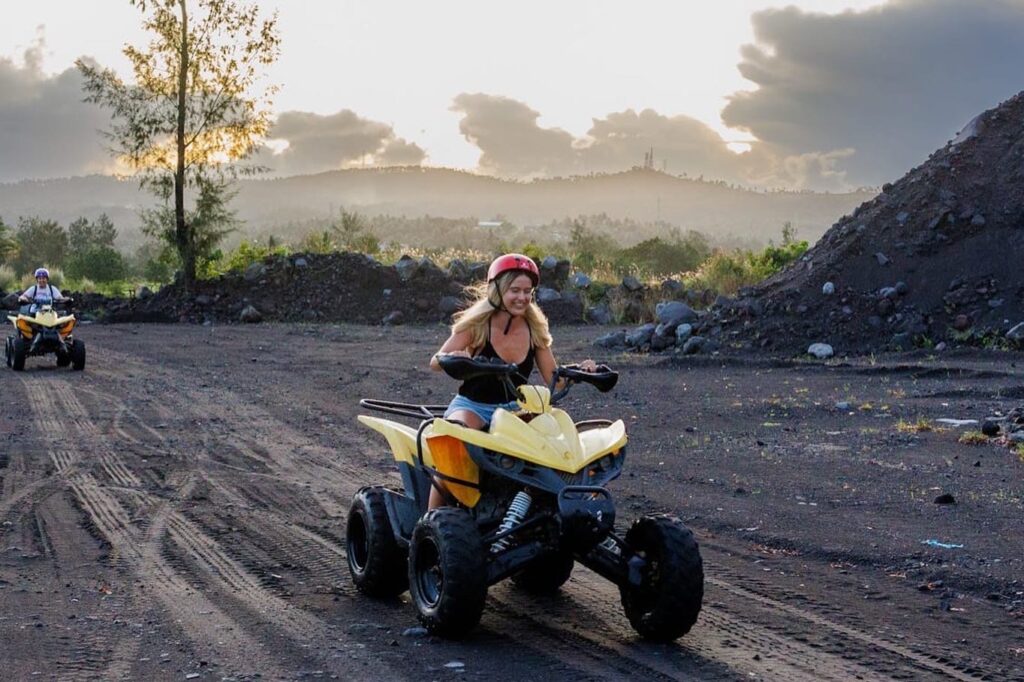 AUTHOR: KATIE TREHARNE
I'm Katie, the owner of Escape Artist Katie and a full-time digital nomad. I have been travel writing in some shape or form since 2018, including writing for luxury travel magazines. I hope you found my article useful – find out more about me here or keep up with my travels on Instagram. I'm a big advocate for offbeat travel and pushing yourself out of your comfort zone.