What is the dress code in Cuba? Is it the long, floaty dresses and flowery shirts that you see on Instagram and in travel brochures? Should you dress modestly? Does the dress code vary depending upon the towns and cities you visit? What should you wear to the beach in Cuba? If any of the above questions have come to mind, don't worry – you're not alone in wondering exactly what to wear to Cuba.
A quick stroll through the streets of Havana or Santiago de Cuba will tell you that colourful garb and vibrant patterns are the go-to in Cuba, along with casual cigar shirts and jeans or shorts. As a predominantly Christian country, it's also common for locals and tourists to show skin, whether it's their shoulders, legs, or cleavage.
So, the dress code in Cuba for tourists is more about comfort than anything else. When you're deciding exactly what to pack and what to wear to Cuba, you should start by looking at the predicted weather conditions during your visit. Then, add a splash of colour to your wardrobe if you're feeling excited. Most importantly, however, you should feel comfortable and confident in your outfit choice. It's essential that you feel safe and blend in to an extent, especially if you're travelling solo or in a small group.
The following guide covers what to wear in Cuba, whether it's the day or night, as well as what to wear when you're visiting Havana, Varadero, Trinidad, Santiago de Cuba, the beach, the city, or a Cuban resort. With the following guide and my Cuba packing list, you should feel confident (and runway-ready) for your trip to Cuba.
Dress code in Cuba: What is the traditional wear in Cuba?
While you're likely to see all sorts of fashion statements in Cuba's big cities and towns, the traditional wear in Cuba includes items such as cigar shirts and rumba dresses.
The official national costume of Cuba is the guayabera or cigar shirt, a lightweight linen or cotton shirt that typically has two or four pockets at the front, a collar, buttons, and two pleats at the front and back of the shirt. Lightweight and loose-fitting, they're the go-to casual attire for men in Cuba.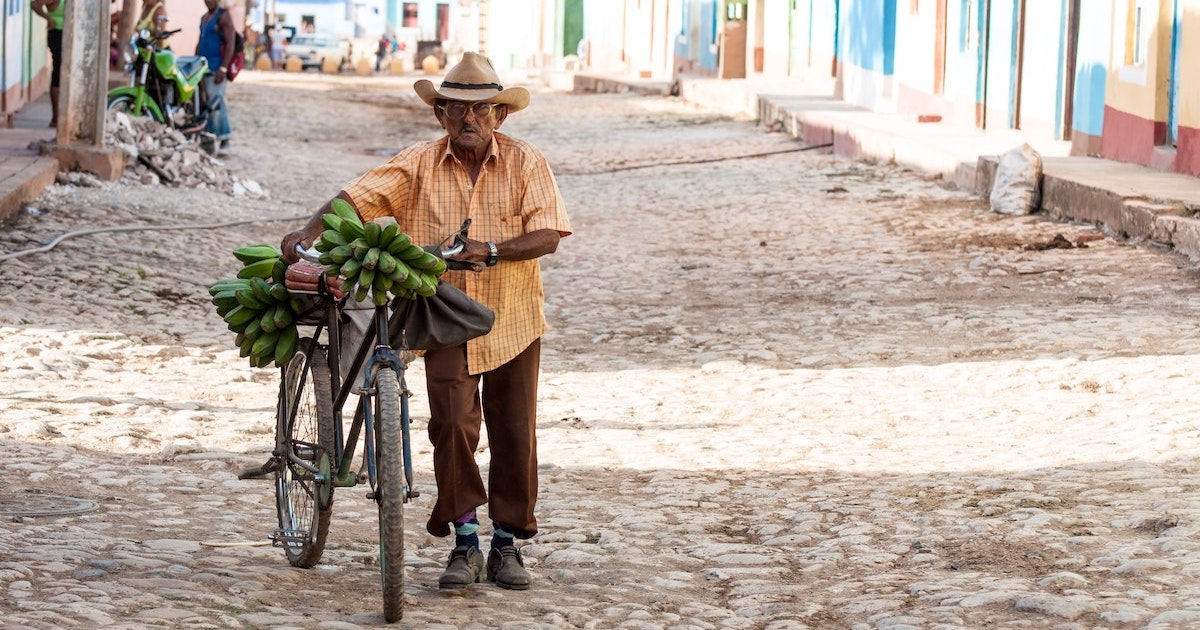 Bata cubana dresses, also called rumba dresses, are perhaps the best-known traditional wear in Cuba. This is likely down to their vibrant, eye-catching arrangement, which usually includes ruffles around the legs and arms or fluttery sleeves. Traditionally, these lightweight dresses have vibrant colours, a plunge neckline, and a close fit.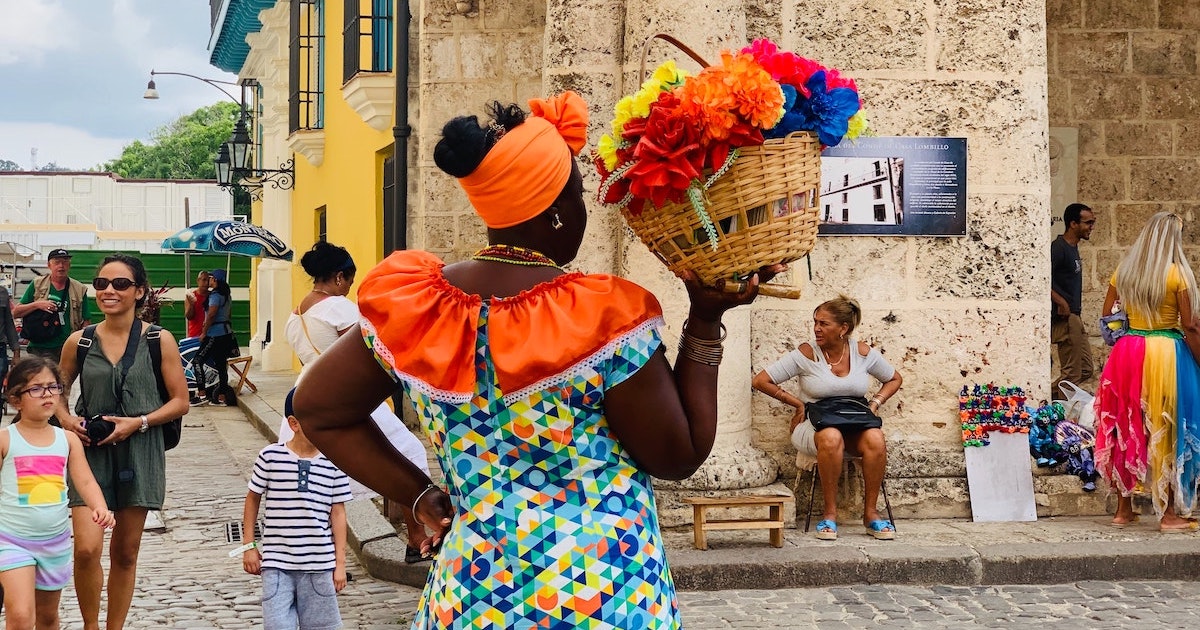 You're more likely to see rumba dresses away from the bigger, urban centres in Cuba. Just look out for checkered prints, frills, lace, ribbons, off-shoulder necklines, and vibrant colours or patterns. Colourful jewellery containing beads are common accessories worn with rumba dresses.
If you have a keen eye, you might notice some locals dressed in all-white attire too. This is an outfit worn by those in the initiation stage of the Santeria religion, an Afro-Caribbean faith also referred to as Regla de Ocha or Lucumi religion.
Dress code in Cuba: Should I dress modestly in Cuba?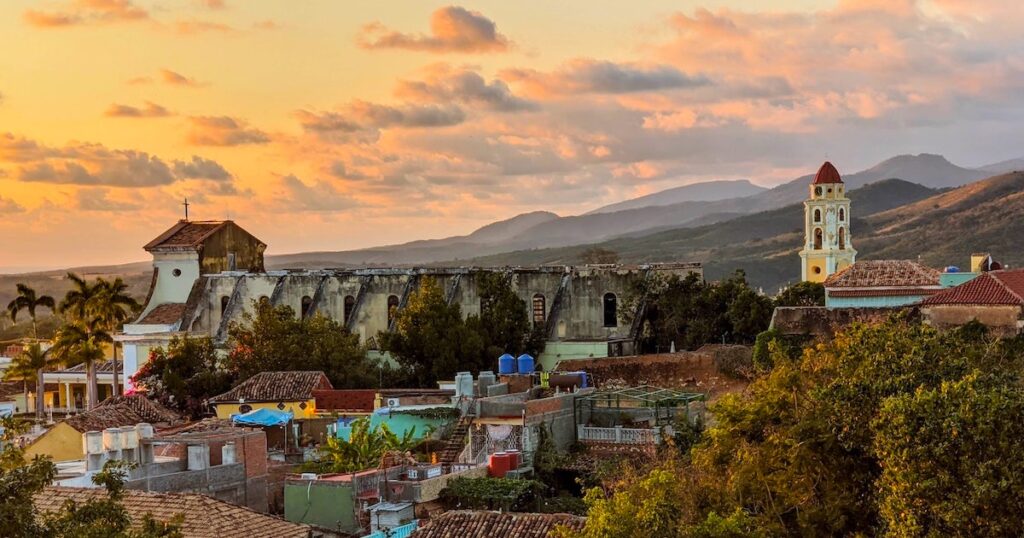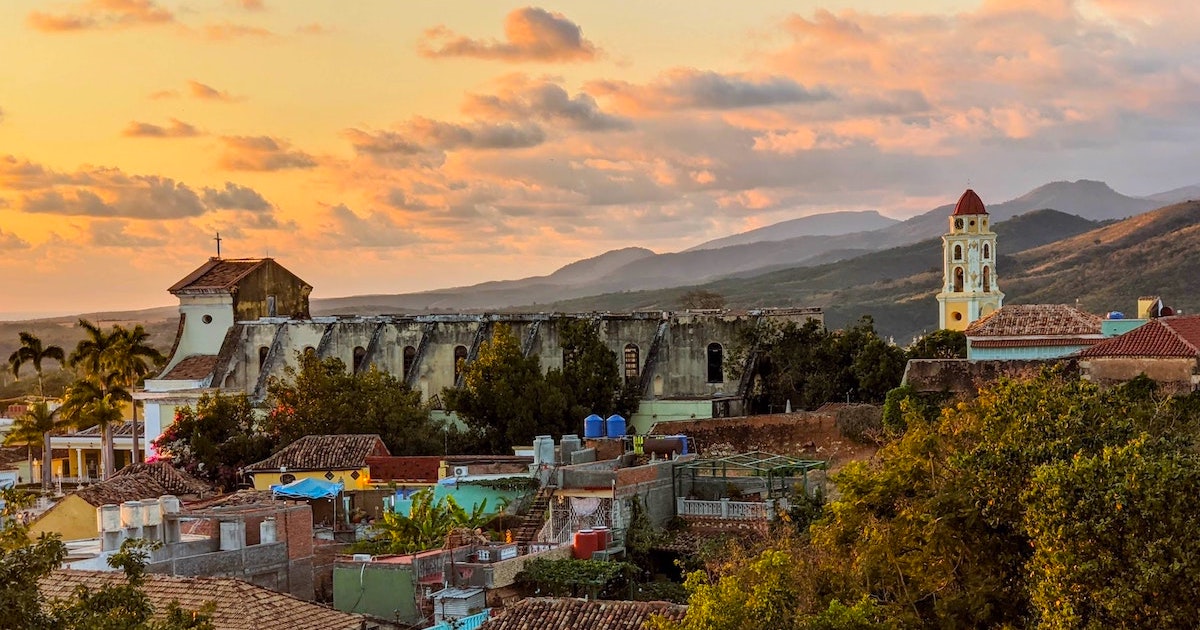 Trinidad, Cuba. See the best things to do in Trinidad Cuba.
Cuba is a predominantly Christian country, so you don't necessarily need to cover your arms, shoulders, legs, or chest in Cuba – unless you'd like to. It's very common to see locals and tourists wearing shorts, skirts, dresses, vests, tank tops, and crop tops in hot weather.
In my experience, when the weather drops below 20 °C, the dress code in Cuba (for locals, at least) switches to jeans and a t-shirt. If you'd rather blend in with the locals, you might want to follow suit.
When it comes to deciding how modestly you should dress in Cuba, the biggest factor is safety. In general, Cuba is a friendly and safe country to travel around, but catcalling is very common in the big cities, even for men. While this wasn't too bothersome in the day, I preferred to dress modestly and wear baggy clothes at night for my own peace of mind.
Dress code in Cuba: What not to wear in Cuba
You should avoid wearing branded items or expensive jewellery. This may be seen as insensitive, due to the poor economical situation in Cuba. Some restaurants, especially higher-end establishments connected to hotels, will not allow guests to wear short shorts or skirts into their restaurants too.
The Dress Code in Cuba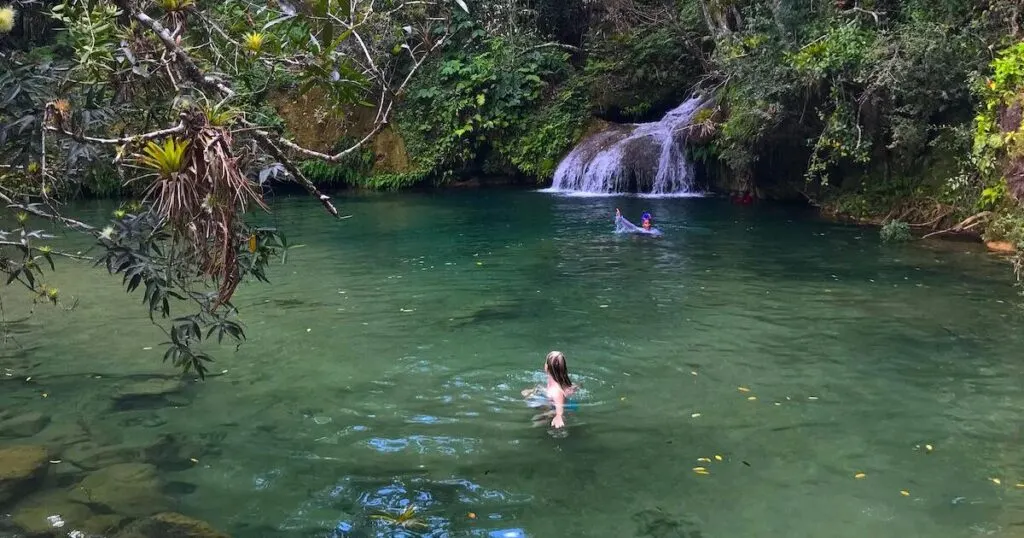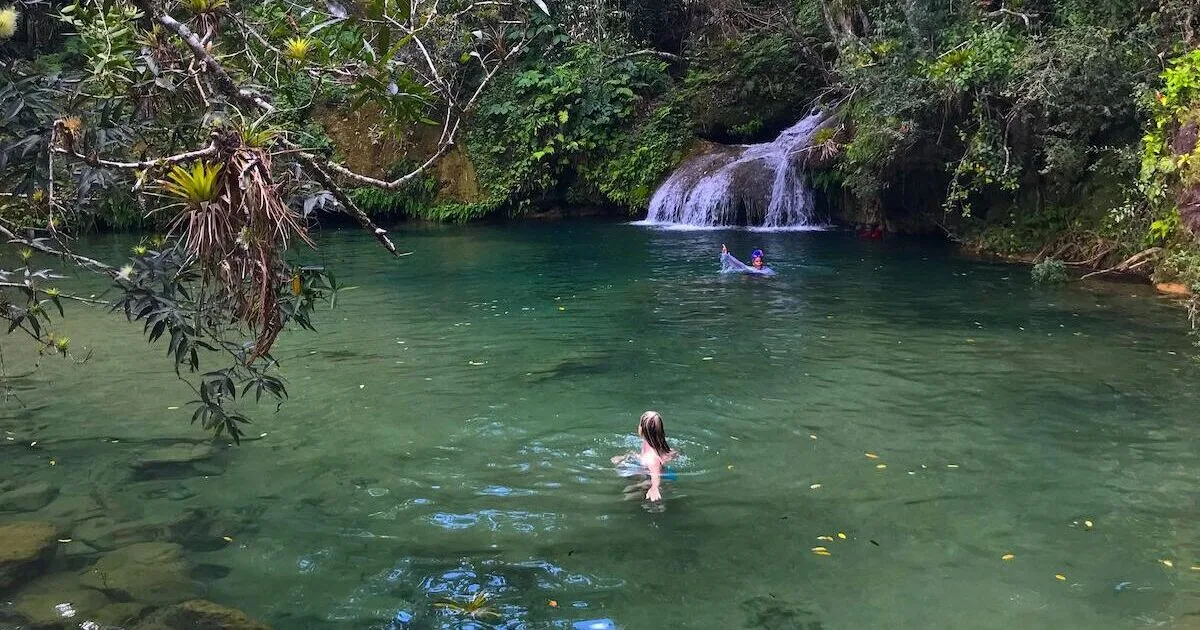 If you want to visit the Parque Guanayara Waterfalls, my favourite 'secret' spot in Cuba, sturdy shoes are essential for the hike.
The dress code in Cuba really comes down to exactly where you're visiting in Cuba, as well as the time of day and the activities you have planned. The following guides will give you a better idea of what you should wear in the day and night, as well as what's most acceptable in different destinations across Cuba.
What to wear in Cuba in the day
As an island in Latin America, Cuba is typically hot and humid. Therefore, lightweight, breathable fabric such as cotton, linen, and sweat-wicking fabrics should be your go-to attire. Walking is one of the main ways of getting around Cuba, and since there are plenty of cobbles and potholes, sturdy, practical shoes or sandals are another must-have item.
Practical and fashionable outfits for men and women might be shorts or skirts with a loose vest or t-shirt. A loose-fitting dress is also breathable and comfortable. When it's slightly cooler outside, lightweight trousers or jeans paired with a vest or t-shirt are a good combination.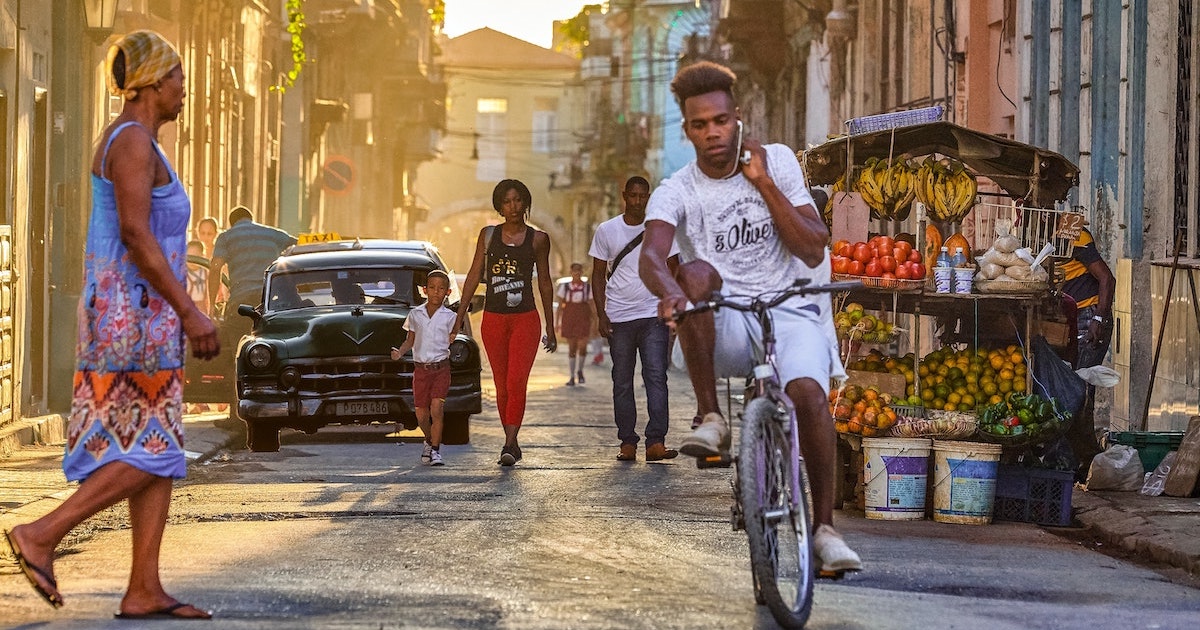 Always carry a light jacket or cardigan with you, because some buildings and restaurants (if you're lucky) have air conditioning. A rain jacket or a travel umbrella is essential between May and October, which is the rainy season in Cuba.
What to wear in Cuba at night
The temperature drops by at least a few degrees at night, especially in northern parts of Cuba such as Havana or Varadero. Mosquitos also appear from dusk onwards. For these reasons, it's a good idea to swap any shorts or short skirts for longer trousers, skirts, or jeans, and drape a lightweight cardigan or jacket over your t-shirt or vest.
If you're keen to take some nice holiday photographs in a shorter dress or special shirt, you can always take off your jacket once you're inside a bar or restaurant or when you spot an attractive backdrop.
INSIDER'S TIP
Travel insurance is essential for any trip abroad. Whether you experience an allergic reaction, falling sick, or something as simple as a road or sports accident, you just don't know what could happen. If you're in an accident or experience an emergency, you need adequate cover. I recommend Staysure for single or multiple trips per year and SafetyWing for digital nomads.
What to wear in Havana Cuba
In Havana, the dress code is more diverse than in Cuba's smaller towns – it is the capital city, and many people like to channel their personality through fashion. Feel free to inject some colour and personality into your own outfit, as the locals are sure to appreciate it.
As a big urban centre and the capital of Cuba, catcalling is the most predominant in Havana (even for men), so you might want to dress more modestly if this makes you uncomfortable. You should also avoid wearing flashy or designer items. While pickpocketing isn't particularly rife, you're more likely to get pickpocketed in Havana than anywhere else in Cuba.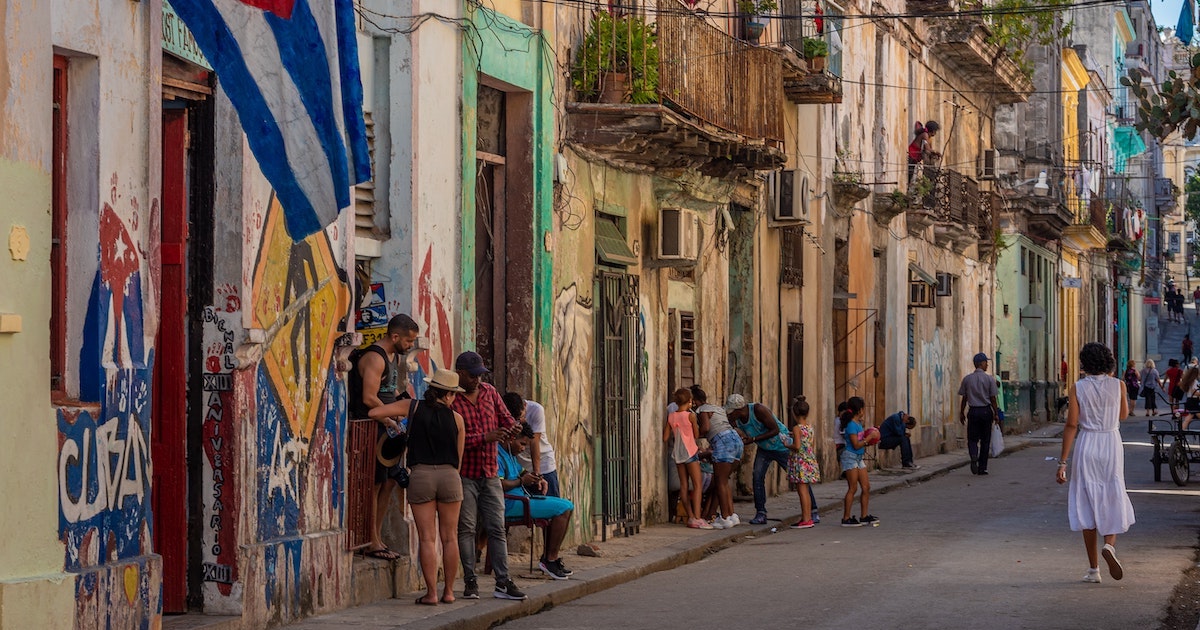 What to wear in Trinidad Cuba
Trinidad has somewhat of a 'resort' vibe, given that it's such a popular tourist destination, and it's the one place where I felt most comfortable to get out my summer dresses. It also feels very safe at night; in fact, it's virtually empty when you get out of the central area of Plaza Mayor. This is the sort of place where you can wear your maxi dresses, flowery shirts and sundresses without feeling like a spectacle.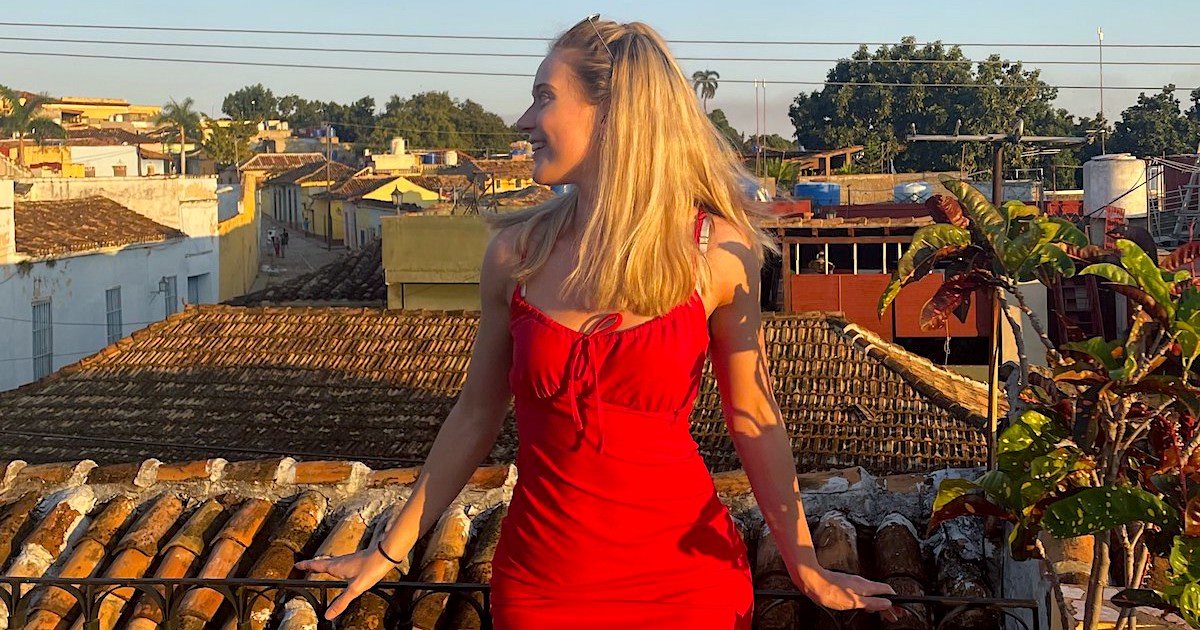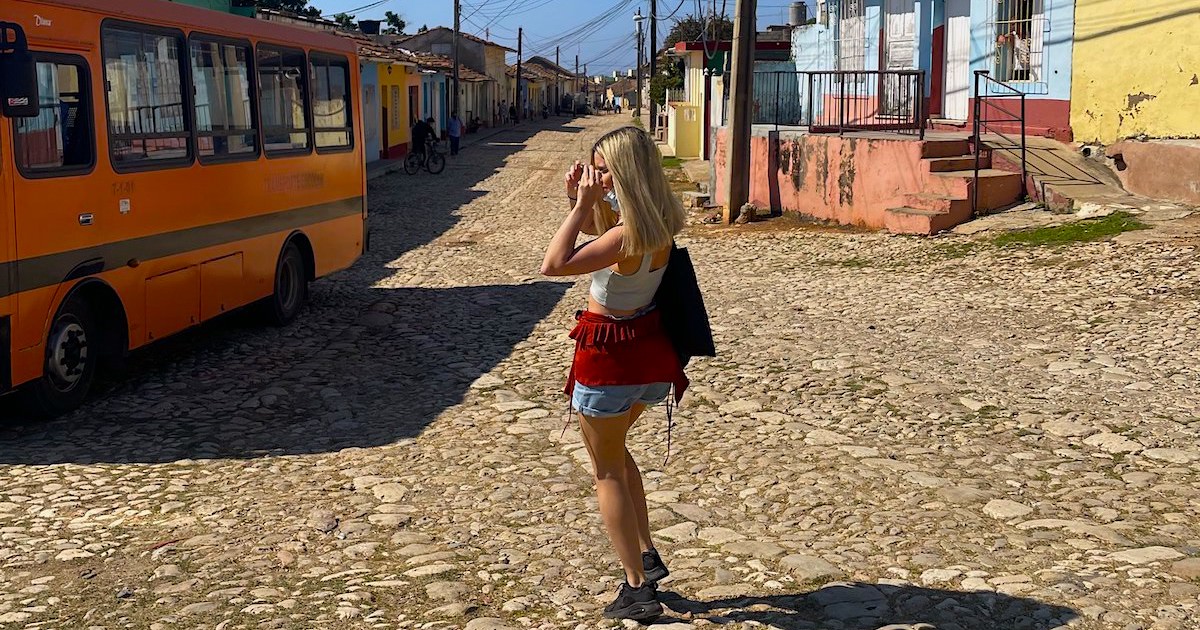 What to wear in Varadero Cuba
Varadero is probably the biggest tourist hotspot in the whole of Cuba. The beaches are lined with large beach resorts and hotels, so the dress code is way more relaxed than in the cities or towns. Since there are so many tourists lounging around or lumbering off to the beach, it's unlikely that you'll look or feel out of place in beach garb, or even with sand stuck in your hair. Out of anywhere, this is the place to wear your usual beach, resort, or fancy drinks-and-dinner holiday outfits.
What to wear in Santiago de Cuba
You should treat dressing for Santiago de Cuba similarly to dressing for Havana. Santiago de Cuba is the so-called 'capital of the south', and it's a huge urban centre. There are strong Afro-Cuban influences on the attire here, meaning that colourful outfits are even more commonplace than in Havana.
I'd suggest bringing out your colourful holiday attire, but keeping things fairly modest. Shorts and a colourful top or a loose, full-length maxi dress for women are some great outfit ideas. Men might want to opt for a colourful shirt and slacks or jeans and a statement t-shirt. Avoid wearing anything too flashy or expensive, as you might attract pickpockets or cause offence to locals.
What to wear in a Cuba resort
Since Cuban resorts are packed with tourists showing off their best summer dresses, Instagram-inspired crochet tops, beachwear, and flowery shirts, the dress code is typically very relaxed.
Many tourists tend to dress up in the evenings for dinner at their resort, so packing a more formal shirt or dress might be a good idea. Some resorts also have a no shorts rule in their restaurants in the evening, so plan ahead in case this is the case.
What to wear to the beach in Cuba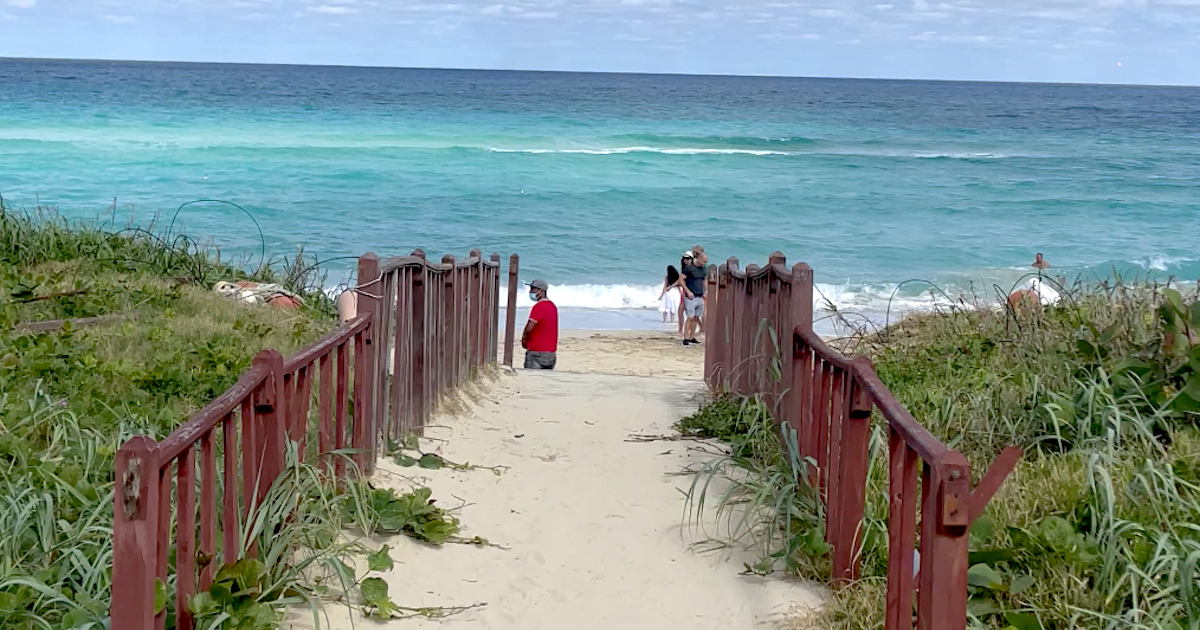 There's no dress code for the beaches in Cuba, whether you're visiting the best beaches Havana or beaches in Varadero or parts of south Cuba. Bikinis, swimming trunks, tankinis, and swimming costumes are all acceptable. Obviously, the only rule is that you shouldn't go commando or topless (if you're a female).
Wearing a cover-up or a kimono-style jacket might make you feel more comfortable on the beach, especially since many of the restaurants are based a short walk from the beach. Remember to wear comfortable clothes and shoes for your journey to and from the beach, especially if you're walking there or travelling by bus.
If it's evening by the time you retire, you might want to bring a jacket or longer trousers with you to avoid mosquitos (and catcalls).
Dress code in Cuba: Can I buy clothes in Cuba?
While you shouldn't expect endless boutiques and high-street stores in Cuba, there are markets and flea stores in bigger towns or cities such as Havana, Varadero, Trinidad, and Santiago de Cuba. That's if you can find out where they are – your best bet is to ask your casa particulare (which you can book through Homestay) point you in the direction of a flea market.
Markets typically run on selected days, although big tourist destinations may have permanent stalls selling clothes that are popular with tourists, such as dresses and hats.
Cuba outfits: a short packing list
I have an exhaustive guide on exactly what your Cuba packing list should include, but in short form, these are the essential clothes you should pack when travelling to Cuba.
Cuba outfits packing list for women
These are the basic essentials for women travelling to Cuba:
Skirts or shorts.
Loose mini dress.
A maxi dress, loose jeans, or loose, full-length trousers.
Lightweight, travel-friendly rain jacket or a robust travel umbrella.
A lightweight, water-resistant backpack.
Swimming costume or bikini.
Beach cover-up.
Sunglasses.
Underwear and socks.
Practical trainers or walking boots.
Sturdy sandals.
Cuba outfits packing list for men
These are the basic essentials for men travelling to Cuba:
Shorts.
Full-length trousers or jeans.
Lightweight jacket or jumper.
Lightweight, travel-friendly rain jacket or travel umbrella.
A lightweight, water-resistant backpack.
Swimming trunks.
Underwear and socks.
Sturdy sandals.
Practical trainers or walking boots.
Other essential items for Cuba
DEET-containing insect repellent.
A quick-dry and lightweight towel for the beach.
Plenty of cash (in euros): As I explain in detail in my guide to money for Cuba, ATMs are unreliable and they have a very poor exchange rate.
Sun cream
First-aid kit
Snacks: grocery stores in Cuba typically stock rice, tinned beans and tomatoes, and they don't usually sell snacks.
A European plug adapter.
---
Now that you're ready for the 'runways' of Cuba, cobbles included, you're free to plan your itinerary. Why not get off the beaten track and visit Topes de Collantes Cuba, a national park next to Trinidad?
---
Can I wear shorts in Cuba?
It's acceptable to wear shorts in Cuba. Cuba is a predominantly Christian country, so locals wear shorts, skirts, and dresses bearing their knees. When the weather drops below around 22 degrees celsius, most locals will stop wearing short items of clothing. If you want to blend in, you might do the same.
Can you wear white in Cuba?
You can wear white in Cuba. Many people in Cuba wear all white because they are practicing the la regla de ocha religion, where those going through their Santería initiation dress in all-white attire. However, it is not insensitive to wear all white if you do not follow the religion.
Can you wear camo in Cuba?
Do not wear camo in Cuba. Camoflauge clothing is banned in some Caribbean countries, including Cuba, because it gives the impression that you're impersonating the country's military or police. While the police are likely to be more lenient with tourists if they don't know this, you should avoid wearing camo completely – especially when passing through airport security.
Can you wear jewellery to Cuba?
Wearing jewellery in Cuba can make you a target for pickpockets. It is also seen as insensitive, because many people in Cuba live in poverty. You may be bothered more by locals selling over-priced tours and other items, because they will see you as well-off and able to afford extortionate prices.
Can you wear crop tops in Cuba?
It is acceptable to wear crop tops in Cuba. Many locals wear crop tops due to the hot weather, and they are also sold in the country.
How much is a shirt in Cuba?
Typically, a shirt will cost between 10 and 15 CUP in Cuba.
Does Havana have a dress code?
Havana is the capital city of Havana, so the dress code is more relaxed than in other parts of Cuba. Many locals channel their personality through fashion, so colourful garb is popular. You can also show your knees, shoulders and cleavage, as Cuba is a predominantly Christian country; however, catcalls should be expected.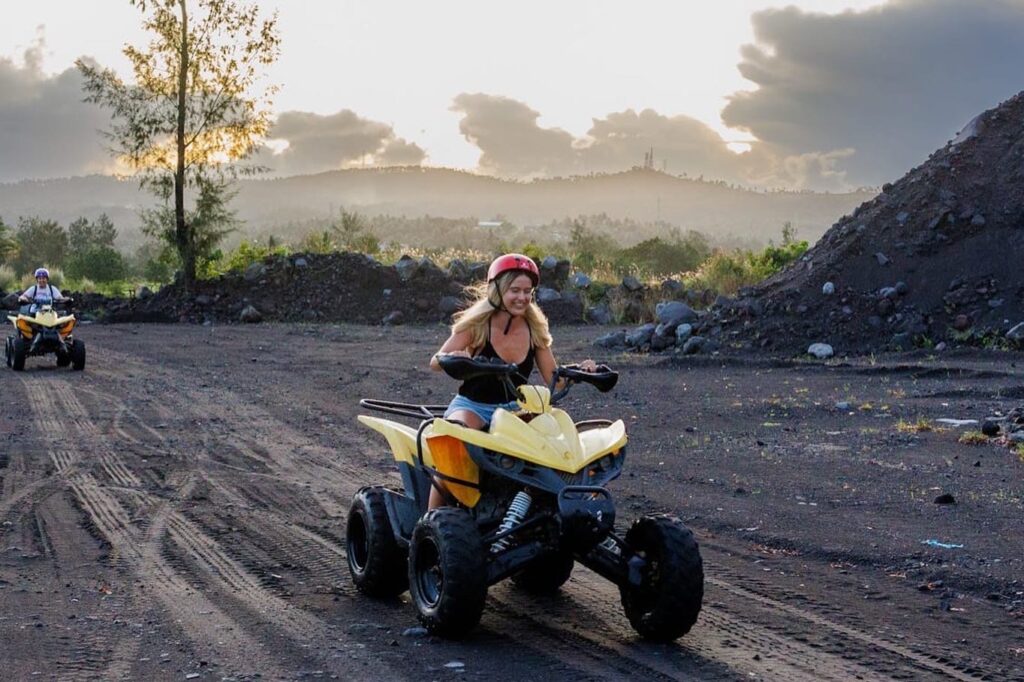 AUTHOR: KATIE TREHARNE
I'm Katie, the owner of Escape Artist Katie and a full-time digital nomad. I have been travel writing in some shape or form since 2018, including writing for luxury travel magazines. I hope you found my article useful – find out more about me here or keep up with my travels on Instagram. I'm a big advocate for offbeat travel and pushing yourself out of your comfort zone.