If you've got as far as searching for the best things to do in Trinidad Cuba, it's likely that you've already noticed that this central Cuban town has something special. Perhaps you've seen pictures of terracotta tiles glinting in the sunlight or rooftop terraces where residents string up their laundry and travellers sip on a Cuba libre or mojito while watching the sun sink down behind the sea. Or, perhaps you've heard that the town is a UNESCO World Heritage Site packed with Spanish colonial architecture and a short drive from the wildlife haven that is the Topes de Collantes National Park.
Trinidad may be a small town, but you'll by no means be stumped on what to do in Trinidad Cuba. The town is a UNESCO World Heritage Site, along with the nearby Valle de los Ingenios, where there are remnants of Cuba's once-booming sugar trade. After the sugar trade industry collapsed in the 1920s, most of Cuba's towns and cities were transformed and modernised. However, tucked behind the Topes de Collantes National Park, Trinidad was largely forgotten, making it one of the most well-preserved towns from that time.
With the following 10 best things to do in Trinidad Cuba, you'll be set to take in the Spanish colonial architecture and pastel-hued houses via its sloping cobbled streets, as well as experience the little touches that make it so special. That means evenings on rooftop terraces, partying in a cave that was a former war-time hospital, and learning salsa steps, Cuban-style. I've also featured the best day trips from Trinidad Cuba, including wild swimming in jungle waterfalls, hiking past historic sugar cane mills, and snorkelling over one of the biggest black coral reefs in Cuba.
Skip to:
Is Trinidad Cuba worth visiting?
If you're not already sold on the sound of rooftop bars, sloping cobbles, and an insight into life in a small, Cuban town, Trinidad in Cuba is worth visiting for a handful of other reasons. Primarily, there are three types of people who are likely to love Trinidad in Cuba: those who like to explore historic sites, those seeking hikes and wild swimming in the jungle, and those who like to spend their holidays sipping on cocktails and tucking into Cuban nibbles in a peaceful, laidback location (and, of course, anyone who likes all three).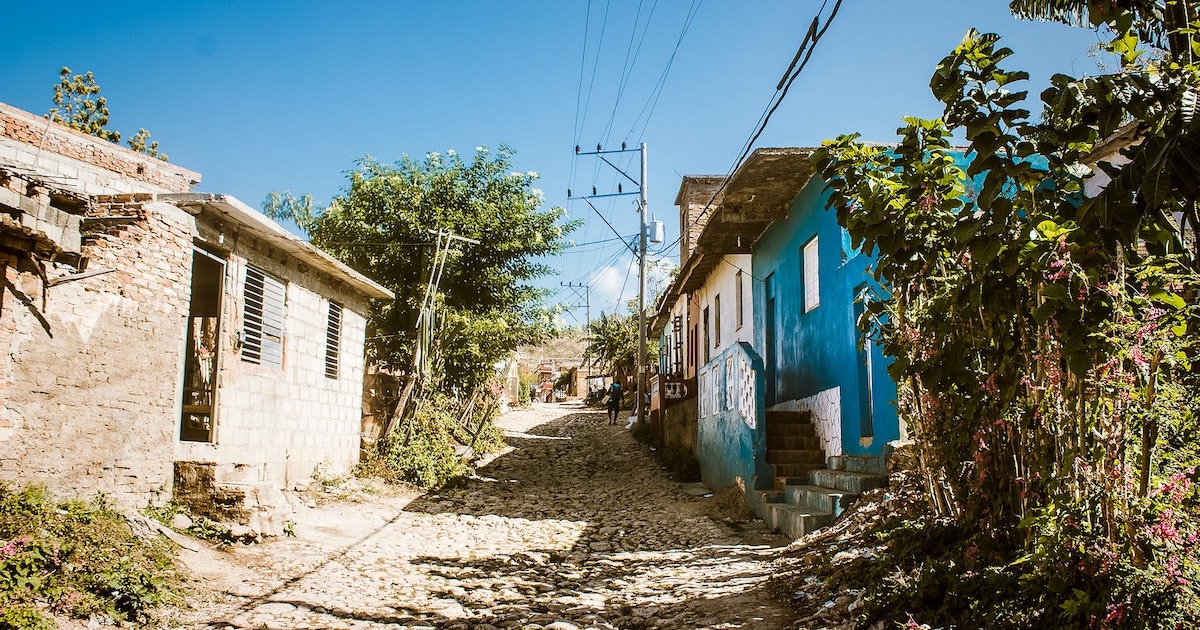 Trinidad has a slower pace of life than Cuba's cities, making it a peaceful retrieve after a visit to Havana or Santiago de Cuba. It's also an excellent base for visiting the Topes de Collantes National Park in the Escambray Mountain Range, which starts 15 minutes' drive away, and has waterfalls, coffee plantations, and mountain communities. On top of that, Trinidad is a short, 15-minute drive from the nearest beach – what else could you need?
How to get to Trinidad in Cuba
As I cover in my guide to getting around Cuba, the most convenient way of travelling between destinations in Cuba is by collectivo taxi. Differently to a normal taxi, a collectivo taxi groups together tourists who are travelling to and from the same destinations. Therefore, you can get a collectivo taxi at a lower price than a traditional taxi. To book a collectivo taxi to Trinidad, you'll need to ask your accommodation to call around private licensed taxi companies to enquire whether there are any collectivo taxis running to Trinidad. It's best to keep your dates of travel as open as possible, as collectivos run depending upon demand.
It's also possible to get to Trinidad using the Viazul bus service. However, this is an unreliable mode of transport (especially since Covid – there are rumours it has shut down entirely, and it wasn't running during my visit to Trinidad in February 2022). To enquire whether the Viazul bus service is running, you'll need to visit the bus station at your start destination twice: once to buy the ticket and once to board the bus.
Where to stay in Trinidad Cuba
Casa particular: Casa particulares are Cuban home-stays that are the equivalent of a 'bed and breakfast'. It's easy to find a casa particular when you arrive in Trinidad by looking for houses that are marked with a blue-coloured symbol in the shape of an upside-down anchor. These casa particulares are registered with the government and will take your passport number as a receipt when you arrive at the property. You can also find casas in advance on Airbnb or Homestay.
Hostels: There are a handful of hostels in Trinidad. They mainly have private rooms, but there are a few that have one (or two) dorm rooms. Staying in a hostel is a great way to meet other likeminded travellers and find an adventure buddy for your time in Cuba, especially if you're travelling in a small group or solo. To book a hostel, visit the Hostelworld website and search for hostels in Trinidad.
Hotels: If you have a larger budget, there are a handful of hotels in Trinidad, but the biggest is the Iberostar Heritage Grand Trinidad. However, I'd recommend staying in casa particular or a hostel if you're looking for a more authentic homestay experience.
The 10 best things to do in Trinidad Cuba
1. Watch the sunset from a rooftop terrace
When Spanish colonialism swept over Trinidad, it also brought with it Spanish roof terraces and terracotta tiles. While most of the roof terraces are used by Trinidad residents to store their water tanks, hang up laundry, and (probably) nose on their neighbours a little, many rooftop terrace restaurants and bars have sprung up around Trinidad for tourists.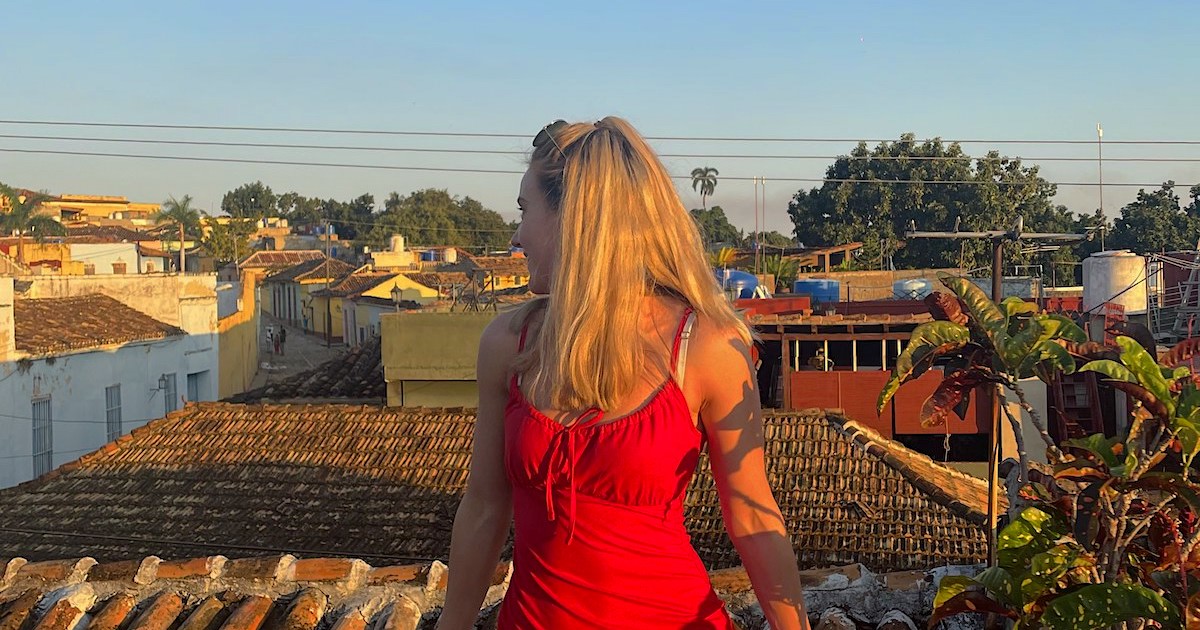 In fact, having a rooftop terrace is a big selling factor for many of the restaurants and bars. You might have to pay a little extra for your croquettes or cocktails, but finding one of the best rooftop bars in Trinidad Cuba for golden hour and sunset is a must. The sun sets over the sea, painting the horizon orange and red. It showers the terracotta tiles and the Escrambay Mountains with a golden glow. Bring your camera for the holiday snaps, and get a Cuba libre or a mojito in hand ready for the action.
2. Visit Plaza Mayor
Part of visiting any destination is understanding its past, and Trinidad is no exception. The town has many historical sites dating from its colonial history and most of them are congregated in Plaza Mayor in the centre of the town.
The first mistake is to assume that Plaza Mayor refers to one small, square, as I did when I suggested a meeting place for a new friend (with a poor WiFi connection throughout Cuba, you'll need to use the old-fashioned way of meeting new accomplices). Plaza Mayor, in fact, refers to the historical centre of Trinidad Cuba, and it stretches over quite a few streets.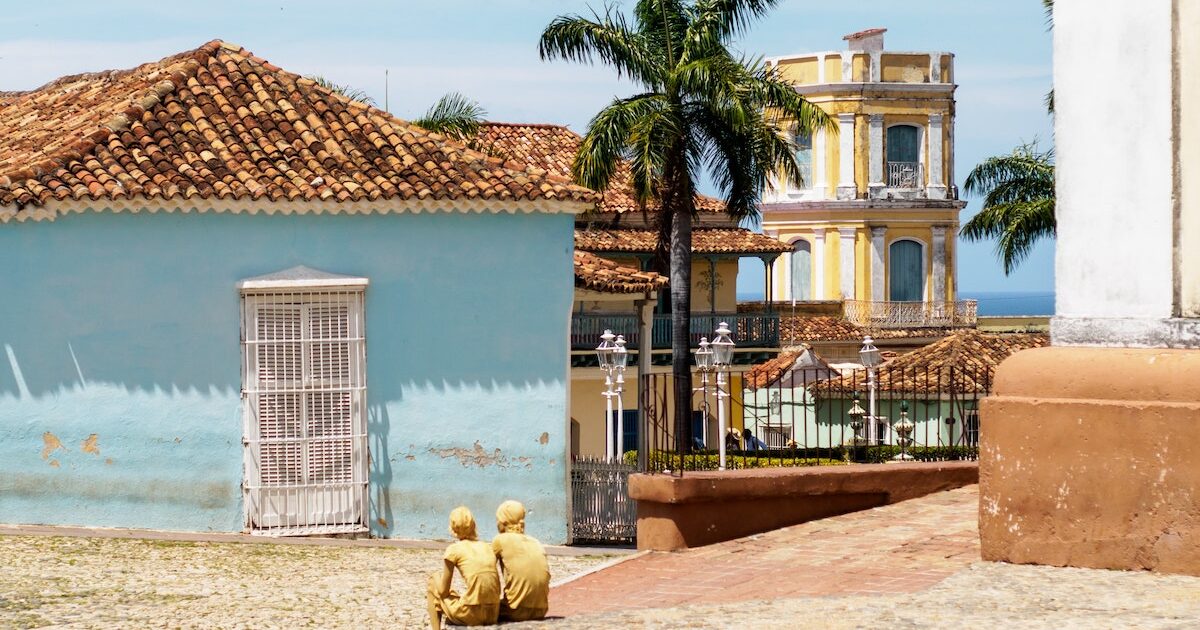 Some of the key places you might want to think about visiting are:
Museo de Historico Municipal: Based in a yellow colonial mansion from the 1800s, the museum details the history of Trinidad, including the Valle de los Ingenios, the slave trade and the Cuban revolution.
Mueso Romantico: Museo Romantico is a museum containing period items like china and 19th-century furtniture in a mansion from the 1740s.
Iglesia Parroquial de la Santísima: Above the main square, this church was rebuilt in the 19th century after the previous structure was destroyed by a cyclone. It has a wooden statue of Jesus and other religious features inside.
3. Hiking and wild swimming in the Topes de Collantes National Park
A visit to Trinidad wouldn't be complete without at least one day trip to the Topes de Collantes National Park. Options include hiking around wild swimming holes and waterfalls, looking around coffee plantations, and seeking out (or stumbling upon, as in my case) caves.
One of the highlights of my trip to Cuba was my visit to the Parque Guanayara Waterfalls, a peaceful jungle destination that has views over the Escambray Mountains, four waterfalls, several natural leaf-scattered swimming holes, a cave, and plenty of interesting plants and wildlife such as banana and plantain trees.
4. Learn to salsa dance
Salsa is just as much a Cuban staple as rum or rice and beans. The Barrio Cubano Salsa Dance School in the centre of Trinidad will teach you to dance salsa Cuban-style, which is usually to music infused with Afro Cuban beats. There are lots of signs around Trinidad for locals who offer private sessions too, so you have plenty of choices for 'dancing casino', as the locals call it.
5. Explore the live music scene
One of the most unexpected – and welcome – discoveries during my time in Trinidad was the town's live music scene. I frequently visited Jazz Café Trinidad, a restaurant and bar that features spirited and talented local jazz bands.
It's also common for many of the bars and restaurants around Trinidad to feature live music – bands with maracas, drums, acoustic guitars, and divine singing voices. Casa de La Música is particularly popular for live music in the historic setting of the Plaza Mayor, although it was closed when I visited Trinidad in February 2022 – if it is open, expect live bands and salsa or rumba dancing with strangers in the street.
6. Climb the bell tower
The Convento de San Francisco de Asis in Cuba is a staple part of the Trinidad landscape, but did you know that it's possible to climb to the top of the yellow-hued bell tower? It costs around 70 pesos (equivalent to around £2 or $2.90), but this also gets you into the church's museum, which has exhibits on the Cuban revolution.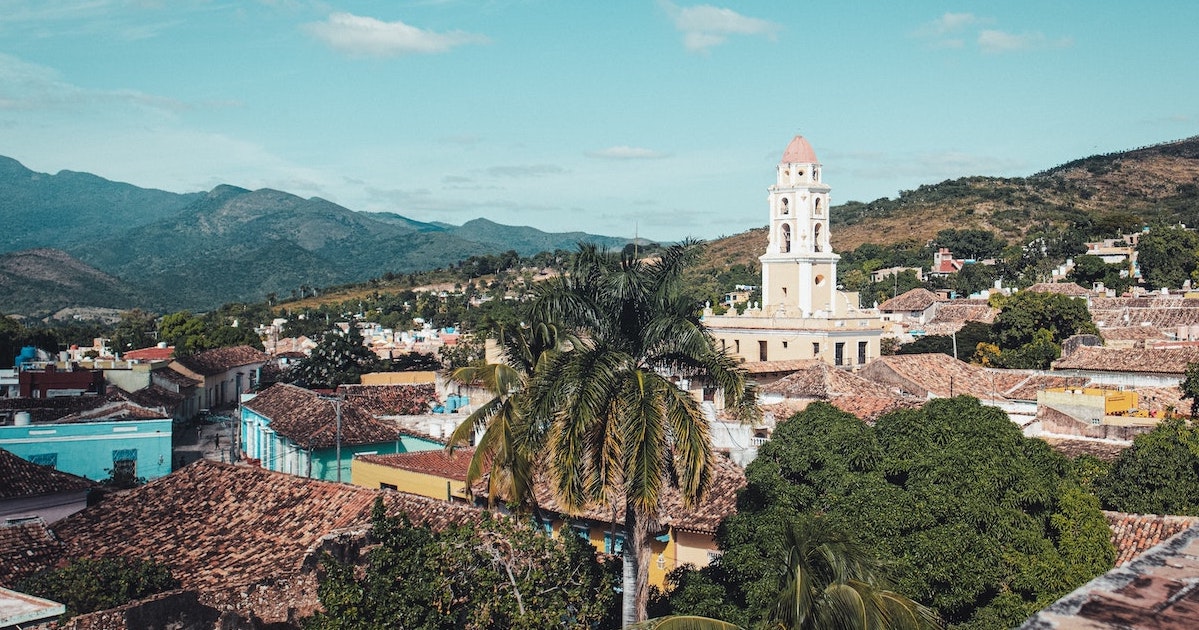 There are plenty of balconies on the way up where you can get a great picture, but the view from the top stretches all the way to the sea and the Escambray Mountains in the Topes de Collantes National Park.
7. Take a day trip to the Valle de los Ingenios
The Valle de los Ingenios shares the same UNESCO World Heritage status as Trinidad. It translates to 'Valley of the Sugar Mills', which recalls its past as a hub for the production of sugar throughout the 18th and 19th centuries. There's a steam train from Trinidad that visits the valley and takes two to three hours, but taxis will also take you there in half an hour.
Once there, there are remnants of 70 sugar cane mills and exhibits detailing the history of slavery on the mills, as well as the abandonment of the sugar mills in the 19th century following the Wars of Independence.
8. Cycle to Ancón beach
If you weren't betting on visiting a beach during your time in Trinidad (that's for Varadero, or the best beaches Havana, surely?), think again. Ancón beach is a 15-minute drive from Trinidad (a taxi should cost you approximately 200 pesos), but hiring a bicycle and pedalling there adds an extra layer of adventure – the journey by bike should only take 40 minutes or so.
The beach has almost three miles of white sand, palms, and palapas (that's the traditional beach umbrella made from wooden branches and palms, if you didn't know). The beach hotels run restaurants that will serve you classic Cuban rice dishes including pork, chicken, and fish on the sand.
If you can find someone to take you, there's an island named Cayo Blanco that can be reached in 45 minutes from Ancón beach. It has hermit crabs, the biggest black coral reef in Cuba, and large iguanas.
9. See what you can find in a Trinidad bookstore
I found one bookstore in Trinidad, but if you're up for the challenge, you could see how many you can find in the small-town destination.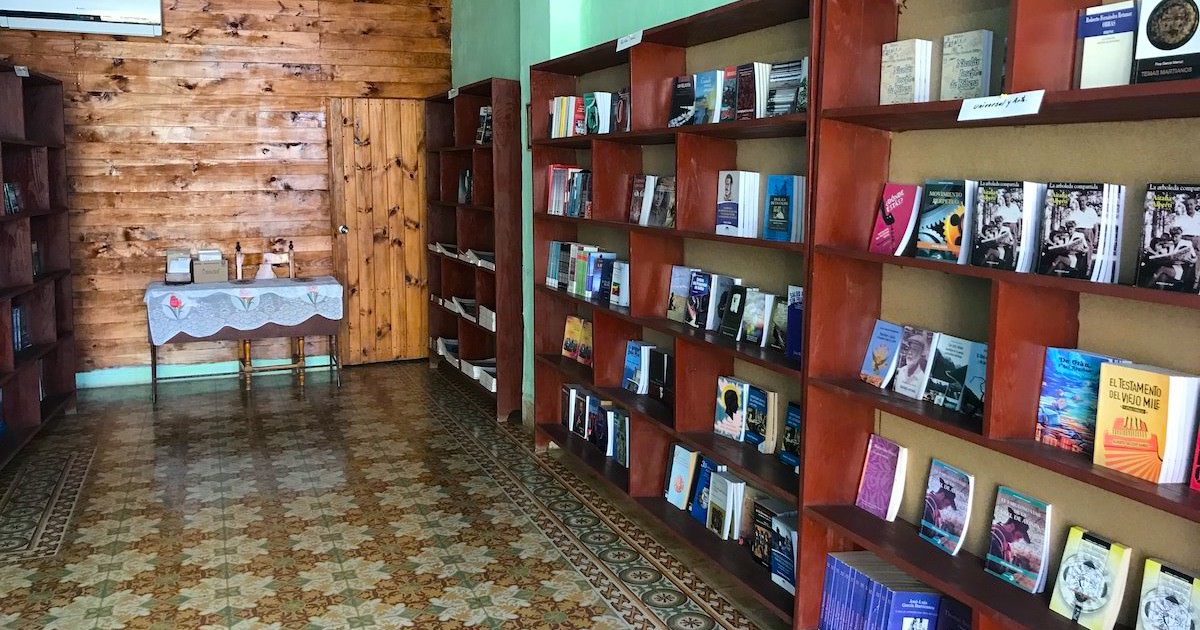 The bookstore I visited is located just outside of Plaza Mayor, close to the town's bank, which is about as much detail as I can give you, because I stumbled upon it by accident. I was also quickly distracted by the bookseller ladling the bookstore's entire collection of English books – six or seven, to be precise – into my outstretched arms.
10. Go to a cave discothèque
You thought clubbing in caves was just for the Dominican Republic? Think again. Disco Ayala in Trinidad is based in a cave, a short walk from the centre of Trinidad. It's way up a sloping cobbled street, so wear practical shoes. The cave was formerly a war-time hospital, but nowadays, it's packed with travellers and Trinidad locals, so you're sure to get chatting to some friendly souls (and practice your salsa, if you're lucky).
FAQ: The best things to do in Trinidad Cuba
Is Trinidad Cuba safe?
Trinidad in Cuba is considered a safe destination. Locals are accustomed and friendly to tourists and the crime rates are very low. You should exercise the same amount of caution as you would in any other destination.
Is Trinidad Cuba worth visiting?
Trinidad Cuba is a great destination for those who are interested in learning about Cuba's colonial history, as well as those seeking a relaxed, low-key destination and visits to the nearby Topes de Collantes National Park or the Valle de los Ingenios.
What are the best day trips from Trinidad Cuba?
The best day trips from Trinidad include Parque Guanayara, the El Nicho waterfalls, Ancón beach. and the Valle de los Ingenios.
Are there ATMs in Trinidad Cuba?
If you need to take out money for Cuba, there are ATMs located at the bank in Trinidad Cuba. Due to the unreliable WiFi connection, your best bet is to ask for directions from desks at casas and hostels around Trinidad or ask your accommodation for a map.