If you're intrigued by the idea of wild swimming holes, waterfalls, and dense jungle, don't waste any time in bookmarking Topes de Collantes Cuba as one of your next destinations. Located between Trinidad and Cienfuegos in central Cuba, Parque Natural Topes de Collantes will take you away from salsa dancing on rooftop terraces and into the wild and wonderful Escambray Mountain Range.
Except for a few small mountain communities, the Topes de Collantes Natural Park (which is also incorrectly referred to as Topes de Collantes National Park) is mostly made up of jungle, rivers, and canyons. The result? There are a handful of trails ideal for intrepid explorers who want to track down steep waterfalls and take a dip in their leaf-strewn natural swimming pools. Caves, coffee plantations and wildlife such as the Cuban tocoro are other highlights around the park.
Topes de Collantes Cuba is still relatively unexplored, making it ideal for offbeat travelers. That's mainly because a four-wheel drive is required to tackle the rough terrain. However, drivers are easy (and relatively inexpensive) to hire from Trinidad or Cienfuegos. It's very much worth the trip if you want to witness Cuba's wild side.
I visited in February 2022, so I've covered exactly how to get around Topes de Collantes, where to stay, the park's different hiking trails, and what to see, along with other insiders' tips.
Where is Topes de Collantes Cuba?
Topes de Collantes Cuba is a nature reserve in central Cuba. It's located between Cienfuegos and Trinidad, two popular tourist destinations in central Cuba known for their colonial architecture, salsa dancing activities, and museums. The park stretches for 15 kilometres along the south coast of Cuba and forms a part of the forest-clad Escambray Mountain Range.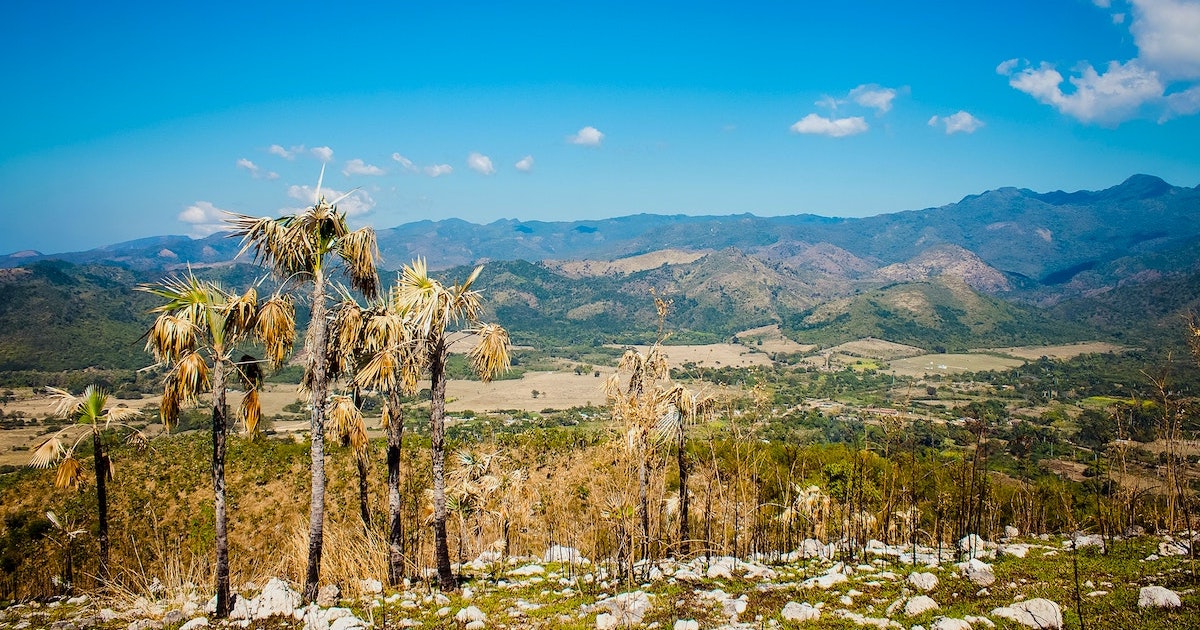 Topes de Collantes Cuba is divided into five distinct sections, called 'parques'. Each parque has their own set of trails and natural attractions:
Parque Altiplano

: Parque Altiplano is based in the centre of Topes de Collantes. The town Topes de Collantes is located in this parque, and it also has two popular walking trails with large waterfalls called Vegas Grandes and Leaping Caburn

í.

Parque Codina

: Located to the southwest of Parque Altiplano, Parque Codina includes the Sendero La Batata cave trail and a short trail through an orchid garden.

Parque Guanayara

: Located in the central north of Topes Collantes, Parque Guanayara contains the Parque Guayanara waterfalls trail.

Parque el Cubano

: An easy 15-minute drive north of Trinidad, in the south of the natural park, Parque el Cubano has a waterfall, a large swimming hole, and a cave.

El Nicho

: At the very north of the park, El Nicho contains the popular El Nicho waterfalls and an easy one-kilometre trail.
What is Topes de Collantes Cuba known for?
As a nature reserve, Topes de Collantes Natural Park is best known for its natural features. In particular, Topes de Collantes has an impressive series of waterfalls. These waterfalls go hand-in-hand with natural swimming pools, caves, rivers, and canyons, all set within a mountainous jungle landscape.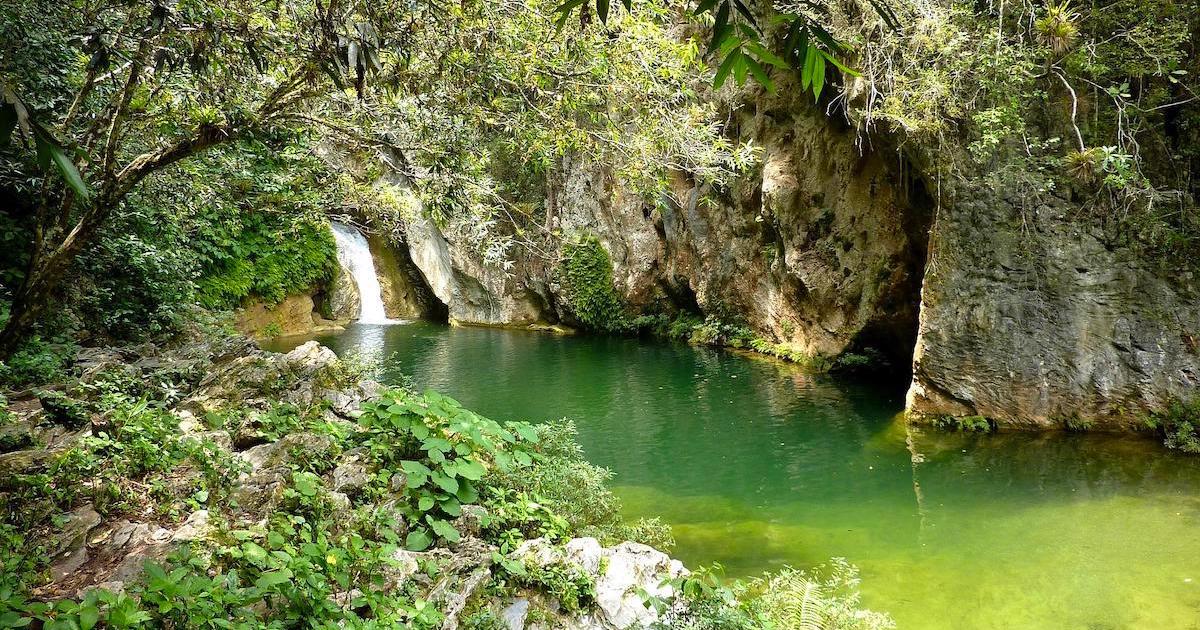 The forest is fairly dense, so it's packed with plants like plantain and banana trees, ferns, orchids, jasmine, pine trees, eucalyptus trees, and magnolia trees. The park is also home to the tocororo, Cuba's national bird, and mariposa, Cuba's national flower.
Naturally, over the years, a series of hiking trails have been developed. They are reached along bumpy, pothole-ridden mountain tracks, which are only suitable for four-wheel drives and experienced drivers. The mountain communities also have coffee plantations.
To summarise, Topes de Collantes Cuba is best known for:
Hiking trails past waterfalls and natural swimmming holes.

Caves, rivers, and canyons across the Escambray Mountain Range.

Hiking trails.

Coffee production.

Unique wildlife and plantlife, including the tocororo, Cuba's national bird.
What is the history of Topes de Collantes Cuba?
The history of mankind in Parque Natural Topes de Collantes is believed to have begun in the 20th century with small communities building coffee plantations.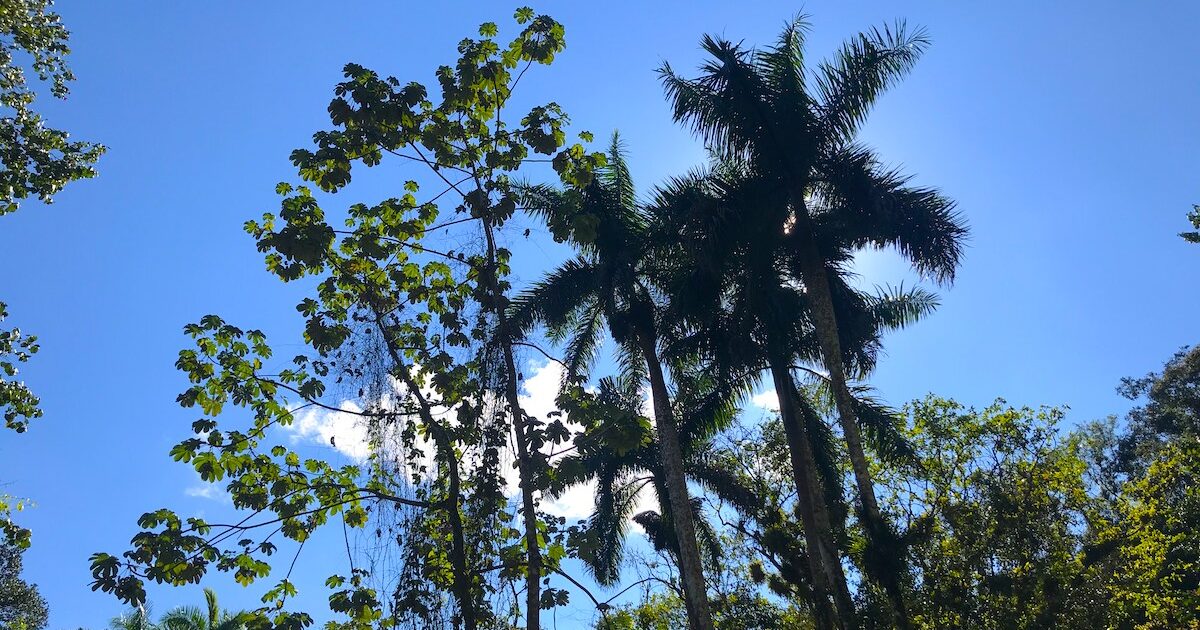 In 1954, Cuba's then-president, Fulgencio Batista set up a huge sanctuary for all those suffering from tuberculosis, including for his own wife Martha. He named the surrounding nature reserve Topes de Collantes and put measures in place to ensure that there was a passable road from Trinidad into the mountains.
She found sanctuary in the wildlife too, it seems, because soon after, Batista built his beau a cottage in Topes de Collantes alongside the Vegas Grande river.
During and after the Cuban revolution, which resulted in the end of Batista's regime, Topes de Collantes was taken over by revolutionaries who transformed the cottage into a school. Later, in the mid 1970s, the cottage became a therapy and rehab 'hotel' dedicated to wellness.
In the 1980s, the Mountain Campus of Las Villas University was established in Topes de Collantes Natural Park too. Due to the park's proximity to Trinidad and the beaches of Ancon, hotels started cropping up in the nature reserve in the early 21st century.
When is the best time to visit Topes de Collantes Cuba?
The best time to visit Topes de Collantes Cuba is between January and May. January through to April is the peak tourist season in Cuba because the climate is generally warm and dry (and it falls outside of the hurricane or rainy seasons).
Late April and early May is the beginning of the rainy season in Cuba, but as it's early on into the season, there are usually only short, quick downpours.
The best time to visit Topes de Collantes is in late April because the waterfalls and swimming holes will be fuller early on in the wet season, but it will still be mostly warm and dry. Saying that, I visited Topes de Collantes in late January and the waterfalls and swimming holes were still fairly full, so you shouldn't have any issues with the water drying out unless it has been exceptionally hot.
How to get around Topes de Collantes Cuba
Getting around Topes de Collantes Cuba is the trickiest part of exploring the nature reserve.
As a remote mountain landscape with extremely steep slopes and obstacles in the roads such as potholes, bumps, and the occasional debris, you can't fall back on traditional taxis, which are usually the main methods of getting around Cuba.
A four-wheel drive is necessary to get around. That's why many of the tours arranged to Topes de Collantes Cuba are based out of a jeep (although admittedy, this is likely to be a fake Jeep, and not a real one).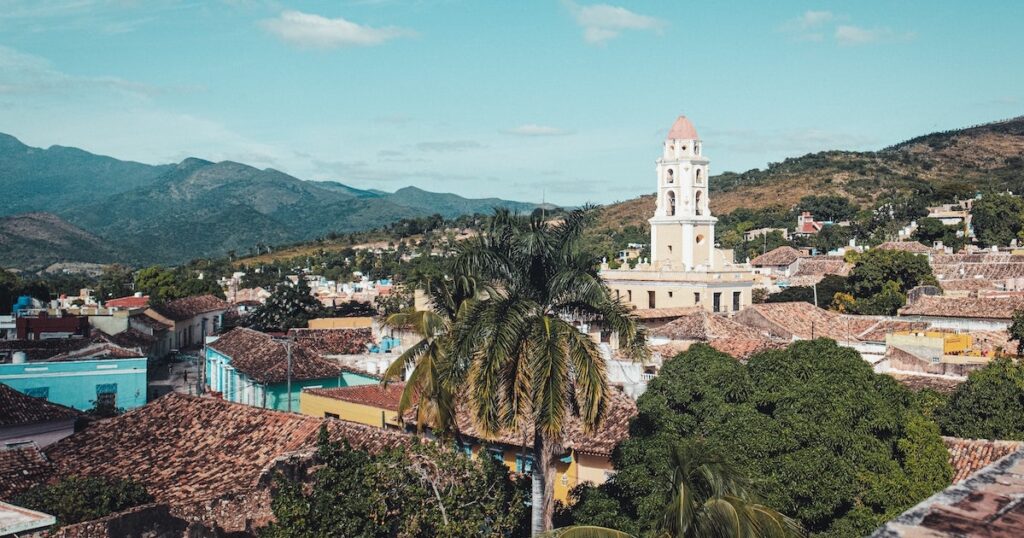 Nearby Trinidad, with the mountains of Topes de Collantes in the background.
There's also no public transport in Parque Natural Topes de Collantes. After all, if jeeps are only just able to handle the roads, it would be impossible for a measly bus to tackle that sort of terrain.
If you're planning on hiking off-trail or on a trail that's less established, it's a good idea to take a guide with you. Aside from the park's most well-established trails, it's very easy to get lost in the park, and the Cuban government also has a (fairly lax) rule in place that all tourists must be accompanied by a guide on hikes. It's unlikely you'll be able to get your hands on a map in Cuba too.
Picking up a guide from Trinidad or Cuba will be the easiest bet. However, guides from the towns and cities won't know the routes inside-out like local guides living inside the nature reserve. I'd suggest seeking out a local guide if you can, because they'll have a better knowledge of offbeat trails and waterfalls.
Where to stay in Topes de Collantes Cuba
When it comes to where to stay in Topes de Collantes Cuba, you have three main choices.
1. Stay within the boundaries of Topes de Collantes Cuba.
The main benefit of staying within the boundaries of Topes de Collantes Natural Park is that it gives you the easiest access to the hiking trails.
If you are planning on hiking several of the trails, it will save you money on the cost of several excursions from Trinidad or Cienfuegos too. The cost of these excursions can be as high as 50 euros per car, which can quickly cut into your money for Cuba.
Staying within the nature reserve will also give you a fuller insight into life in the mountains, away from tourist hotspots. As an offbeat travel blog, I'd suggest staying within the boundaries of the national park.
The tricky part is finding accommodation in the park. Many booking websites such as Booking.com don't have accommodation options in Cuba. Hostelworld currently doesn't offer any hosts within Topes de Collantes Cuba, only in Trinidad and Cienfuegos.
Therefore, your best option is to ask your host in Cuba whether they have an acquaintance, a friend, or a family member who runs a casa particulare (the Cuban version of a bed and breakfast) in Topes de Collantes town. They can refer and transport you there directly.
2. Base yourself in Trinidad.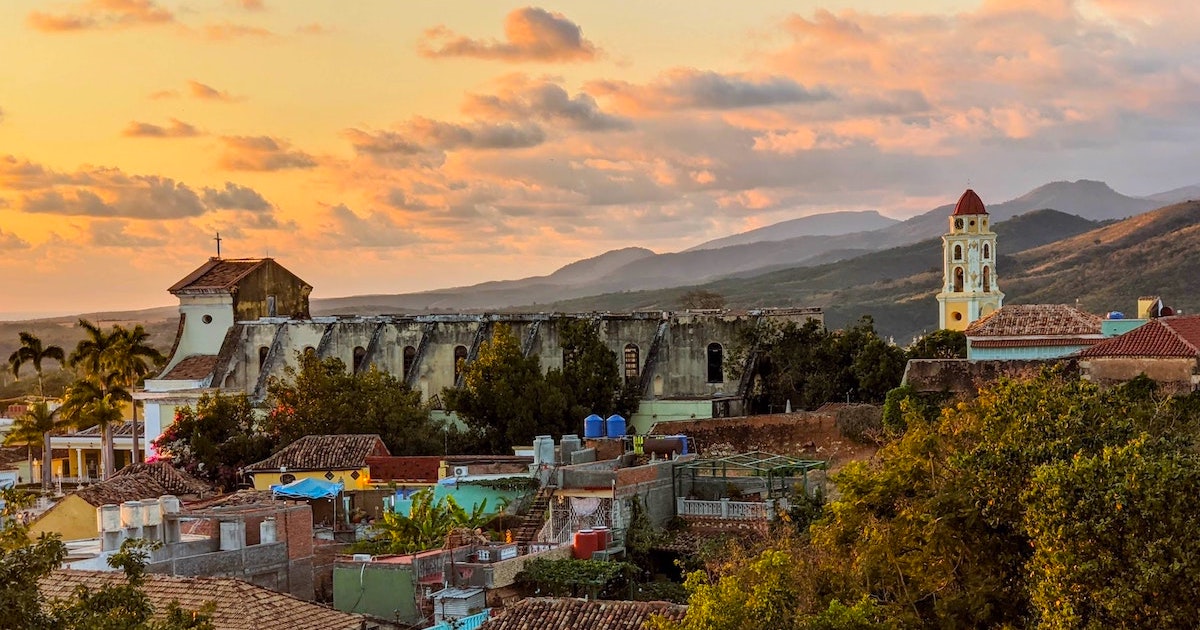 Basing yourself in Trinidad is probably your best option if you're only planning on doing one or two day trips into Topes de Collantes Cuba.
There's little to do in the nature reserve during the evening, so if you're trying to maximise your time, staying in Trinidad will allow you to hike waterfalls by day and dance to live salsa by night.
The drive from Trinidad to Topes de Collantes can take anywhere between 15 minutes and two hours.
The main downside to this strategy is that the excursions are likely to be costly. You should do the maths to work out which will be the most cost-effective option for your plans.
Homestays (casa particulares) in Trinidad:
If you don't want to find somewhere to stay through word of mouth, the best website for booking casa particulares is Homestay. They have a large range of casa particulares in Trinidad, along with guesthouses and hostels.
Hotels in Trinidad:
The following hotels are highly-rated options in Trinidad with a central location:
Casa Colonial Torrado 1830: Based in Trinidad's historic centre, this hotel has 19th-century colonial architecture and decor. It's been modelled so that you can 'step back in time' during your stay.

Hostal Don Vivas Trinidad

: Highly-rated private guesthouse rooms in a central Trinidad location with communal spaces.

Casa Amparo Jimagua: With a mix of colonial and remodelled architecture, this particular hotel strikes a good balance between a comfortable and an authentic stay. It also has a rooftop terrace.
Hostels in Trinidad:
Hostal Alcuria: I stayed in a private room in Hostal Alcuria during my time in Trinidad. It's located an easy 10-minute walk from Plaza Mayor and it has a gorgeous rooftop terrace with views over the tiled rooves. I can personally recommend this hostel: it's cosy, scenic and affordable.

Yanara Fambyh Hostal:

A small, family-run hostel with a rooftop terrace.

Hostal Almar: While Hostal Almar doesn't have a rooftop terrace, it's a short 15-minute walk from the centre of Trinidad and owned by two friendly local doctors.
3. Base yourself in Cienfuegos.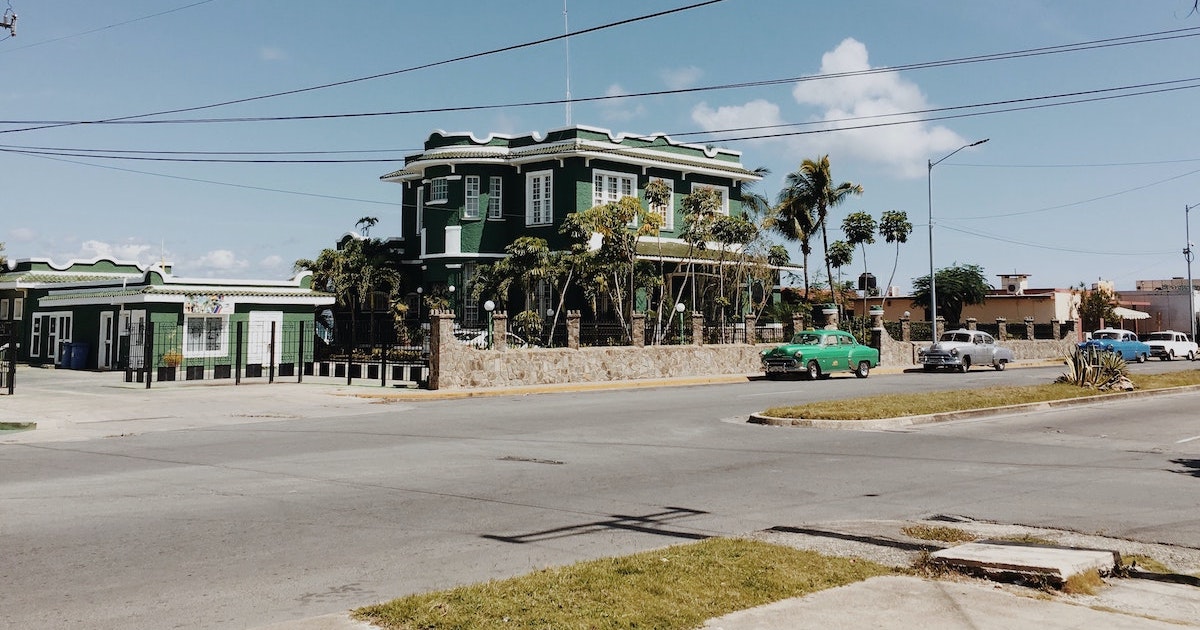 Your final viable option is to base yourself in Cienfuegos. However, I would not recommend basing yourself in Cienfuegos unless the only place you want to visit in the park is El Nicho. Other parts of the park are trickier to access and the distance to the different parques is further, meaning guides will charge more for an excursion.
In fact, I'd recommend skipping Cienfuegos on your Cuba itinerary altogether. The city has little to offer in the way of natural scenery and cultural sites. The nearest sandy beach is Playa Rancho Luna, 20 minutes' drive away, and it is scattered with litter left by locals and seaweed swept ashore. There are very few restaurants and bars in Cienfuegos too.
Hiking trails in Topes de Collantes Cuba
Hiking trails are the main attraction in Topes de Collantes Natural Park, and they do not disappoint. The trails meander past waterfalls, natural swimming holes, caves, rivers and canyons, often through dense forest and jungle.
A swimming hole in Parque Guanayara.
While Topes de Collantes' most popular hiking trails are the El Nicho waterfalls and the Sendero Vegas Grandes, there are other offbeat trails that will take you into quieter and just as magnificent sections of the nature reserve.
Don't forget to include the following essential equipment on your Cuba packing list for hikes in Topes de Collantes Cuba.
If you're looking for a more specific dress code in Cuba, I've covered that in detail in another blog post.
Sturdy shoes with good grips.

It's likely you'll need to traverse terrain such as compact dirt tracks, stairs, plank-style bridges, boulders, stepping stones, and dusty uphill climbs. Sturdy shoes with sufficient grips are a must.

Swimming costume or trunks.

Many of the waterfalls have formed gorgeous, blue-green natural pools. Most of them are deep enough for wild swimming or wading. You should wear your swimming costume or trunks underneath your clothes, as it's unlikely there will be anywhere to get changed in private, unless you're happy to do so behind some ferns.

Mosquito repellent.

The still water of the natural swimming pools is a magnet for mosquitos, and some of them are pretty large. Remember to pack a high-quality mosquito repellent. The most effective mosquito repellents contain DEET, like the

Jungle mosquito repellent

.

A lightweight towel.

Unless you're going to let the sun dry you naturally, you should probably pack a towel. The thing is, you're going to be hiking long distances, so you ideally want to carry a towel that's lightweight. Quick-dry microfibre towels are ideal for this (and for travelling or backpacking in general). I use and recommend the

CampTeck Lightweight Microfiber Towel

.

Sea shoes.

While you may not be swimming in the open sea, a pair of sea shoes will come in handy. Most of the swimming holes have a soft, sludge-like bottom, but there are a few large rocks underneath the surface of some of the pools. A pair of sea shoes such as the

Aqua Shield water shoes

will prevent any nicks when you're swimming and make it easier to clamber over rocks on your journey into the water.

Cash.

There is usually a small

entrance fee, equivalent to around five to 10 euros

, to enter the different parques in Topes de Collantes Cuba. If a fee is chargeable, there will be a park official. Be aware that some scams operate in the park. One of these involves your driver sending a friend ahead to collect an overpriced park entry fee when you arrive. You should know it's a scam if the price seems excessive.

A digital copy of your passport.

Park officials may ask for your passport number, although this didn't happen during my visit.
1. El Nicho waterfalls
Hike length: 1.5 km (20 minutes' walk)
Best for: A jungle hike past three waterfalls with wild swimming holes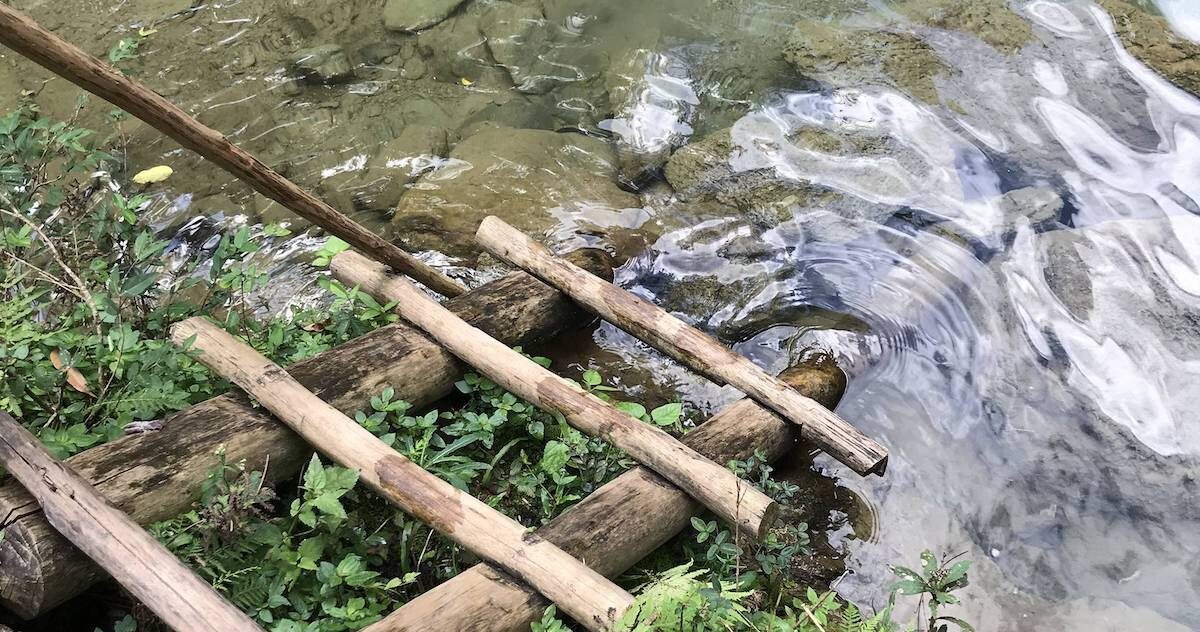 The El Nicho waterfalls trail is one of the most accessible hikes in Topes de Collantes Natural Park, both in terms of how short and easy the walk is and its accessibility.
The trail has relatively well-maintained access roads when it's accessed from outside of the north of the park.
There are a total of three waterfalls, complete with wild swimming holes (the largest being at the foot of the top waterfall). With azure swimming pools and water cascading over a rocky ledge, it's a beautiful (albeit busy) spot. These waterfalls are popular, as a result of their easy accessibility from Cienfuegos and Trinidad.
How to get to the El Nicho waterfalls: The El Nicho waterfalls are located in the north of the Topes de Collantes park. The El Nicho waterfalls are just over an hour's drive from Cienfuegos or an hour and a half's drive from Trinidad.
2. Sendero Vegas Grandes
Hike length: Four kilometres (half an hour's walk)
Best for: A steep hike to a tall waterfall and swimming hole
The Sendero Vegas Grande hike is slightly more adventurous than the El Nicho trek, at four kilometres long.
The steep hike passes through thick foliage to get to the Vegas Grandes waterfall, which is a tall, single waterfall bouncing down a steep ravine. There's a large, deep swimming pool where you can stand underneath the cascading water as it drops off a rocky ledge.
How to get to the Vegas Grandes waterfall trail: Vegas Grandes is easy to get to from Topes de Collantes town. The start of the trail is a short walk away from most of the town's accommodation, so you should ask a local for directions. It's an easy journey to Vegas Grandes from Trinidad too, as it's straight up the 152 road and should only take around 40 minutes' drive.

3. Leaping Caburní (Salto de Caburní)
Hike length: Five kilometres (an hour)
Best for: A challenging downhill and uphill hike to a gorgeous waterfall and swimming hole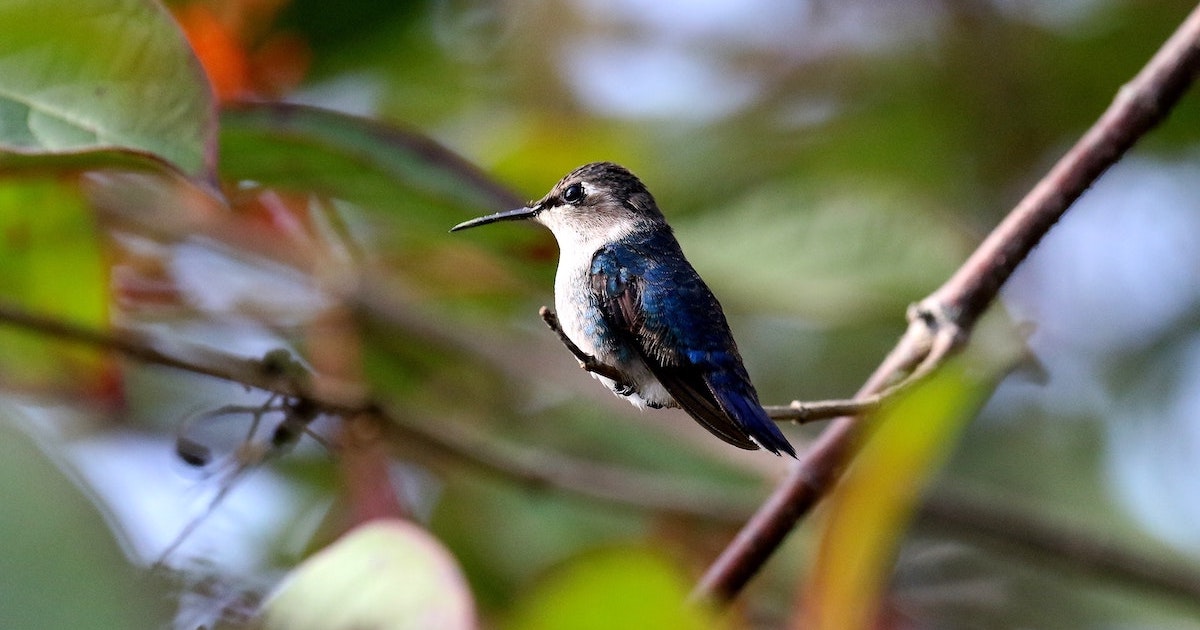 Leaping Caburní isn't far from Vegas Grandes. In fact, it's so close that if you're feeling particularly adventurous, you could probably tackle both trails in one day (as long as you limit your time in the swimming holes). There's a path linking the two trails, but it isn't signposted, so you might need a guide to accompany you.
Leaping Caburní, as the name gives away, has a small, slanted waterfall with a deep plunge pool where you can cool off. The rugged trail passes by coffee plantations and traditional homes.
How to get to the Leaping Caburní trail: Leaping Caburni is located very close to the Sendero Vegas Grandes trail, so it's easily accessible on foot from Topes de Collantes town. It's a 40-minute drive north of Trinidad along the 152 road.

4. Parque Guanayara
Hike length: Six kilometres (two to three hours)
Best for: An offbeat series of four waterfalls and three swimming holes
The Parque Guanayara hiking trail takes in a series of three waterfalls, including the 27-metre-high El Rocio waterfall and a 'secret' cave just 500 metres into the trail. There are a series of small and large swimming holes, and one pool where you can swim behind the falls.
I've covered the route in detail in my guide to the Parque Guanayara waterfalls, including how to find the secret cave and a rundown of the entire route.
How to get to Parque Guanayara: Parque Guanayara is one of the harder hikes to get to, which is exactly why it's an offbeat hiking trail. You will need a jeep and an experienced driver to get there from Topes de Collantes town or Trinidad. From Trinidad, the journey takes just under two hours.

5. La Batata
Hike length: 5 km (two to three hours)
Best for: An offbeat hike to a river, cave and waterfall system
La Batata is another adventurous trek. It doesn't have all the waterfalls and swimming pools the above treks do, but what it does have is a peaceful, discrete trail ending at a cave.
There's a rope fitted to the cave to help you scramble over the rocks, and several different small waterfalls and pools in the cave.
How to get to La Batata: Your best bet at finding La Batata is asking your accommodation host. Not all drivers will know this trail, as it's quite offbeat, but the local, experienced drivers will know where to go. The trail is around three kilometres from Topes de Collantes town, based in Parque Codina, so it's also possible to walk there if you know the route (ideally with a guide).
6. Sendero Cimarrones de Javira (El Cubano Natural Park)
Hike length: 6 km (two to three hours)
Best for: A peaceful hike to a large swimming pool at the foot of a waterfall
If you're after a peaceful hiking trail with a large, deep swimming hole, Sendero Cimarrones de Javira is it. It's located in Parque El Cubano in the south of the natural park, so it's a very quick 15-minute drive from Trinidad. The swimming hole is sandwiched between two rock faces, and there's also a cave with stalagmites to explore.
How to get to Sendero Cimarrones de Javira: The trail is a quick, 15-minute drive from Trinidad and Topes de Collantes town by four-wheel drive.

What to see in Topes de Collantes Cuba
While hiking trails are undoubtedly Topes de Collantes' crowning attraction, there are also some other spots you might want to visit in the nature reserve.
These are congregated around Parque Altiplano, where the town Topes de Collantes is based.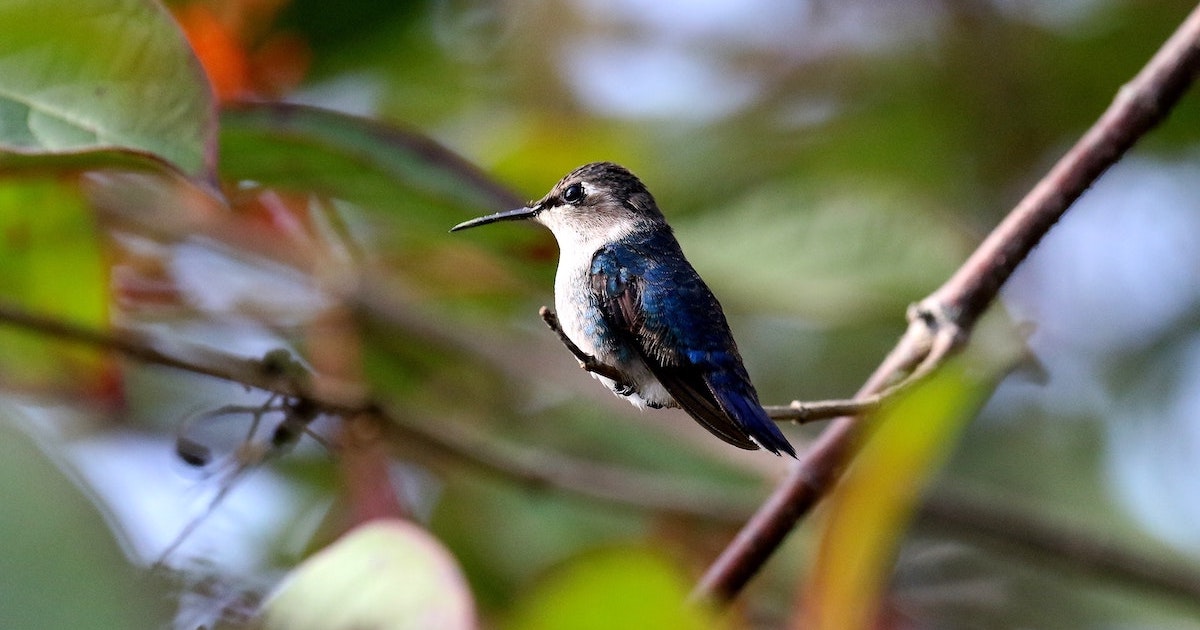 1. Casa Museo del Café
As you'll be able to tell from the copious coffee plantations across Topes de Collantes National Park, the Escambray Mountain range has the ideal climate for coffee production. In fact, the country experienced what you might call a 'coffee boom' back in the 1940s.
Museo del Café is based in the town of Topes de Collantes and traces the region's coffee production history. Get your hands on Cristal Mountain, a local coffee variation in the café. You might want to stop by Jardin de Variedades del Cafe down the road too, which has over 20 different types of coffee beans.
2. Museo de Arte Cubano Contemporaneo
Museo de Arte Contemporaneo isn't as exciting as it was in its heyday, when it used to display Cuban art by the tenfold. However, it's a good rainy day activity (or just a quick pop-in on your way to the Vegas Grandes Waterfall).
Located in Topes de Collantes town, the museum is based in a 20th-century house and has 70 different artworks by Cuban artists and masters (mostly art from the 1980s) scattered across three floors.
3. Parque La Represa
If you didn't skip over the history section of this post, then you'll already know that Cuba's once president Batista had a house built in Topes de Collantes for his wife.
He chose an attractive spot along the river Vegas Grande, the same river that feeds the Vegas Grande waterfall. You can now visit the house, along with what's thought to be Cuba's oldest and highest mahogany tree.
Where to visit near Topes de Collantes Cuba
1. Trinidad
Distance from Topes de Collantes: 15 minutes – two hour's drive
Trinidad may be small, but as a UNESCO World Heritage Site packed with colonial architecture, cobbled streets, and dreamy rooftop terraces serving Cuban cocktail specialties, it's not worth missing out on.
Better yet, it has easy access to both Topes de Collantes and the Valle de los Ingenios. Some of the best things to do in Trinidad Cuba include learning how to salsa dance, cycling to Ancon Beach, and dancing in a cave discothèque.
2.

Valle de Los Ingenios
Distance from Topes de Collantes: 45 minutes – an hour and a half's drive
Valle de Los Ingenios is part of the same UNESCO World Heritage Site as Trinidad. Also called the Valley of the Sugar Mills, the valley is home to the remainders of 70 sugar cane mills.
They are a haunting relic of slavery in the valley. The mills were abandoned in the 19th century after the Cuban Wars of Independence. The valley is half an hour's taxi ride from Trinidad.
3. Ancon Beach
Distance from Topes de Collantes: 25 minutes – an hour and a half
While the mountains and waterfalls of Topes de Collantes Cuba may not give the impression that you're fairly near to the Cuban coastline, it's actually only a short drive to reach the white sands of Ancon Beach.
Compare the quality of the sand to the best beaches Havana, and there's likely to be little difference. It's also possible to catch a boat to the local island, which has the largest black coral reef in Cuba.