Have you heard of the Parque Guanayara waterfalls in Cuba? Most likely, your answer is no. Even if you ask a local for 'swimming holes near Cienfuegos' or 'waterfalls near Trinidad', the Guanayara waterfalls are unlikely to be the first answer you'll get.
Instead, you'll hear them answer the El Nicho waterfalls, which are the easiest waterfalls to get to from Trinidad and Cienfuegos. As a result, many people assume that the El Nicho waterfalls are superior to Parque Guanayara. That's not the case – it's simply because they are located on the northern edge of the park and easier to get to.
If you want to scope out a jungle setting that's less-visited, hauntingly peaceful, and deeper into the wild Topes de Collantes Cuba, the Parque Guanayara waterfalls should be at the top of your list. Accessible by jeep or another all-terrain vehicle along steep and bumpy mountain roads, Parque Guanayara's jungle waterfalls and natural swimming holes are surrounded by idyllic banana and plantain trees, huge pine trees, and dense ferns.
Hiking between and floating around the Parque Guanayara swimming holes was the favourite part of my trip to Cuba, and I found more than just waterfalls and leaf-scattered swimming holes there. The park also has a large 'secret' cave, views over some of the highest peaks in the Escambray mountains. Among all of this, I only encountered two other groups of people investigating the little-known jungle haven. It's a dream for offbeat travel, which is what really makes me tick.
How to get to Parque Guanayara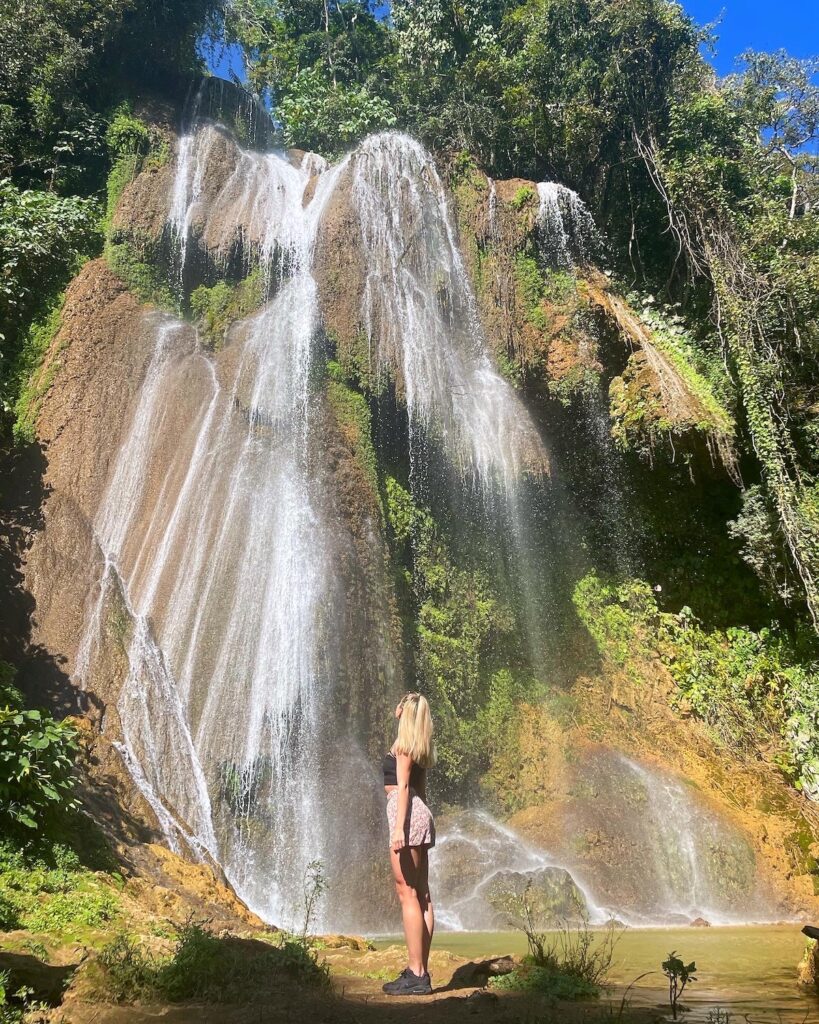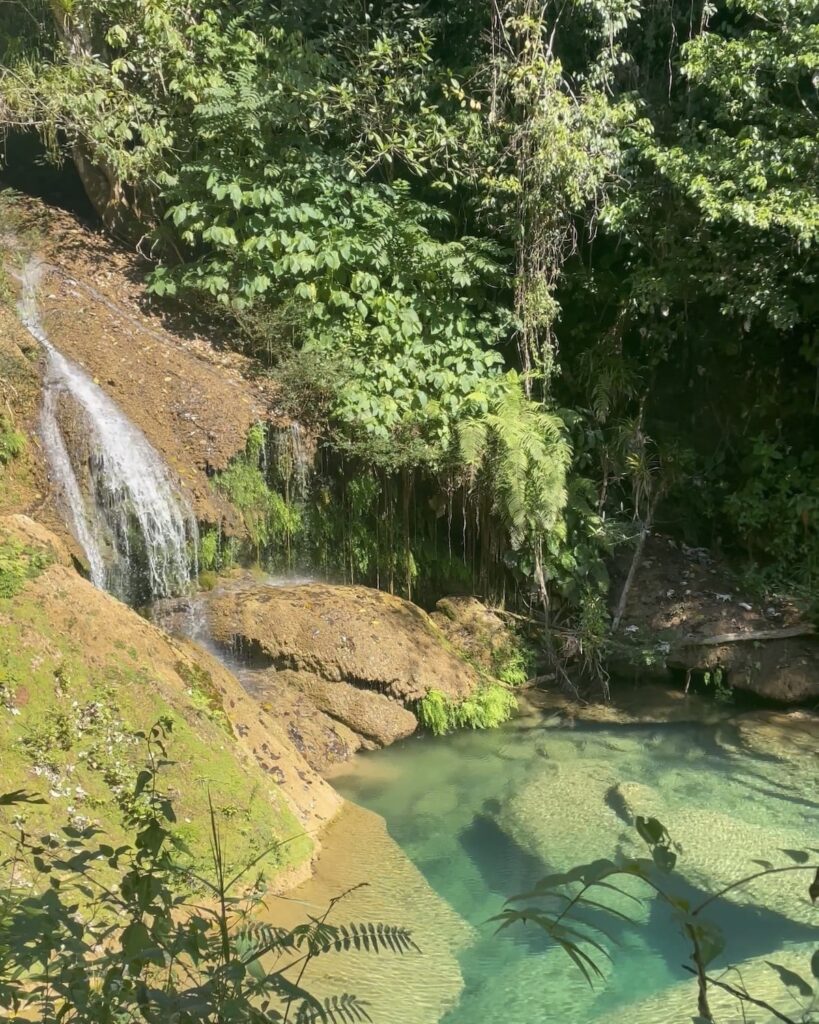 Parque Guanayara is located in the north of the Topes de Collantes National Park in the Escambray mountain range in central Cuba. Most people visit the waterfalls from Trinidad or Cienfuegos, which are located on either side of the national park.
The easiest way to get to Parque Guanayara from Trinidad or Cienfuegos is by booking a tour, where a guide will take you to the waterfalls and wait until you've finished exploring before driving you back to your accommodation.
While normal taxis are usually a perfectly easy method of getting around Cuba, your taxi will need to be a jeep or another all-terrain vehicle. The mountain roads are particularly steep, littered with potholes, and very bumpy (even the jeep I rode in was murmuring and groaning up some of the steep ascents).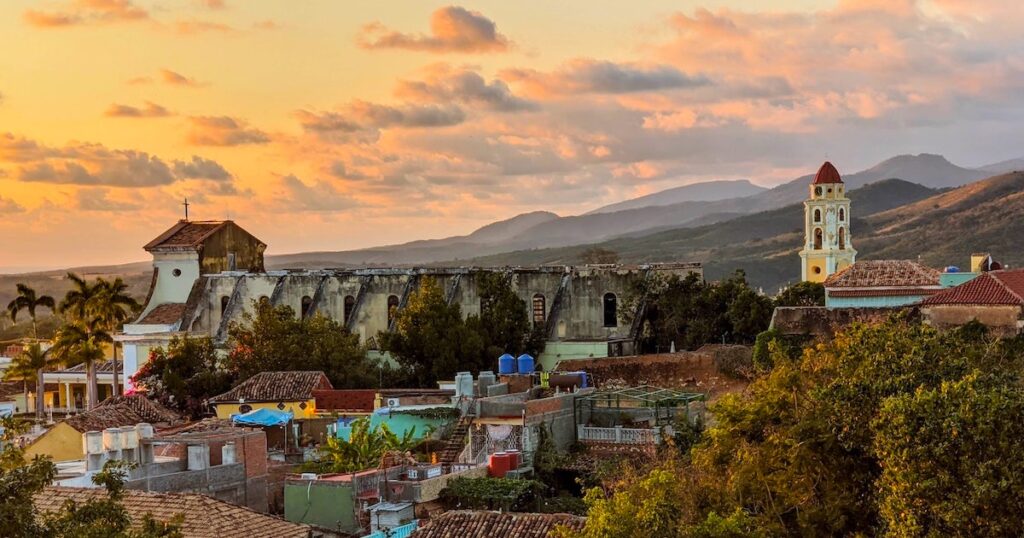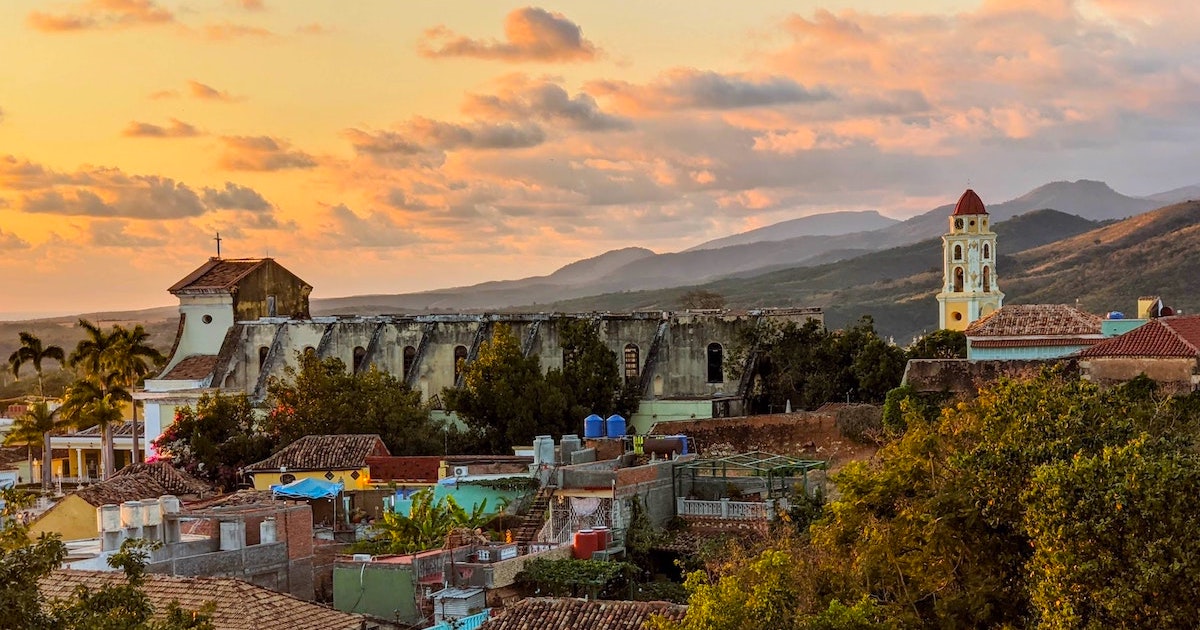 Trinidad, Cuba. See the best things to do in Trinidad Cuba.
Getting from Cienfuegos to the Parque Guanayara waterfalls should take approximately an hour and 10 minutes' drive.
Getting from Trinidad to the Parque Guanayara waterfalls should take approximately a 55-minute drive.
In recent years, casa particulars (which is the term for a Cuban bed and breakfast, much like a homestay) and a handful of hotels have cropped up around the national park. They are usually based in the Topes de Collantes village.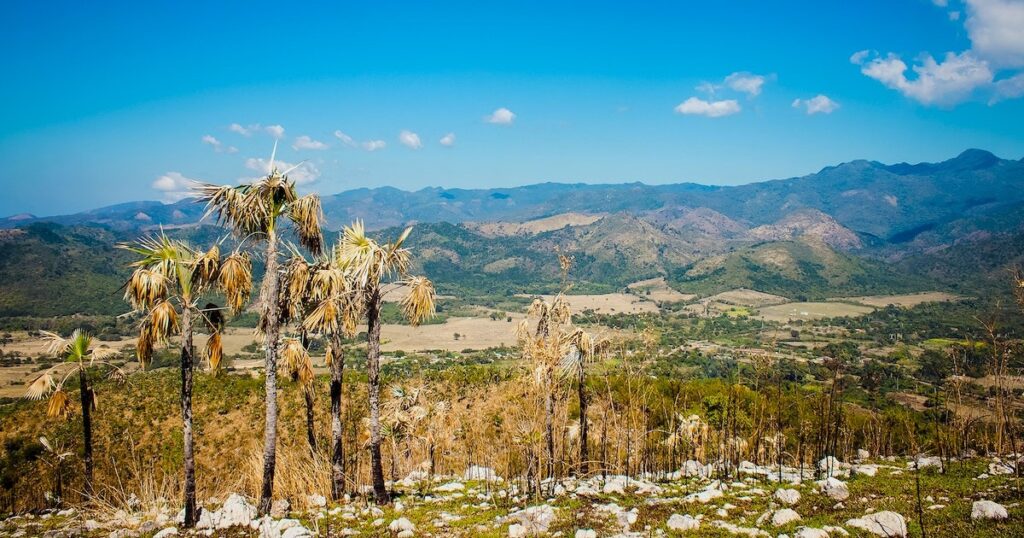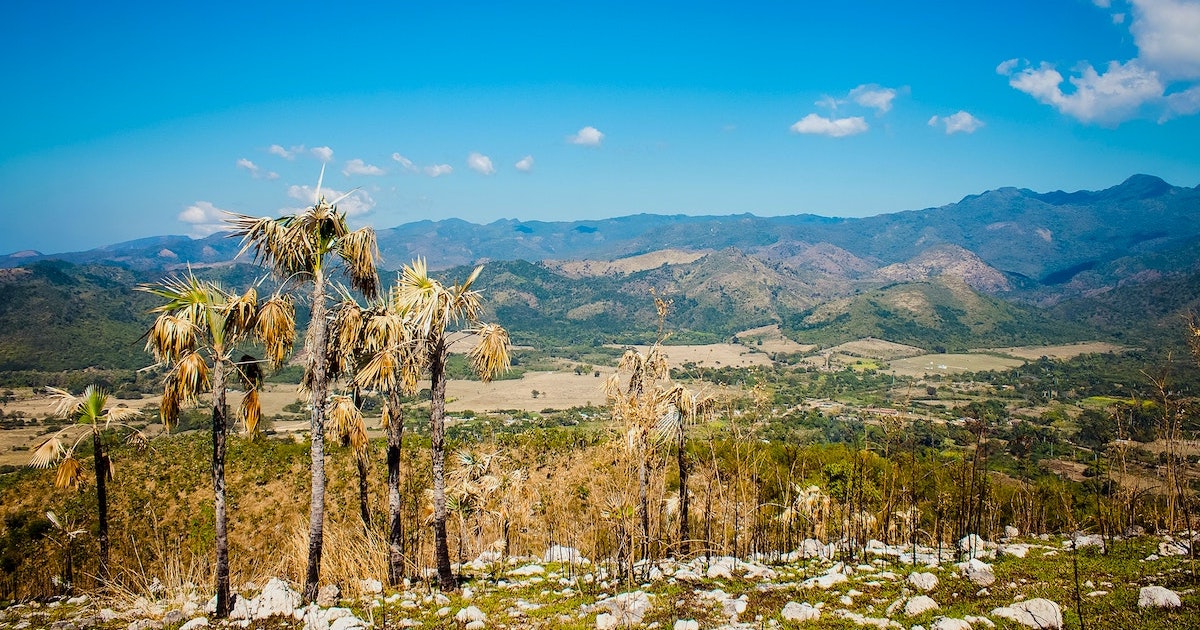 Topes de Collantes National Park
As well as being based closer to the Guanayara waterfalls, staying overnight in the national park will provide you with an insight into everyday life in a Cuban mountain village and give you quicker access to other jungle hikes and waterfalls.
What to pack for the Parque Guanayara waterfalls
As with any jungle hike, it's better to be over-prepared than under-prepared. If you're lucky enough to find access to WiFi in Cuba, check the weather forecast before you depart and pack accordingly.
The following essentials should keep you prepared on an average day in the Cuba summertime, but remember to check out my complete packing list for Cuba.
Sturdy shoes with good grips: The paths around Parque Guanayara mostly consist of firm dirt tracks, but there also staggered uphill dirt climbs, several narrow bridges formed from narrow-but-chunky planks of wood, and a few stepping stones to cross. If you decide to venture into the cave next to the El Rocio waterfall, you'll need shoes with a good grip, as the entrance is steep, dark, and slightly slippery.
Swimming costume or trunks: There are two main swimming holes around the waterfalls and not many places to change into your swimming suit unless you fancy finding a tree or bush with suitable foliage, so it's a good idea to wear your swimming costume or trunks underneath your hiking outfit.
A lightweight towel: Unless you're willing to let the hot climate do the honours of drying you off, a towel will come in handy to dry off between the swimming holes. Since you'll be carrying your towel around the hike, I'd suggest that you carry a lightweight microfibre travel towel. The swimming holes aren't as warm as the Caribbean sea – some might say they're on the chiller side in comparison. I found them lukewarm, but I noticed that I was chillier than usual after emerging from the water, so drying off quickly can help to combat any shivers.
Mosquito spray: There are some mosquitos lurking around the swimming holes, so pack your mozzie spray and lather up inbetween dips. An effective mosquito spray should contain DEET.
Swimming shoes: When you're swimming in the holes, the ground at the bottom of the pools feels rather like sludge. Whle it's soft on the whole, there are some twigs and leaves wedged in there, as well as rocks in the deeper parts of the bigger swimming hole. If you prefer to err on the side of caution, I'd suggest wearing swimming shoes to avoid catching your toes when you're swimming deeper.
Suncream: There's ample foliage from the trees throughout most of the hike, but of course, the sun can always creep through the trees and the swimming holes are mostly exposed. Suncream will help to protect prevent you from burning.
How long is the hike around the Parque Guanayara waterfalls?
The hike around Parque Guanayara in Cuba is six kilometres long. It's a round-trip, so the trail length is actually three kilometres each way. However, you don't need to walk the entire route if you don't feel like it (or if, like me, you lose track of time and spend too much time lying on your back like a starfish at each swimming hole).
El Rocio, the biggest waterfall, is only 500 metres into the route, and the biggest swimming hole, Poza del Venado, is one kilometre into the trail. In total, the route should take you between two and three hours, but this is all down to how long you spend in the swimming holes – realistically, you could spend the whole day along this trail.
INSIDER'S TIP
Travel insurance is essential for any trip abroad. Whether you experience an allergic reaction, falling sick, or something as simple as a road or sports accident, you just don't know what could happen. If you're in an accident or experience an emergency, you need adequate cover. I recommend Staysure for single or multiple trips per year and SafetyWing for digital nomads.
Parque Guanayara: The hiking route
When you arrive at Parque Guanayara, be wary of scams involving a so-called park employee pretending to collect an entry fee for the park. This is a quick way of losing a good chunk of your carefully-prepared money for Cuba.
There's no entry fee to see the waterfalls. Often, these 'officials' are in cahoots with your excursion provider as a way to gain a little extra cash out of your visit
1. Viewpoint over the Escambray mountains
The route begins with a gentle downhill stroll past palm-shaped ferns, ancient pines, and banana trees, before descending into the jungle using a series of dirt steps staggered around the hillside.
Located 10 to 20 minutes into your hike, there's a viewpoint over some of the highest peaks in Cuba's Escambray mountains, so be sure to stop and snap a pic before you descend down the steepest section of steps. As you make your way down, you'll know you're getting closer to the waterfalls because the sound of running water gradually grows louder. You'll also cross over the river using a bridge made from planks of wood.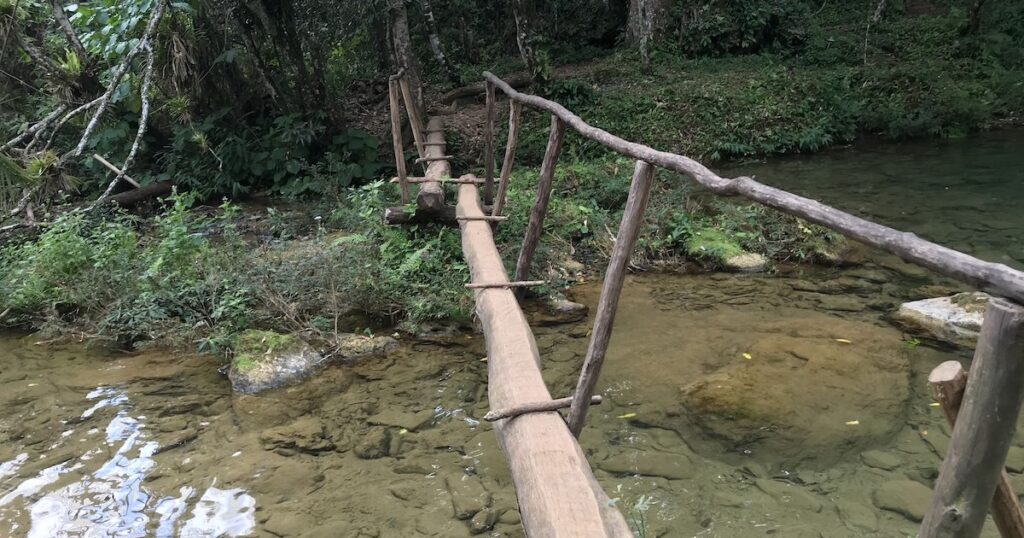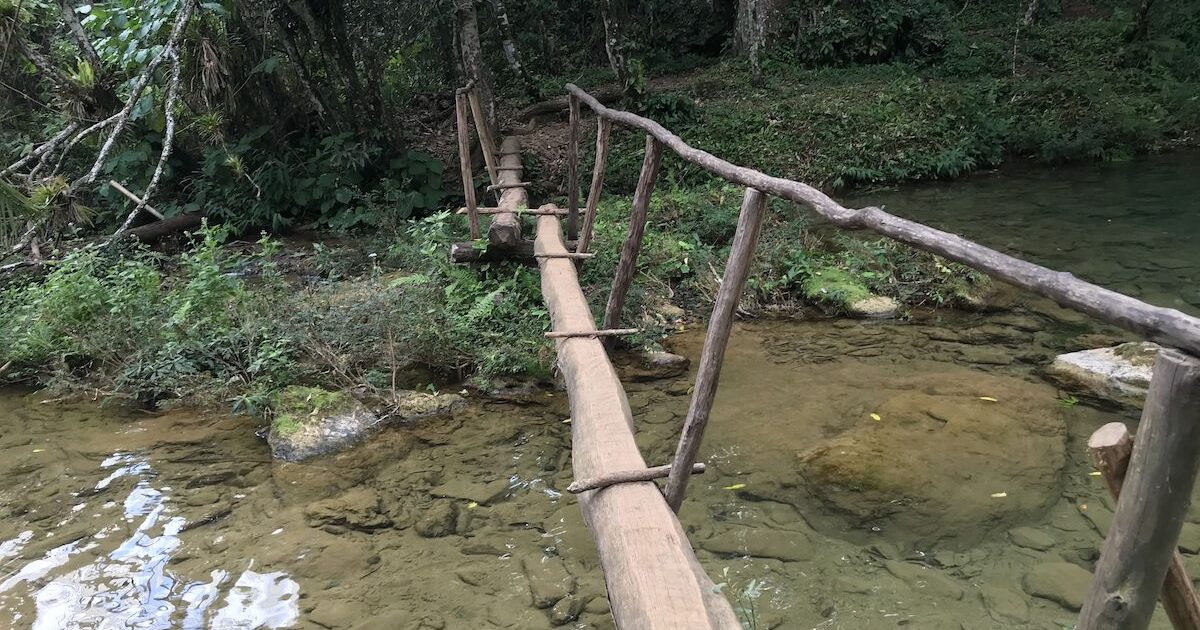 2. The cave
When you reach the bottom of the stairs, it's easy to make a beeline straight for the El Rocio waterfall, which a pretty captivating sight.
However, first, there's a cave that's exceptionally easy to miss. If my guide hadn't casually pointed to a caved-in section of rocks and muttered 'cave', I wouldn't have looked twice.
The cliffside caves in upon itself slightly, so after a quick examination, I was convinced that was all there was to see. However, when I crept further under the ledge, I noticed one section that looked particularly dark (and daunting, rather like a black hole).
The hole opens up into a large carve, which is lit by a gaping hole in the cliffside. The entrance and exit requires scrambling in the dark, so it's not for the faint-hearted.
3. El Rocio Waterfall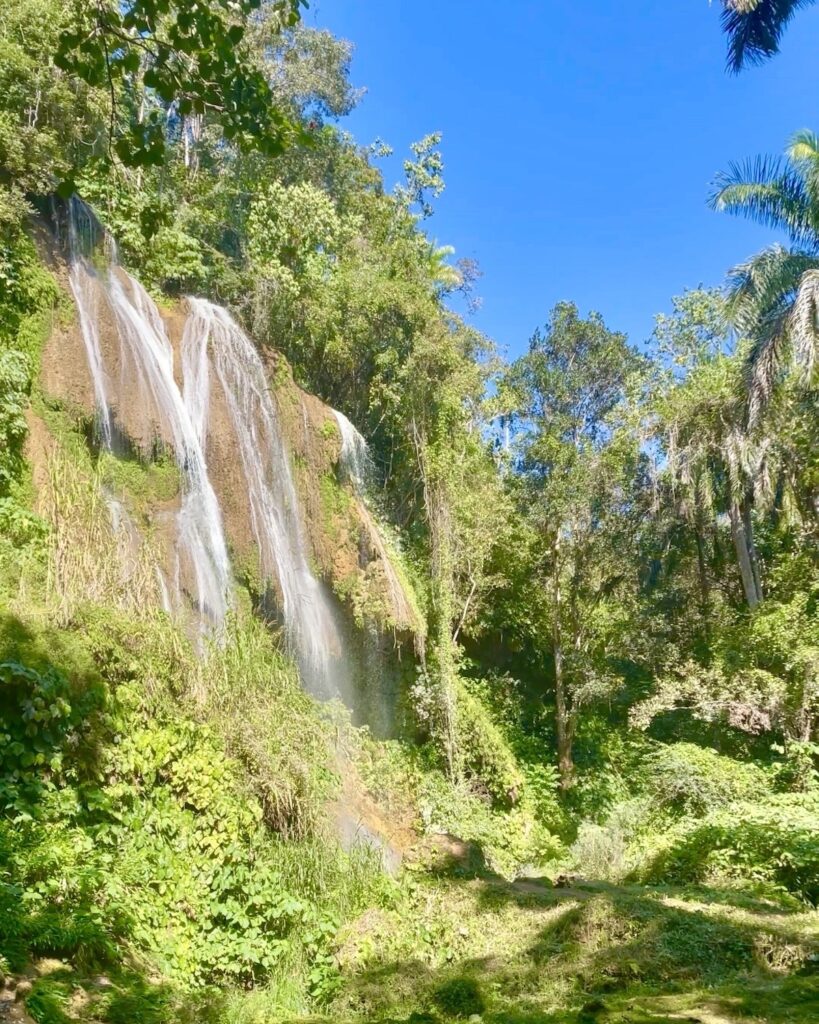 El Rocio is the largest of all of the Parque Guanayara waterfalls at 27 metres high. It cascades over the top of a rocky ledge and lands in a small but knee-deep pool.
You'll need to cross over a small stream using a bridge that has been fashioned out of narrow but surprisingly chunky wooden planks, equipped with a wooden handrail on one side only (the first of many similar bridges along the route).
Technically speaking, the pool isn't deep or large enough for wild swimming, but that didn't stop me from wading in and running my hands through the waterfall. The sand is very sludgy on the bottom of the pool, so be careful where you tread if you do decide to head into the water.
4. Smaller waterfalls
As you follow the track through more lush foliage, you'll pass a couple of small waterfalls. The first waterfall has a small lookout point where you'll quickly see that it's impossible to navigate across the rocks to go wild swimming.
However, the next small waterfall has a much larger pool. It's possible to wade straight from the banks onto a rocky ledge in the water. Once you're off the ledge, the water is deep enough for swimming, and you can glide all the way up the waterfalls. If you're anything like me, you might want to stop here for a while, float on your back, and listen to the sounds of the jungle.
5. Poza del Venado natural pool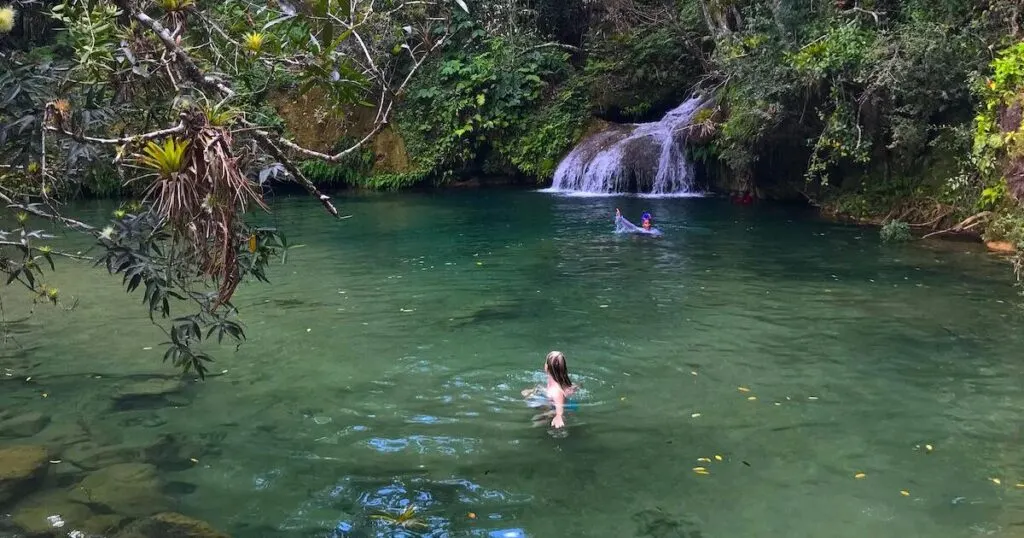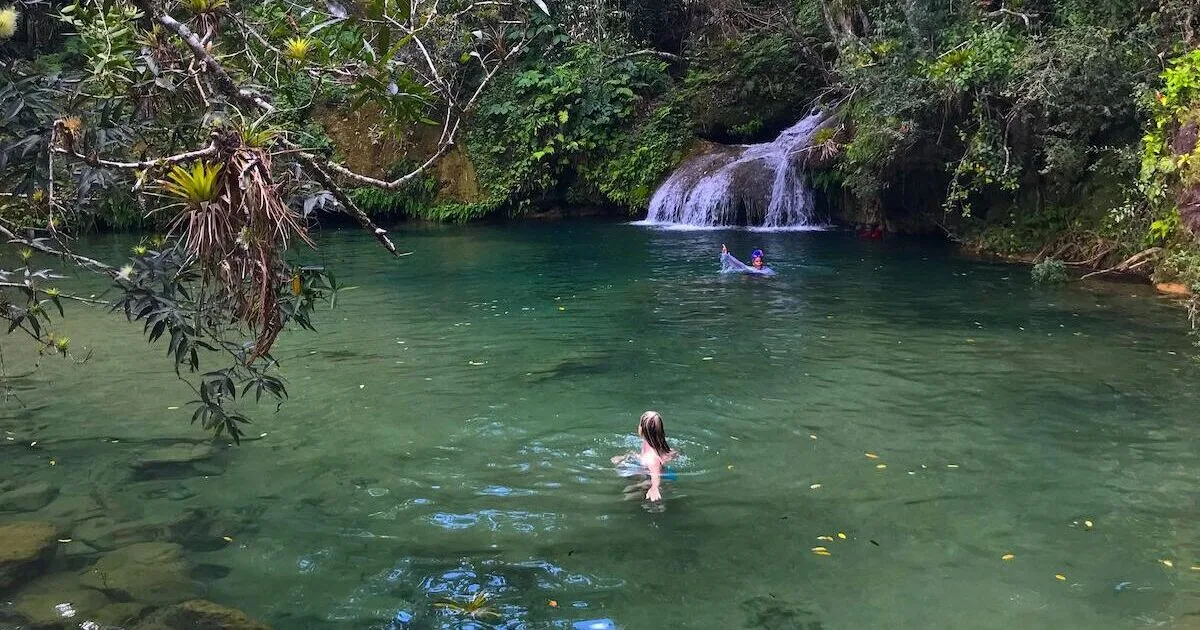 The Poza del Venado natural pool is located around a kilometre into the hike. This swimming hole is regarded as the best place to swim in Parque Guanayara (although I'd say that the former pool is just as splendid and less busy).
There are wooden shacks with toilets and a changing room here, as well as benches where you can sit and flick through your book or catch your breath after a good few laps of the hole.
You'll need to clamber over several of the aforementioned wooden bridges to get to the side of the pool that has benches and wooden shacks. There's a wooden ladder halfway across where you can descend into the pool elegantly or rocks for a more Bambi-like entrance into the water (I preferred the latter, although the former was a great picture opportunity).
If you're adventurous enough, you can swim all the way out to the waterfall and hold your breath to get underneath the rocky ledge behind the falls, where many past visitors have engraved their initials.
6. Casa de la Gallega
The reward for completing the remaining section of the three-kilometre hike is Casa de la Gallega, a small restaurant that serves all your classic Cuba cuisine (rice and chicken, fish, or pork) and moijtos. The route there is a slightly sloping track through thick foliage and trees (where, if you're lucky, you might spy a trogan, Cuba's national bird).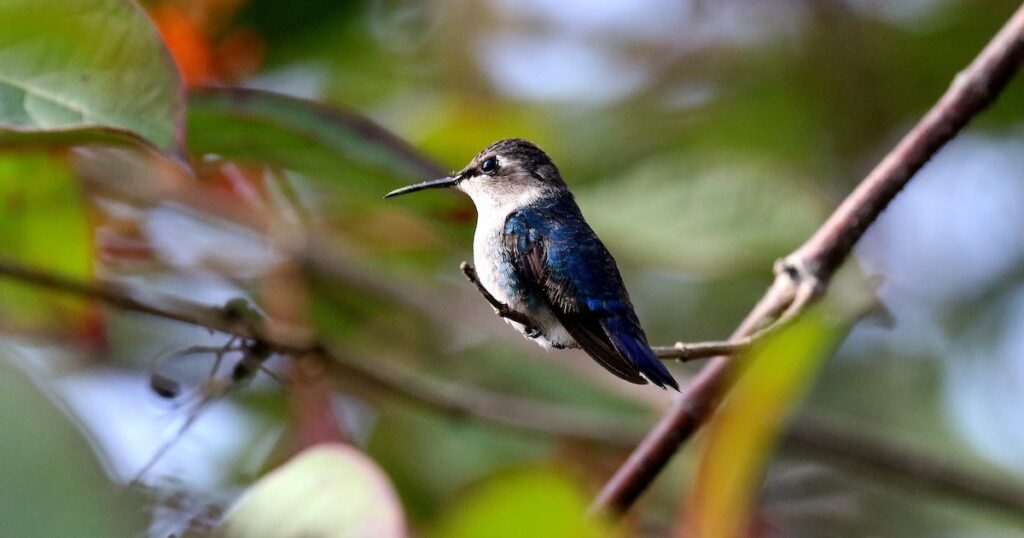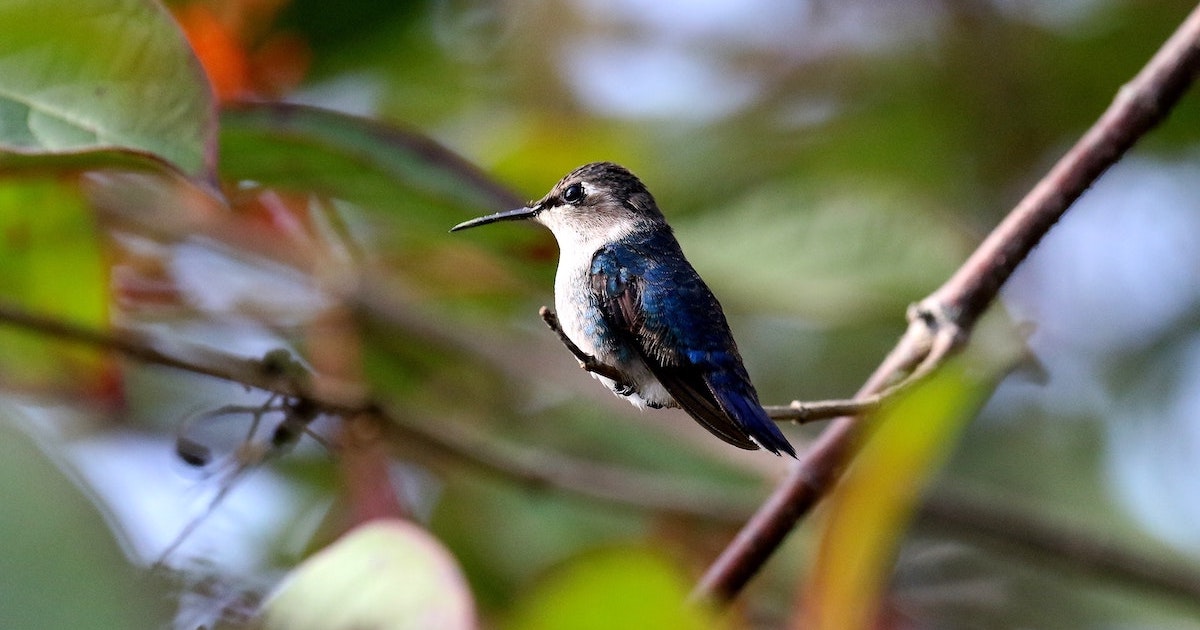 Birdlife in Parque Guanayara
If you don't eat at Casa de la Gallega, you're sure to come across a stall on your way back to Trinidad or Cienfuegos where you can grab some bananas and other peel-able fruits sold at an affordable price.
---
Being prepared is key when you arrive in Cuba, whether that's having a sufficient knowlege of the dress code in Cuba or how to get to the best beaches Havana.
---
FAQ
How long does the route around Parque Guanayara take?
The hike around Parque Guanayara takes between two and three hours, but it may take longer if you spend more time around the swimming holes and waterfalls.
Where should I visit nearby Parque Guanayara?
Nearby locations include:
The Topes de Collantes visitor centre: learn more about the history of the nature reserve and its significance in Cuba.
Casa Museo del Cafe: A coffee shop located close to the visitor's centre demonstrates how coffee is made and sourced in Cuba.
Is El Nicho better than the Guanayara Waterfalls?
El Nicho is easier to get to than the Guanayara waterfalls. However, the Guanayara waterfalls are more peaceful, less visited, and they are actually located in the the mountain landscape of the Topes de Collantes National Park, unlike the El Nicho waterfalls.
How many waterfalls are there in Parque Guanayara?
There are four sets of waterfalls in Parque Guanayara.
How many swimming holes are there in Parque Guanayara?
There are two main swimming holes in Parque Guanayara located at the third and fourth waterfalls.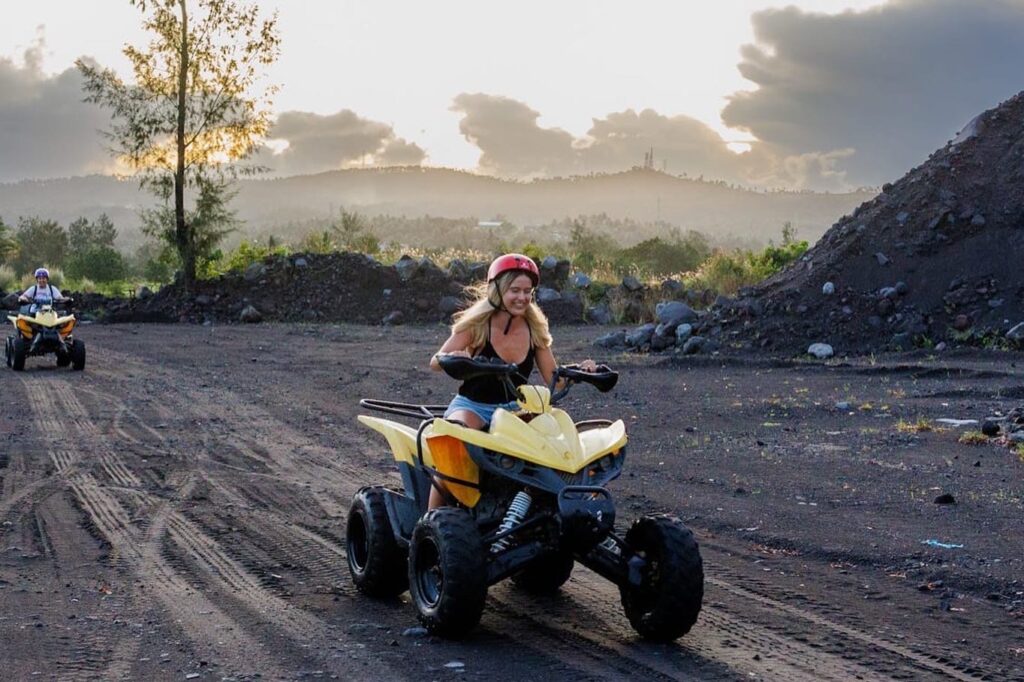 AUTHOR: KATIE TREHARNE
I'm Katie, the owner of Escape Artist Katie and a full-time digital nomad. I have been travel writing in some shape or form since 2018, including writing for luxury travel magazines. I hope you found my article useful – find out more about me here or keep up with my travels on Instagram. I'm a big advocate for offbeat travel and pushing yourself out of your comfort zone.