When it comes to getting around Cuba, you'll quickly realise that Cuba is primed for a lot of things, such as dining on fresh fish on the beach, drinking rum on a Trinidad terrace, or dunking yourself in jungle waterfalls. Transport in Cuba, on the other hand, is not so simple.
That doesn't necessarily mean that travelling around Cuba has to be stressful. With the following tips, you'll know the ins and out of Cuba's different transport options and how to use them in 2022. I visited Cuba in early 2022 and quickly came to realise that Cuba has a unique transportation system. It's also a system that has shifted and changed during the pandemic, meaning that long-distance bus transport provided by Viazul is far less reliable than what it once was.
So, what are the first things you need to know about getting around Cuba? Firstly, unlike many other countries, travelling by train and plane is almost completely out of the question. Secondly, transport in Cuba is never going to be completely reliable, no matter how hard you try to plan ahead. Breakdowns, cancellations, and rescheduled journeys are a matter of course, whether you're travelling by taxi, bus, or another form of transport. At the end of the day, that's Cuba. The more flexible you are with your dates and timings, the better.
Skip to:
Transport options for getting around Cuba
Many people who visit Cuba land in Havana or Varadero and immediately feel overwhelmed by the complexity of the Cuban transport system. In fact, many travellers decide to avoid travelling to other destinations in Cuba completely due to a fear of getting stuck in one destination or over-paying for transport. To do this would be to miss out on exploring Cuba's national parks, smaller-town life, and many of the spectacular cities and beaches in the south.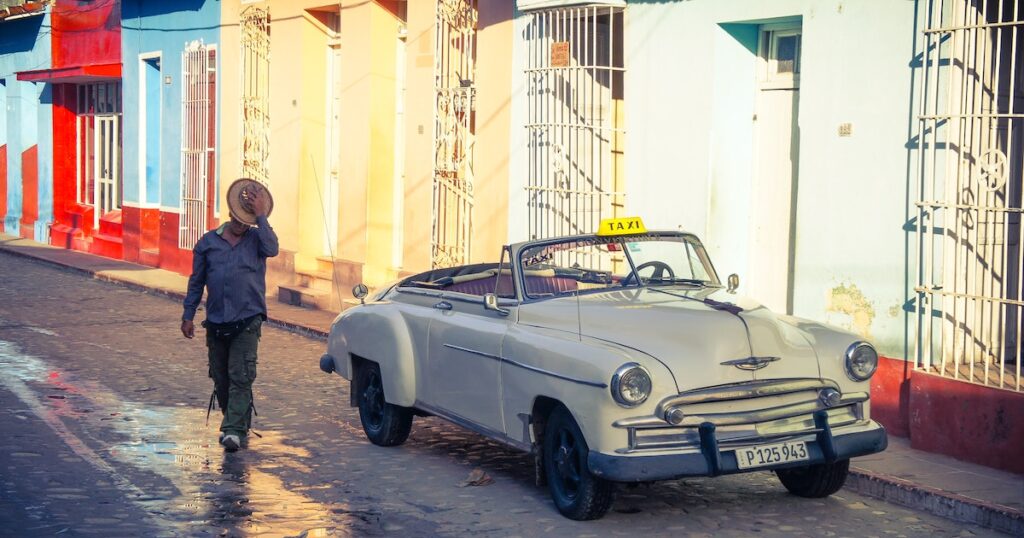 With the following tips on getting around Cuba, there's no barrier against you to travelling Cuba in full, as long as you've got a sturdy pair of shoes on your feet and some excellent travel resources.
Getting around Cuba by bus
The first problem you will encounter in 2022 is aiming to get around Cuba by bus. Long-distance buses in Cuba are mainly run by the Viazul bus company (which are also called omnibuses by locals). The bus company is designed for tourists and it's largely a comfortable way to travel (on Cuban terms, anyway) between popular tourist destinations such as Havana, Varadero, Viñales, Matanzas, Cienfuegos, and Trinidad.
Prior to the pandemic, they were the easiest and cheapest way to travel around Cuba. As of 2022, it's unclear whether the Viazul company is out of business or whether it is running a significantly reduced service. I was informed by many locals and tourists that the former was the case.
This could be subject to change, of course, so the only way to find out for sure is by visiting the local Viazul office and enquiring in person. In bigger cities, it's common for the office to be located at the bus station, which is often on the outskirts of the city and a long trek on foot.
To book a bus ticket, you need to visit the bus station at least 24 hours before your departure. If the bus is running, you will be required to show the office your passport and pay for the ticket in cash (using euros) or by card, depending upon the station. If a card payment is required, your card must not be associated with an American bank and the transaction must not be in US dollars. You'll then need to take the same trek back to the bus station on the day of your departure, making it a tiresome process.
Getting around Cuba by taxi
Taxis are readily available in Cuba. While they are the most comfortable and private method of travelling around Cuba, they are also the most expensive.
Asking your accommodation to book or order a taxi is the safest way to find a vehicle. They should be able to arrange a good price for you by calling around private taxi companies.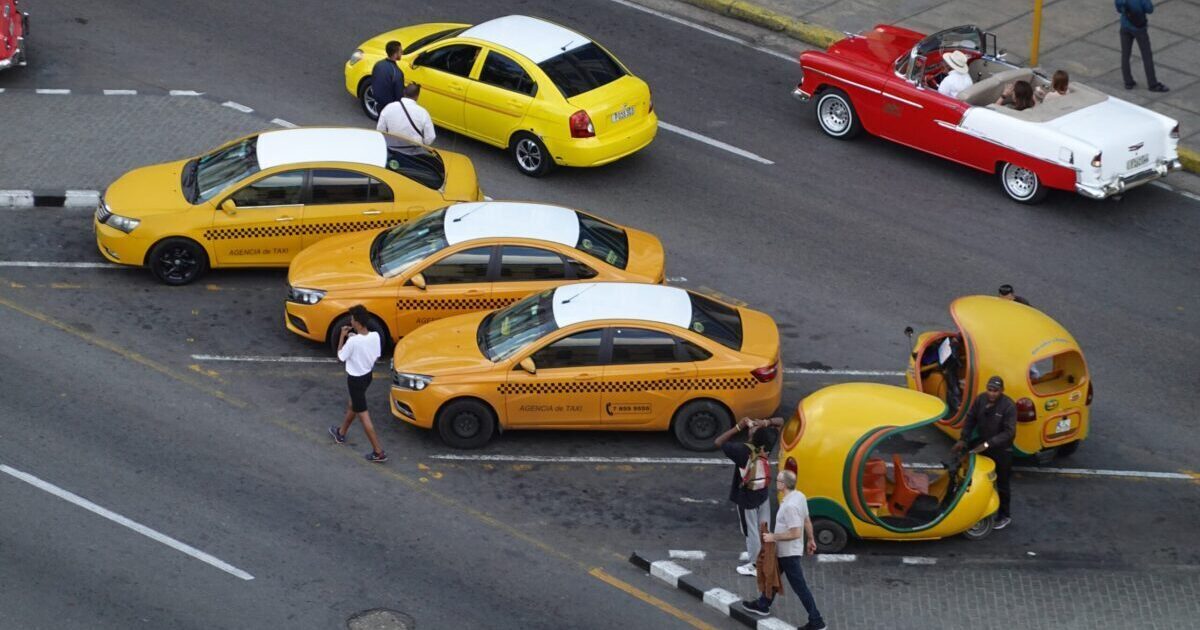 If you are taking a taxi from the street, you should ask to see the taxi's license. Police monitor the motorways in Cuba to identify unlicensed numbered plates carrying tourists, and you could be fined if you're found in this situation.
There are two types of licensed taxis:
State-owned taxis: State-owned taxis are usually yellow Geely or Ladas cars with air conditioning. They are often more expensive than private taxis.
Private taxis: Private taxis are owned by private taxi companies. While they don't have air conditioning, they are usually more budget-friendly than state-owned taxis. To book a private taxi in Cuba, you should ask your accommodation to call a private taxi company and request a car.
Getting around Cuba by collectivo taxi
Collectivo taxis are the same as a normal private taxi, except the taxi is shared with other tourists who are travelling to the same destination on the same day. The taxi takes turns to collect tourists from their respective accommodations before departure and when they arrive at the end destination, they drop each group directly at their new address one by one. As a result, a collectivo taxi is slightly cheaper, and you have a greater chance of meeting other travellers if you're travelling solo.
To arrange a collectivo taxi, you should tell your accommodation your planned destination and departure date. They will call around local private taxi companies to enquire about collectivo taxis that closely meet your requirements and feed back the price and details to you.
Since collectivo taxis run according to demand and they often stop on Sundays, you should try to be as flexible as possible around your timings and dates of travel if you use this transport option. You should also note that collectivo taxis are trickier to book in low season (from March to October) and along routes that aren't well-trodden by tourists. All of this aside, collectivo taxis are, in my experience, the most convenient and budget-friendly way to travel around Cuba in 2022, given that the Viazul bus isn't in operation.
Other transport options for getting around Cuba
Trains
Cuba has a huge train network. In fact, it's the only country in the Caribbean where the railway line stretches all the way across the island. However, travelling by train isn't a viable mode of transport in Cuba; even Cubans avoid taking the train if they can help it.
This is because there's such a high rate of breakdowns and cancellations, as well as train timetables that change at very short notice. The conditions inside trains in Cuba are also poor.
If you're looking for a reliable and comfortable mode of transport, you should look at booking a taxi or a bus. However, if travelling Cuba by train sounds like a bucket-list thrill you could get behind, be sure to pack toilet paper and view the list of train departures at the train station before your departure.
Tickets can be purchased at the station by showing your passport at the Lista de Espera office and paying by cash or card. The main line that runs through Havana visits Santiago de Cuba, Santa Clara, and Camagüey.
Boats
Aside from boat trips or excursions that are available from coastal locations around Cuba, there are two ferry services in Cuba in 2022. The first operates in Habana Vieja and takes passengers to Casablanca and Regla. It usually departs every 20 minutes or so. Tickets are generally very affordable and paid for in Cuban pesos.
A second ferry service runs between Surgidero de Batabanó and Nueva Gerona on the Isla de la Juventud, leaving three times per week. To get to this island destination, you need to book a combined bus and ferry ticket at the Empresa Viamar desk in Havana's bus station. The ferry services are prone to cancellations when there are bad weather conditions, which is most common between June and November.
Inter-city transport in Cuba
Once you've sorted your transport to and from different destinations around Cuba, you need to work out how to travel within the city or town itself. While it's easy to explore smaller destinations on foot, cities or rural areas will require an alternative form of transport.
Taxis
There are several types of taxis that will get you around cities and towns in Cuba. You should always decide a fare with the driver before boarding the taxi.
Licensed taxis: Yellow state-owned taxis are often parked in bays around busy tourist areas. They are the most expensive taxi option, but they are a comfortable way to ride around. Slightly cheaper private taxis can be ordered through your accommodation. Always check your taxi for a license before getting in.
Bici-taxis: Bici-taxis are made up of a bicycle and a two-seat wagon. Naturally, they are a slower way to travel, so they are best suited to shorter journeys. On the plus side, you can often agree a cheaper fare, and they provide a clear view of your surroundings (and wind in your hair, which is another selling point for me).
Trencito: Trencito are small, train-like trailers that shuttle tourists around destinations such as Havana, Cienfuegos, and Varadero. They are typically quite budget-friendly. Trencito stops are common down malecón stretches in the cities (the main road that runs alongside the sea).
Hop-on, hop-off buses
Hop-on, hop-off buses operate in popular tourist cities in Cuba such as Havana, Varadero and Santiago de Cuba. They connect many of the top tourist sights. In Havana, the hop-on, hop-off bus also has a route that visits the beaches near Havana, which are located around 15 kilometres from the city. Although they are usually paid for in cash in euros, they may sometimes require a card payment. Tickets are relatively inexpensive; most journeys cost five euros or under.
Bicycle rental
Bicycle rental is another option for getting around cities, towns, and rural areas. It's a relatively safe way to get around, considering that all Cuban roads have at least one metre of space dedicated to bicycles. There are poncheros (puncture repair shops) along motorways and other rural roads. You should be prepared to cycle without a helmet, because it's uncommon for a helmet to be offered as part of your bicycle rental.
It generally costs between 70 and 300 Cuban pesos per day to rent a bicycle in Cuba. You should ask your accommodation for directions to the nearest bicycle shop and go from there.
Tips for bicycle rental in Cuba
Avoid cycling at night because road lighting is poor in Cuba.

Stick to the bicycle lane, even if it isn't specifically marked out.

Park your bicycle in 'parqueos', parking spaces reserved for bicycles outside of supermarkets, bus stations, beaches, and tourist sites. They usually cost around 70 Cuban pesos.

Take sufficient water if you are cycling long distances.
Local buses
Since local bus stops often lack any helpful information, it can be tricky to navigate the local bus system as a first-time visitor to Cuba. The buses can also get pretty crowded during peak times, making it seem even more overwhelming.
However, if you have plenty of change to meet the exact bus ticket fee requested (which is usually only a handful of Cuban pesos), this is a cheap way to travel around a city. Naturally, the whole process will be easier if you speak Spanish and can communicate with the bus driver or locals regarding the bus fare and stops.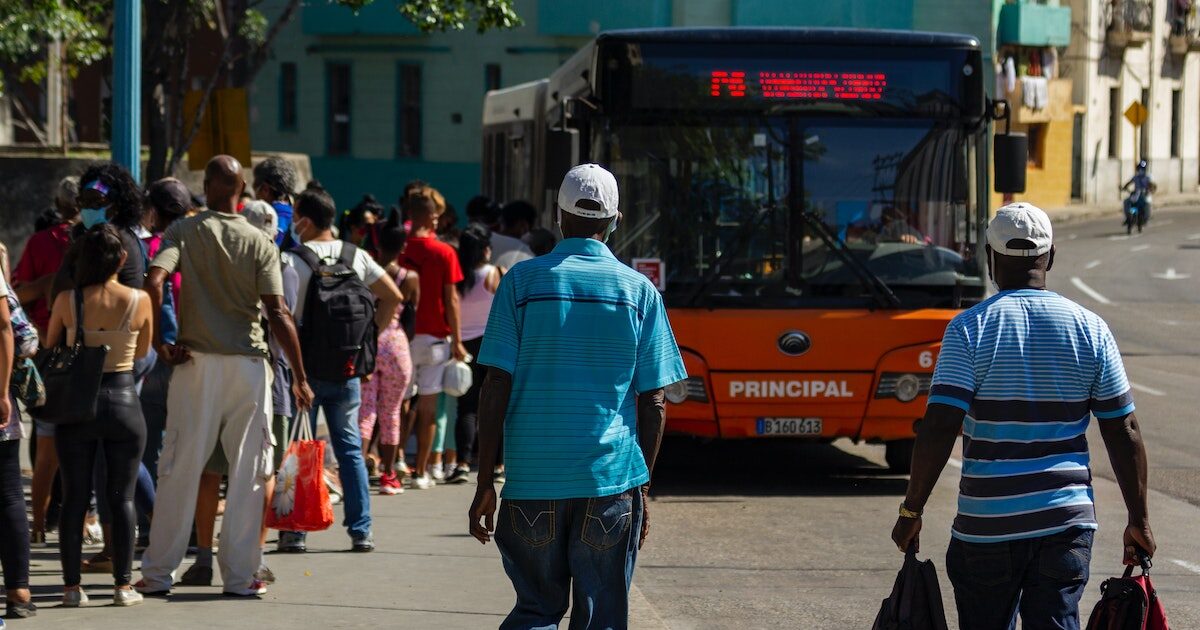 When you arrive at the bus stop, you should always ask '¿Ultima persona para la 232?' to locate the last person in the queue. Skipping the queue is considered very rude in Cuba.
Classic car tours
If you want to cover plenty of ground in one hour, classic car tours can be arranged directly with drivers or agencies in destinations such as Havana and Varadero. In technical terms, they are private taxis in the form of an American, Russian, or Eastern European classic car that was brought to Cuba between the 1930s and 1950s, before the Cuban revolution. Common classic car models in Cuba include Chevrolets, Chryslers and Buicks.
This is more of a tourist activity than a typical mode of transport, so arranging a ride is more expensive than riding in a normal taxi. If you choose to haggle a classic car ride in Havana, it could cost you anywhere between 800 and 2000 Cuban pesos per ride, depending upon your haggling skills and the number of people in your group.
How much should a taxi cost in Cuba?
In 2022, it's likely you'll be travelling between destinations in Cuba by either collectivo taxi or normal taxi. Fares for government-owned taxis typically start at 20-25 Cuban pesos per kilometre. The cost of a taxi will be cheaper if you are travelling in a private taxi or a private collectivo taxi.
The following can be used as guide prices:
Cost for a taxi from Havana airport to Havana: 20-25 euros.
Cost for a taxi from Havana to Trinidad: 25-50 euros
Cost for a taxi from Havana to Varadero: 20-40 euros.
Renting a car in Cuba
Renting a car in Cuba gives you more freedom to travel when and where you want to. As long as you're ready to navigate roads with potholes, train tracks, and steep gradients, you'll be free to explore less-visited beaches and towns around the country.
Nevertheless, renting a car in Cuba can be a complicated process and there are some tips for the road that you'll need to be aware of.
Is renting a car in Cuba worth it?
Before you decide to rent a car in Cuba, you need to know exactly what you're getting yourself into. There are a few pros and cons to car rental in Cuba:
Pros:
You have more freedom to explore less-visited parts of Cuba.

Travel exactly when you want to and

where you want to.

Cuba is mostly traffic free, meaning that journey times by car are usually reasonable.
Cons:
Driving in Cuba can be dangerous due to poor road conditions, unclear traffic signs, and animals on the roads.

Driving at night should be avoided due to poor road lighting and poor signage.

You will need to navigate yourself using a physical map or by using offline maps downloaded on apps such as

Google Maps

.

If you get into an accident, the Cuban authorities may ban you from leaving Cuba until the investigation has been concluded.

Petrol stations are rare outside of the cities and bigger towns, especially on the motorways.

Gas shortages are fairly common in Cuba.

Car rental can have hidden fees.
If you're not planning on travelling extensively around Cuba and most of the destinations you're going to be visiting are on well-trodden tourist routes, travelling by collectivo taxi or a traditional taxi is a simpler option. If your planned route is more remote, car rental might be worth it, as long as you're properly prepared and follow the advice below.
How much does it cost to rent a car in Cuba?
The cost of car rental in Cuba depends upon a number of factors, including the demand at the time, the company, car model, any drop-off arrangements, and the number of drivers needed for the car. Typically, the price for renting a car in Cuba is between 30 and 100 euros per day. You may have to pay extra for insurance and liability waivers.
How to rent a car in Cuba
During high season for tourists, which is between November and February, renting a car in Cuba can be tricky due to the high demand for car rental and the limited number of cars in the country. Booking your car months in advance through online travel agencies can increase your chances at securing a rental car in Cuba.
Overall, renting a car in Cuba is a complicated process, which is why you should really evaluate whether it is necessary for your trip.
There are two main ways to rent a car in Cuba:
1. Rent a car through a travel agency.
If you want the security of booking a car in advance, the only option is to use a travel agency. This is because rental companies in Cuba don't have any online booking systems (or websites, in some cases). Travel agencies for Cuba have mixed reviews and there may be scam websites littered around the internet, so you should always choose a well-esteemed travel agency such as the Cuba Travel Network.
2. Renting a car when you arrive in Cuba.
If you haven't booked in advance, it's possible to rent a car when you arrive in Cuba, depending upon the demand. The best way to do this is to ask your accommodation for directions to the nearest car rental provider and visit the office in person. This is likely to be a complicated and (quite possibly) stressful process. The fees are also likely to be higher than those you would get if you rented a car through a travel agency.
You will need a valid license and passport. Payments for rental cars in Cuba are typically made by credit or debit card. You cannot pay in US dollars or pay using a card that is associated with an American bank.
Tips for renting a car in Cuba
Stick to the speed limit: generally, this is 80km/h on motorways and 50km/h in cities.

Avoid driving at night due to the poor lighting and poor road signage.

Look out for railway tracks on roads, including motorways. Common practice is to slow down, listen for foghorns and look both ways before crossing the tracks.

Download offline maps before travelling because there is poor signage in Cuba and no internet access on the road.

Ask your accommodation to connect you to a car keeper, who will watch your car when it's not in use and make sure that no parts are stolen. They typically cost between five and 10 euros per day.
This article on car rental in Cuba is also helpful, and goes into more detail.
Can I hitchhike in Cuba?
When you travel down Cuban motorways, it's not uncommon to see lines of people sticking out their thumbs or waving at passing cars. Many locals use hitchhiking as their primary form of transport. In fact, all private vehicles were once obliged to pick up hitchhikers when there were petrol shortages in Cuba in the 1990s.
The tradition has carried on, although many drivers will request payment in the form of a handful of pesos. However, don't be tempted to join in with Cuba's hitchhiking tradition. Tourists are only permitted to travel in a licensed vehicle and can face a fine if they're caught hitchhiking.
FAQ
What is the best way to get around in Cuba?
The best way to get around Cuba is by collectivo taxi, which provides a comfortable and fairly budget-friendly mode of transport between well-travelled tourist destinations. The vehicle is shared other tourists going to the same destination.
Can you travel around Cuba on your own?
It is safe to travel around Cuba solo, as long as you take the usual safety precautions and travel in licensed vehicles. Normal or collectivo taxis will pick up and drop you directly from your accommodation, making them the safest mode of transport in Cuba. You should check the condition of the car before boarding and agree a fare beforehand. A good way to meet other tourists is by travelling by collectivo taxi.
Is it easy to travel in Cuba?
Travelling around Cuba can seem tricky. However, with the help of your accommodation, the easiest way to travel around Cuba is by booking a collectivo taxi, which transport several different tourists to the same destination at a pre-arranged time and fare. Normal taxis are also easy to book and reliable.
Are there Ubers in Cuba?
There are no Ubers in Cuba. Traditional taxi services are common, as are collectivo taxi services, and buses may also run between popular destinations depending upon the demand.